About Gift Card Girlfriend
Shelley Hunter (a.k.a Gift Card Girlfriend) is a gift card expert and the spokesperson for GiftCards.com.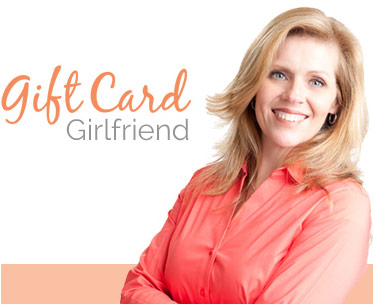 From gift card tips and practical advice, to inspiring ideas and insights into the gift card industry, she is your Consumer Guide to Gift Cards. Gift Card Girlfriend can address any gift card question or concern you have, plus share her signature way of turning gift cards into thoughtful, personalized gifts.
Shelley is also a stay-at-home mom to three school-age children. She can speak to the benefits of working from home, starting a personal brand, and making the transition from corporate world to the PTA and back. Her kids rarely play quietly while she works, but she wouldn't have it any other way.
Why Gift Card Girlfriend?
Being a problem-solver by nature (and by virtue of being the oldest girl of six siblings), Shelley created GiftCardGirlfriend.com (now rolled into GiftCards.com) to help consumers have positive experiences with gift cards. What started as a website for just presentation ideas morphed into Gift Card Girlfriend becoming the go-to guide for all things gift cards.
As much as she loves the convenience and flexibility of gift cards provide both the giver and the receiver, Shelley recognized the shortcomings of her favorite present--namely the following three things:
Dollar Value. We've coaxed price tags off of presents for years so recipients wouldn't know how much we spent on them. With gift cards, the amount spent is needed information.
Presentation. Without the typical present-style wrappings, giving someone a small plastic gift card can feel lackluster.
Convenience. With the prevalence of gift cards, even a planned gift card purchase can look like you ducked into the gas station to buy it on the way to the party.
The simple solution is to deliver a gift card with a little something extra. Doing so takes the focus off the price and gives the recipient something to "open." That "something extra" doesn't have to be expensive or extravagant. Neither should it be a random knick-knack that simply fills space. Take a look around Gift Card Girlfriend's blog and you'll find all sorts of ideas to help you turn any gift card into a thoughtful, personal gift.
In the Press
Named "Woman to Watch" by Diablo Magazine, Shelley is a woman who turns ideas into action.
Read it here
.
Committed to being home with her kids, Shelley is "The New Stay-at-Home Mom."
Read it here
.
Gift Card Girlfriend offers advice on the appeal of Digital Gift Cards.
Read it here
.