Make a Visa Gift Card
Personalized Gift Cards
A perfect customized gift card for anyone!
Add your photo.

Or choose from our Predesign gallery.

Greeting Card to match.
Corporate Clients
Call for Details at (866) 353-4877
Perfect for Employees, Clients, and Customers.
Add your logo.

Visa

Custom Greeting Cards.

Top Visa Gift Card Designs

Spring Collage
Tulips

Simple Gifts
Thank You

See All Designs
Card Support Options
---
---
---
*The Visa Zero Liability policy covers U.S.-issued cards only and does not apply to ATM transactions, PIN transactions not processed by Visa, or certain commercial card transactions. Cardholder must notify issuer promptly of any unauthorized use. Consult issuer for additional details or visit www.visa.com/security.
A Visa Gift Card Makes the Perfect Gift
As one of the world's most recognizable and trusted brands, the Visa Gift Card is the perfect gift to give a friend or a loved one. With original photo and text, each gift card is personally designed for the recipient. You can add your own photo or select one of our custom designs to get started. Then customize the gift card further with a message embossed right on the card. You can also order a matching customized greeting card gift card holder using the same or a different image. Choose any dollar amount between $10-$500.
Visa Gift Cards can be used online, over the phone and in your favorite stores and restaurants across the country—like Target, Walmart, Olive Garden and more. Basically, this card can be used wherever Visa is accepted. So gift it with confidence!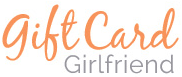 Gift Card Girlfriend Answers Questions About Your Visa Gift Card
Need help picking out the right gift card or deciding how much money to spend on it? Ask our Gift Card Expert. She can give you tips and advice, just like the info you see below.