Our latest trip December 17th 2014 to December 21st 2014 – Click Here
On a Christmas morning in 1977, a boy, his mother, and his siblings huddled under a single blanket in the living room of their house with no heat. They could see their breath. Living on welfare, they had no gifts, and certainly no Christmas tree. But in the midst of their gloom, they heard a knock at the door. Padding over to the window, one of the children peeked out to see a brown box full of gifts and a frozen turkey sitting on the doorstep. Footprints in the snow trailed from the stoop to the street, then disappeared. The kindness of strangers turned a bleak holiday morning into a day of joy and thanksgiving that this little boy never forgot.
This is the event that sparked the development of You Gift. We Gift. Through this program, we, too, hope to provide needy children with that same sense of delight as we deliver unexpected gifts to them.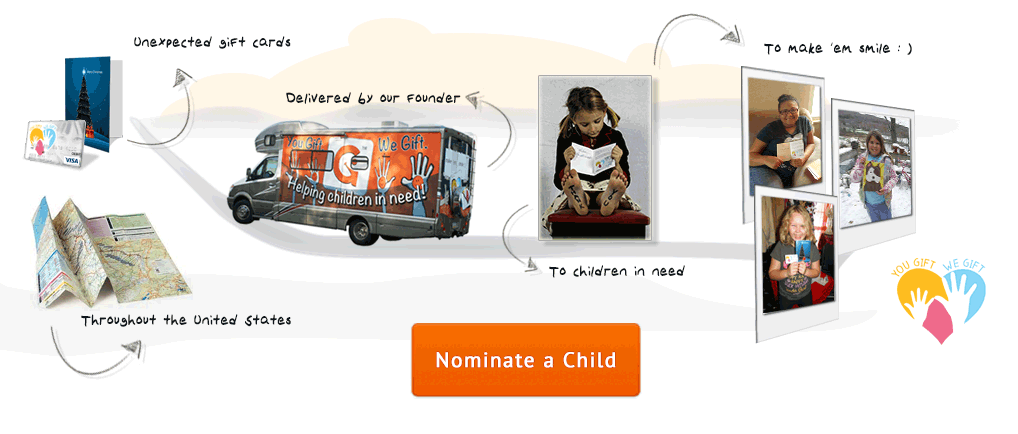 How It Works
When children are nominated for You Gift. We Gift., we verify the information provided and select children from among the many stories shared. Our founder then personally delivers a $50 gift card from GiftCards.com to each child selected.
*The Bancorp Bank is not affiliated in any way with this (benefit, product, offer) and does not endorse or sponsor this (benefit, product, offer).
Progress Report
Feature Story
On Friday, December 6, 2013, our founder, Jason Wolfe, loaded up his RV and hit the road for a weeklong journey of delivering unexpected gifts. On the first leg of the trip, he met three children living not far from the GiftCards.com headquarters—Hope (a young girl living with lung disease who loves One Direction), Milana (also battling health difficulties whose favorite color is "clear"), and Jamie. In her short life, Jamie has already lost several family members including her father and grandmother, but the smile on her face shows resilience.