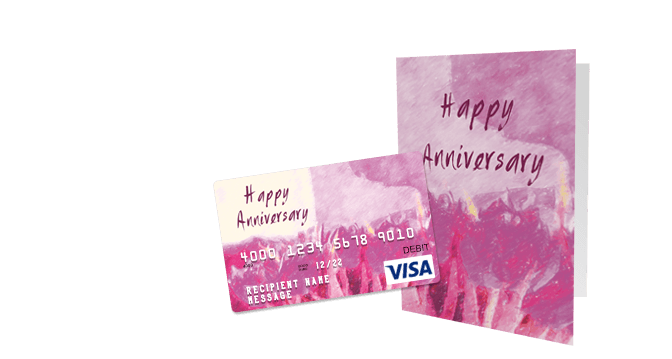 Top Anniversary Gift Cards
Anniversary Gift Ideas
Traditional anniversary gifts for the first five years of marriage call for paper, cotton, leather, fruit, and wood. How exciting! The suggestions, frankly, do not get better as the anniversaries stack up—sugar or iron for a sixth anniversary, wool or copper for a seventh, and bronze or pottery for an eighth. Even modern anniversary gift traditions are somewhat lacking. Apparently nothing says love like a new clock, china, crystal, appliance, or silverware. Now might be a good time to ditch these anniversary gift lists and order personalized gift cards instead.
Here's how to give anniversary gift cards:
1. Best Decision Ever. Practical can still be sentimental. Upload a photo of the two of you on your wedding day, and turn the image into a personalized gift card. Write "Best decision ever" on the card's embossed message line. Upload a current photo to buy a personalized greeting card to go with it. On the inside of the greeting card, write a list of good decisions you've made over the years—saved money to buy a house, switched jobs, got college degree, bought a minivan, and so forth. Put it all together and your honey will see that, of all the good decisions you've made, choosing him or her was the best.
2. Traditional Gift Card. Use traditional anniversary gift lists as inspiration for creating your own gift card design. For example, arrange cotton balls to say, "I love you" and take a picture of your artwork. Upload the photo to make a personalized gift card and emboss "Anniversary #2" on the card. Deliver the gift card in a cotton ball holder, new cotton socks, or attached to a bag of cotton candy. The following year, you can fashion a leather belt into the shape of a heart and write "Anniversary #3" on the gift card. Not only will your mate enjoy the creativity and the ability to buy a gift of choice, you will have started an anniversary gift tradition of your own.
3. Date Night. If you give the anniversary couple cash, they're likely to spend it on household expenses. (Cash has a way of leaving the wallet mindlessly.) But if give the couple a gift card with the words, "Date night" written on it, they will be more inclined to treat themselves to a movie, a nice dinner, or a night on the town. Upload a photo of the couple on their honeymoon (you can probably find one on Facebook), and use it to make a custom Visa® gift card. Deliver it with an offer to babysit the kids!
If you don't have an anniversary photo of your own, select an anniversary gift card design from our predesigned gallery. The gallery is full of gift cards created by our designers.
Anniversary Savings
If celebrating your anniversary includes going out for a nice dinner, get a discount gift card to one of your favorite restaurants before you make the reservation. You can save on an upscale meal at Ruth's Chris Steakhouse, enjoy a more family-friendly meal at Olive Garden, or go out to a movie and dessert with gift cards to Regal Cinemas and Cold Stone Creamery. Whatever date night entails, ordering discount gift cards ahead of time will enable you to spend less time worrying about the bill and more time celebrating the moment.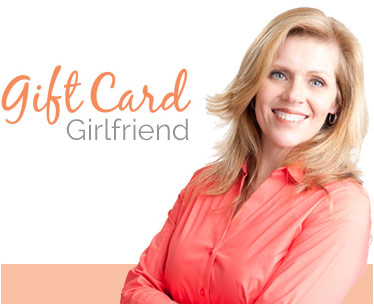 Personalized Anniversary Gift Tips
"Keep the love alive with a personalized gift card and matching greeting card. Put a picture of your honey on your wedding day on the greeting card plus a current photo on the gift card. Add a sweet message: 'Seems like yesterday.' "
10 Great Anniversary Gift Cards
Whether you plan to go out or to stay home and exchange gifts, below are great gift cards to help you celebrate your Anniversary.