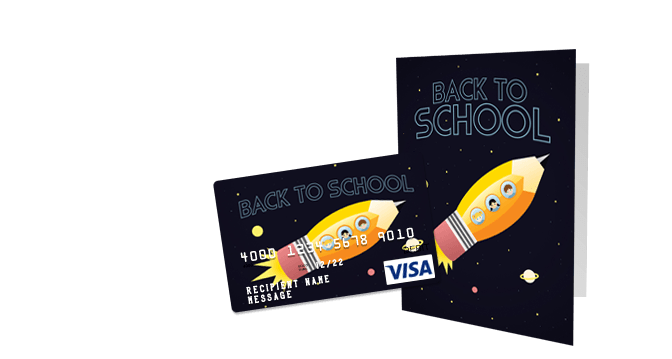 Back To School Gift Ideas
Back To School Gift Ideas
As much as moms look forward to re-establishing school-year routines and having time to themselves each day, some also dread getting the kids ready to go back to school because the prep work can be financially challenging. The cost of new clothes, school supplies, shoes, backpacks, and more is daunting. Kids going off to college require those supplies plus tuition, books, and dorm room necessities. As the cash register tally goes up, so can the stress level. Sending a back to school gift card, however, can offer some much needed relief.
Here's how to give a back to school gift card:
1. School Supplies. Before mom hits the store, surprise her with a back to school gift card that can be used to buy anything from pencils, to a new haircut, to snacks for lunch boxes. A Visa® gift card can even be used to pay for yearbooks and tickets to the back to school dance. Find a photo of her kids and upload it to make a personalized Visa® gift card. Write "Enjoy the moments" on the card. Deliver the gift card with a basket of markers, glue sticks, and hand sanitizer.
2. Extracurricular Activities. Just when you think it's safe to balance the checkbook, an e-mail arrives from the football coach with a list of registration fees, "suggested donations," and athletic gear requirements. Then the band teacher calls about an instrument shortage and the room parent shows up collecting for the class party fund. Imagine how sweet it would be to receive money this time of year instead of only handing it out? Why not send a back to school gift card to help cover extra-curricular activities? Take a picture of Junior playing football and use it to create a gift card with the words, "Picking up the tab" written on the card.
3. In Case of Emergency. Despite planning, college-bound kids are sure to encounter unexpected costs when they get back to school. Parking passes, dorm room organizers, and last-minute supplies may be among them. Send along a gift card that can be used for unplanned expenses. Take a picture of the family and upload it to make a personalized gift card that reads, "We're here for you." Deliver the gift card in person with a bottle of laundry soap. Deliver it in the mail with a box of microwave popcorn and ramen noodles.
If you don't have a Back to School photo of your own, select a Back to School gift card design from our predesigned gallery. The gallery is full of gift cards created by our designers.
Back to School Savings
Back to school time can be expensive, but you can save money by shopping with discount gift cards. Buy school uniforms with discount Sears gift cards, stock up on art supplies at Toys R Us, and capture the memories with discount Picture People gift cards. Since sales on school essentials often start in the summer, order gift cards well in advance of the school year. When in-store promotions and coupons come out, you'll be ready to use your discount gift cards for double or triple the savings. Way to start the year off right!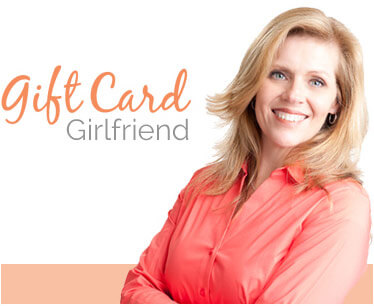 Back To School Gift Tips
"While back-to-school supplies are on sale, stock up on crayons, markers, pencils and more. Put the goodies in a lunch pail and add a gift card for school clothes. Kids will love the gift, parents will appreciate it even more."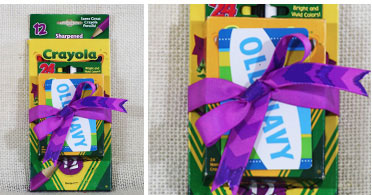 10 Great Back to School Gift Cards
Kids going back to school will need new clothes, shoes, backpacks, and more. Help families get ready for the new school year with these great back to school gift cards.