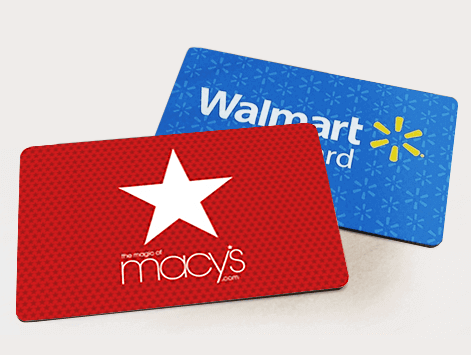 Save
Never pay retail again. Save up to 35% on your everyday purchases.

Earn Money
Cash in on your unwanted gift cards at one of our 1,000 retail partners or online.
Fast
Discount eGifts arrive within hours, cards within days. Both are guaranteed.
Gift Card Exchange 
GiftCards.com and our sister company, Swapagift.com, pioneered the buying and selling of discount gift cards in 2003. Have a gift card you don't want? Sell your unwanted gift card to us and get cash back. We pay up to 92% for gift cards and send funds instantly through PayPal or mail checks as directed by the customer.  Want to save money? Shop our discount gift cards and eGifts for up to 35% off face value. Gift cards are delivered instantly to repeat customers and within 24-hours to new customers.
We have been issued 2 patents with 11 more pending, all designed to ensure your discount gift card transaction is safe and secure.
The Ultimate Coupon
"Using discount gift cards, I've saved hundreds of dollars shopping for back-to-school essentials, Easter clothes, holiday gifts, and more. Stack a discount gift card with a coupon and you'll save even more!"
Find more gift card ideas with GiftCard Girlfriend.