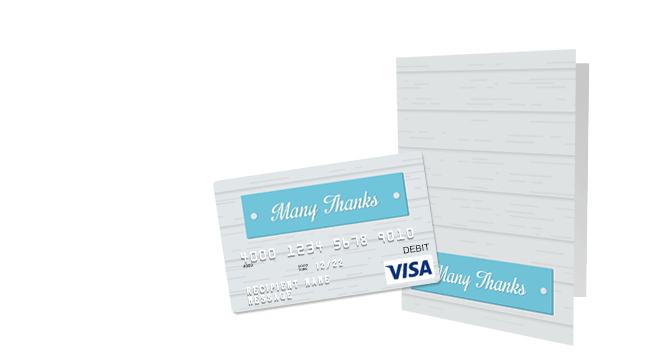 Top Employee Gift Ideas
Employee Gift Ideas
The team just finished a big project, reached an anniversary, or met an operational milestone. It's time to celebrate! Rewarding individuals is important, but finding a gift that works for everyone could be challenging and time-consuming. To help your employees feel valued and appreciated, while keeping your work level to a minimum, give employees customized gift cards that are universally accepted, quick to order, and memorable.
Here's how to give an employee gift card:
1. You Did It! Take a photo of the team's accomplishment—a beauty shot of the new product, a screen shot of the new website, or the look of a satisfied customer. Upload the photo to make custom Visa® gift cards for each member of the team. Write the person's name on the first embossing line and "Thanks to you" on the second embossing line. Deliver the employee gift card with a "get out of jail free" card and let everyone take off early for a much-deserved, long weekend.
2. You Rock! It's time for the boss to break out the air guitar. Take music-themed photos such as pictures of everyone dancing after the product launch, a programmer working the keyboard like it's a piano, or a presenter singing into the microphone like he's a rock star. Upload the image and write "You rocked it" on the card's embossed message line. Give the employee gift cards out at a music-themed event or a karaoke lunch.
3. Now We're Cookin'! Treat the team to a unique lunch or dinner such as a smokehouse barbeque rolled into the parking lot, gourmet cooking class at the culinary academy, or a hibachi dinner at a Japanese restaurant. Create a cooking-themed gift card for every employee with "Now we're cookin'" written on the card's embossed message line. Deliver the employee gift card with a memento of the event such as tied to a fancy bottle of barbeque sauce, wrapped around a gourmet kitchen utensil, or tucked into the pocket of an apron with the company logo on it.
If you don't have an employee photo of your own, select an employee gift card design from our predesigned gallery. The gallery is full of gift cards created by our designers.
More than 20 cards? If you need more than 20 cards, visit our sister site, OmniCard.com, to order a prepaid card branded with your company logo and to have it delivered in a custom greeting card.
Employee Savings
Gift cards for employees should be somewhat universal—meaning the gift cards should be usable in a variety of places or should appeal to a large number of people. Some popular discount gift cards that everyone in the office may enjoy are shops such as Starbucks or Peet's Coffee and Tea, restaurants such as TGI Friday's or Applebee's, and department stores like Sears, Stein Mart and Target. If you want to keep an office theme or just want to save on employee supplies, try discount gift cards to Office Depot or Staples. As a reward, let employees choose their own discount gift card for a certain dollar amount. They can buy the cards using a company credit card or pay for it themselves and expense the cost later. Imagine the fun everyone will have telling the team what gift card they selected and how big of a discount they received. Could be a fun ice breaker for your next team party.
Did you know?
Employee replacement costs are as high as 400 percent of the departing employee's yearly salary. If you need gift cards for an employee retention or an employee recognition program, OmniCard.com can help. OmniCard caters to over 25 percent of the Fortune 500, and sales representatives can help you design an employee reward program to fit your needs.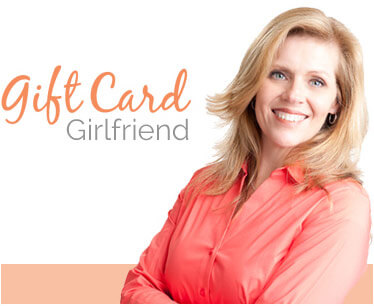 Employee Gift Tips
"A simple way to recognize an employee is to create a custom gift card with a matching greeting card. Try uploading a photo of the project team, a recent triumph, or your happy customers. Add a handwritten to the greeting card with specifics about the employees contribution."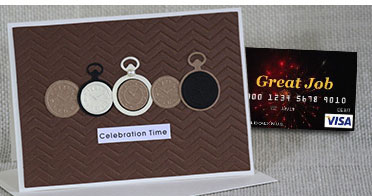 10 Great Employee Gift Cards
If you're looking for employee rewards, look no further than gift cards. Gift cards are easier to issue than checks, can be expensed, and still allow employees to select the reward they'd most like to receive.