Individual gifts may or may not be appropriate in the workplace. Here are some things to consider before buying gifts for coworkers.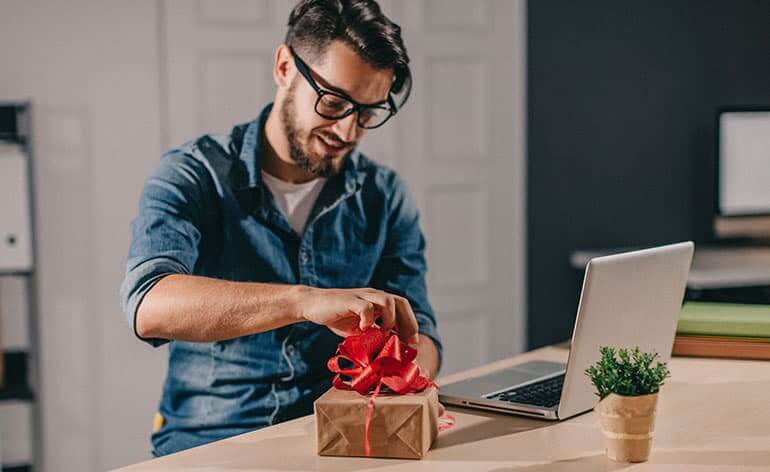 Should You Buy Gifts for Coworkers?
I have worked in a number of different office environments. In most cases, I did not buy individual gifts for coworkers, bosses or the people I managed. Though I often contributed to group gifts, I generally took someone to lunch if I felt the need to do something more personal. My mom, however, worked in an office for many years where everyone bought gifts for each other.
So how do you know when you should (or shouldn't) buy gifts for the people you work with? Doing so is not my style, but if buying gifts at work is the norm in your office, then we better dig deeper. In the post below, we discuss office gift-buying etiquette as well as offer a few suggestions on appropriate gifts to exchange. If you have some other ideas, let me know.
How Small Businesses are Affected by the COVID-19 Pandemic:
Can We (Should We) Buy Gift Cards to Support Small Businesses During Disaster?
5 Questions to Ask Yourself Before Buying Someone at the Office a Gift
Along with doing your job, meeting deadlines, attending meetings, keeping your work area organized and getting along with your coworkers, office life has a number of other responsibilities you may not think about every day. But does gift-giving have to be one of them?
Office gift-exchange etiquette can get tricky. You don't want to create an awkward obligation if you choose to give someone a gift and they hadn't planned to reciprocate when your special day comes along. And you definitely don't want to break Human Resource (HR) policies by giving a gift that's not appropriate — or when it isn't appropriate to give a gift.
Answer these questions before you buy someone in your office a gift, and then read on to find great one-size-fits-all gift-giving suggestions.
1. Do you need to buy a gift for someone at work?
Is gift-giving common in your office? Employees can celebrate their managers on Boss' Day (Oct. 16) with a small token, and anyone can recognize your office administrators on Admin Day (the Wednesday of the last full week of April). But for other occasions, a simple card, a verbal "Congratulations" or "Happy birthday" or treating for lunch may be the perfect gesture.
2. Is there a group gift you can contribute to instead?
Avoid awkward gift-giving gaffes by contributing to a group gift — or spearhead an office gift exchange or group gift yourself. Just make sure to check with HR to ensure a group gift is within office policies.
If you start this trend, it will be your responsibility to keep it up for everyone on your team in similar situations — for instance, birthdays, weddings or new babies.
3. Would this gift offend anyone in the office?
Risqué items and anything offensive, political or illegal would not be appropriate office gifts. This should be common sense, but keep in mind that what one person considers appropriate may be over the line for someone else. If you aren't sure, opt for a "safer" choice.
4. Is the amount spent appropriate for a coworker gift?
Check with HR to see if there are guidelines for the cost of gifts to supervisors, coworkers or even clients. Depending on the cost of living in your area, $25 should be the maximum you spend, and anything less is fine, too. A $5 gift card to a favorite coffee house makes for a nice treat for any occasion and is the perfect office gesture.
5. What is an appropriate gift for the office?
Once you've determined it's appropriate to give a gift, it's time to decide what to buy. Keep it simple with these suggestions.
Buy Lunch. In lieu of filling your coworker's home — or desk — with unnecessary gift items, offer to treat for lunch. You both have to eat, anyway, and picking up the tab is a great way to show you care.
Give a Gift Card. Is there a spot everyone gathers after work or a hot local lunch spot? A Happy Eats gift card or a Happy Dining gift card gives the recipient a choice of several popular restaurants and is available in a choice of denominations for any budget.
Give a Practical Item. Depending on the season, an umbrella, scarf or touchscreen gloves (for using your phone while your hands stay warm) is a practical gift that's not too personal.
Go with Technology. Who couldn't use an extra portable battery for their smartphone? This useful gift is available in a variety of styles and colors, starting at $5 and going up from there depending on the size, speed and power capacity. A spare set of ear buds is another great choice.
Bake a Sweet Treat. Bring in a cake, dessert or other treats for everyone in the workplace to share. You might also consider having chocolate-covered strawberries or a fruit arrangement delivered. Your coworker can share the sweets or bring them home to eat with his or her family. Just make sure to ask about allergies before baking or buying an edible gift.
Bring in Flowers or a Houseplant. Flowers can be a thoughtful gift if no one in your office has allergies. Otherwise, consider a houseplant or even a pot of bamboo. Three stalks of bamboo are considered to be good luck and make a cheerful addition to any desk.
Put the Spotlight on Your Coworker with Fun Balloons. Helium-filled mylar balloons are long-lasting and brighten any office space. Plus, coworkers walking by are likely to deliver their own well wishes to the recipient.
Office gift-giving doesn't have to add to your daily stress if you follow these guidelines. When in doubt, keep it simple with a small gift or gesture that does not have to be reciprocated or create an awkward situation in the future.
What Should You Give At the Office?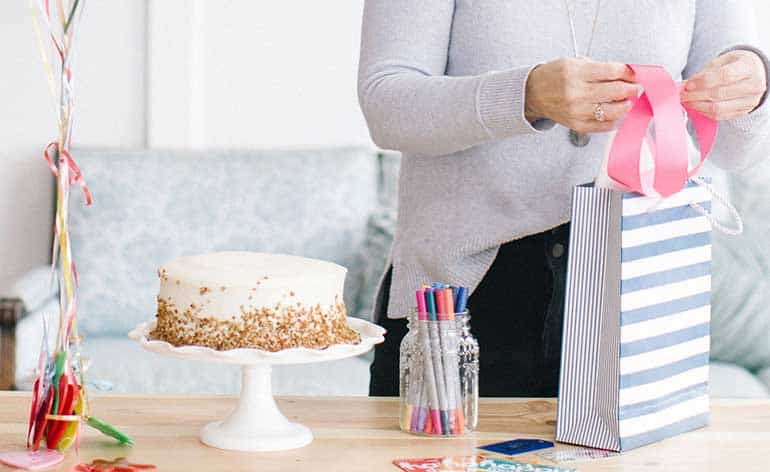 In one office I worked at, the company gave each person a business gift card on their work anniversary. In my current office, we have a social reward and recognition program that makes it easy to thank peers and offer congratulations without getting personal. I like both of these options because there is very little chance that a gesture will be misconstrued as inappropriate or unprofessional.
But also, I work from home. So I am no longer in the office where day-to-day activities and events are discussed. I'm not there when flowers are delivered or when cakes are cut. So it is pretty easy for me to avoid potential gift-giving confusion. Still, the best advice is to err on the side of keeping relationships and gifts professional no matter where you work.
What do you think? Have you ever given a gift to a coworker that didn't work out so well? Have you ever received an awkward gift at work? Let me know in the comments below or reach out to me on Twitter (@GCGirlfriend) or Instagram (@Gift.Card.Girlfriend).
Happy Gift Carding!
~Shelley Hunter, Gift Card Girlfriend