The best gift cards to buy for teens on Easter–plus why older kids like the cards on this list.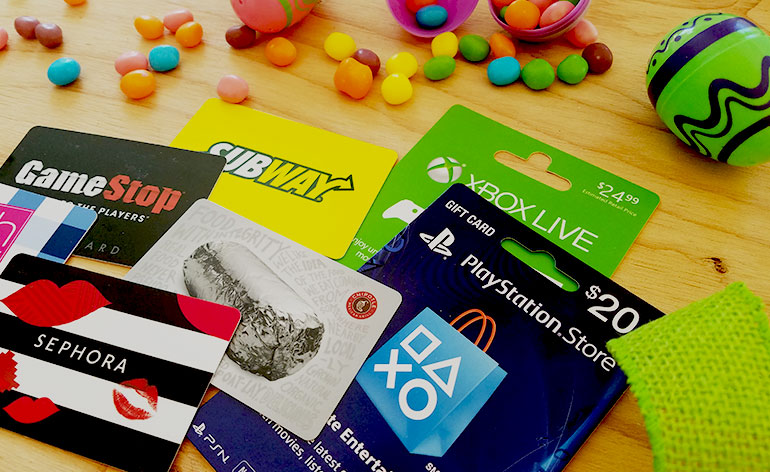 10 Best Easter Gift Cards for Teens
By the time Easter rolls around, I'll have exactly two teenagers in my house–one boy and one girl. Though I cannot truly speak for all of the teens in the United States, I can tell you from my own experience (and from listening to the tirades…rants…frustrations…comments of other parents of teens) that what this age-group most wants in a gift card is choice, accessibility and independence. See the list below or refer back to my teen holiday gift card list for further explanation.
1. Visa Gift Card
The gift card that offers the most choices with the highest level of accessibility has to be bank-issued gift cards such as Visa® gift cards and Mastercard® gift cards. Both can be used almost everywhere those debit cards are accepted which means your teenage daughter can use a general purpose gift card to buy acrylic nails (if you refuse to pay for them like I do) and your teenage son can use the same type of card to buy retro-NBA socks online or fill up his tank at the gas station.
A great way to make this all-purpose card more personal is to make a personalized gift card with your child's image on the card plus first and last name on the embossed line. If you do this, the card will be adorable (of course!) and it will be easier to use online with the name on the card.
2. Amazon.com
Honestly, where else can you shop so easily for so many different things besides Amazon.com? Whether your teenager wants to download newfangled music or shop for an old-school turntable, this website has it all. Since the store features a variety of delivery options as well, kids can shop without needing to borrow mom's car to get to the store. Speaking of delivery, you can even send a digital Amazon.com Gift Card right to your teenager's smartphone. Clearly this gift card ranks high in terms of choice and accessibility.
3. Target or Walmart
Both Target and Walmart gift cards are almost equally as flexible as Amazon.com because they offer a wide variety of merchandise and have extensive online shopping choices as well. For the teenager who doesn't want to wait for a package to arrive in the mail, however, these gift cards can also be used in stores and are great for buying things you want to try before you buy such as a new blouse or a pair of shoes.
4. Best Buy or GameStop
For teens who are into gaming and gadgets, Best Buy and GameStop gift cards are a terrific choice. The child won't get the same range of choices as is possible with the above mentioned gift cards (meaning the card cannot be used to buy a blouse or makeup), but these cards are easy to spend (accessible) and kids like picking out their own Easter presents (independence!). Plus if used to purchase something electronic such as a game that can be downloaded, these cards can be redeemed instantly!
5. iTunes, Google Play
Most teens these days have a smartphone or other mobile device which means they are likely to be downloading music, watching videos, using apps and doing a bunch of other things when they should be doing homework. Oh wait, even school work can be done on a phone. In any case, with a gift card to iTunes, Google Play or the Amazon App Store, teenagers can up their mobile game considerably.
6. The Gas Station
For teens with wheels, gas station gift cards have the green light. Whether he drives his own car or borrows mom's, having extra money to buy gas may feel like the ultimate freedom. Your son or daughter can use the gas station gift card for the next fill-up or save it for a "near empty" emergency. Either way, kids who drive and have to pay for their own fuel quickly gain an appreciation for this key component in our "cost of living" and may prefer this practical card to the ones typically bestowed upon kids for Easter. (A car service gift card might be equally awesome if your teen has to pay car expenses beyond just gas.)
7. Starbucks or Jamba Juice
I chose these gift cards because I find that teens in my area gather at Starbucks and Jamba Juice as much as the adults do. With restaurants in many neighborhoods across the country, Starbucks gift cards are easy to use and give kids that feeling of being independent. Plus, you don't have to spend a lot of money to give this type of gift card. Even ten dollars on a Jamba Juice gift card could cover one or two off-campus lunches for a high school student.
8. Burger King, Wendy's or other fast food
If your teens are allowed to eat fast food, then pick a gift card to a favorite restaurant and be willing to drive (if needed) next time he or she comes home from a basketball game or a choir performance and is too wound up to sleep. My kids do the most talking when we take a late night run for milkshakes so I'll happily indulge the extra calories just to get that time together. The kids can always use these gift cards without me, of course, but sometimes I secretly give them just so they will ask for a ride.
9. Chick-fil-A, Sonic or Subway
Same story, different restaurants. If your kids are allowed to eat lunch off campus, then get gift cards to the places they visit (or wish they could visit) on their break. Although I get up every morning to make my kids lunches, they give me bigger thank yous on the rare days I cheat and drop off a purchased meal instead. No lie. I've made thousands of lunches with fresh cut strawberries, homemade chicken salad and the classic PB&Js to almost no expressions of appreciation. Don't judge my kids. This is how us moms roll. But the one day I took a Chipotle quesadilla to my high schooler minutes before the lunch bell rang, I got a huge thank you in the moment and a second "Thanks Mom!" text later that afternoon. Go figure.
10. Favorite Clothing Store
Gap, Champs, Express, H&M and Sephora are all popular stores with the teens. Since kids this age are growing up and getting over the whole "shopping with mom" thing, a gift card is a great way to pay for their purchases without handing over a bunch of cash or a credit card. Get teens gift cards to their favorite clothing stores and let them buy their own Easter clothes this year.
What About Your Teen?
Did I miss any of your favorite Easter gift cards for teens? The gift cards listed above are available nationwide and follow my criteria for the best types of gift cards for teenagers. You can always try something a little more unique such as a local shop or a niche clothing or gadget website instead. Just remember to give teens a choice, make sure they can use their gift cards easily, and they won't need help completing their transactions. These kids are growing up and it's time to treat them like the adults they think they are.
Got any other suggestions? Let me know in the comments below or send me a message on Twitter (@GCGirlfriend). (If your kids are on Twitter, then you should be too. #momlife)
Happy Gift Carding!
~Shelley Hunter, Gift Card Girlfriend