Ten of the best gift cards to buy for grandpa on Father's Day, chosen from top stores and restaurants, making it easy for grandfathers to redeem.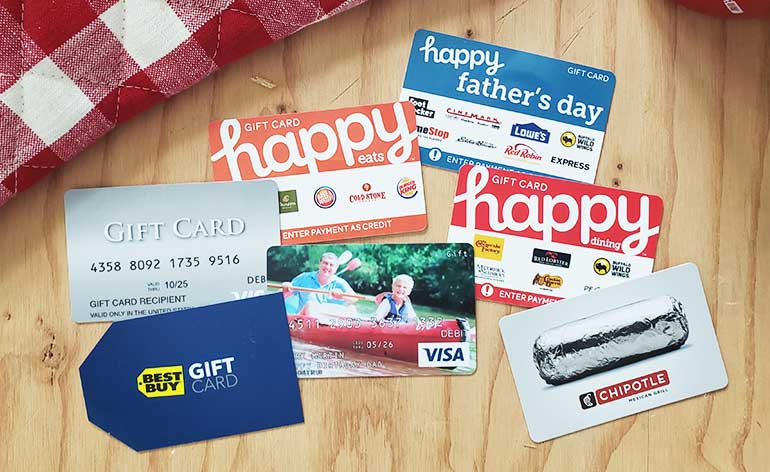 10 Best Father's Day Gift Cards for Grandpa
Although my Grandpa May has been gone for more than 20 years, I still think about him all the time. I've got little reminders of him at my house–the turtle stool he made, the folding ruler I used to play with and the hydrangeas growing in my backyard. He grew the most beautiful hydrangeas. I think of him every time I see one, especially the blue flowers.
If my Grandpa were alive today, I'd get him an Orchards Supply Hardware gift card because he loved that store and always had a project (or four) in the works. Now for the men my kids call "Grandpa," I'd be more likely to pick up a gift card to a restaurant or a movie. Their dad, who is also a grandpa, loves gift cards to Big 5 and Macy's. So you see, even within my own family, being called Grandpa doesn't automatically lump you into one shopping category. In my list of Top 10 Father's Day Gift Cards for Grandpa, I hope you'll find that at least one card matches the interests of your grandfather.
The gift cards in this Top 10 list of Father's Day Gift Cards for Grandpa have mainly been selected from stores and restaurants that are on the National Retail Federation's list of Top 100 Retailers. Although I'm also a fan of local shops, these gift cards should be easy to buy and redeem almost anywhere in the country.
1. Happy Father's Day Gift Cards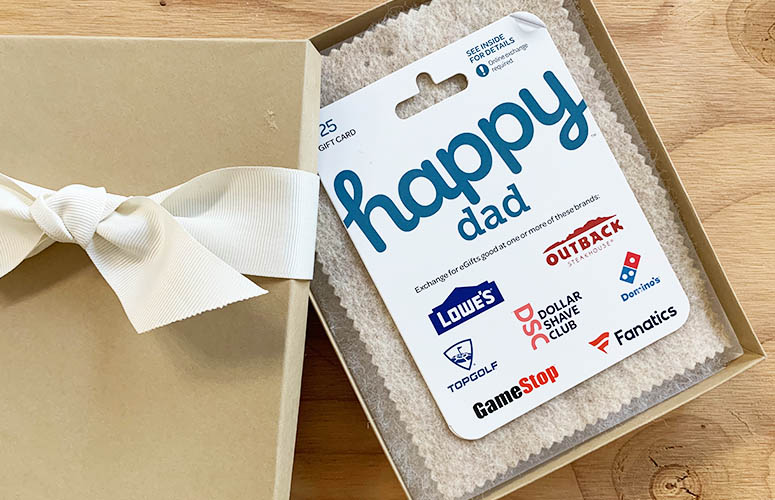 For Father's Day, it's nice to give Grandpa a gift card that has choices. The Happy Dad or the #BestDadEver gift card from the Happy Card collection is usable at any of the stores or restaurants listed on the card. Grandpa can use the card to go the hardware store, pick up lunch, enjoy a nice dinner, go the movies and more. Just keep in mind, these gift cards must be used in person–not online.
Here's an explainer video on the Happy Father's Day gift card for more information.
2. Visa Gift Card or Mastercard Gift Card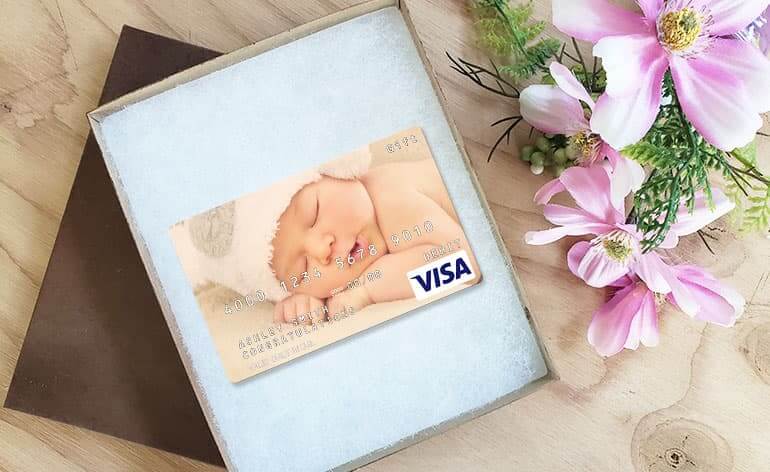 The great thing about gifts for grandparents is that all you have to do to make a winning present is put a picture of the grandkids on something. Whether that's a pillow or a mug or a t-shirt, grandpa will tell you he loves it as long as Junior's little face is pictured on front. With our personalized Visa gift cards and custom Mastercard gift cards, you can upload a picture of the grandkids and put it on a card that is both endearing and useful. Grandpa can use the gift card to pay for his next round of golf or just pull it out of his wallet to show off to his buddies at the barber shop.
3. Cheers to You!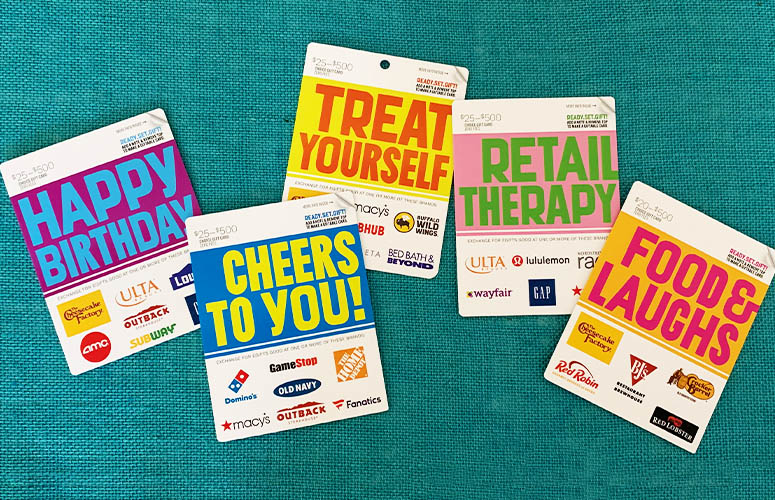 My dad (the kids' grandpa) is pretty tech savvy, so he is the perfect target for a multi-store gift card because he can use it to pick the adventure of his choice. There are fun themes to choose from Yay You! to Cheers to You! and more. Check out the multi-store gift cards to see what's available for your pops.
4. Starbucks or local coffee shop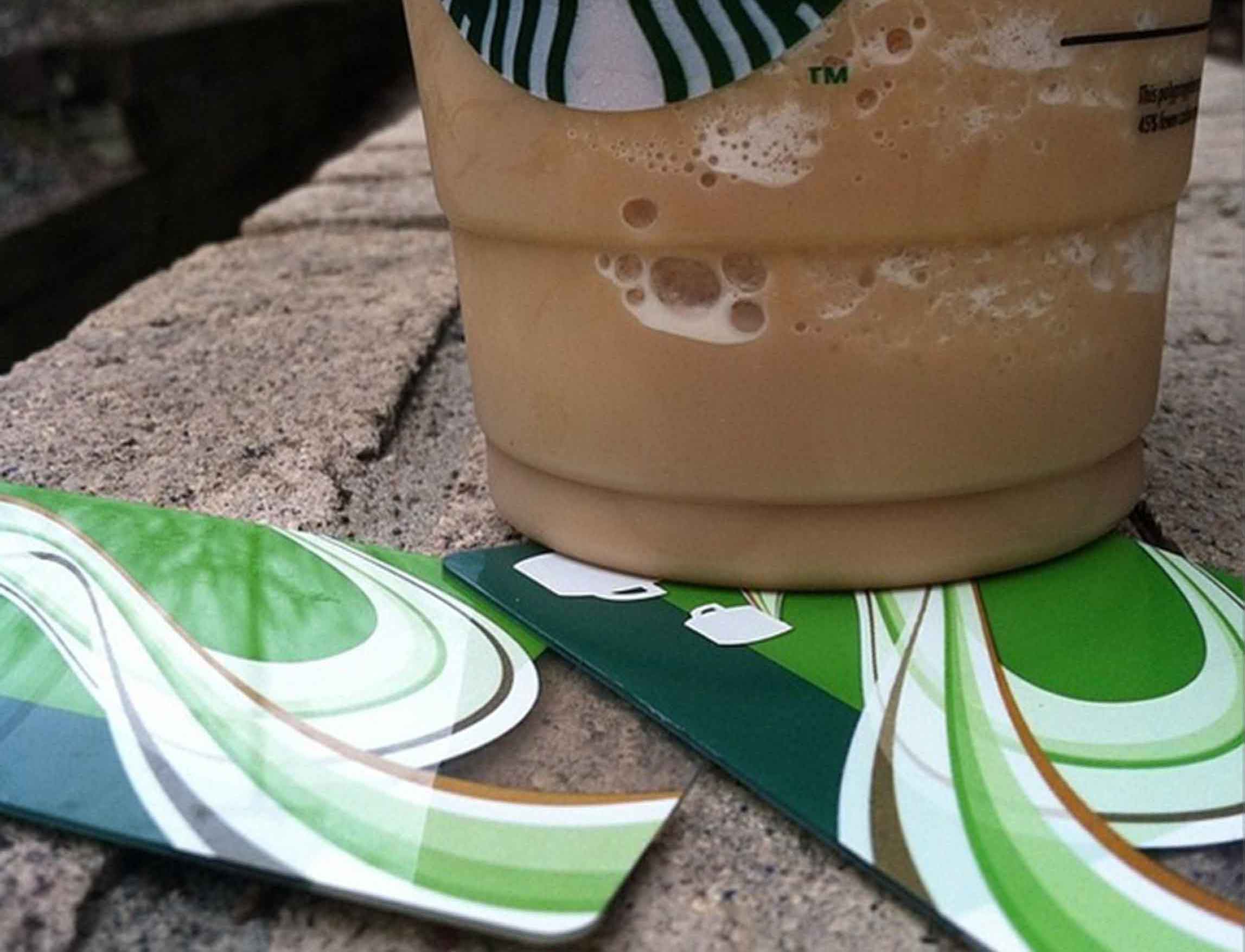 At the bagel store in town, there's a group of Grandpas that meet every morning for breakfast–and I mean, EVERY morning. I've never gone for a morning bagel run and not found them sitting in the corner swapping stories. If your grandfather has a favorite local coffee shop or breakfast place, then get a gift card he can use next time he hooks up with the other senior citizens in his circle. If he doesn't have a particular local place, then try a Starbucks instead or grab the Happy Eats gift card for a selection.
5. AMC Theatres or Regal Cinemas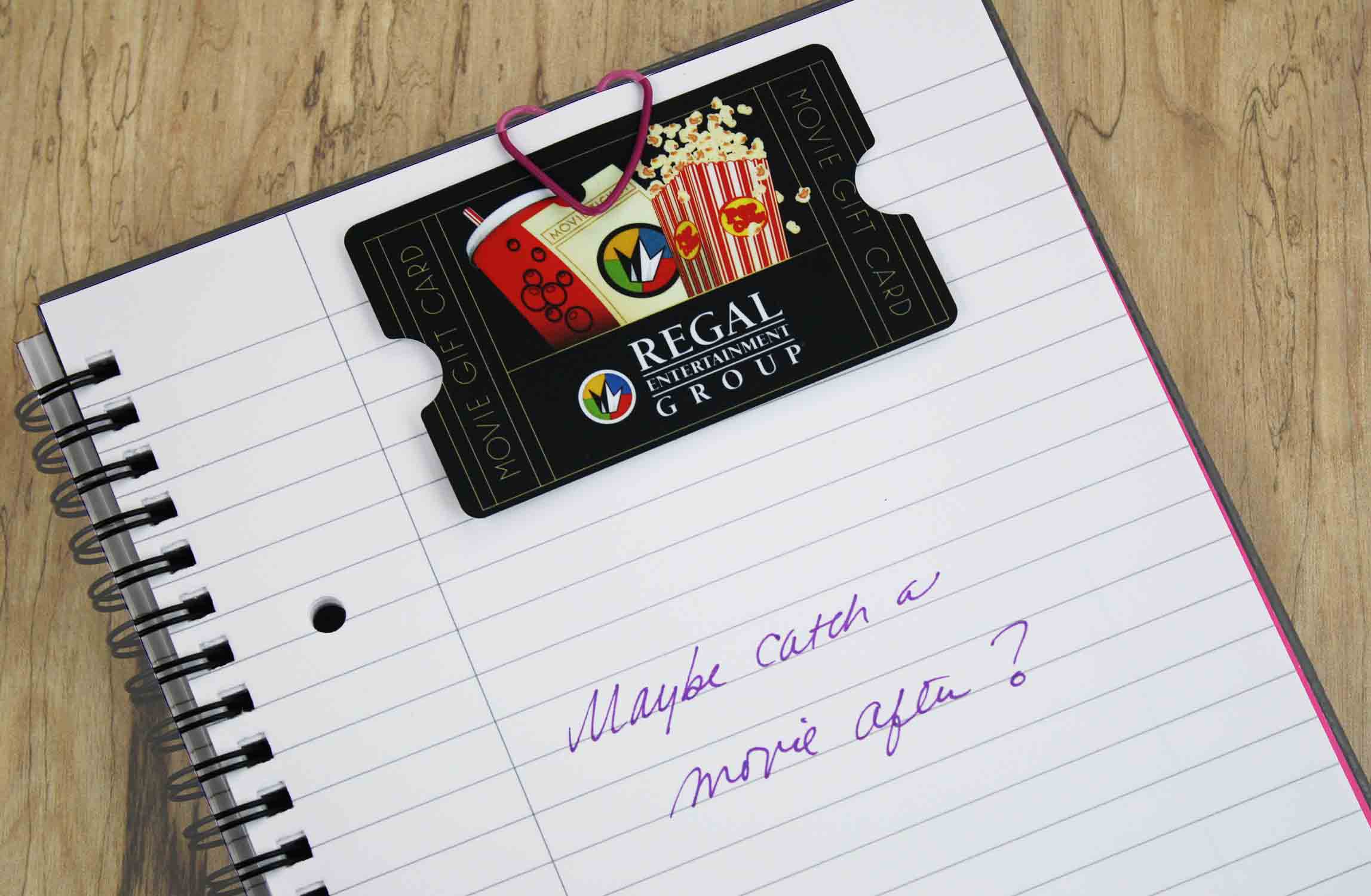 With senior citizen prices offered at most movie theaters, a gift card to Regal Cinemas or AMC Theatres can stretch a little bit further for grandpa than it can for the rest of us. Get your grandfather a gift card to the movies and ask him if he needs a ride, someone to see a movie with or he wants to grab a bite to eat afterwards. The gift card is a present. Time spent together is the real gift.
6. The Home Depot or Lowe's
If your grandpa is like mine was, then he probably takes regular trips to the home improvement store. Sometimes he goes to buy supplies needed to fix something that broke in the house (the toilet, the pipes under the sink, a doorknob here or there) and other times he goes to start up a new project or buy new plants for the yard. With a gift card to his favorite hardware store like The Home Depot or Lowe's, he can use it the next time he wheels his cart to the cash register. You could offer to help as well. He'd probably appreciate that more than the gift card itself.
7. Bass Pro Shops, REI or Cabela's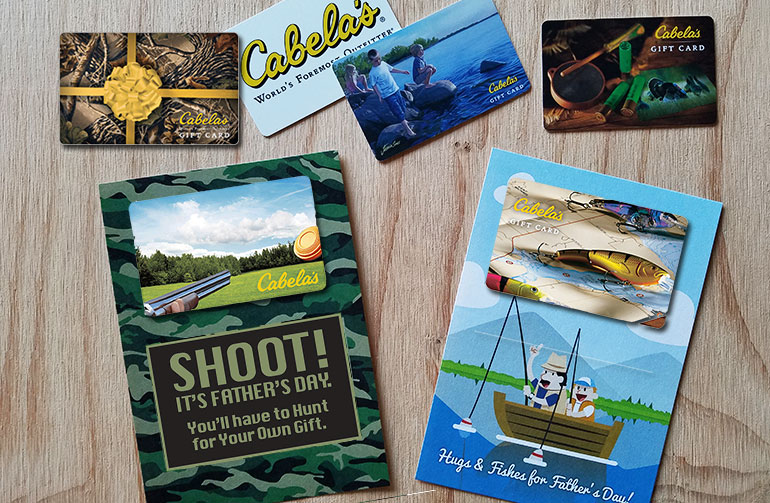 My grandpa also liked to fish. We didn't like to bait the hook though, so he would do that for us. But he was a real outdoorsy kind of guy. If he wasn't working in the yard, fixing something around the house or working on the RV, then he was planning his next adventure. If your grandfather likes to hunt, fish, hike or travel, then consider a gift card to Bass Pro Shops, REI or Cabela's so he can get use it for the summer months when the weather is warm and the fish are biting.
8. Walgreens or CVS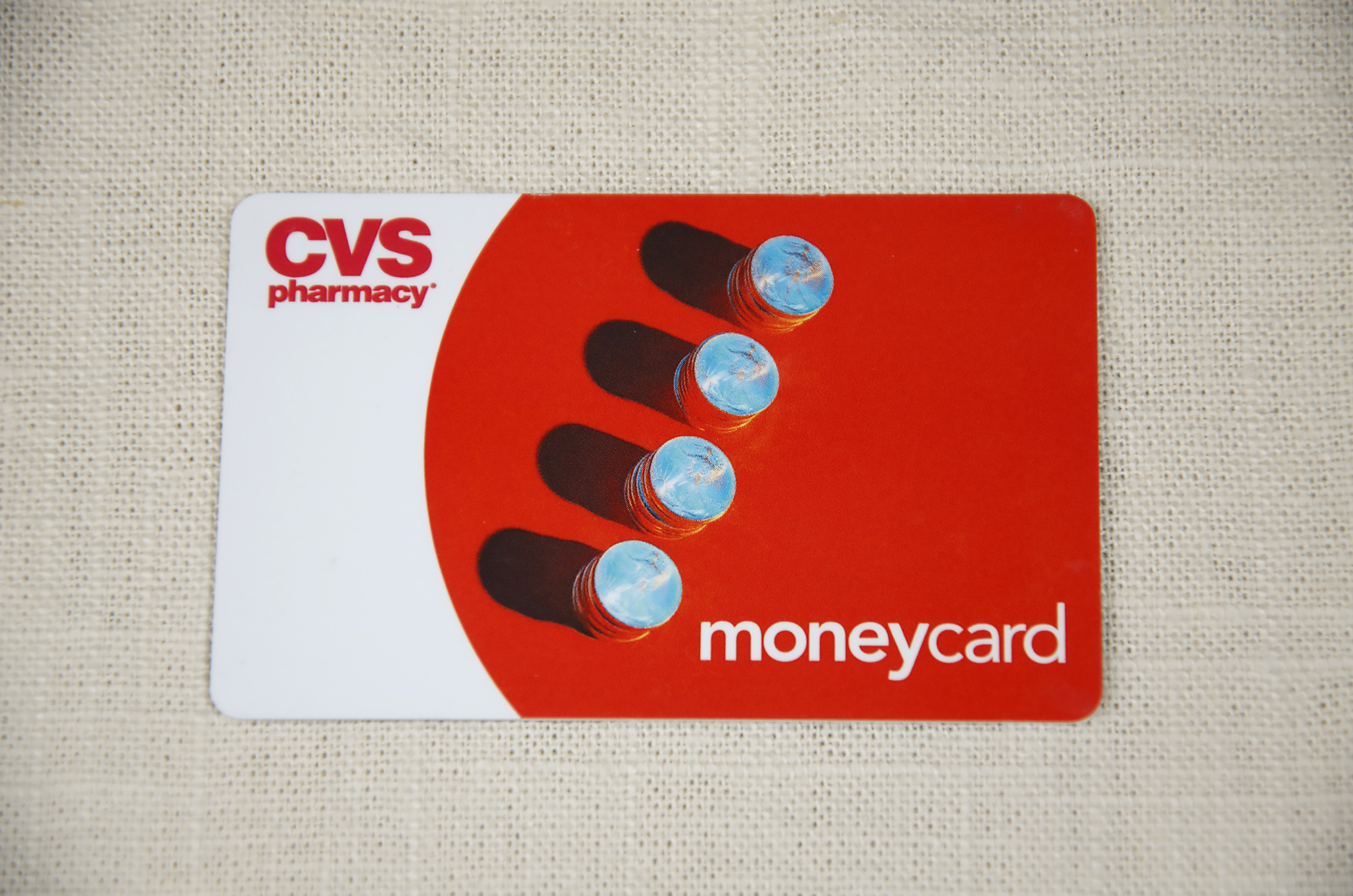 The older we get, the more prescriptions, ointments and health supplies we seem to need to get through the day. If grandpa makes a regular trip to the drug store, then get him a gift card he can use on his next visit. CVS gift cards, for example, can be used to pay for necessities like prescriptions and over-the-counter medications. They can also be used to buy candy, magazines, household supplies and toiletries.
9. Target or Walmart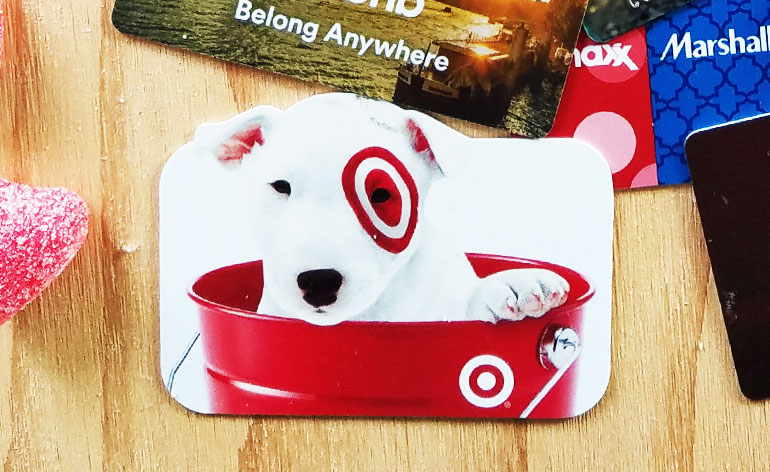 With gift cards to stores such as Target gift cards or Walmart, grandpa can buy anything from food and clothing to electronics and cooking supplies. I'm always surprised by how people use their Target and Walmart gift cards. Some stock up on essentials like toilet paper and toothpaste while others use these gift cards to splurge on fun things like new music, books or lawn furniture. How do you think your grandpa will use one of these gift cards?
10. Applebee's or Olive Garden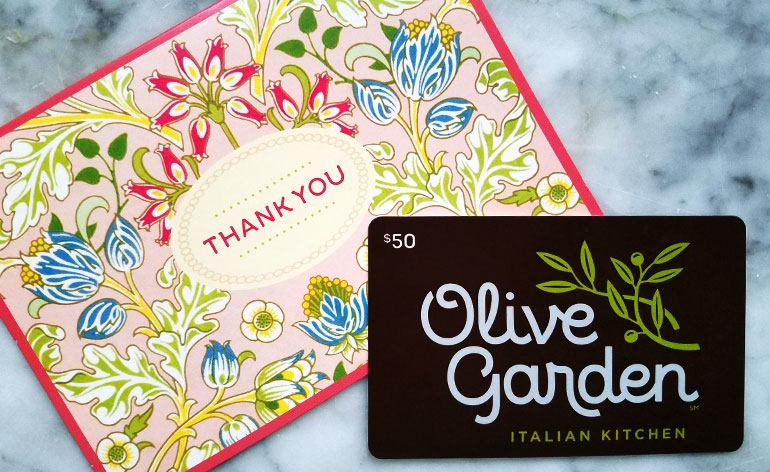 If your grandpa likes a nice family-friendly sit-down meal at a restaurant, then Applebee's and Olive Garden are two perfect choices. Since Applebee's has a senior discount (I think it's 15% off the meal for customers 60 years of age or older), those gift card dollars can stretch a little further.
If grandpa has time for a sit-down breakfast, then get him a gift card to Denny's or IHOP. Both also offer senior discounts. IHOP has an exclusive senior menu for customers 55 and older. Denny's has the same plus most locations also offer discounts to AARP members and guests.
Happy Dining gift cards also have a nice selection of restaurants that grandparents might enjoy.

Did I miss any the gift cards you think grandpas will appreciate? Although I selected nationwide stores that are in seemingly good financial health so that the gift cards are easy for you to buy and just as easy for grandpa to redeem, I also encourage shopping local as well. If grandpa has a favorite place to hangout downtown, then get him a gift card to one of those places. Better yet, offer to go with him and spend a little extra time together.
If you have another suggestion for this Top 10 Father's Day gift cards, then let me know in the comments below, on Twitter (@GCGirlfriend) or on Instagram (@Gift.Card.Girlfriend).
Happy Gift Carding!
~Shelley Hunter, Gift Card Girlfriend