The best gift cards for new dads on Father's Day, chosen from top stores and restaurants plus ways to make dad feel special on his first Father's Day.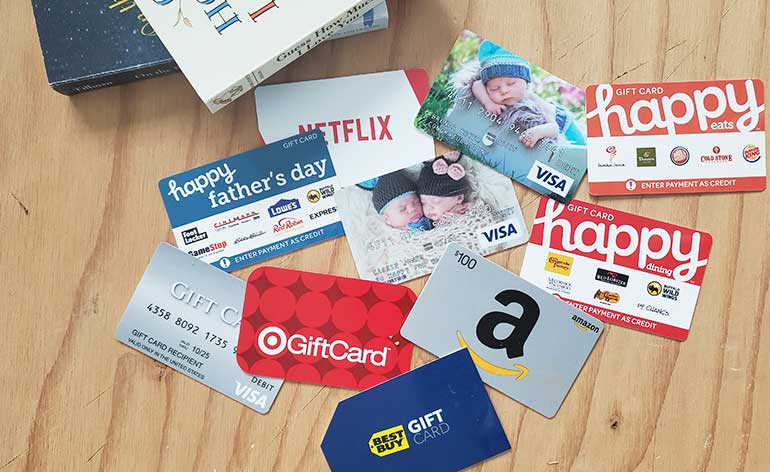 11 Best Father's Day Gift Cards for New Dads
There's something magical that happens when a new baby is born. With a single breath, a man becomes a father. Though he may have held other titles in life (boyfriend, fiance, husband–even manager, coach or friend), no job quite compares to the role of being someone's dad. I imagine celebrating that first Father's Day could feel both amazing as well as a little overwhelming. After all, dad is now responsible for another human being in a way he's likely never experienced before. Today it may mean changing diapers and midnight feedings. In a few years, being dad may require teaching your child how to change a tire and telling him he can't stay up past midnight. While we don't know exactly what the days may hold, we know it's important to honor the men in our lives we call father. I think it's especially important to honor the men who are called father for the first time.
The gift cards in this Top 10 list of Father's Day Gift Cards for New Dads have mainly been selected from stores and restaurants that are on the National Retail Federation's list of Top 100 Retailers. I wanted to be sure the gift cards would be easy to buy and easy for new dads to redeem, regardless of where they live.
1. Happy Father's Day Gift Cards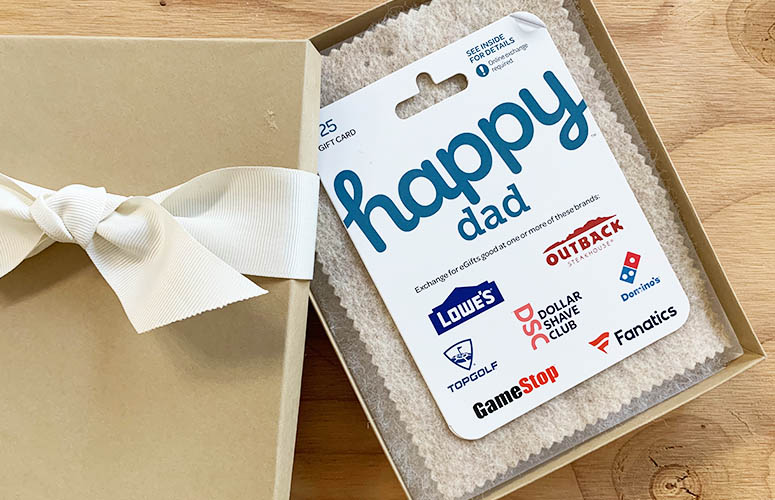 For dad's first Father's Day, this gift card is the perfect fit. The Happy Dad or the #BestDadEver gift card from the Happy Card collection is usable at any of the stores or restaurants listed on the card. Dad can use the card to go the hardware store, pick up lunch, enjoy a nice dinner, go the movies and more. Just keep in mind, these gift cards must be used in person–not online.
Here's an explainer video on the Happy Father's Day gift card for more information.
2. Visa Gift Card or Mastercard Gift Card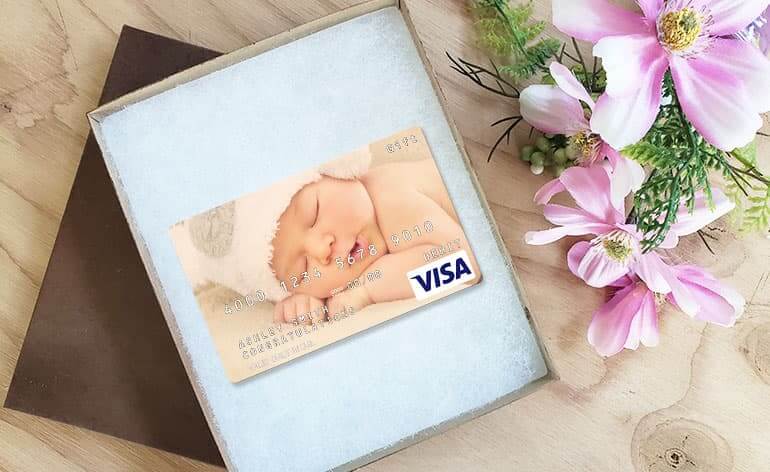 Get new dad a personalized Visa gift card or a custom Mastercard gift card that he can use to spend however he wants on his first Father's Day. He can use either bank-issued gift card to buy something for himself or something he and the new baby can enjoy together such as matching sweatsuits (think Forty Niners not velour).
3. Yay You!
Having three kids of my own, one thing I know is that finding time to go shopping becomes increasingly difficult with each new baby the stork brings. With a gift card, dad can shop while still taking care of a newborn and have a purchase arrive on his doorstep without having to haul baby, car seat, stroller, extra diapers, a change of clothes, emergency formula and all other "quick" essentials out to the car. To make life even easier, send dad a digital Multi-store gift card right to his smartphone. While he holds baby in one hand, he can shop redeem the gift card on a mobile device with the other.
Check out the Yay You! gift card for new dads.
4. Starbucks, Jamba or local shop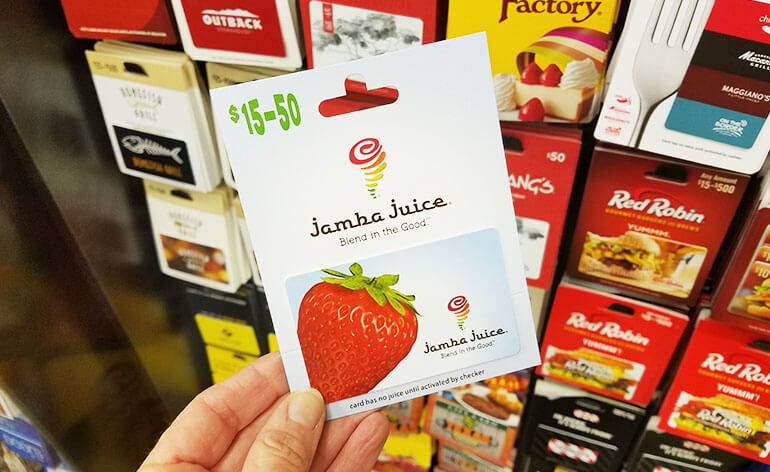 Breakfast is another thing that is hard to manage when a newborn is in the home. Some days new parents are doing good just to get a shower in, let alone a nutritious meal. With a gift card to Starbucks, Jamba or his favorite local pit-stop, dad can grab something to eat or a morning wake-me-up on his way to work or he can take baby with him to give mom a break for an hour or so. Either way, this is a gift card that will probably get used right away.
5. Google Play or Spotify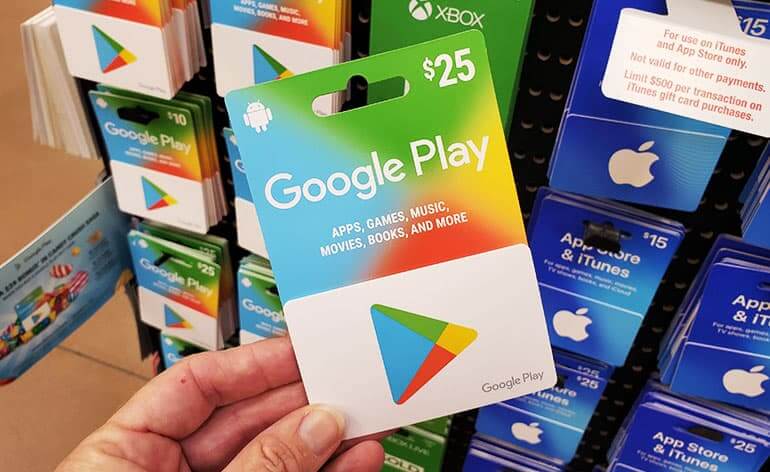 When my daughter was born, her dad learned to like country music because we discovered that our little one liked the twang of the guitar more than the heavy beat of the drums he preferred. He's been a little bit country ever since. With an Spotify gift card or Google Play gift card, dad can download music he enjoys, soothing sounds his newborn will love or simply update his playlist to some more family-friendly music.
6. AMC Theatres or Regal Cinemas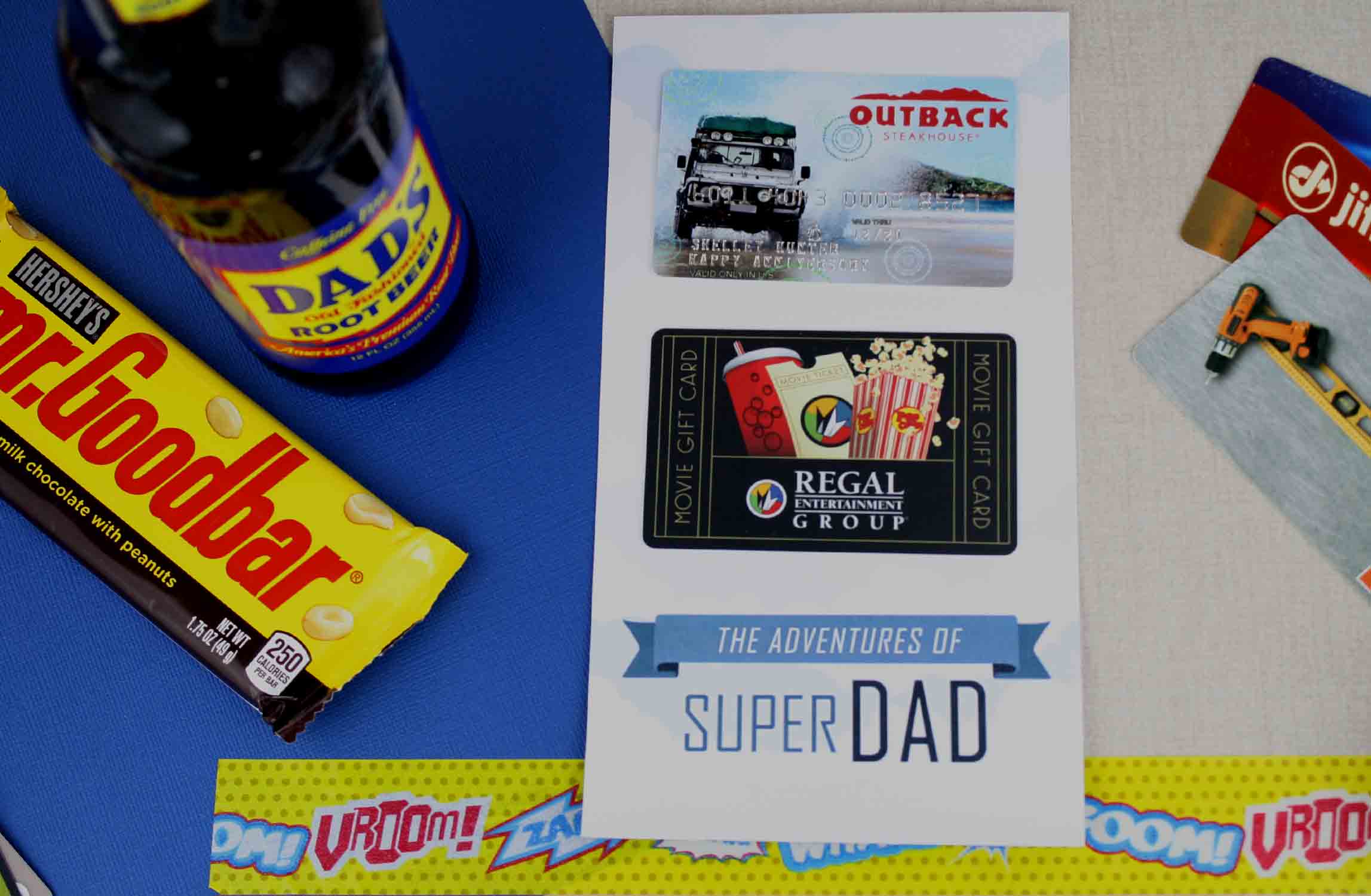 While it may seem contrary to buy new dads gift cards to the movies, I found my first baby was a dream date. With my husband off work, we took her to several cinematic experiences that she totally slept through. When she did wake, it didn't matter because there were very few other people at the matinees we went to. Dad doesn't have to take the family along with this gift card of course. Perhaps he can use it to get out of the house for a couple of hours while mom and the baby take a nap together. Try a gift card to AMC Theaters or Regal Cinemas.

7. Target or Walmart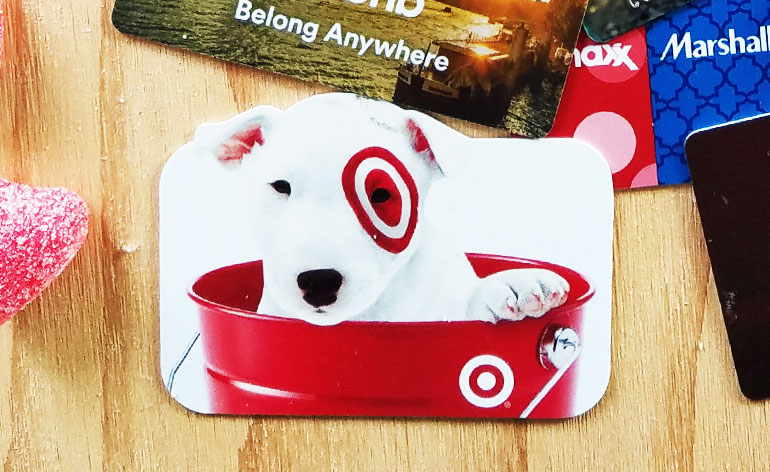 Like Amazon.com, there's almost nothing you can't buy at Target or Walmart. With a gift card to either great mass merchant, a new dad could use a gift card to buy clothes, toys, something for the office and more. He can even use the gift card to buy products to make life with baby just a little bit easier. With a baby carrier, for example, dad can easily take baby out for a walk or cart his new pride and joy to the office for a little "show and tell."
8. Gaming Gift Card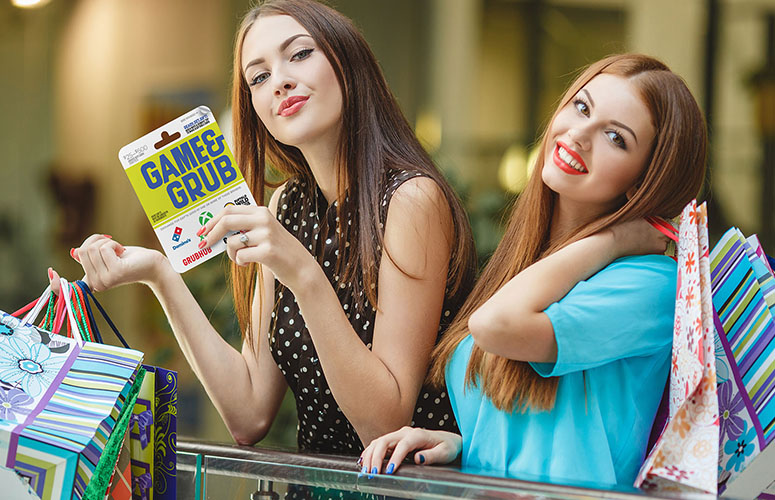 For a little downtime for your gamer, try a gaming gift card. There are plenty to choose from–Xbox, PlayStation, Steam and more. But if you're not sure which one to get, try the Game & Grub gift card instead. New dad has a choice of how to celebrate this special day.
9. Home Depot or Lowe's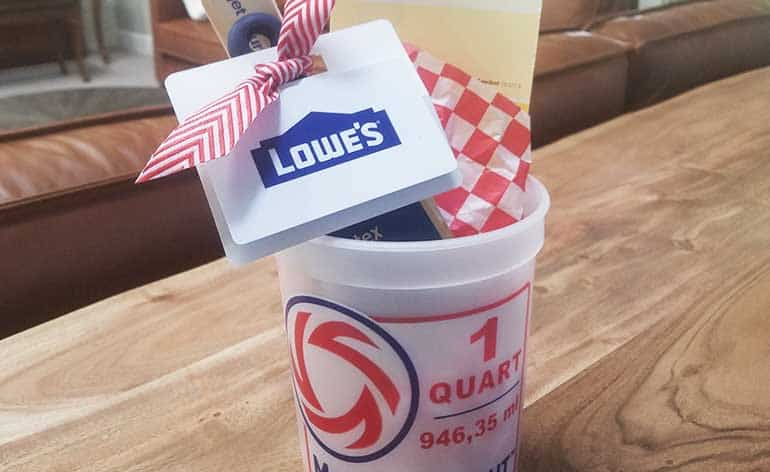 If dad gets to be home for an extended paternity leave, he just might surprise you and use the time to build the garden bench you've been wanting or hang a new ceiling fan in the baby's room. With a gift card to The Home Depot or Lowe's, he can do just that. If dad doesn't have time to become a weekend warrior, he can use the gift card to buy a rocker for the backyard, plants for the window boxes or a new barbecue to help take over some of the cooking duties now that mom has her hands full with an infant.
10. Bass Pro Shops, REI or Cabela's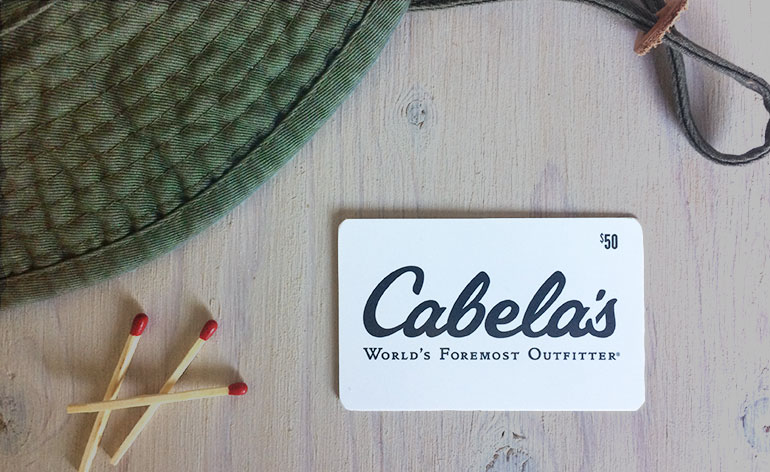 I've always believed that the family who plays together, stays together. Get new dad a gift card to Bass Pro Shops, REI or Cabela's so he can get geared up for some outdoor summer fun. If he needs some alone time instead, he can use the gift card to pick up a new walking stick, a backpack with a built in hydration system or any of the other cool gadgets tough guys need to enjoy the great outdoors.
11. Chipotle, Chick fil A or Baja Fresh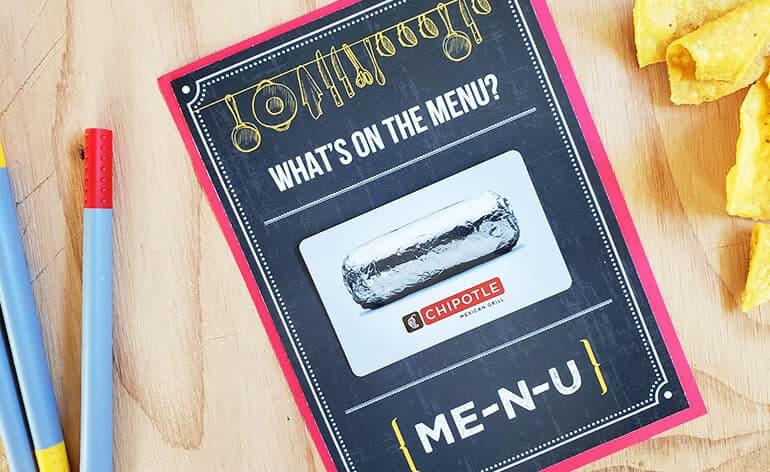 If putting dinner on the table just got a little harder, then get new dad a gift card to his favorite fast-casual restaurant. He can use the gift card to grab lunch when he's on the go or pick something up for dinner on the way home. Deliver this gift card in a paper cup from the restaurant and fill it with his favorite candy for dessert. If you're not sure which restaurant he prefers, get a Happy Eats gift card or a Happy Dining gift card.
Did I miss any the gift cards you think new dads will appreciate? Although I selected nationwide stores so that the gift cards are easy for you to buy and just as easy for dad to redeem, I also encourage shopping local. If new dad has a favorite place to hangout downtown, then get him a gift card to one of those places–just make sure he takes his phone so you can reach him in an emergency…and just so you know, in those "early days," a diaper blow-out IS an emergency that sometimes requires more than one parent present to get the situation under control.
If you have another suggestion for this Top 10 Father's Day gift cards, then let me know in the comments below, on Twitter (@GCGirlfriend) or on Instagram (@Gift.Card.Girlfriend).
Happy Gift Carding!
~Shelley Hunter, Gift Card Girlfriend