Get your backstage pass ready for this free birthday gift card printable, designed to hold iTunes, Google Play, Visa or any music-themed gift card.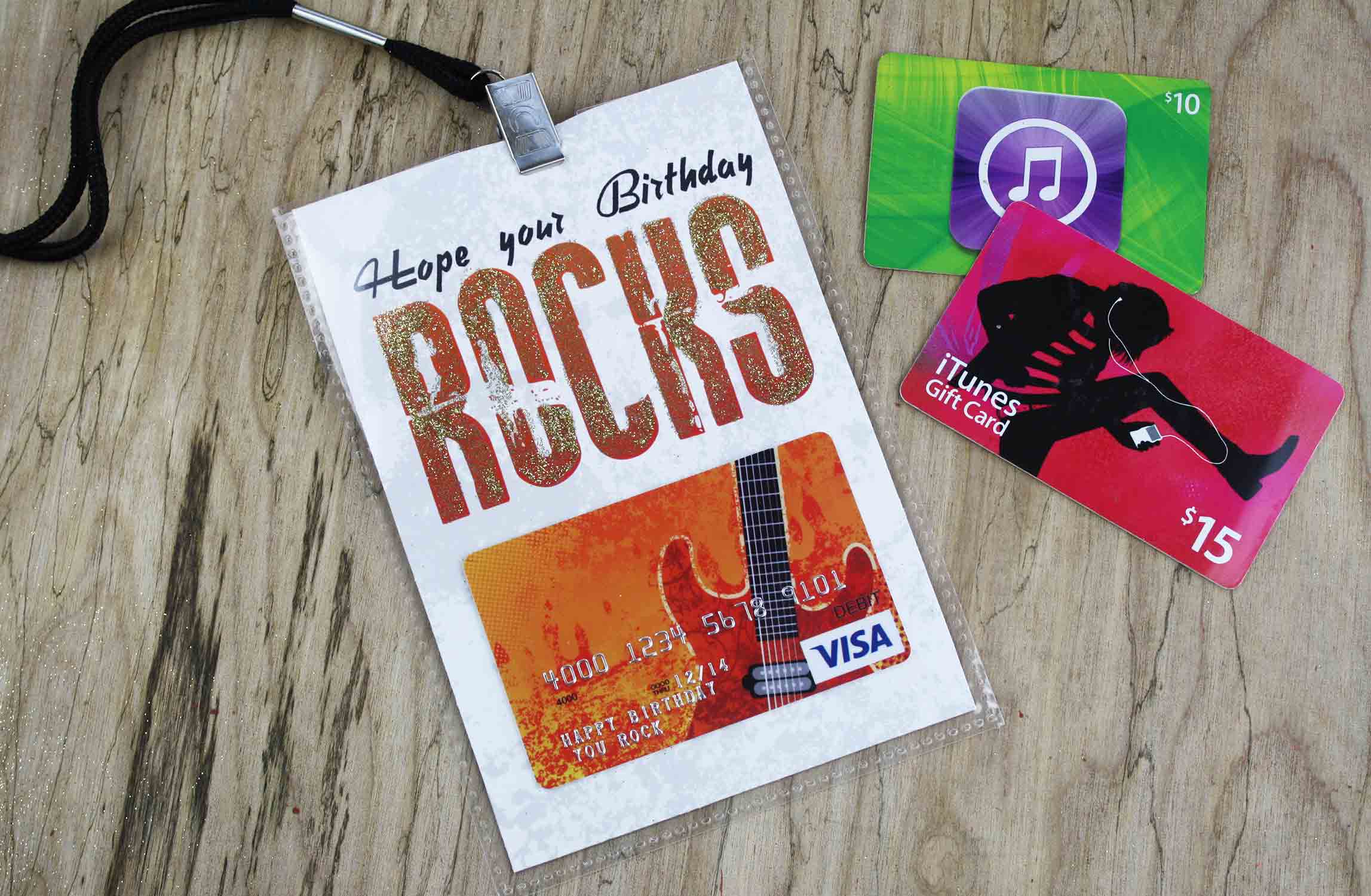 iTunes gift cards are popular among many age groups and across genders–the same iTunes gift card, for example, can be given to your teenage daughter on her birthday as well as your dad for Father's Day. Besides general use gift cards like Visa® and Mastercard®, there are few gift cards quite so universal. Google Play and Amazon MP3 gift cards, however, are shaking things up a bit, giving music-lovers even more ways to download music. Regardless of the music-themed gift card you choose, this free printable gift card holder is the perfect match. In fact, the recipient doesn't have to be a music lover at all. Since Visa gift cards can be used anywhere Visa debit cards are accepted, select our rock star guitar gift card design and get ready to receive a standing ovation.

Order Gift Card and Download Printable
The first thing to do is decide which gift card you'll get. The rock 'n roll guitar on our gift card matches perfectly and can be used almost anywhere, but you can order an iTunes or other MP3 gift card instead. Once you have the gift card, download the free holder to go with it. The printable holder reads "Hope your birthday rocks."
Order a Music-Themed Gift Card like one of these:
"Birthday Rocks" Visa Gift Card
Download FREE MATCHING ""Birthday Rocks" Gift Card Holder

Print and Cut
After downloading the gift card holder, print it on a color printer using "best quality" and "actual size" settings. (Do not select "shrink to fit" or any other setting that will change the size of the printed .pdf image.) White, card stock paper measuring 8-1/2″ x 11″ works best. Cut the holder with a paper cutter using the trim marks as a guide.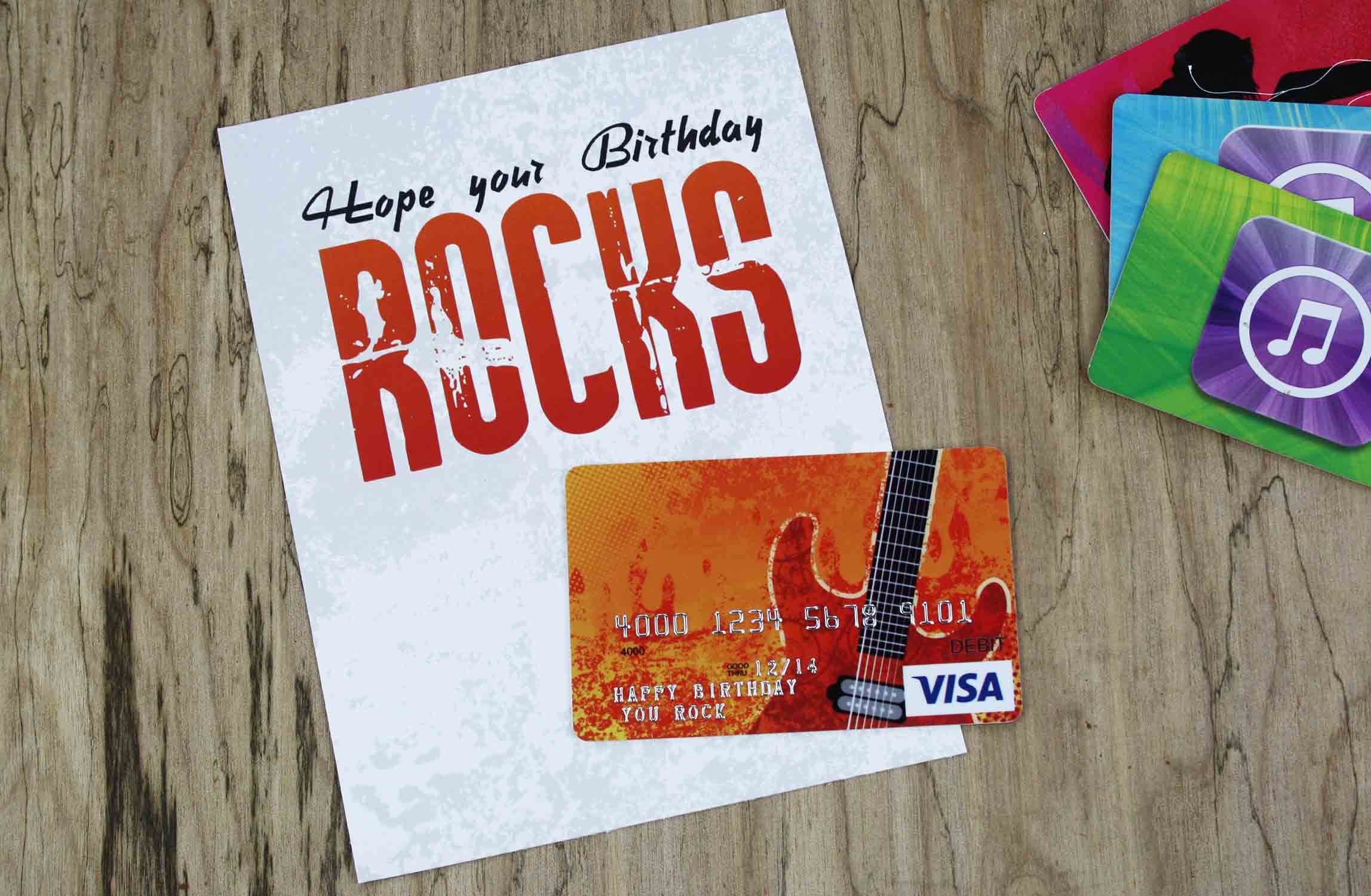 Add Glitter
With this flat printable gift card holder, all you have to do is attach a gift card and you're ready to rock. But I thought it would be a little more glamorous to add some glitter and make it look like a backstage pass–complete with lanyard. Below are the steps I took to make that happen.
Using regular glue and glitter, I used a toothpick to put glue on the "ROCKS" part of the gift card holder. (You could use a paintbrush instead.) Then I sprinkled glitter on top, waited for it to dry and brushed it off with a dry brush. The glitter adds just enough sparkle to give the design a little texture.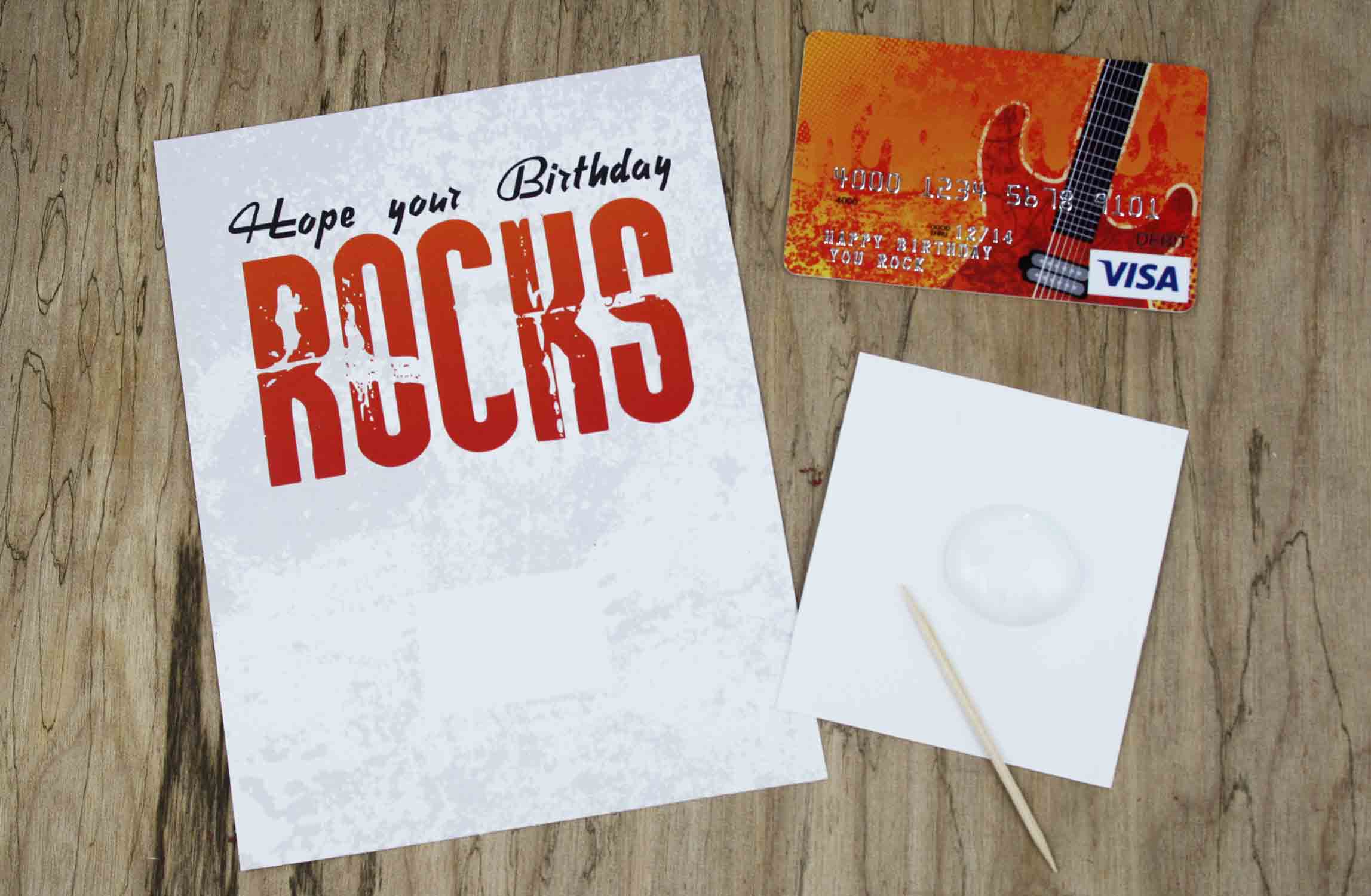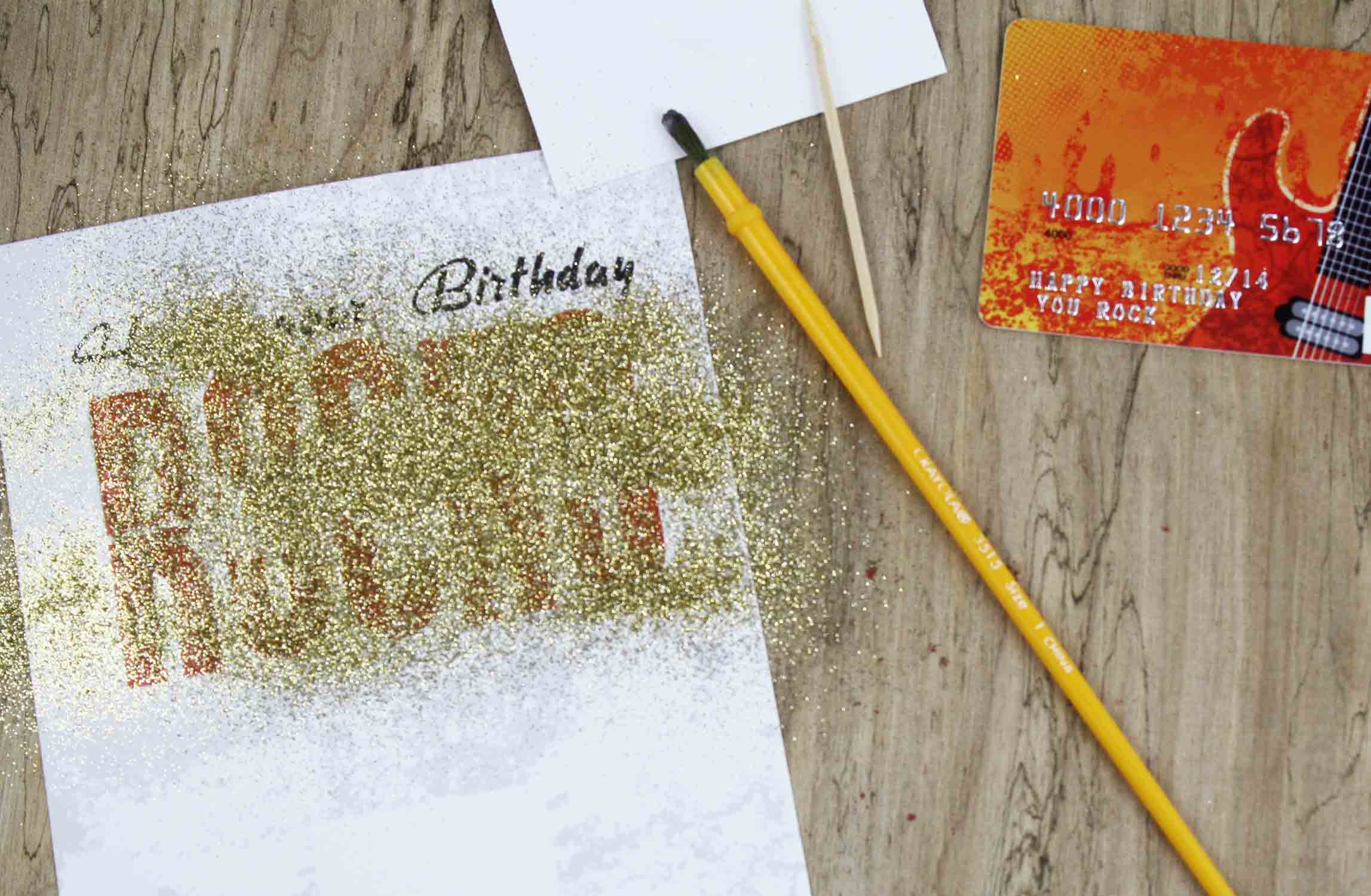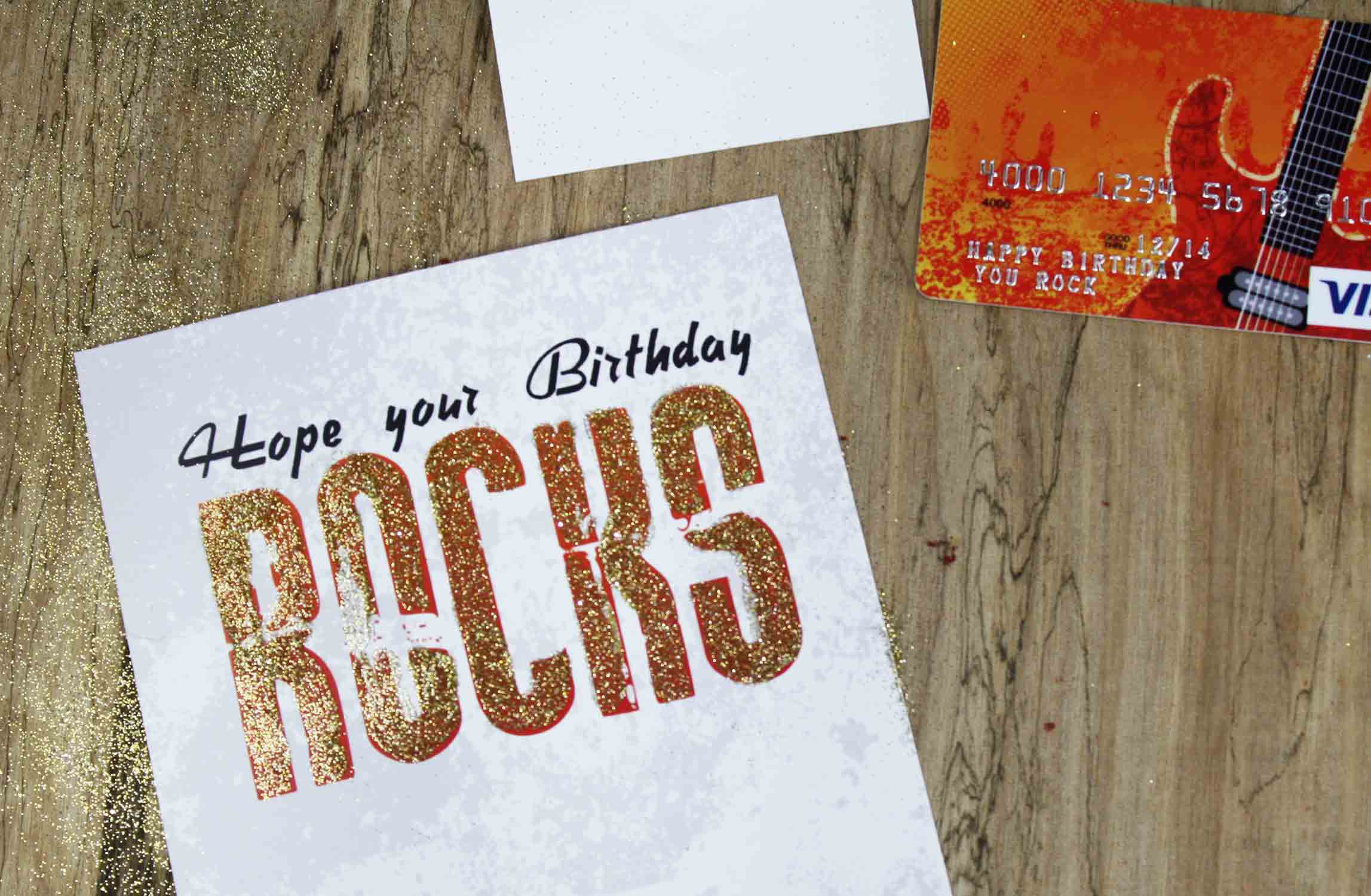 Put into Lanyard
The finished gift card holder measures about 4-3/4 inches by 6-1/4 inches. I trimmed it down a bit so that it would fit into a clear photo pocket measuring 4 by 6 inches. Then I attached a lanyard clip to the picture holder for a simple "backstage" pass-style gift card holder. You could order a custom lanyard, but I like to keep gift card presentations inexpensive so that the bulk of my money goes towards the value of the gift card.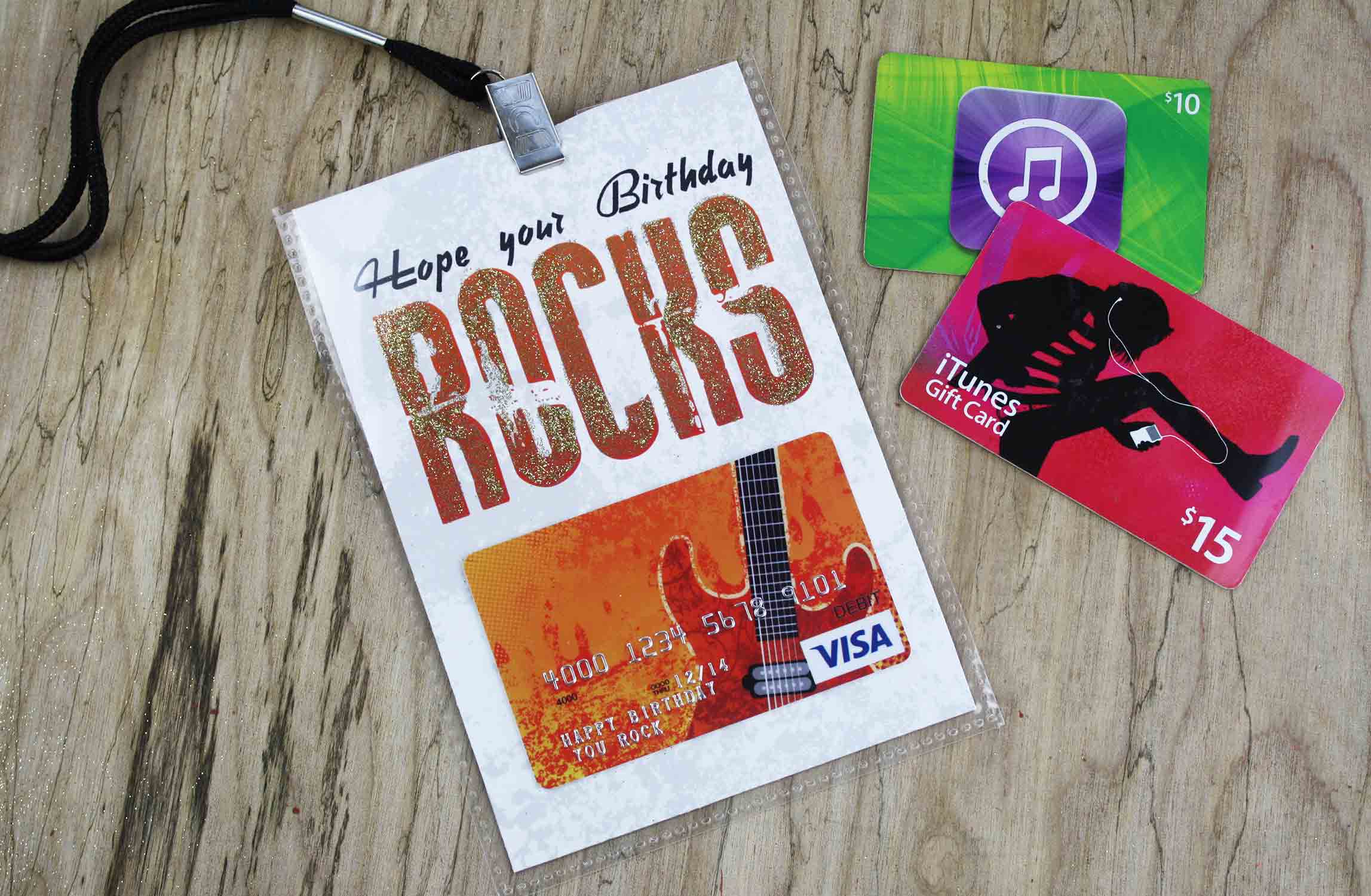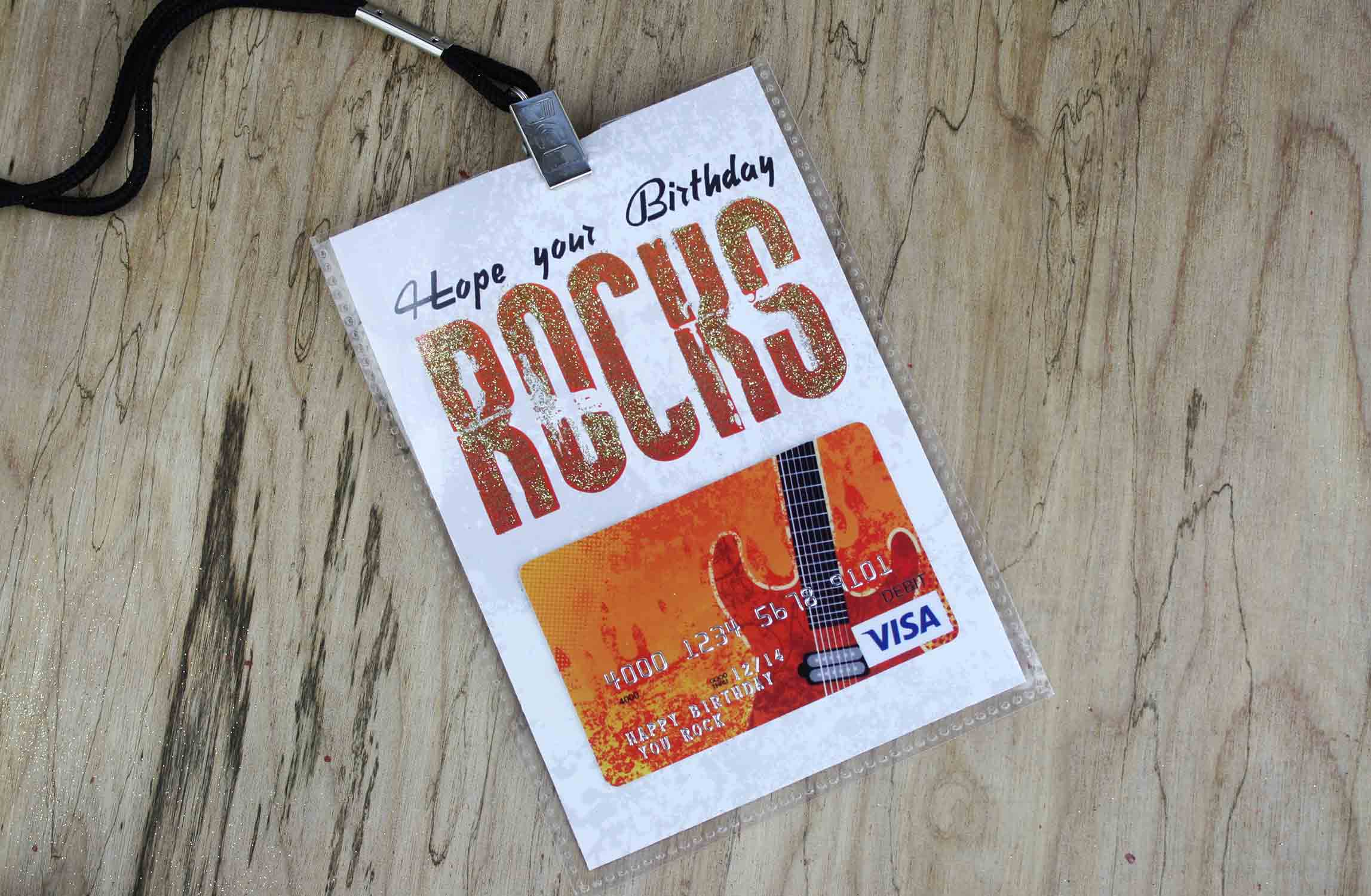 Bonus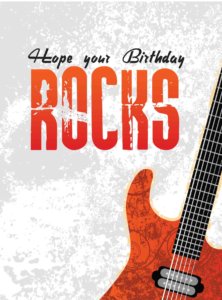 If you like the birthday rocks gift card idea, but would rather we do the legwork for you, then simply order the "Birthday Rocks" Visa gift card and select the standard greeting card option. Add the recipient's name to the card and enter a personal note inside the greeting card. Tell us where to send the card and we'll take care of the rest!
More on Pinterest
For more free printable gift card holders, check out the free prints page or follow Gift Card Girlfriend on Pinterest. If you use this printable, send me a link to your page in the comments below or contact me on Twitter (@GCGirlfriend). I want to see what inspires you.
Happy Gift Carding!
~Shelley Hunter, Gift Card Girlfriend