From online to in stores, all the ways to buy and save on Cabela's gift cards.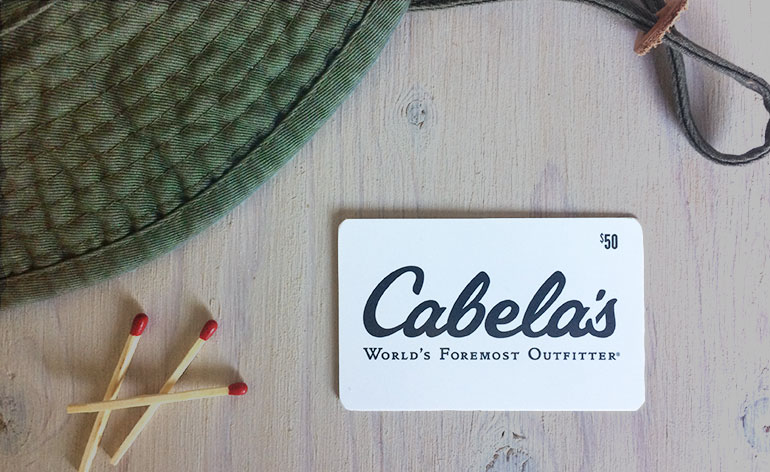 Hunting for Cabela's Gift Cards
If you have an outdoorsman or an outdoorswoman on your birthday or holiday shopping list, then Cabela's had better be there too. With literally thousands of products to choose from, you'll find everything from hunting gear and camping supplies to fishing lures and hiking boots. That much is expected of a store that calls itself the "World's Foremost Outfitter." If you check out the Cabela's website or visit one of their nearly 100 stores, however, you might be as surprised as I was to find that the store also carries outdoor products well beyond the typical neighborhood sporting goods store. Need a pair of snowshoes or a blowgun? They've got both. Interested in a rock polishing kit or perhaps you want something more high-tech like a drone? No problem. Want to sign up for an outdoor adventure or get your next hunting license? Cabela's can help you with that too.
With such an impressive array of products and services to choose from, it should be no surprise that the Cabela's gift card designs are equally diverse. The company even sells gift card tins to make the gift card delivery more presentation-like. (I'm a fan!)
Though you'll find a great selection of these gift cards online and in Cabela's stores, there are other places to buy Cabela's gift cards as well. Lucky for you, it's always gift card hunting season for me and there's no limit to the number of cards I can bag. So below is a list of the easiest ways to buy and a few ways to save on Cabela's gift cards.
1. At Cabelas.com for the Biggest Selection
The easiest way to buy a Cabela's gift card is to visit Cabelas.com or go to a Cabela's location. The benefit of going straight to the source is that you can get a variety of Cabela's gift card designs including images of the sports your giftee prefers (e.g. hunting, fishing, camping, etc.), novelty designs like a card featuring Luke Bryan or the S'mores Scratch and Sniff gift card plus feminine designs for the ladies who also like to get outside. These designs are available both as plastic gift cards and egift cards.
2. At a Virtual Gift Card Mall for Personalization
In addition to purchasing gift cards directly from Cabela's, you can also find Cabela's gift cards right here at Giftcards.com and at other online gift card merchants such as Gift Card Mall. Although the design choices for plastic cards are limited, you can put an image on a Cabela's egift card to make it more personal. You also get the benefit of being able to order gift cards from other brands at the same time. For example, if you want to buy a Cabela's gift card for your dad and a Fandango gift card for your neice, then you can place one order for both cards at the same time.
3. From Online Retailers to Combine with Other Shopping
Staples, Safeway, Amazon.com and other retailers typically sell store brand gift cards alongside their own gift cards. The benefit to buying a gift card at one of these online locations is that you can cross other items off your shopping list at the same time. For example, if you need to order a gift card for Father's Day and you also need to pick up printer paper for the office, then you can get both from an online merchant. Before you place the order, however, check the gift card method of delivery and possible shipping charges. Many stores ship gift cards for free, but some charge a nominal fee.
Stores that carry the Cabela's gift card include the following:
PayPal on eBay
eBay
Amazon.com
Kroger
4. At Grocery Stores for Quick Pickup
As I just mentioned, many major retailers sell gift cards for other stores and restaurants via in-store racks popularly known as "Gift Card Malls." If you have the time to visit a store, you are likely to find a Cabela's gift card on one of the racks. The benefit to buying a Cabela's gift card while at the physical store is the convenience of being able to pick up a gift while doing your grocery shopping.
Physical stores that carry the Cabela's gift card include the following:
Ahold Albertsons Kroger Meijer Safeway Staples
5. From Gift Card Resellers to Save Money
If you're looking to find a good deal on a Cabela's gift card, then I have two choices for you. The first is to follow my weekly list of Gift Card Deals to see if the Cabela's card is on sale when you need it. The second option is to check for discount Cabela's gift cards made available through gift card resellers.
6. Via a Smartphone App for Instant Delivery
One of the easiest ways to buy a Cabela's gift card is to order it through a gift card app. With Samsung Pay, for example, you can order a range of gift cards straight from your phone, some of which are occasionally on sale. Plus you can always check for a mobile-enabled version of the websites listed above. Of course, the primary benefit to ordering a gift card via an app is that it will most likely be delivered electronically and it will automatically be deposited into your mobile wallet (or app) for easy redemption.
I think that about completes my hunt for the popular Cabela's gift card. Did I miss any that you know of? It doesn't matter how big or small the suggestion is. If you know another way to get your hands on a Cabela's gift card, then let me know about it in the comments below or send me a message on Twitter (@GCGirlfriend).
Happy Gift Carding!
~Shelley Hunter, Gift Card Girlfriend