Thursday 1.18.2018
NEW! Gift Cards Usable at Many Stores! (No Fees!)
A new gift card available this holiday season is good at many stores (without an activation fee!). Saving you money and giving recipients more choices!
New Gift Card this Holiday Season
Have you ever gotten a gift card that you didn't want? Perhaps you received a gift card to a restaurant that you don't like or to a store that's not conveniently located near you. When that happens, what do you do? Well, you can sell the gift card, hold onto it (hoping you will find a way to use it later) or think of something else to do with unwanted gift card so that it doesn't go to waste. Well, good news! There's a new gift card in town that gives recipients more choices!
This holiday season, Blackhawk Network released a new series of "category gift cards." A category gift card is one that can be used at multiple merchants within a category such as dining, clothing or entertainment. Some category cards are also based on age groups or interests. For example, there's a "Dining Out Gift Card" that is usable at several different restaurants. The "Teens Choice Gift Card" is usable at a selection of stores, restaurants and entertainment venues that teenagers generally like. And the "Ultimate Eats" gift cards feature nationwide restaurants as well as popular regional restaurants. Isn't that fun?
I'll explain each card in detail below, but you can also learn more on the Choice Cards website.
There are many benefits to category gift cards as well as a few things that are helpful to know. Below is a list of top category gift cards plus everything you need to know about my top choice of new gift cards to try this holiday season:
Category Gift Cards: Usable at Many Merchants
The great thing about a category gift card is that the recipient gets to decide where to redeem the card (within a range of choices), but the giver doesn't have to pay an extra fee for the added flexibility. When you buy a Visa gift card or a Mastercard® gift card, for example, you have to pay an activation fee for the ability to use the gift card pretty much anywhere you want–online, in stores and over the phone anywhere that Visa and Mastercard are accepted. But category cards are different.
Category gift cards are developed by partnering with participating merchants, so these cards cannot be used everywhere (like a Visa or Mastercard), but there will be several restaurants or retailers to choose from. So when you receive a category card, you have the option to use it at any of the merchants listed on the card, or in some cases, the merchants listed on a website affiliated with the card. Here are some of the best category gift cards I have found:
1. Teen's Choice Gift Card
The Teen's Choice gift card is perfect for teenagers, young adults and older kids who like eating, athletic wear and entertainment. The list of merchants included on this fun category card are Burger King, Regal Cinemas, Nike, The Cheesecake Factory, Jamba Juice, Coldstone Creamery and Dave & Busters. What a great selection!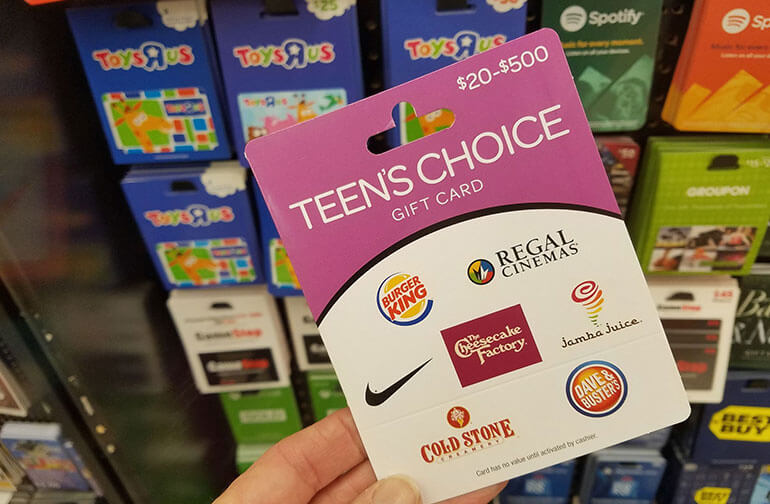 What You Need to Know about Teen's Choice Gift Cards:
These gift cards must be used in stores. They are not programmed to work online. You can, however, use the gift cards at stores within each family of stores. For example, Nike is listed on the front of the gift card, but you can also use it at Converse and any other store in the Nike-brand family. Oh, and you can use the gift card at more than one place. For example, if you redeem the Teen's Choice gift card at Burger King and there is still money left on the card, you can redeem the remaining value at the same merchant or pick another.
BUY IT HERE: Teen's Choice Gift Cards
2. Dining Out Gift Card
The Dining Out gift card is the perfect restaurant gift card because recipients can choose from six popular nationwide restaurants. In the mood for lobster? Use the Dining Out gift card at Red Lobster. In the mood for ice cream? Use the gift card Coldstone Creamery. Other merchants include Panera, The Cheesecake Factory, Buffalo Wild Wings and Jamba Juice. I especially like that the range of restaurant choices includes a few sit-down venues, some fast-casual locations and dessert options.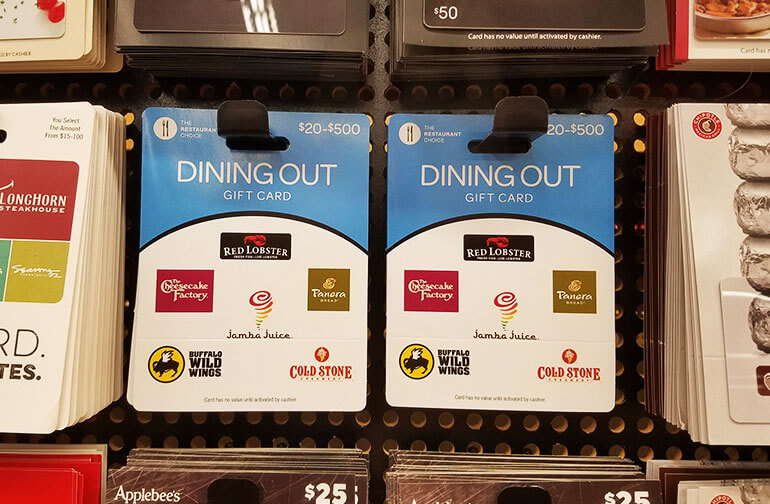 What You Need to Know about the Dining Out Gift Cards:
Dining Out gift cards are only usable in restaurants (not online) and they are only valid for the cost of the meal. If you want to leave a tip beyond the cost of the meal and you are not sure how to use a gift card for partial payment, the steps are simple. Ask the cashier to charge only the bill amount (minus any gratuity) to the Dining Out gift card. Be prepared to pay the tip (or any amount that the gift card doesn't cover) with another form of payment.
BUY IT HERE: Buy Dining Out gift cards
3. Ultimate Eats Gift Cards
The Ultimate Eats gift cards are similar to the Dining Out gift card with one exception–these cards include regional restaurant choices. For example, the Ultimate Eats gift card in my town might include a fast-casual restaurant called Baja Fresh, but the Ultimate Eats gift card in your town might work at a Shoney's restaurant instead. This is a fun way to give consumers choices for eating out that include more than just national brand restaurants.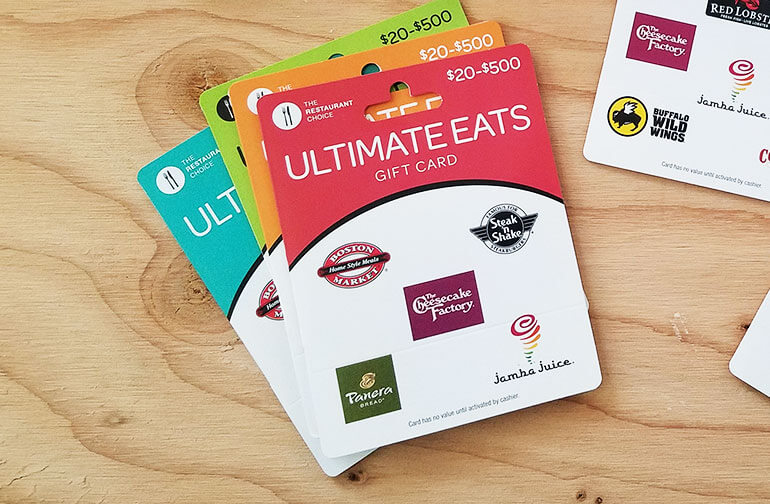 What You Need to Know about the Ultimate Eats Gift Cards:
Again, similar to the Dining Out gift cards, the Ultimate Eats gift cards are only usable on-site, and you should plan to pay the gratuity with another form of payment. When it's time to check out, tell the cashier exactly how much money to charge the card and explain that you'll pay the balance plus any tip with cash or a bank card.
You are free to use the same Ultimate Eats gift card across multiple brands featured on the card. You know what the sounds like to me? Dinner AND dessert!
BUY IT HERE: Buy Ultimate Eats gift cards for your region as follows:
Ultimate Eats West
Ultimate Eats Midwest
Ultimate Eats Southwest
Ultimate Eats Southeast
4. Spafinder Gift Cards
Spafinder gift cards aren't all that new, but they work similarly to these other category cards. Spafinder gift cards are usable at hundreds of salons, spas and wellness places throughout the United States including nationwide chains as well as small one-location salons. If you have a favorite place for pampering or want to explore new options in your area, check out this list to find out where Spafinder gift cards are accepted.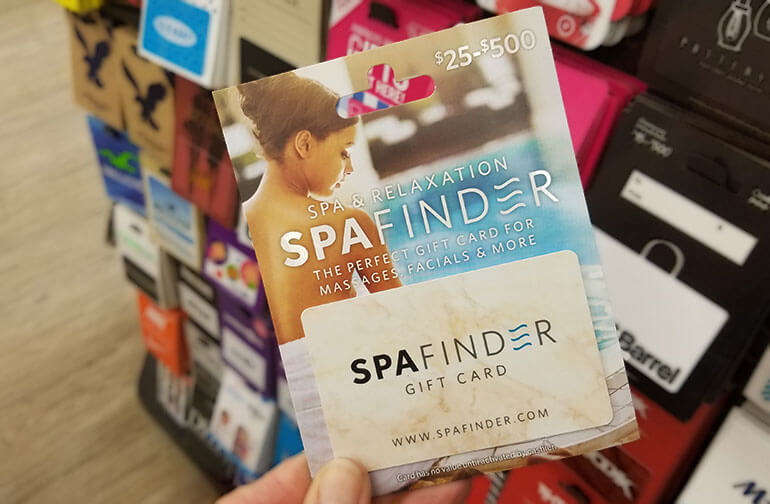 What You Need to Know about Spafinder Gift Cards:
Spafinder's new multi-use card can be used at more than one location so you can get your hair done at one salon and your toes done at another–assuming there is enough money on the card for both. Spafinder gift cards are available in both traditional plastic gift cards as well as egift cards for fast and convenient gifting.
BUY IT HERE:Spafinder gift cards
5. Go Play Golf Gift Cards
If you have a golfer on your holiday gift list, then I have a great option for you in the golf category. The Go Play Golf gift card is
redeemable at hundreds of golf courses across the country for green fees, lessons and merchandise. With the current decline in national sporting goods stores and the challenge of driving out to individual golf courses to buy gift cards, I think this category card is the most convenient way to treat golfers to the game (and merchandise) they love most.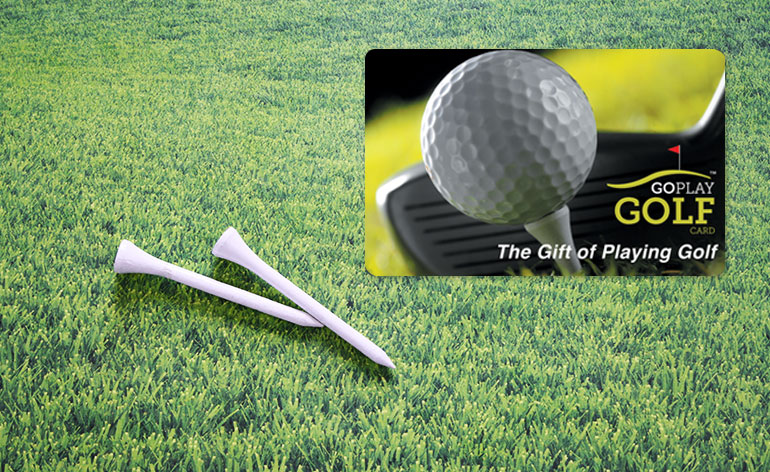 What You Need to Know about Go Play Golf Gift Cards:
To redeem a Go Play Golf gift card, you first select a course you want to play on from the list of available golf courses. Then you redeem the gift card at Go Play Golf. The company will then contact the course, set up your tee-time and pay for the green fees. You are not able to redeem the gift card directly at a course. Learn more about Go Play Golf.
BUY IT HERE:
Buy Go Play Golf gift cards
Main Reason I Like Category Gift Cards
Category gift cards are a new favorite obsession of mine. I love the convenience they offer to recipients and the fact that givers don't have to pay extra to give someone the increased flexibility. I also think these cards will help consumers from tossing unused gift cards into the gift card graveyard whenever a stores closes or files for bankruptcy–leaving gift card holders without a place to redeem their cards. With the new category cards and the Visa Everywhere cards, if one store closes, the gift card is still usable at several others.
I'll be updating this post with new category gift cards I find. If you find others, be sure to let me know in the comments below or reach out to me on Twitter (@GCGirlfriend).
Happy Gift Carding!
~Shelley Hunter, Gift Card Girlfriend