Gift ideas and other tips on how to celebrate Mother's Day, Father's Day and Graduations when you can't be together in person.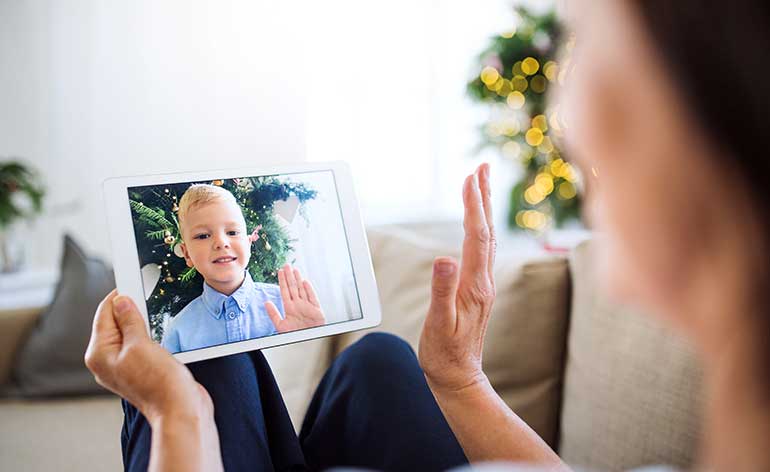 Ways to Celebrate Mother's Day, Father's Day and Graduation Remotely
Spring is a time for celebrating moms, dads, and grads. But for health and safety reasons, many of our traditional gatherings and parties have been cut short. If you're wondering how to remotely celebrate the people you love, here are some suggestions.
1. Make a Photobook, Collage or Poster
Put together a photo book or collage of your best memories. You can order one digitally from places like Chatbooks or Shutterfly or put one together yourself using all the photos you intended to one day put in a scrapbook. Well, today is THAT day.
2. Send Homemade Greeting Cards in the Mail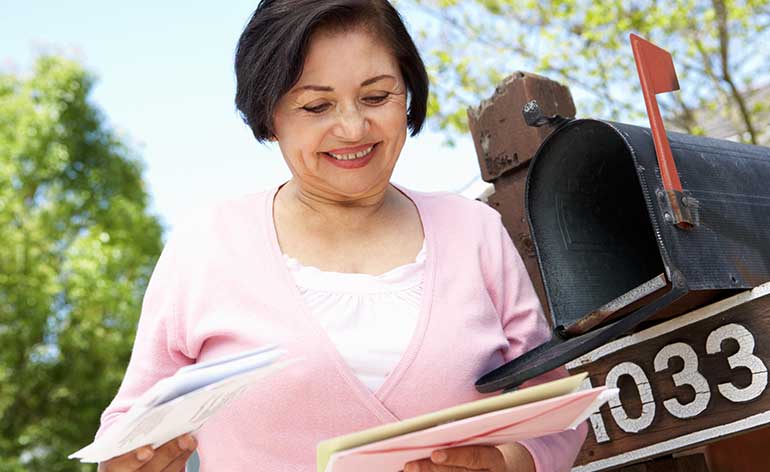 Remember when we used to send greeting cards and special packages for every occasion? Well, as families have hunkered down and returned to pastimes of old like jigsaw puzzles, bike rides in the middle of the day and backyard picnics, you can similarly call upon days of old by sending homemade greeting cards in the mail. You've got time to get creative, so pull out all the craft supplies and make one-of-a-kind Mother's Day cards, Father's Day cards and graduation congratulations cards as well. If you can afford to tuck a gift card into the package as well, that would be a bonus.
How Small Businesses are Affected by the COVID-19 Pandemic:
Can We (Should We) Buy Gift Cards to Support Small Businesses During Disaster?
3. Set Up a Video Call With the Family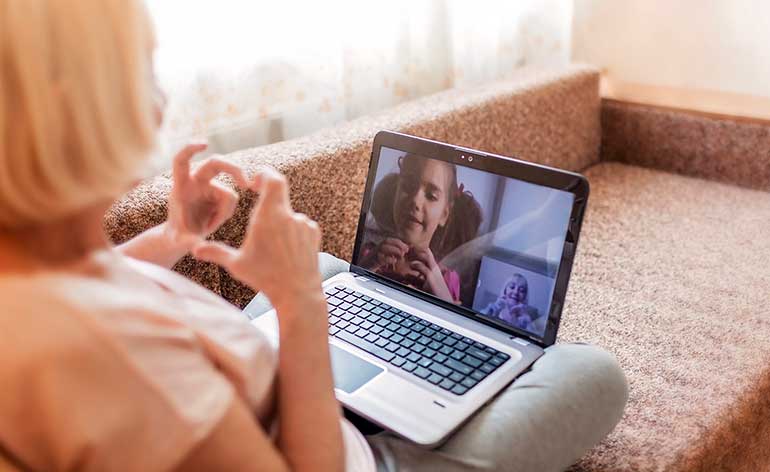 After weeks of isolation, hearing someone's voice is nice, but seeing a smile is even better. Depending on your comfort level with technology, you can take turns connecting with mom and dad on FaceTime individually or you can set up a Zoom or Skype party and all get together at once. I recently "attended" a one-year-old birthday party for my granddaughter. While it's not the same as being there in person, it was sure fun to see her little face and connect with everybody else at the same time.
If you don't want to just sit and visit on the call, create an activity that everyone can do "together" in their respective homes. I love the example of the BYU Italian professor who taught her students how to cook a few Italian recipes for "class" to combat the Zoom-fatigued they were all feeling. You don't have to be an expert cook to do something similar.
Check out The Ultimate Guide to Baking for some basic recipes with detailed instructions.
4. Post a Tribute on Social Media
My son turned 18 during the COVID-19 quarantine. I knew he didn't want me to make a fuss or embarrass him publicly so I settled for a social media tribute…which is still a little "cringey" but now commonly expected by many teenagers. Because he had recently started a sentence with, "I can't wait to turn 18," I invited others to guess what he said. Throughout the day, we got some pretty funny responses and he had a good time responding.
Posting Mother's Day, Father's Day or graduation wishes on social media often inspires other friends and family members to do the same. If you can't be together to celebrate one of these occasions, get as many people as possible to help your loved one feel loved.
5. Organize a Drive-by Party
If mom, dad or grad are local, organize a private party parade. This allows friends to visit while still adhering to "social distancing" guidelines. If you look on social media, you'll see videos of people standing on their porches as cars full of well-wishers drive by holding signs, honking horns, playing music and waving out of windows. Yes, it's not the same as gathering together for a hug, but a drive-by party may be your only option at times.

6. Create a Parade Route
In areas where the guests of honor live near each other, you can set up an actual parade route. In one Utah neighborhood, the teachers got in their cars and drove through the streets honking horns and waiving to students who all stood out on their porches to receive air hugs. With so many graduation ceremonies being postponed, made virtual or cancelled altogether, we still need to find a way to celebrate youth all over the country who worked hard to earn their diplomas.
With the right amount of social distancing, a graduation parade route (where grads and families each stay in their cars) seems the next best thing.
7. Send Flowers or a Cake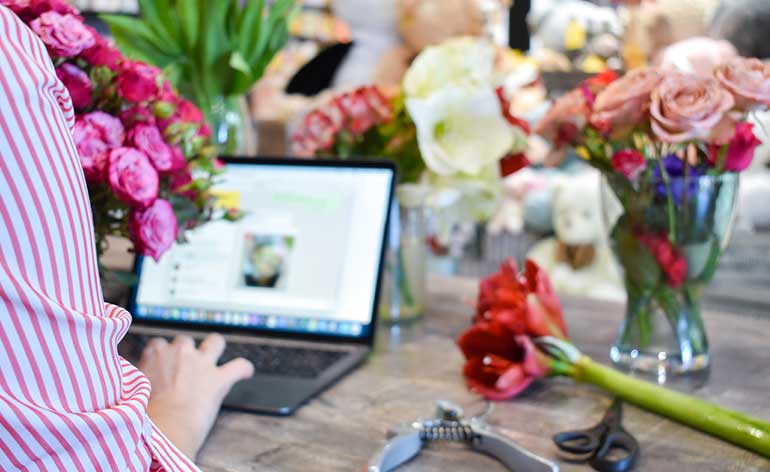 Though sending flowers has been a gifting option much longer than gift cards and drive-by parades, it's still a great choice. If you want to deliver something edible, try an Edible Arrangement, The Popcorn Factory or Shari's Berries. My daughter is currently serving a religious mission in Wisconsin and a dear friend of ours just ordered a Milk Bar cake to arrive on Ally's birthday. I love knowing she will get more than one in-person delivery on a day that nobody can see her in person.
8. Send an eGift Card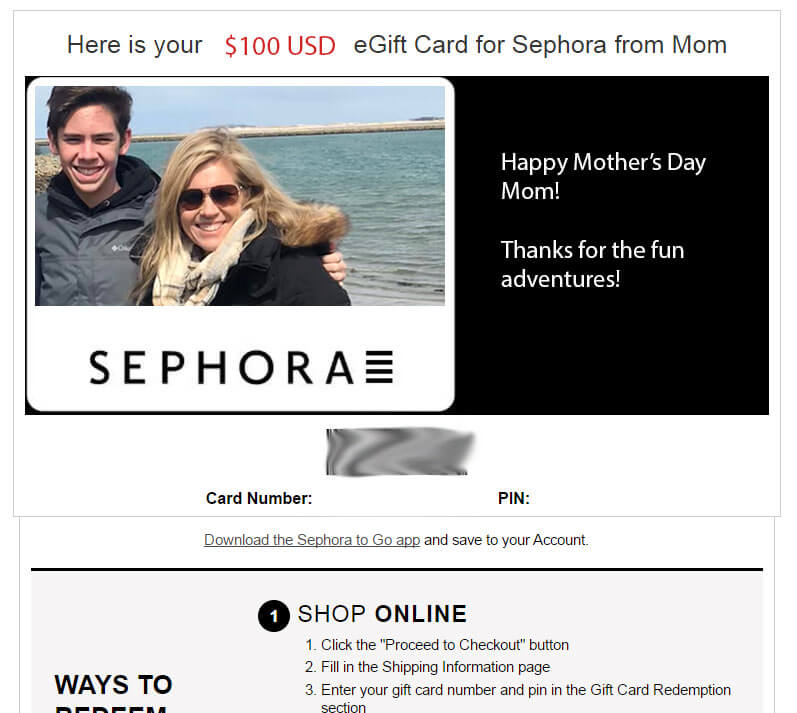 The easiest gift to send to your mom, dad, or grad is an egift card. eGift cards are a good, safe choice because you can send them right from your phone or computer, shipping is free and delivery can be instant or scheduled for a future date. Also you can make egift cards personal with photos, videos and thoughtful messages.
I think it's especially important to send egift cards that are flexible and can be used online as soon as possible. Below are some of my suggestions:
Visa egift cards that can be used on almost any website
Technology gift cards like Best Buy, Target and Staples work well too
And of course, Amazon is always a good choice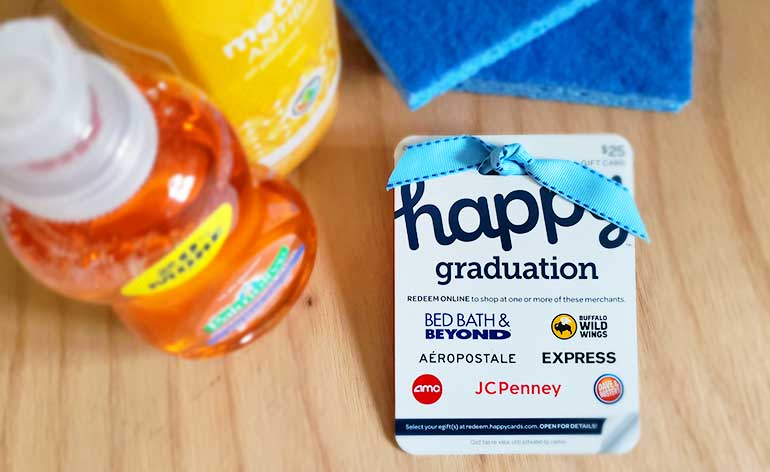 The Happy Graduation egift card can be delivered electronically, allowing the recipient to swap the egift for one or more of the stores and restaurants listed on the card.
9. Send a Personalized Visa Gift Card

Whether you are celebrating from a distance or up close and personal, one of my favorite gift cards to give is a personalized Visa gift card. I've given these to kids, adults and senior citizens. Every time, I get the same reaction which is, "How did you make this?" I love to put selfies, action shots and silly faces to get an extra laugh when the gift is delivered. (These make especially great "thank you coach" gifts as well.)
Although digital Visa egift cards can be ordered and delivered almost instantly, the plastic version requires at least a week to process and ship–unless you pay for expedited shipping–so allow a little extra time to get this gift in the mail.
10. Visit from a Distance
My sister took her kids to visit my mom–but they didn't go near each other. Mom sat on her back porch and the kids sat outside the iron gate on lawn chairs. Though a good 20 feet apart, they were all still close enough to talk and share a laugh. Each provided their respective snacks. This is an especially good idea for Mother's Day or Father's Day where most parents simply want to be around family.
Although gifting this year may be more digital, the milestones shouldn't be any less memorable. The easiest way to make a gift feel personal is simply to add a personal touch. So take the time to write a heartfelt message, and if you have the means, set a gift up for delivery as well. Whether it arrives on the doorstep or by email, you're sure to put a smile on the recipient's face.
If you have another suggestion for ways to celebrate Mother's Day, Father's Day or graduation from a distance, let me know in the comments below, on Twitter (@GCGirlfriend) or on Instagram (@Gift.Card.Girlfriend).
Happy Gift Carding!
~Shelley Hunter, Gift Card Girlfriend