Save 10% on iTunes Gift Cards with Chase Ultimate Reward Points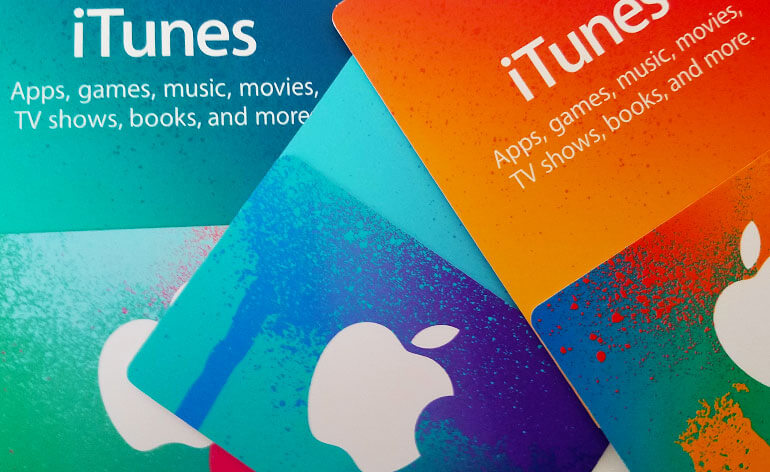 I grew up on a DOS computer. When I say, "grew up," I mean that in my teenage years, I literally installed the old MS-DOS operating system on a rudimentary personal computer and wrote .bat scripts to easily execute the programs I most needed to use, namely Lotus 1-2-3 and WordPerfect. A few decades later, I'm still a PC girl–even if I do occasionally have to (get to) crack open the graphical user interface via my beloved command prompt.
My kids, however, have all chosen the easier path. They have iPhones, iPads and MacBooks that all work seamlessly together. So when holidays and birthdays come around, iTunes gift cards are on the top of their lists.
Why iTunes Gift Cards Are So Popular
Even though iTunes gift cards can only be used on iTunes (you need Apple gift cards to buy Apple products), I still find them to be fairly flexible gifts. When you redeem an iTunes gift card, a credit is added to your Apple ID. That credit can then be used to download music, apps or books whenever you want.
For people who prefer the instant gratification of traditional presents (open box and find a gift inside), iTunes gift cards offer the same immediacy because you can receive the gift card, redeem it and buy something in a matter of minutes.
And lastly, another reason that iTunes gift cards are so popular with kids and adults alike is that the value of the gift card does not have to be large in order to be useful. A gift card with a balance as little as $5 or less can still be used to buy an app, download a free songs or buy one of your favorite books. Very few gift cards can boast being that usable in single-digit denominations.
How to Avoid Losing iTunes Gift Cards
When you receive an iTunes gift card, redeem it immediately. On your iPhone, iPad or iPod, go to the iTunes Store, iBooks Store or App Store. On your Mac or PC, open up iTunes. Look for a button or link that says "Redeem."
Once the gift card is redeemed, the balance will be credited to your Apple ID. That credit can be used whenever you want, whether that is days, weeks or months later. Gift cards that are redeemed quickly are less likely to be lost, stolen or forgotten.
Find more tips on How to Remember to Use Your Gift Cards.
iTunes Deal on Chase Ultimate Rewards®

If you are a Chase Ultimate Rewards® customer, then you can save 10% on iTunes gift cards from now until the end of the month, or while supplies last. That's September 1 through 30th, 2017.
Here is what you need to know about the iTunes gift card promotion at Chase.com:
Must Be a Chase Customer
You must be a Chase Ultimate Rewards customer to get the discount. Sign up for Chase Ultimate Rewards here.
10% Discount with Points
Get 10% discount on iTunes gift cards using your Ultimate Rewards points. For example, 2,500 Ultimate Rewards points would normally buy a $25 iTunes gift card, but during the promotion you can get a $25 iTunes gift card for just 2,250 points. Get a $50 iTunes gift card for just 4,500 Ultimate Rewards points. Get a $100 iTunes gift card for just 9,000 Ultimate Rewards points, and so on.
Valid Thru 9/30
Offer good 9/1 to 9/30 or while supplies last.
No Limit
There is no limit for redemption of the Ultimate Rewards. Customer must have enough Ultimate Rewards in their account to be eligible.
Not sure if redeeming your rewards points for gift cards is a good idea? Here are my tips for when it makes sense to redeem your rewards points for gift cards.
Buy iTunes Gift Cards for Yourself
Gift card statistics routinely show that consumers are increasingly buying discount gift cards to save on their own expenses rather than just buying gift cards to give as presents. If you have Apple products like my kids do, then chances are you will be buying music, apps or books in the near future. If you also happen to have some Chase Ultimate Reward points to spend, then why not use them to cash in on this iTunes deal? You might as well save yourself some money on the things you are already planning to buy.
Got Questions?
Do you have any questions about the Chase Ultimate Rewards promotion on iTunes gift cards? If so, leave a comment below or reach out to me on Twitter (@GCGirlfriend).
Happy Gift Carding!
~Shelley Hunter, Gift Card Girlfriend