Download these free printable gift tags to turn Chick-fil-A gift cards into A+ presents! Great for teachers, friends and family gifts.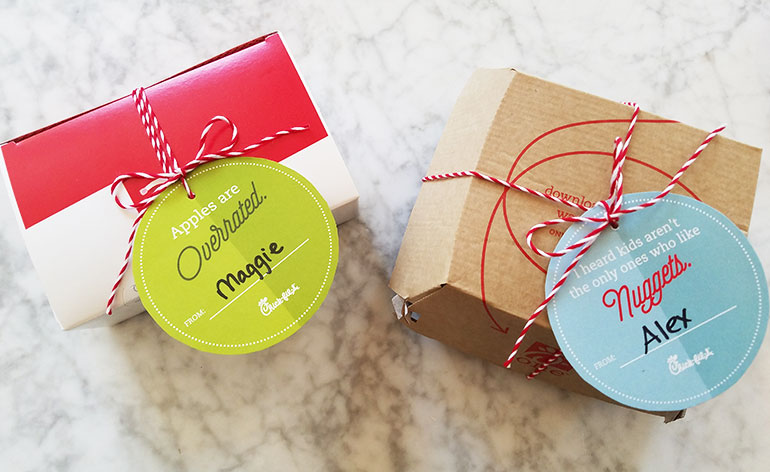 Chick-fil-A Does Gift Cards Right
I recently moved to Boise, Idaho. Though my kids made the adjustment pretty easily, it has been a big transition for this California girl. I nearly cried when I walked into the local Target store and discovered they did not have a food court. I'm not kidding. The store really doesn't have a food court and I really did have to hold back the tears. (I know this is a minor inconvenience and a silly first-world problem, but I'd hit my limit of "different" and just wanted something the familiar feeling of walking into one of my favorite stores.)
Though there are a few other California favorites that I no longer have access to in Idaho (like In-n-Out Burger, IKEA, MLB, NBA and NFL to name a few), I have found some of my formerly less-accessible stores and restaurants are here in abundance. One of those favorites is Chick-fil-A.
Besides the chicken sandwich, one of the things that Chick-fil-A does really well is gift cards. I recently discovered that Chick-fil-A even has free printable gift card tags on their blog. How fun is this!?! I look at a lot of merchant sites and I do not know of ANY other brand (besides us here at Giftcards.com) that gives customers free printable gift card holders to make gifting easier. So good job to Chick-fil-A or "Chickalay" as my nephew says.
Below you'll find a link to the Chick-fil-A printable gift tags plus the steps I took to turn these cute little tags into gift card holders. I hope you enjoy them as much as I do. (And if you happen to be near a Target with a food court, I hope you savor that as much as I would as well.)
Where to Find the Chick-fil-A Printable Tags
You can find the Chick-fil-A printable gift tags at the bottom of their blog post titled, "A+ in First Impressions."
Download Free Printable Chick-Fil-A Gift Tags
The tags are designed for Teacher Appreciation gifts but I think they can be used for birthdays and celebrations as well. Chick-file-A has other printables on their blog as well. Here are some cute ones to try:
Print the Gift Tags
After downloading the Chick-fil-A printable, you will need to print the page on a color printer. Although this can be done at home, I generally take printables to Staples so I get a high quality print on nice paper without using my own ink cartridges. The cost is less than a couple of dollars.
Where you print the tags is up to you. Just be sure to select "best quality" and "actual size" settings. (Do not select "shrink to fit" or any other setting that will change the size of the printed .pdf image.) White card stock paper measuring 8-1/2 x 11″ works best.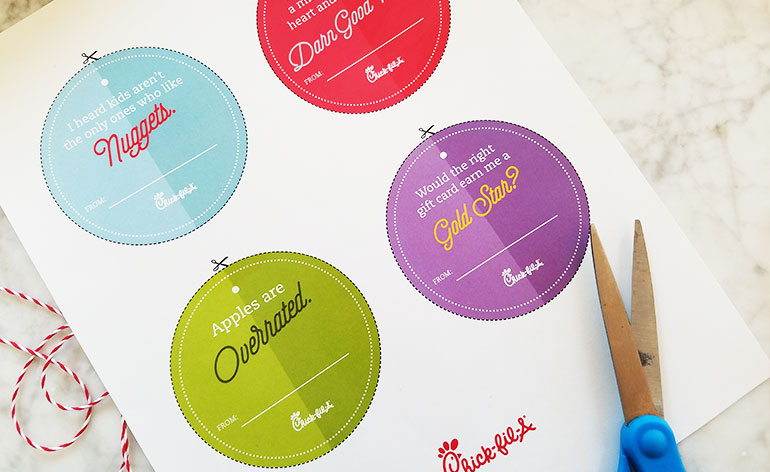 Cut the Gift Tags
If you have a circle punch, then you can quickly cut the Chick-fil-A gift tags. If you don't have one that matches the size exactly, just use a pair of scissors and carefully cut around the edge of the tag. Then punch a hole through the top of the tag and lace a piece of decorative twine or ribbon through the hole.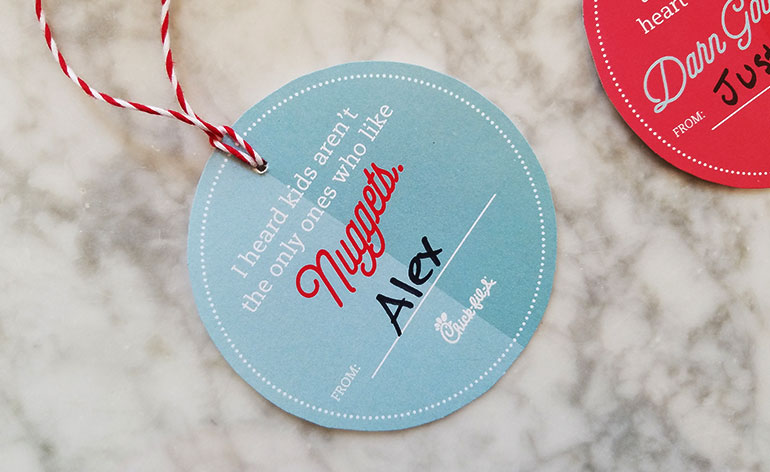 Ask for a Box
Since I had to go to Chick-fil-A to buy gift cards, I had to (really, I had to!) order a meal as well. I kept the sandwich holder from my order and asked for a nugget box as well. Fill the box with tissue, crinkly paper or a napkin from the restaurant and place the Chick-fil-A gift card on top.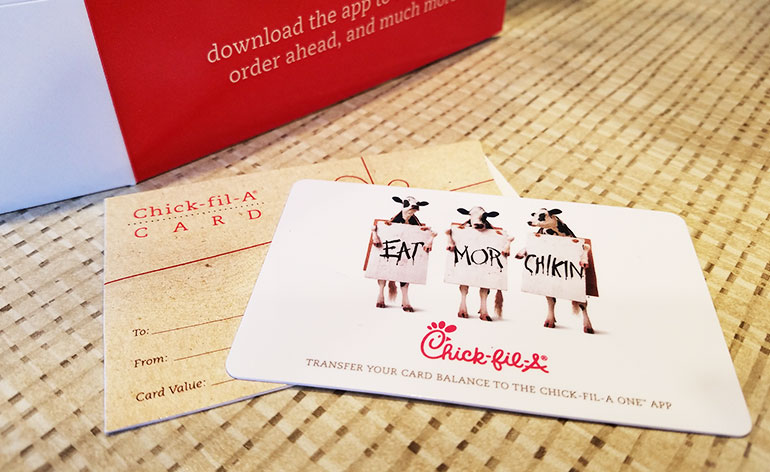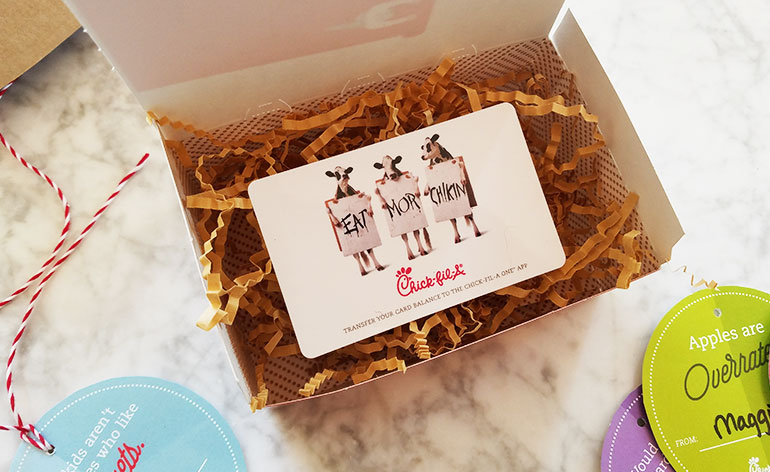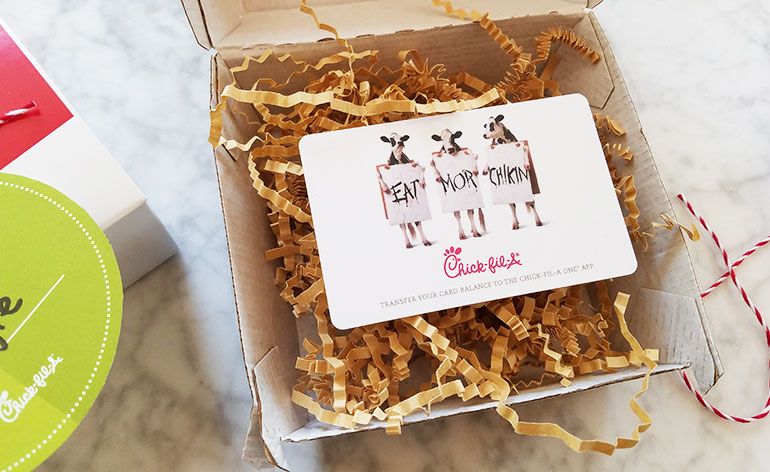 Attach the Tags
In looking at these pictures, I just now see that I should have put the "nugget" tag on the nugget box. (Doy!) Either way, the tags are adorable and a super fun to give to a teacher for teacher appreciation week, end of the year, Valentine's Day or any other time of the year. I think these tags make great gifts for any occasion. Just have fun with them.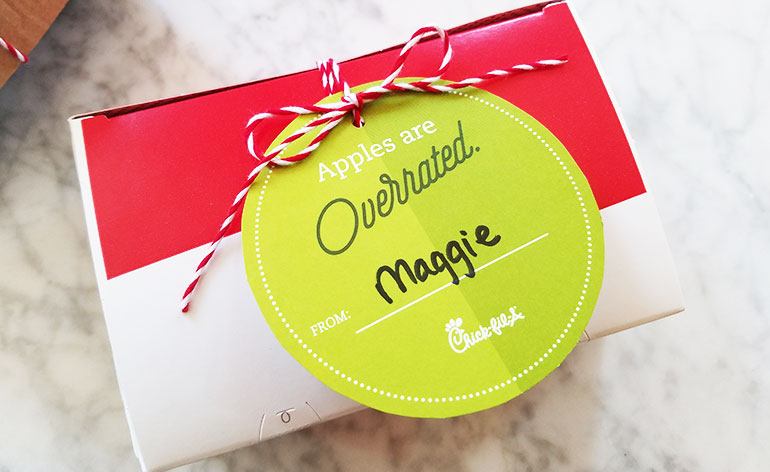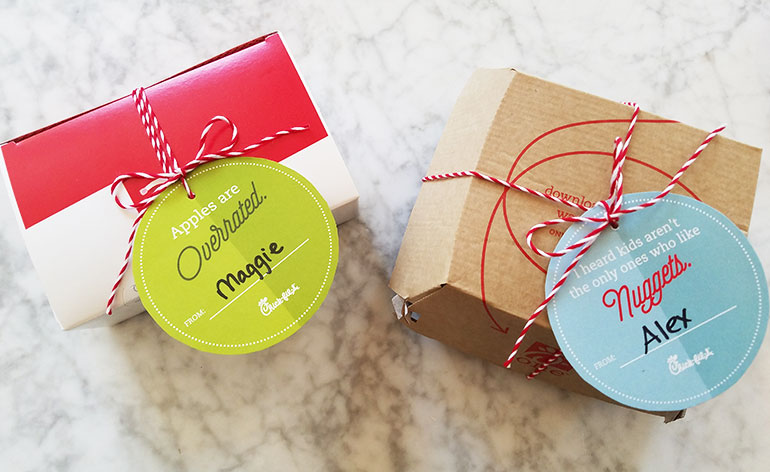 More Gift Card Ideas
There you go. I just think this is one of the cutest and easiest ways to give a gift card and I love that Chick-fil-A did the work for us. If you have a friend or family member who loves this restaurant as much as my family does, then give it a try and wait for the reaction. Here is a list of other printable gift cards for birthday presents that you might enjoy as well.
Have you found any other printables from your favorite stores or restaurants? If you have, please let me know in the comments below or contact me on Twitter (@GCGirlfriend). I would love to see another business rise to the challenge.
Happy Gift Carding!
~Shelley Hunter, Gift Card Girlfriend