When the season is wrapping up, these free gift card holders make the perfect thank you gifts for coaches.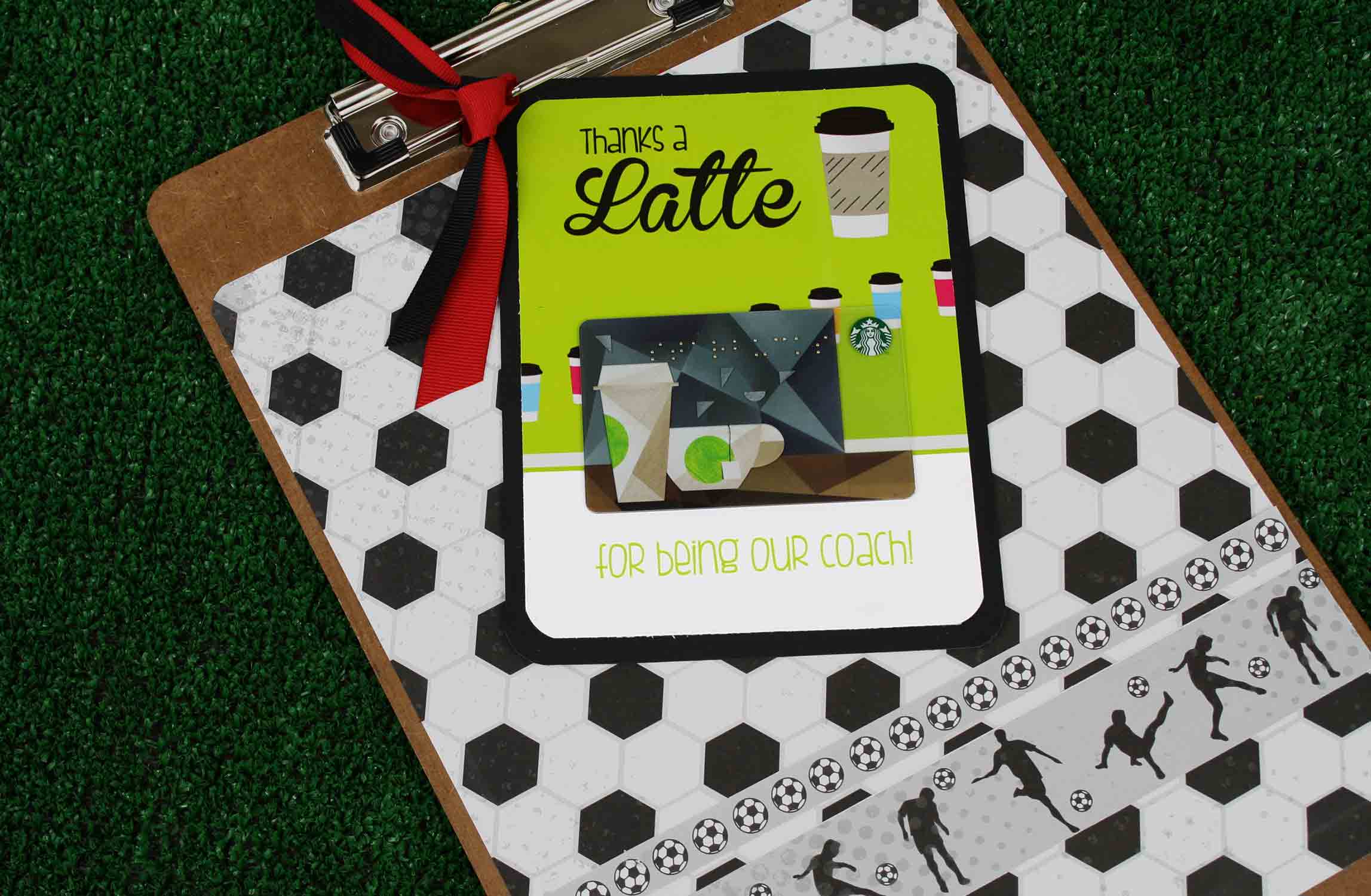 If you like to give thank you gift cards to coaches at the end of each season, then use the free printable gift card holders below to step up your game. Many of the holders can be adapted to give to the other people who help out with the team as well such as a team parent, party coordinator, cheerleading coach, assistant coach, medical trainer and others. Download the one you want or collect all seven–just like your favorite trading cards!

Thanks a Latte!
If coach regularly stops for his morning fix at a local coffee shop or bakery, then this "Thanks a Latte" gift card holder is a perfect match. Add a Starbucks gift card, a Caribou Coffee gift card or a gift card to a local shop in town that serves lattes, and you're all set.
A cute way to deliver a gift card for coach is to slip the card onto a new clipboard. I made this simple soccer coach gift below using a basic wooden clipboard, a piece of scrapbook paper with a soccer theme on it and some mod podge. Glue the paper onto the board, add a ribbon and you're all done!
Download Free "Thanks a Latte" Printable here.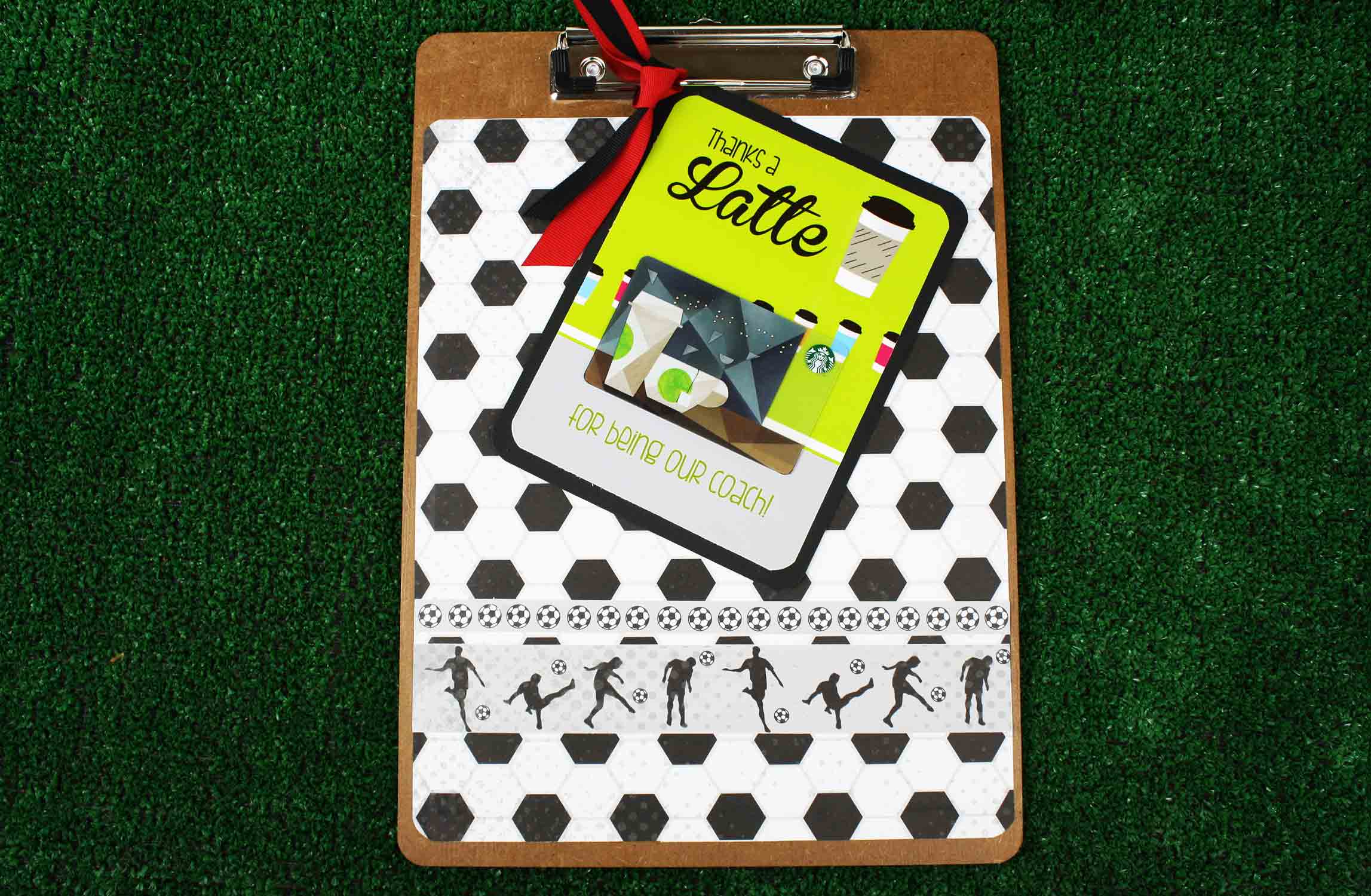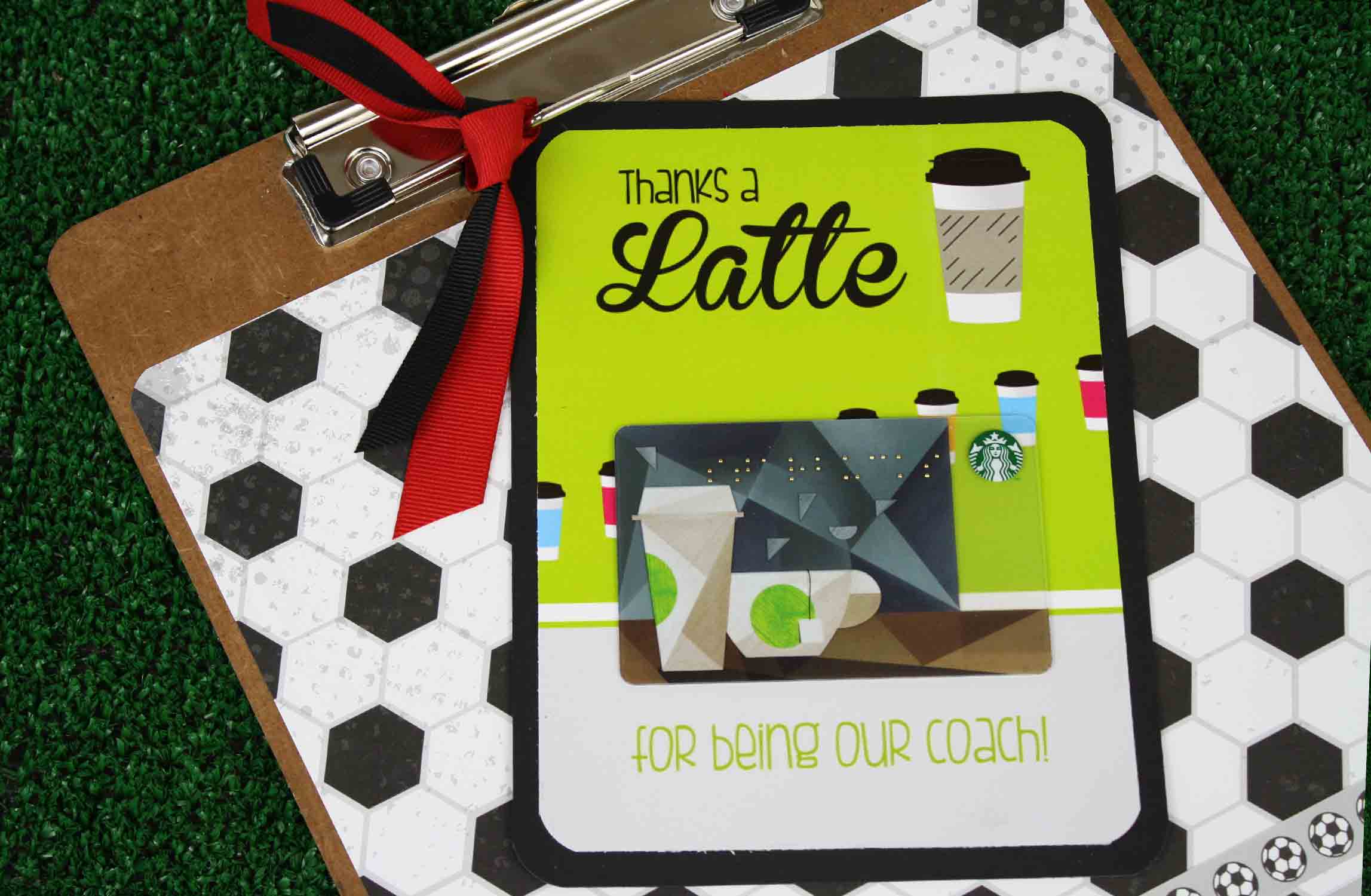 You're a SCENTsational Coach!
With a gift card holder that reads "You are a SCENTsational Coach," all you have to do is add a few other perfume-related objects and you're ready to cross the finish line. I put some lotions and bath salts into a sports bottle, then tied a Bath & Body Works gift card to the top. You could also get a gift card from Yankee Candle or a flower shop instead.
Download Free "SCENTsational Coach" Printable here.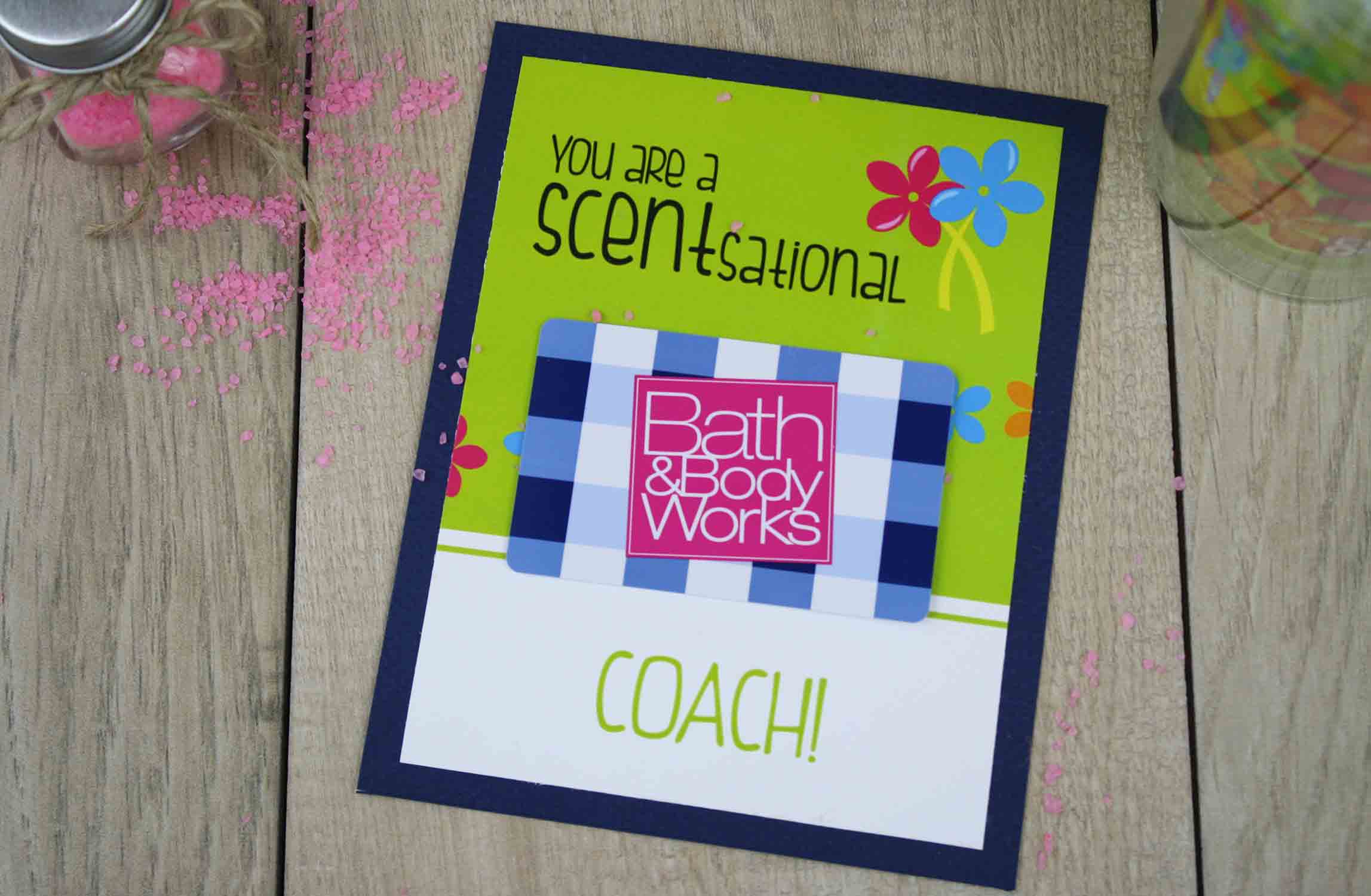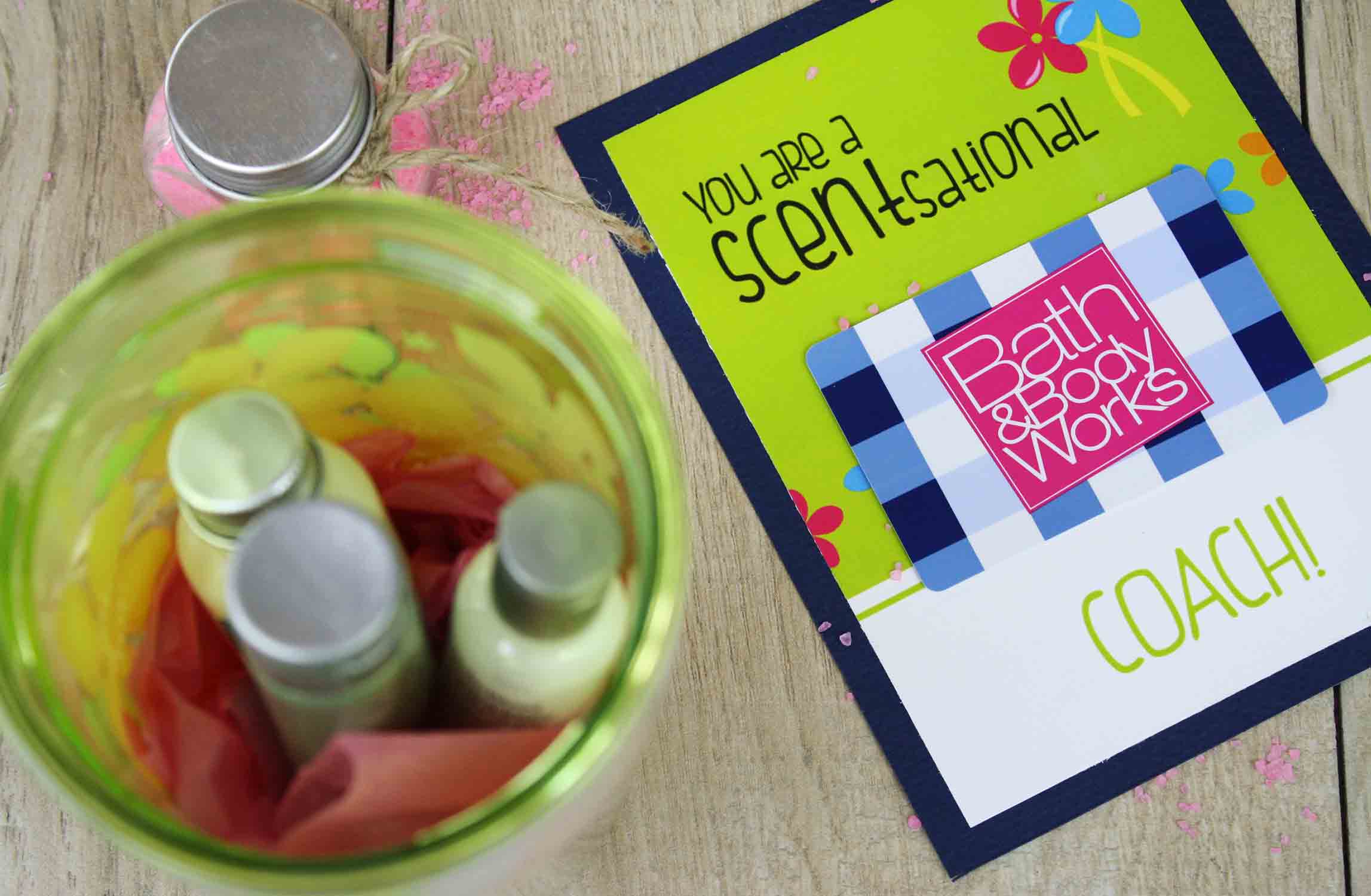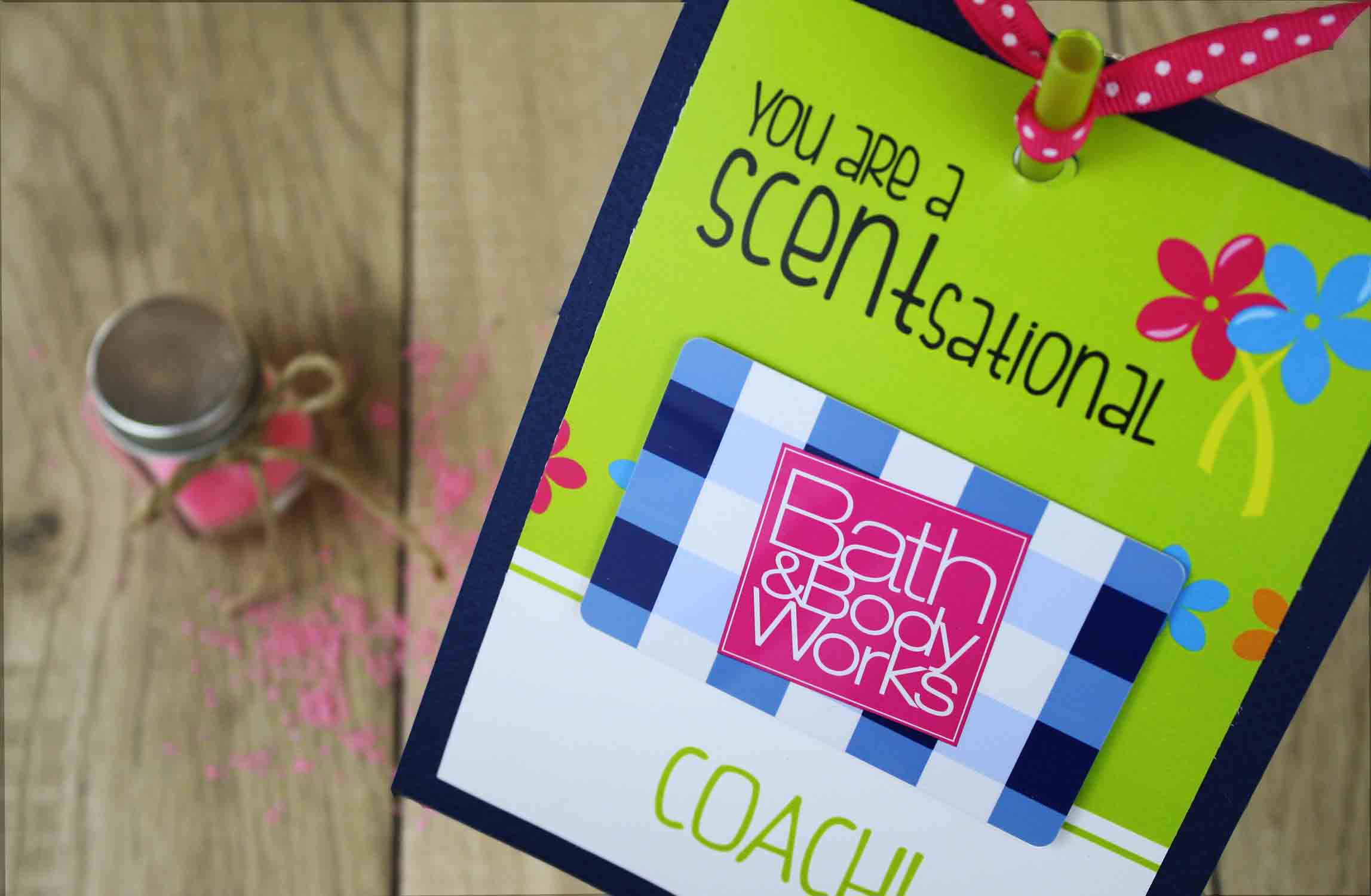 You ROCK!
Whether you're giving a gift card to the cheer coach who loves to choreograph, the track coach who likes to pump up the jams before a big run or the soccer coach who is old enough to remember the Beetles, this "You Rock" gift card holder is the perfect addition to your gifting lineup. Use it to present a iTunes, Spotify, Pandora, Disney Music or Amazon MP3 gift card.
Download Free "You Rock Coach" Printable here.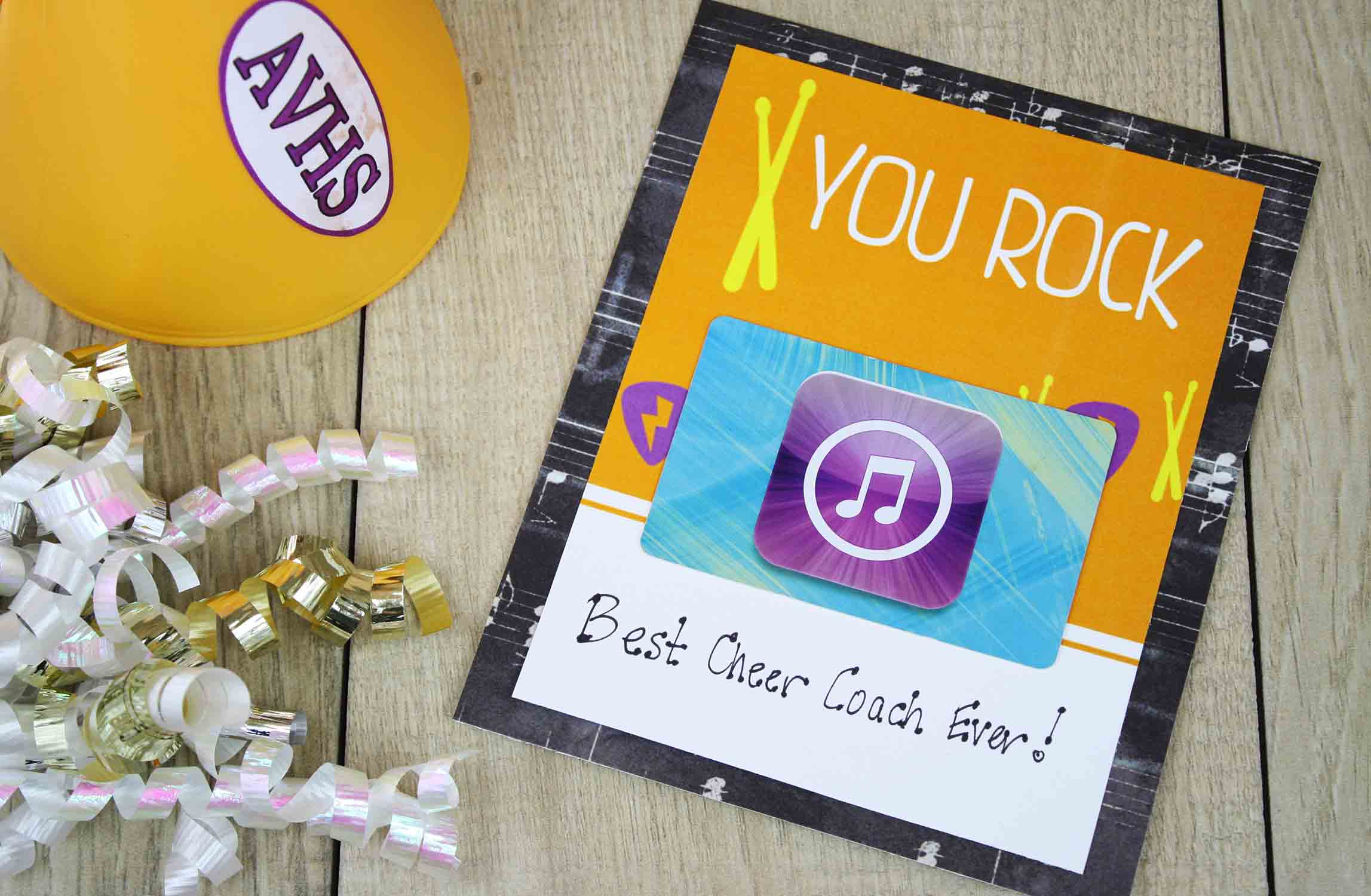 You need a TIME OUT!
Sometimes calling a time out is what the team needs to reset, regroup and reorganize. At the end of a long season, give coach a gift card for a personal time out. Treat coach to the movies, a nice dinner or both. Regal Cinemas, CineMark and other movie theater gift cards are the perfect fit. If you're not sure which movie theater is convenient for coach to visit, get a Fandango gift card instead.
Download Free "You Need a Time-out!" Printable here.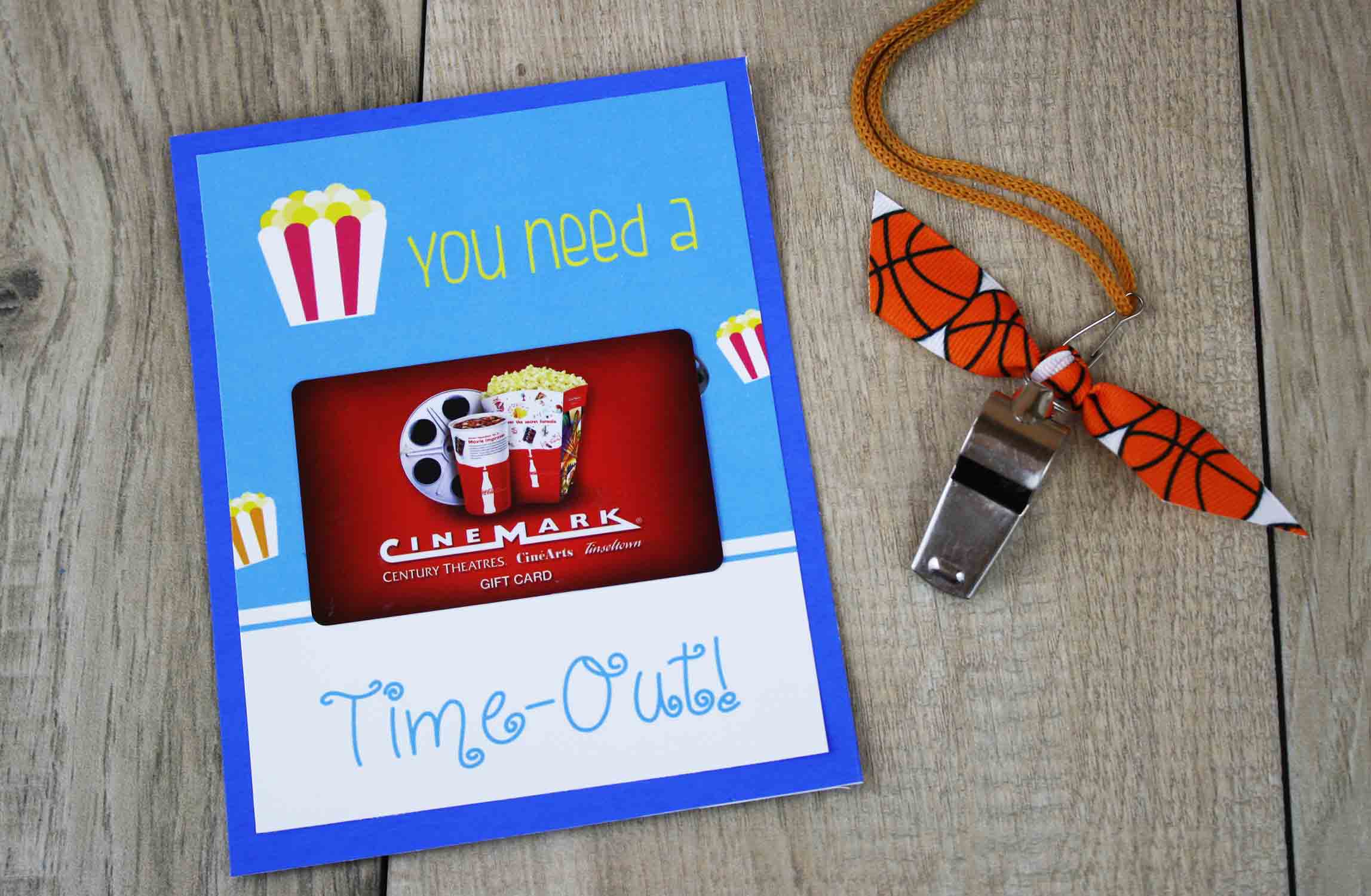 It's a TREAT Having you for a Coach!
If coach has a sweet tooth, then this gift card holder will surely delight. The holder that reads "It's a TREAT having you as a Coach" will go perfectly with a See's candy gift card, Cheesecake Factory gift card or any other gift card with a sweet theme. It can even be used to give the gift of ice cream, frozen yogurt or shaved ice–all of which are treats!
Download Free "It's a Treat" Printable here.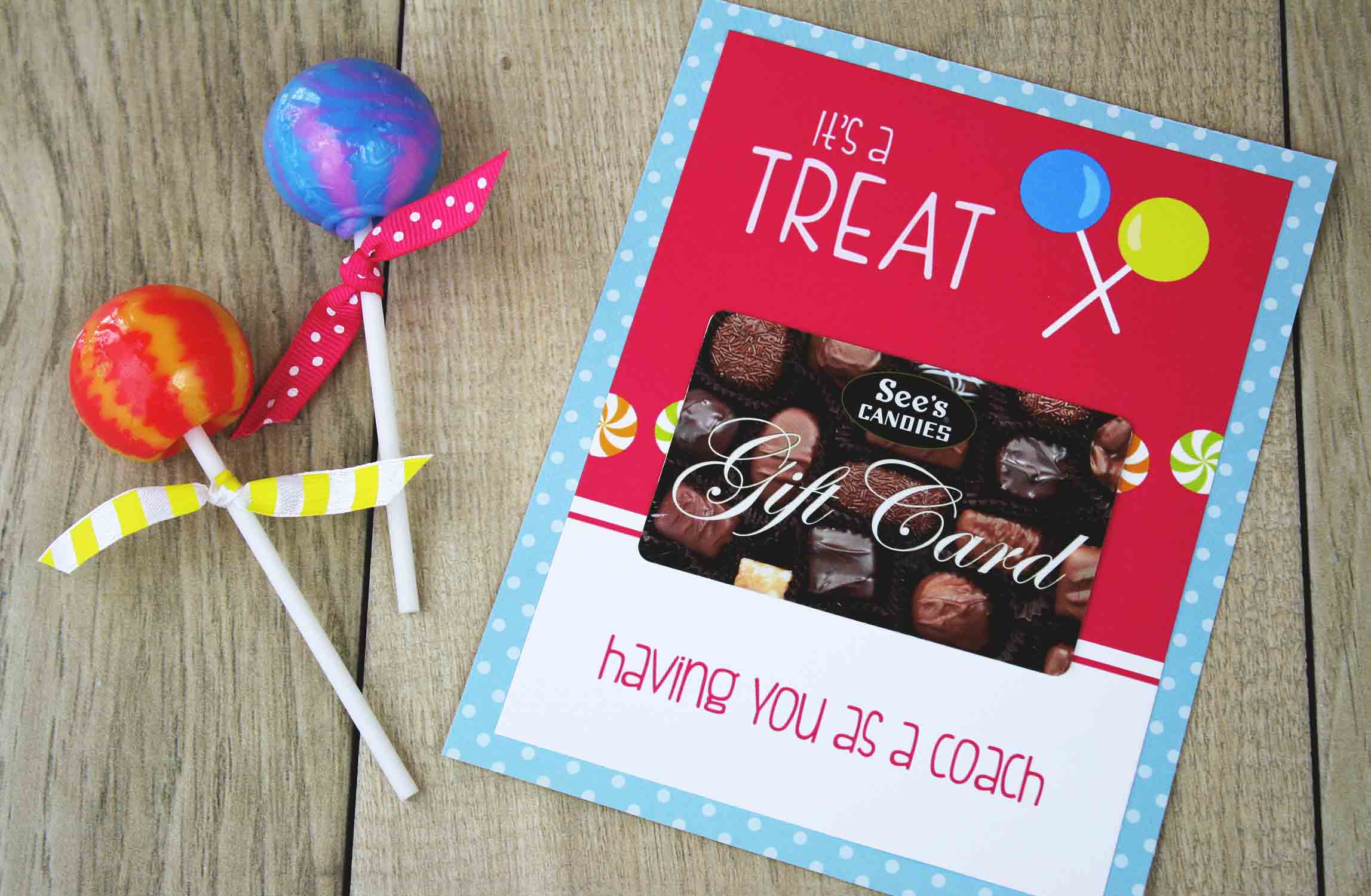 You're the COOLest Coach Ever!
Get your cool coach a gift card to a local eatery that sells cold treats such as ice cream, frozen yogurt, smoothies or frozen custard. Deliver it with this gift card holder that says "You're the COOLest Coach Ever!" Although this gift card would work for any coach, I picture delivering it to the swim coach with a new towel and a fresh bottle of sunscreen or sending it to the tennis coach along with a new visor. Then again, this gift card might be better for the ski coach who is the coolest coach of all time.
Download Free "COOLest Coach Ever" Printable here.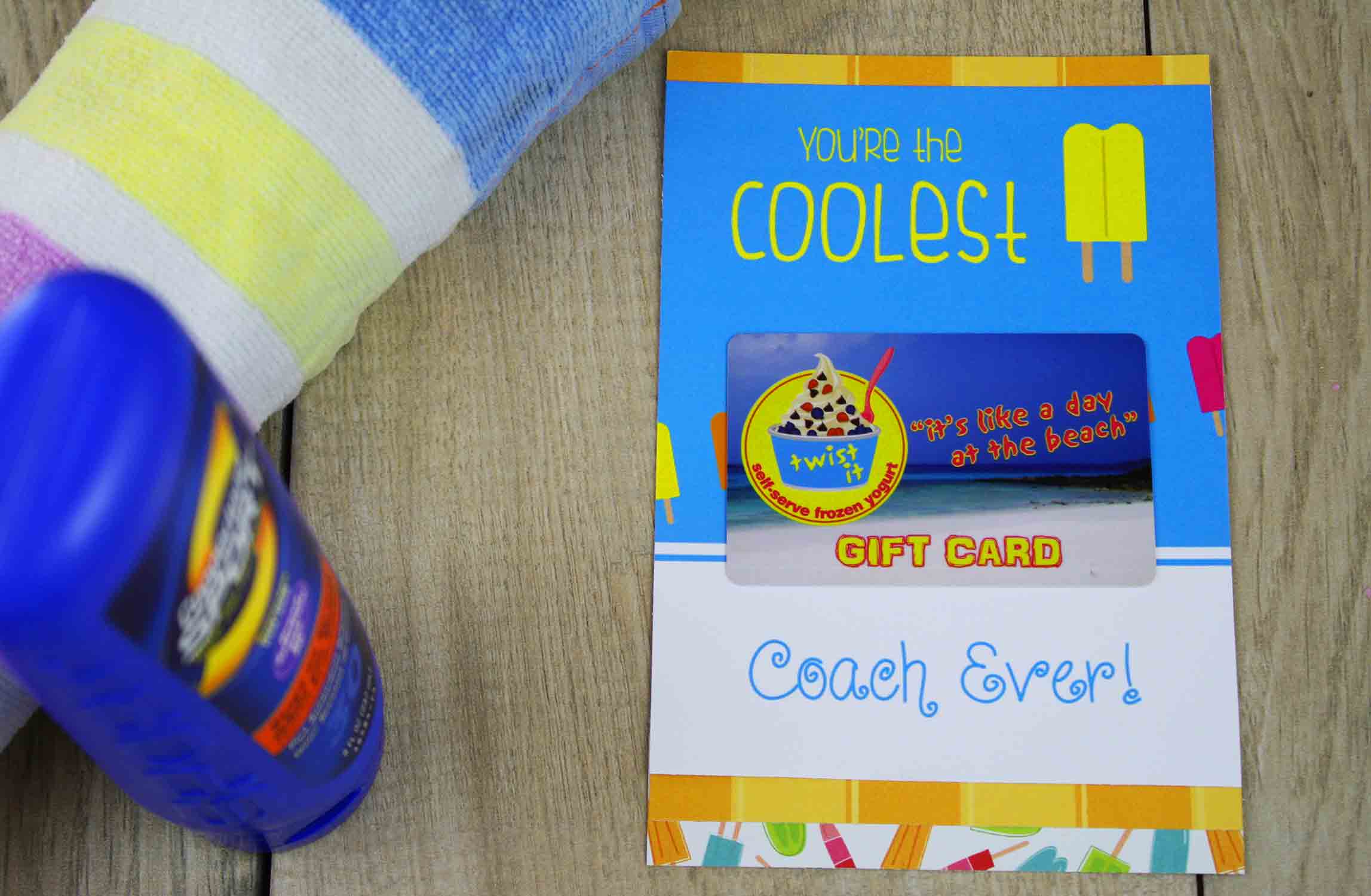 DONUT Know What We'd Do Without You!
Oh, how I love this cute little gift card holder that says, "DONUT…know what we'd do without you." When I first crafted a similar "donut" holder for a teacher gift, I focused on adding a gift card from the bakery. This time, I attached a personalized gift card to a bag donuts for a different play on words. Think of this holder like a good football play–it has several winning options.
Download Free "DONUT Know What We'd Do" Printable here.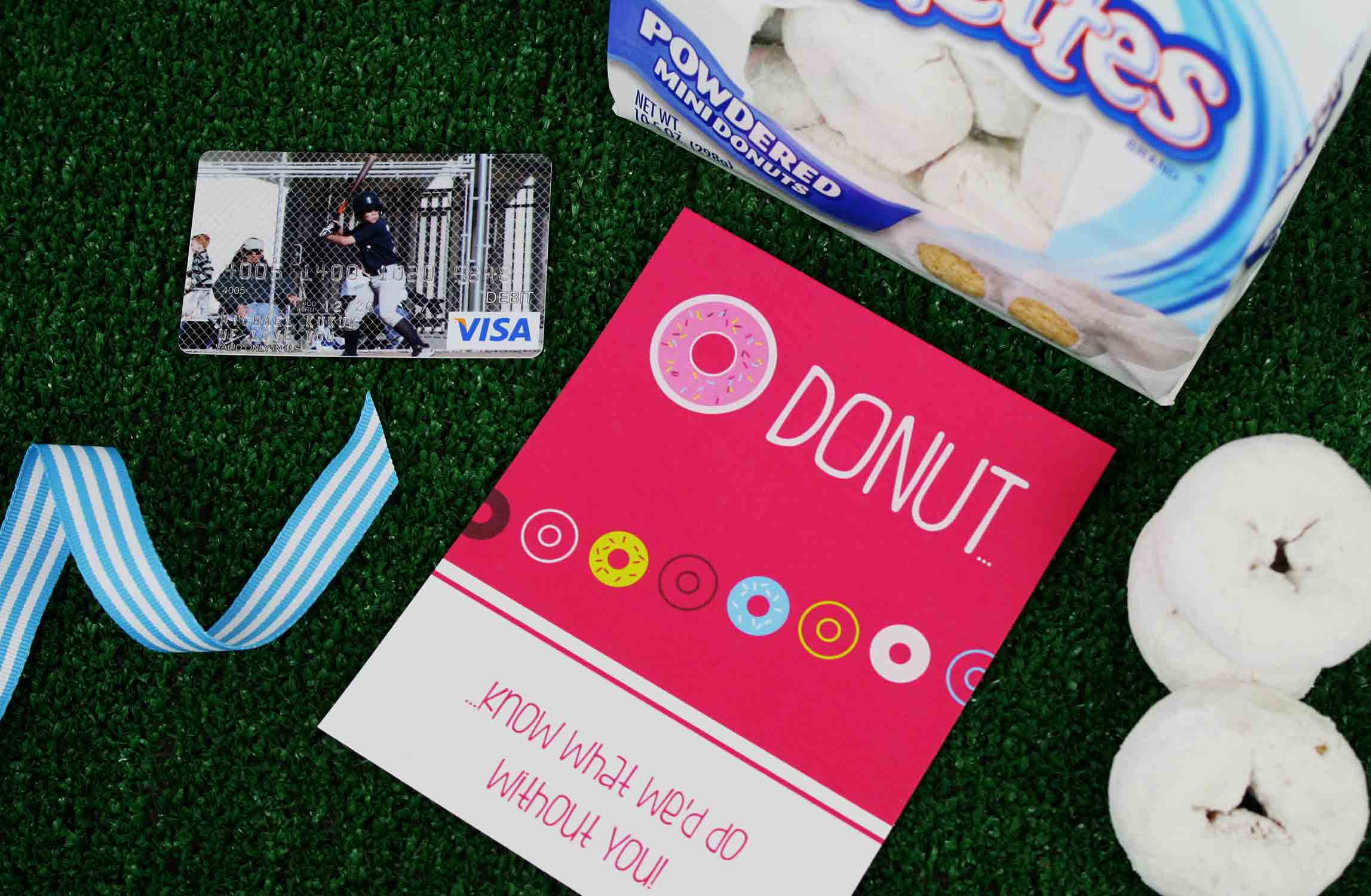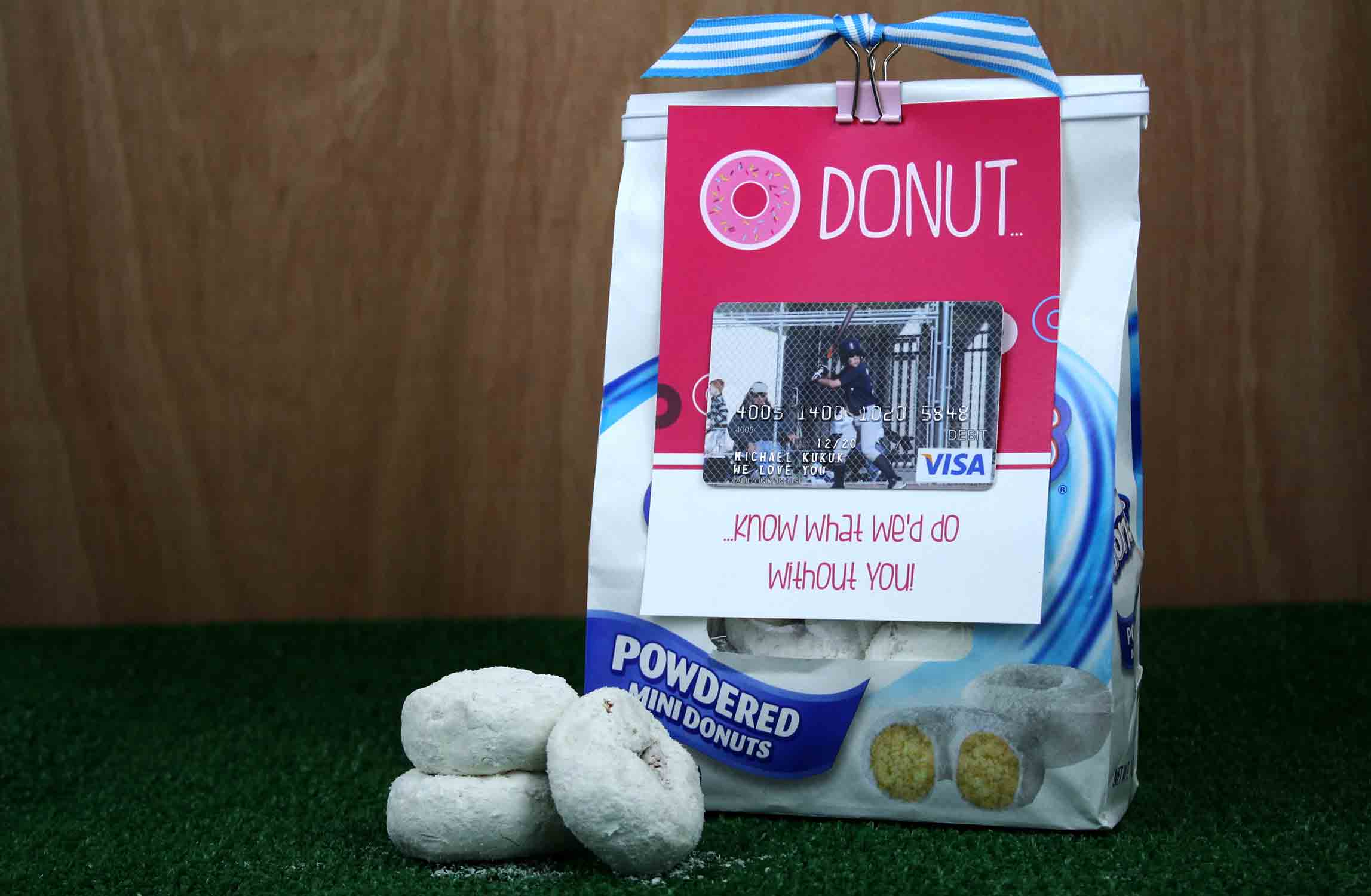 Although this collection includes seven gift cards, you can pick the ones that work for you and omit the rest or double up and give the coach more than one card per theme–maybe two time-outs are needed. One for dinner and one for a movie!
To collect the gift cards, either ask parents to donate cards for specified locations and specified amounts, or collect money from everybody and buy the cards yourself. Remember, the dollar value doesn't have to be large for these gift cards to be valued, but one of my Gift Card Girlfriend
rules
is that the recipient should be able to redeem the gift card without spending his or her own money. So plan accordingly. Got any other suggestions for coach thank you gift cards? I'd love to see what you come up with. Add a comment below or reach out to me at
@GCGirlfriend
on Twitter.
Happy Gift Carding!
~Shelley Hunter, Gift Card Girlfriend