If you want a credit card that offers gift card rewards, this comparison of top credit card programs has all the information you need to pick the perfect card.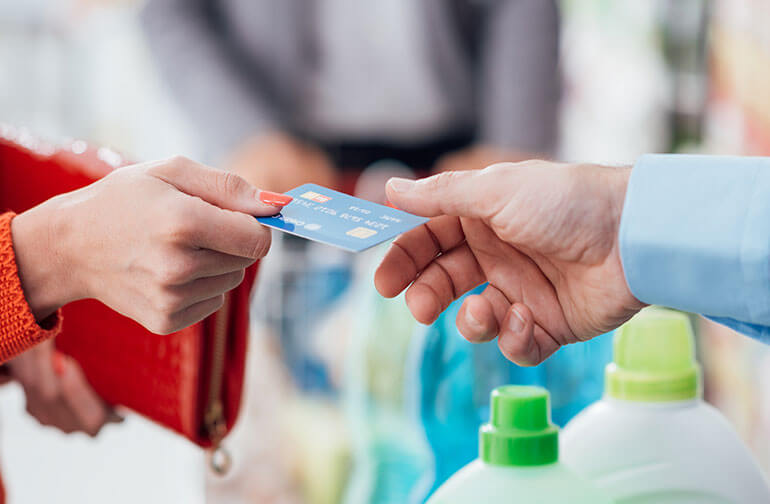 As a gift card expert, I know my sweet spot. It's gifting and using gift cards to save on personal shopping. But many of my readers have recently been asking about credit cards that offer gift card rewards. For this topic, I brought in an expert from MoneyCrashers.com, a website that "strives to educate individuals in making wise decisions about credit and debt, investing, education, real estate, insurance, spending, and more."
Thank you to Karen Shore for answering the question on which credit cards offer the best gift card rewards. This is her post:
Top Choices of Credit Cards That Offer Gift Card Rewards
Credit card rewards have gotten more expansive over the years, providing consumers with a bevy of choices. One mainstay that has transcended time is gift card rewards. Offered initially to give consumers more options as rewards cards took off, today they have become a must among credit card companies because of their popularity with consumers.
And it's no wonder. Persistence Market Research has found that the global gift card market is valued at more than $307 billion and is projected to grow at a rate of 10.79% for the next six years, reaching $698 billion. Gift cards have become the preferred gift giving item for scores of people from the young to the old, topping the lists of most coveted holiday and birthday gifts year after year. According to the National Retail Federation's most recent Holiday Consumer Spending Survey, gift cards were the most requested item for the eighth consecutive year. Gift card rewards are coveted because of their flexibility. You can buy what you want and excess reward points from a credit card can easily be transferred to one.
The choices abound when it comes to which credit cards give customers gift card rewards. Because consumers want gift cards, many credit card companies offer it as a rewards benefit, although the size of the bonus will vary from one issuer to the next. With that in mind, here's a look at three credit cards that give consumers the best of both worlds: low to no fees and the potential to accumulate lots of gift card rewards.
1. Wells Fargo's Visa Rewards Card Makes It Easy to Accumulate Points
Wells Fargo has made accumulating, accessing, and using rewards points easy to do with its Go Far Rewards program. With everyday purchases, consumers earn rewards points that can be used for a host of things, including gift cards. Armed with the Wells Fargo Rewards Visa, customers accumulate Go Far Rewards on almost all of their purchases. Credit card holders also have the option to share Go Far Rewards via its gifting, pooling and donating features.
The Visa Wells Fargo Rewards Card gives customers five times rewards points for up to $12,500 spent on gas, groceries and drugstore purchases in the first six months the customer has the card and one time points on all other purchases. Customers have five years to use their points, which can be redeemed for gift cards. Wells Fargo also dangles the ability to earn bonus points when they shop on Wells Fargo's Earn More Mall, its online rewards store. The national bank has gift cards from a slew of retailers on the site including Home Depot, Macy's, and Target to name a few.
There are no annual fees attached to the credit card, which has a 0% introductory APR for the first fifteen months. After that, the APR jumps to between 18.65% and 27.49% based on the credit score of the customers.
2. Discover It Cash Back Credit Card Lets you Put Your Rewards on Gift Cards
When it comes to gift card partners, Discover is no lightweight. Boasting more than 100 Cashback bonus partners, customers have a lot of choices in how to use their rewards points. Not to mention rewards points can be valued at as little as $5 to use the gift card option. That means points don't go unused and wasted.
For the instant gratification group of customers, Discover also offers eCertificates, which makes the gift card available immediately once the order is completed. Customers don't have to wait for the physical gift card to come in the mail. Not all of Discover's retail partners offer eCertificates however.
The Discover it Cash Back card gives cardholders 5% cash back on rotating categories each quarter. Currently, grocery store purchases will earn customers 5% cashback up to $1,500. All other categories during the three month period earn customers 1% cash back. The card also provides card-members with unlimited dollar-for-dollar match on all of the cash earned during the first year. The card has no annual fees, a 0% introductory APR for the first fourteen months and then it increases to between 13.49% and 24.49%. There is a 3% fee for every balance transfer.
3. Chase Freedom Unlimited Gives Customers Choice
Credit card holders want value, flexibility, and choice when it comes to redeeming their rewards points, and Chase aims to do that with its Ultimate Rewards program. Credit cards that have that feature enable consumers to earn points on all of their purchases and redeem them for a host of rewards including gift cards, cash back, travel, and experiences. Points don't expire as long as the account remains open. Chase enables customers to redeem the points online or through its mobile banking app. And just like its rival credit card companies, it has a slew of partners, over 70 at last count, enabling it to offer a lot of choice in terms of which gift cards users can redeem bonus points for. Customers can get extra cash back using Chase's Shop Through Chase service in which it partnered with more than 200 online retailers.
The Chase Freedom Unlimited is one of the credit cards that affords customers all of that rewards points flexibility. New card members get $150 bonus after spending $500 on purchases in the first three months the account is open, 1.5% cashback on every purchase automatically and there is no minimum to redeem cash back. There is a 0% introductory APR for the first 15 months the account is open for both purchases and balance transfers. The APR increases to between 16.49% and 25.24% after that depending on the creditworthiness of the cardholder. There is no annual fee associated with the Chase Freedom Unlimited.
Final Thoughts
Credit cards abound but that doesn't mean each one is right for every consumer. Credit card holders want different things from their payment card, with some favoring travel rewards over cash back. For gift card rewards point seekers, there are a lot of options out there. And while the amount of rewards points you can accumulate matters, so do the fees, APR, and other costs associated with using credit. For the disciplined who pay off their credit card bill each month, that won't matter too much. But for those that plan to carry a balance, they need to read the fine print outside of the rewards program. After all, if you are overpaying just for bonus points then you really aren't getting a deal.
Karen Shore is an avid gift card user and regular contributor to finance websites with advice on smart shopping tips, the best credit options for everyone, and how to save big while maintaining shopping habits.