Need to buy a gift for a dog lover, pet owner or furry friend? Try this list of the 10 Best Gift Cards for Dog Lovers. Buy a dog-themed gift card today!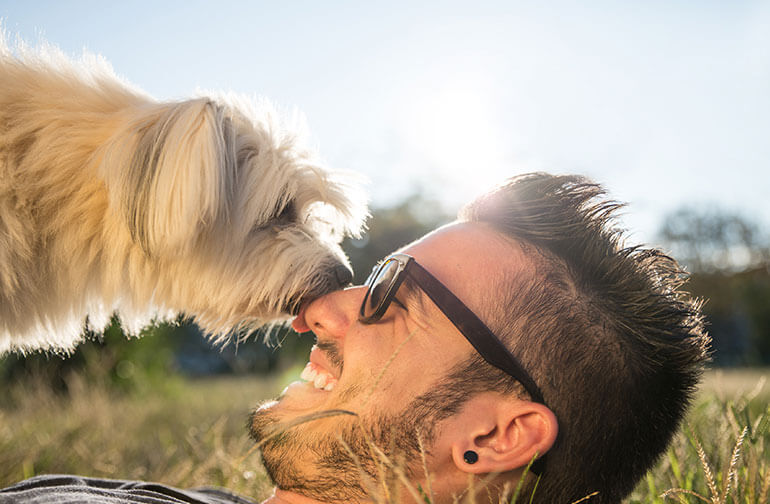 Puppy Love Fur These Gift Cards
If you have a dog or you need to buy a gift for a dog lover, then check out this list of 10 dog-themed gift cards you can buy a Giftcards.com. There's a mix of custom design gift cards, personalized gift cards and top store gift cards to choose from. In the list below, you'll find the gift card design as well as a link so you know where to buy the gift card. And just remember, the custom and personalized dog-themed gift cards can be purchased either as Visa gift cards or Mastercard gift cards.
1. Hot Dog Birthday Gift Card

For all your wiener dog lovers out there, this Happy Birthday gift card from either Visa or Mastercard is a fun option. The design is created for you, but you can still change the name, dollar amount, and message on the card. When you place the order, you also have the choice to pick the standard carrier (nothing fancy, just the details) or a matching wiener dog birthday greeting card that can be personalized as well.
Buy Hot Dog Birthday Gift Card
2. Sunset Dog Gift Card

There's nothing like a picture of a dog relaxing after a beautiful day at the beach to put you in a good mood. Get this predesigned gift card in either Visa or Mastercard and give it to someone who loves dogs, beaches and sunsets as much as you do.
3. Lucky Dog Gift Card

This fun little dog gift card is perfect for birthdays, St. Patrick's Day and any time you want to say congratulations to someone. You might even send this gift card to someone to wish him or her good luck–good luck on your test, good luck at your new school, or good luck at your new job. Maybe even…good luck with the new puppy!
4. Paws Gift Card

This is just a fun gift card with a subtle dog theme and I like it. For the minimalist dog lover who doesn't need to see a cartoon pup to be impressed, this repeating pattern is the perfect choice. I would write a "paws" pun on the greeting card like "You are PAWS-itively Awesome" or "It's time to PAW-ty for your birthday."
Oh, and the Paws gift card design comes in multiple colors. Here are your options:
5. Petco Dog Gift Card

If making your own gift card and writing a creative pun to go with it is just too much for you, then get a Petco gift card instead. Petco gift cards can be used to buy food and merchandise at Petco, Unleashed by Petco and petco.com. The dog lover who receives this gift card will have plenty of ways to use it and plenty of merchandise to consider.
6. Pug and Kitten Gift Card

For people who love pets of all kinds, the Pug and Kitten gift card is worth a look. In this gift card, you'll find a pug and her pal in either a stare down or a staring contest. People who love pugs and people who love kittens will love this pug and kitten gift card.
7. PetSmart Gift Card

PetSmart gift cards are the perfect choice for dog lovers because they can be used in PetSmart stores and on the PetSmart.com website. A quick look at the PetSmart website shows literally hundreds of doggy products to choose from. From leashes and food to chew toys and pet gear, your pup is sure to walk away with the perfect present.
8. Pugs & Kisses Gift Card

From Pug and Kitten to Pugs & Kisses, this sweet little gift card is perfect for any dog lover–especially a pug lover. This gift card is available as either a Visa gift card or a Mastercard gift card so you have a choice and the recipient has several! Visa and Mastercard gift cards can be redeemed wherever Visa and Mastercard debit cards are accepted.
9. Target Dog Gift Card

Well you can't talk about stores and dogs without thinking of the iconic Target dog found on one of our most popular gift cards. Target gift cards give dog lovers the option to redeem the gift card for a pet product or use the card to buy clothes, groceries, household items and more. I am not really a dog person, but I am certainly a Target person…so this gift card is a win in my book!
10. Make Your Own DOGGONE Gift Card

Lastly, nearly ever gift card list I create has to include my favorite gift card of all–the personalized gift card. I love the flexibility you get with open loop gift cards–they can be used online, in stores and virtually anywhere that Visa and Mastercard debit cards are accepted. You get that flexibility AND you get to choose the picture that goes on the gift card! This is my favorite type of gift card to give because the recipient always (I mean ALWAYS) is so surprised to see a picture they recognize on the gift card. And it's so easy to make your own gift card. In fact, the hardest thing about making a personalized gift card is deciding what picture to use.
A Question About Gifts for Dogs
So here's a question I have for you and a quick confession. I'm not really a dog lover. I didn't grow up around dogs so I'm not all that comfortable around dogs either. But many of my friends are dog owners and they treat their pups like family. So when I suggest gift cards for dogs, well, obviously I don't expect you to actually get a gift card for dog. Instead, I'm thinking these are gift cards for people who love dogs. Am I wrong here? If you are a dog owner, the question I have is…do you buy gifts for your pets beyond food and chew toys? Or do you just pick up these things when you're out shopping for other pet necessities? I'm curious.
If you have other suggestions for dog-related gift cards, please put them in the comments below. I'd love to add to this list to ensure all you dog-loving-fur-baby-pet-people are happy. I'm not one of you, but I applaud you.
Happy Gift Carding!
~Shelley Hunter, Gift Card Girlfriend