The easiest way to send a little extra dough for the holidays. Add a gift card, cash, or a check to this free printable gift card holder.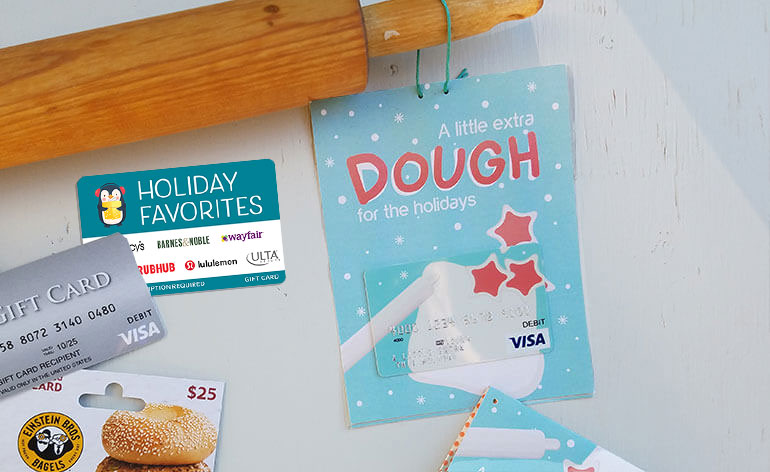 "Gifting Made Easy" by Gift Card Girlfriend
One of my favorite gifts to give during the holidays is a "little extra dough." This "play on words" gift can simply be cookie dough, pizza dough or playdough delivered with a cute gift tag. I like to add a second form of dough, however, such as cash, a check or a gift card. While any gift card will do, I think it's more fun to make dough + dough combos, which add up to unique gifts.
In a recent blog post, I share a
list of creative "extra dough" gift combinations
such as giving a restaurant gift card with cookie dough, a pizza gift card with pizza dough and so forth. I even created a Pinterest board dedicated to
these dough-filled
gift ideas–many of which make adorable holiday neighbor gifts. Still, I wanted more! So I asked our graphic artists to design a gift card and free printable that would make it even easier to give someone a little extra dough for the holidays. The step-by-step instructions are below.
1. Order Gift Card and Download Printable
The first thing you need to do is download the printable–flat or folded–and order the matching gift card.
Order the "Extra Dough" Gift Card
Download the matching Flat "Extra Dough" Gift Card Holder
Download the matching Folded "Extra Dough" Gift Card Holder
The flat printable looks nice with our matching Visa® or Mastercard® gift card. The folded printable looks great as well (and is very versatile), but you can also use it to tuck a few dollar bills inside or buy a restaurant gift card instead.
Check out my list of top gift cards for holidays for some other gift card suggestions as well.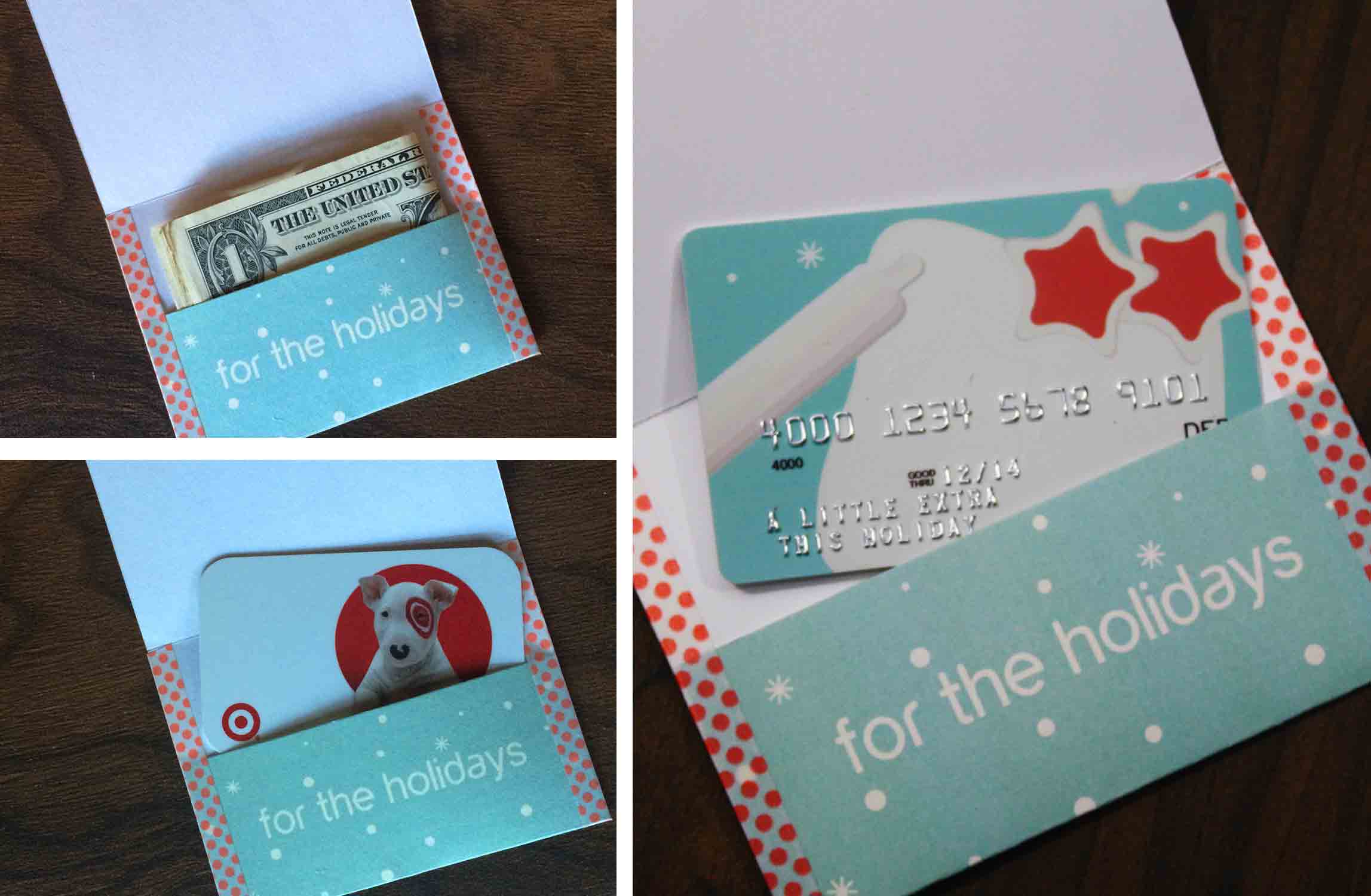 2. Print and Cut
After downloading the holder you want, print it on a color printer using "best quality" and "actual size" settings. (Do not select "shrink to fit" or any other setting that will change the size of the printed .pdf image.) White, card stock paper measuring 8-1/2″ x 11″ works best. Cut the holder with a paper cutter using the trim marks as guides.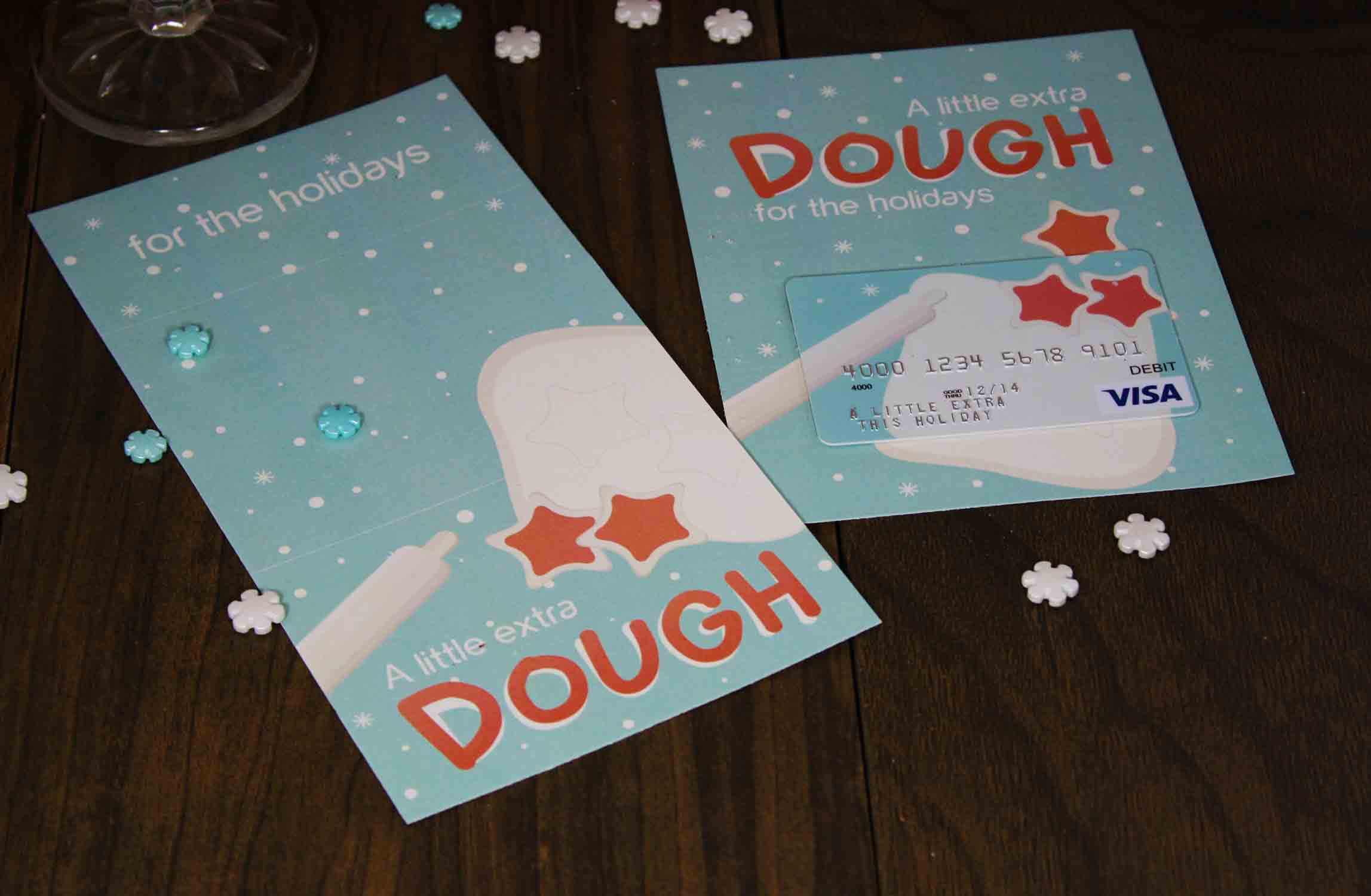 3. Make the Folded Holder
If you selected the folded gift card holder, look at the printed side to see a faint line indicating where the card should be folded. The folding lines are at the 3″ and 6-1/4″ marks. Using a pencil, mark the back side (white side) of the carrier at those measurements.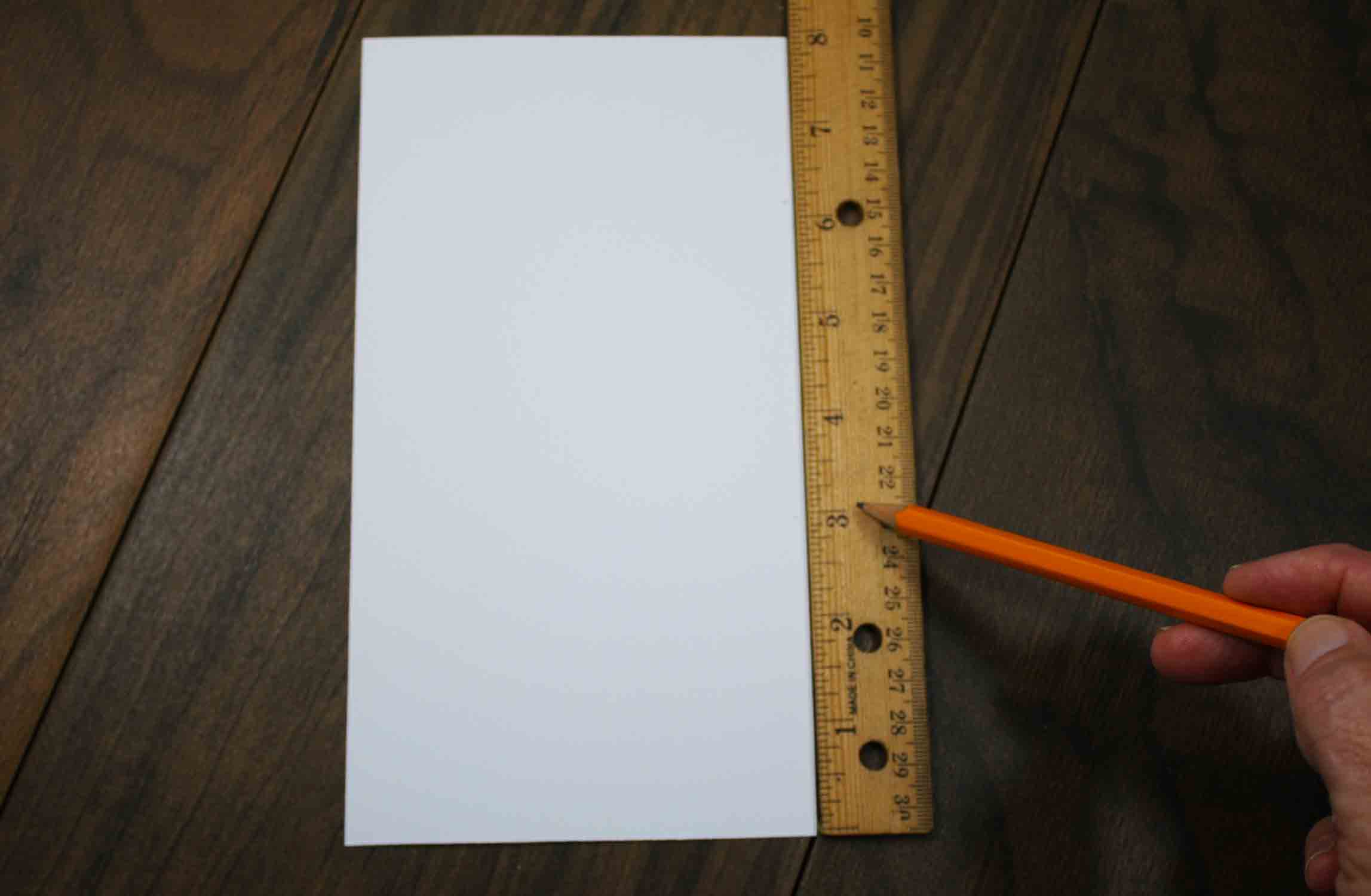 4. Score the Folded Holder
The easiest way to fold card stock is to score it first. Using a ruler and the measured marks, score the paper on the fold lines with a sharp object such as the back of a butter knife.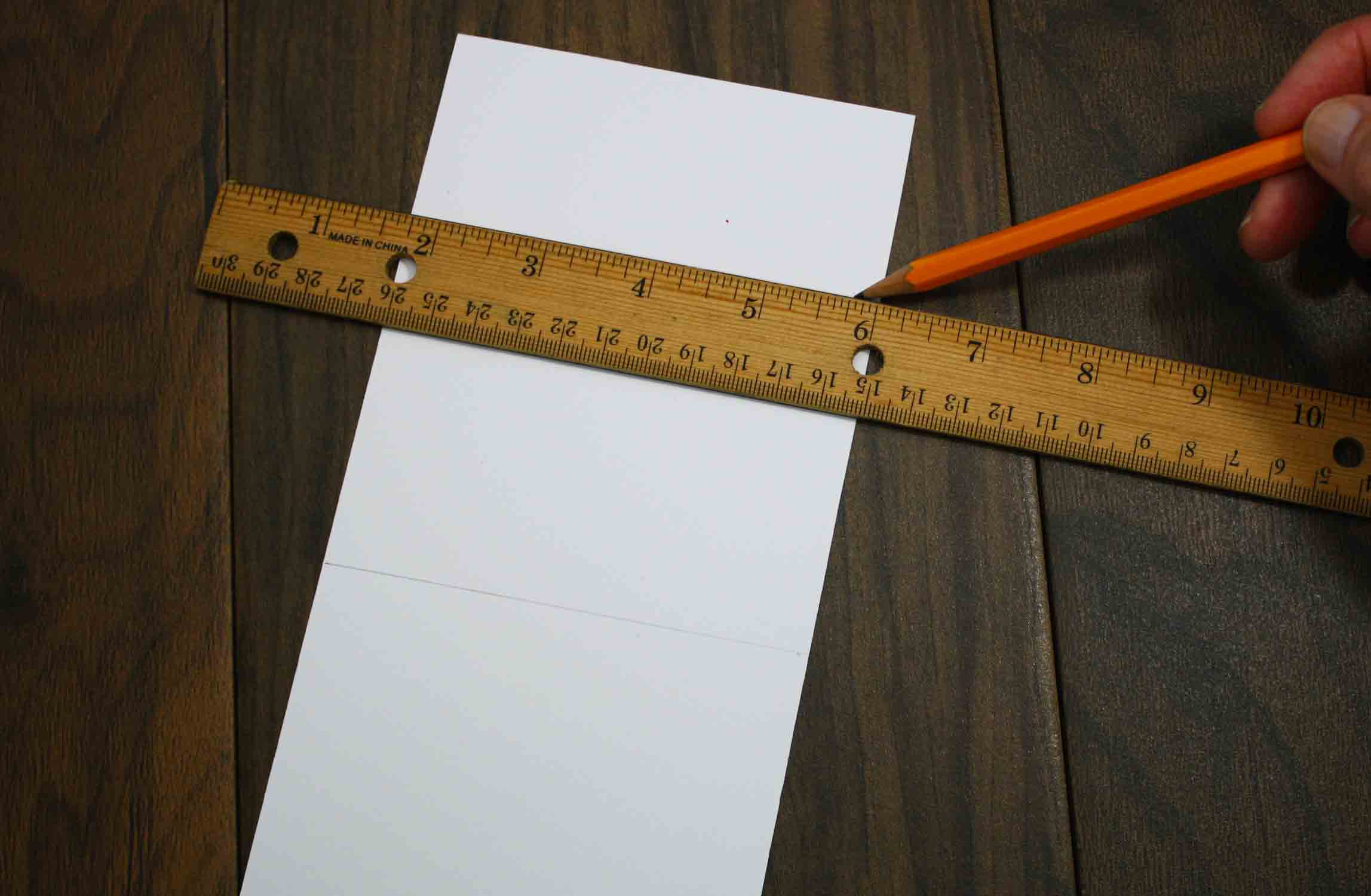 5. Fold the Holder
Now all you have to do is fold up the gift card holder on the scored lines. Using double-sided tape or a glue stick, seal the edges of the gift card pocket. For fun, I used a matching Washi tape to hold the folded gift card pocket in place.
6. Make the Cookie Dough
If there's anything more popular than Washi tape right now, it's mason jars. You don't have to scrounge through Grandma's cupboards to find them anymore either. You can find those at the craft store as well.
For this gift card "dough," I thought it would be fun to make one of those "cookie dump jars," but I didn't want a traditional chocolate chip cookie. I wanted a sugar cookie to match the design on the gift card and free printable holder. I also, confess, that I didn't have time to research the best recipes or worry about adapting the ingredients to fit a mason jar. The perfect solution came in a famed-red pouch, already mixed. Below is a list of all the supplies I used to make this super, simple gift card idea even easier.
Mason jar
Spray paint to paint the lid.
Washi tape to decorate the lid.
Colored twine to attach gift card holder
Sugar cookie mix (pre-made or homemade)
Sprinkles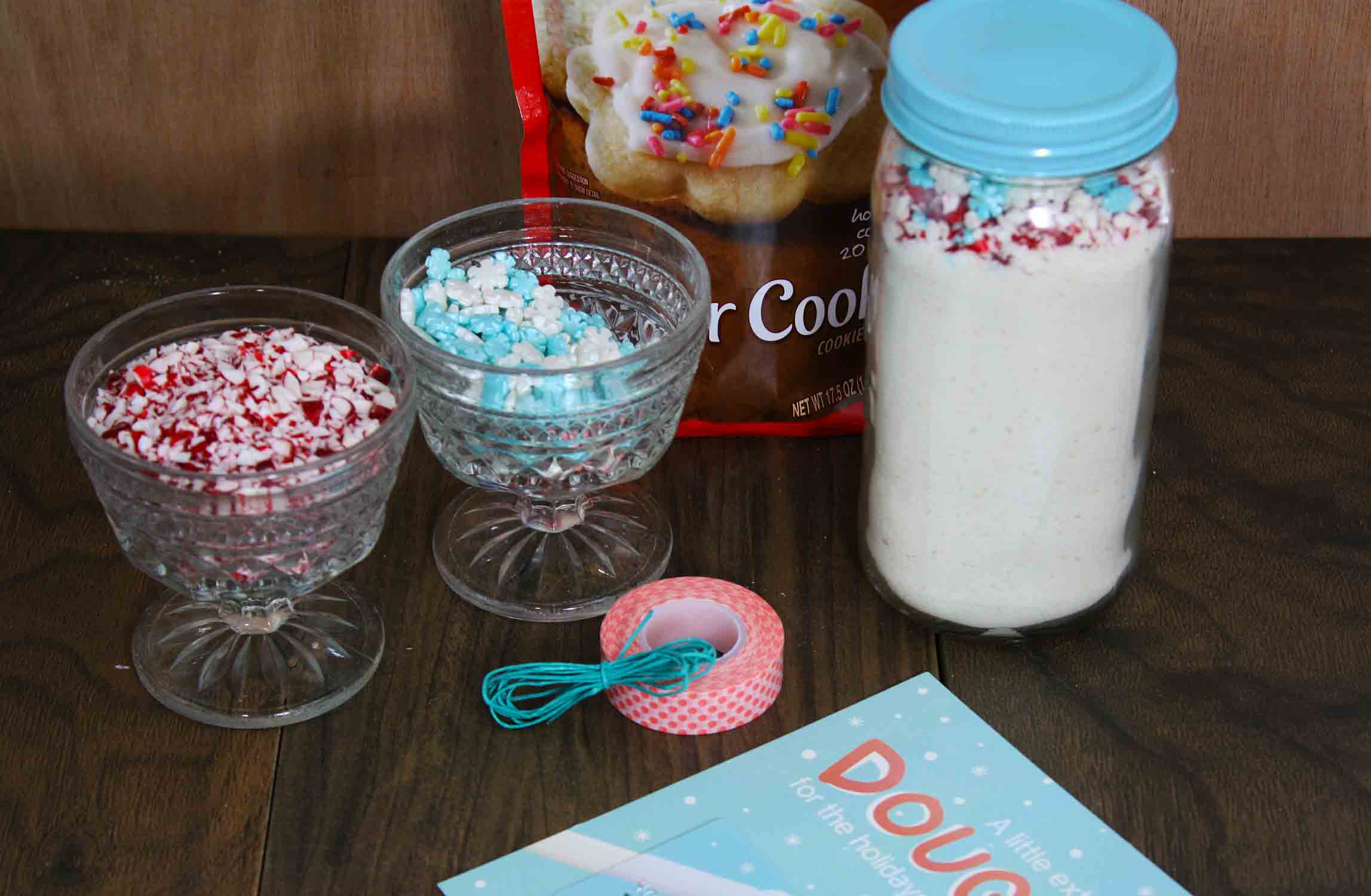 Before sealing up the gift card holder, write the remaining ingredients needed to make the sugar cookies. I dumped the sprinkles on top of the mix, but you could keep the dough separate from the sprinkles by putting the sprinkles in a plastic bag and placing that bag on top of the dough or tying it to the top of the jar for decoration.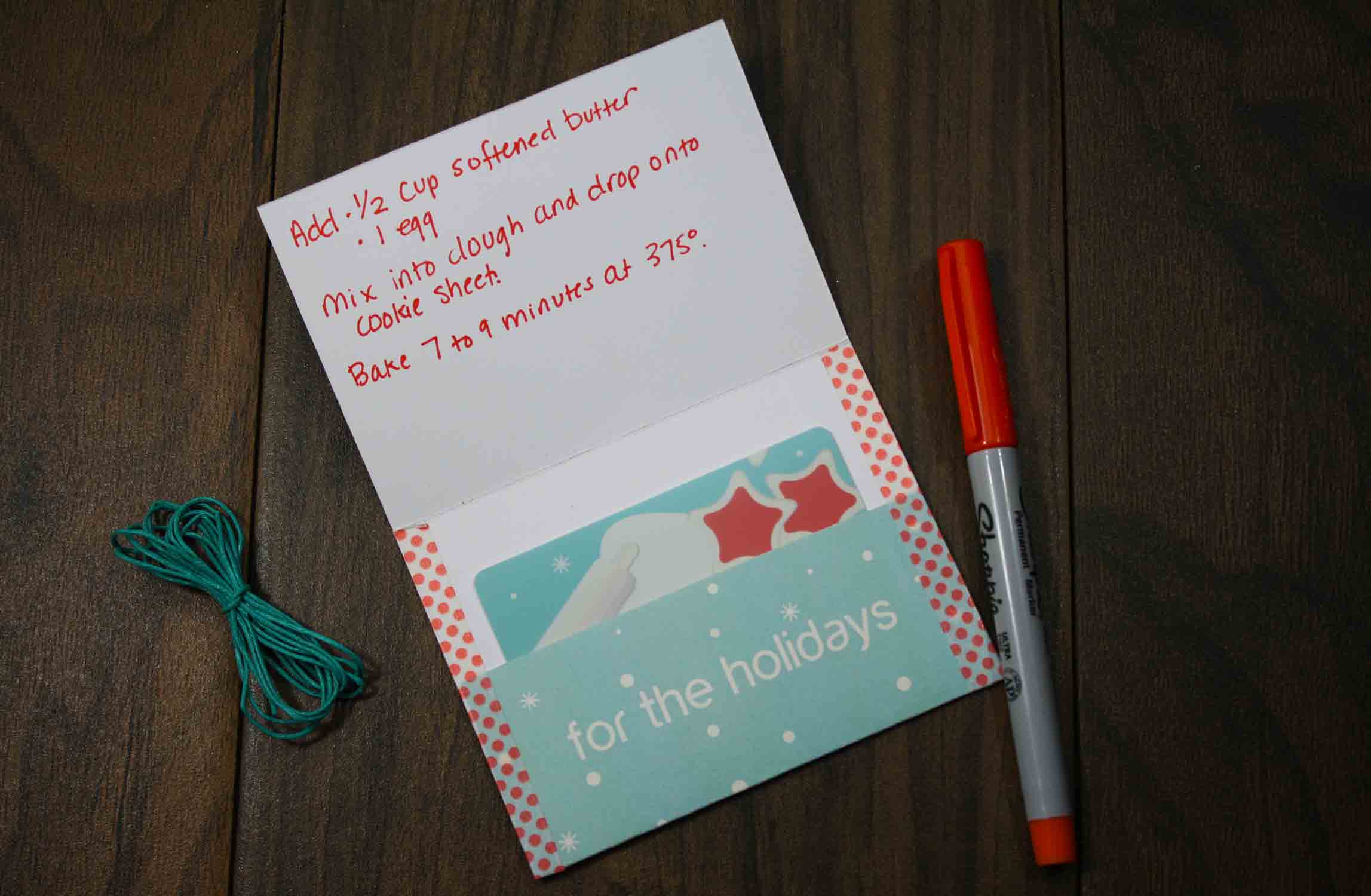 7. Put it Together!
The only thing left to do is attach the gift card holder to the mason jar. If you opted for the flat gift card holder instead, you might consider attaching that gift card holder to a rolling pin, a box of cookie cutters or some refrigerated dough that's already made. Yum!
Bonus
If you don't want to make cookie dough or aren't feeling all that crafty, then let us deliver the dough for you. When you order the
"Extra Dough" Gift Card
, order the custom greeting card for just a little bit more. We'll take care of everything else for you. (Of course, by that I mean we will send the gift card "dough," not the cookie dough.) For more free printable gift card holders, check out the
free prints page
or follow
Gift Card Girlfriend on Pinterest
. If you use this printable, send me a link to your page in the comments below or connect with me on Twitter
(@GCGirlfriend)
. I love to see gift card creativity at work!
Happy Gift Carding!
~Shelley Hunter, Gift Card Girlfriend