For the dad who likes to hunt, this gift is right on target! For the dad who likes to fish, this gift is "reel" good.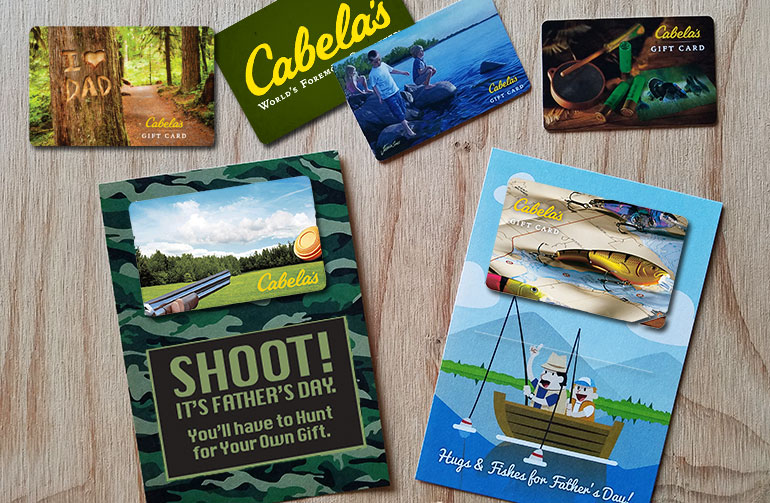 "Gifting Made Easy" by Gift Card Girlfriend
I have a few friends who like to hunt. They go pheasant hunting, deer hunting, duck hunting and more. While this is not a world I know much about, I can certainly appreciate that it is one of their passions. Fishing, on the other hand, captures my interest a little more. I don't claim to be a fishing enthusiast and only vaguely remember baiting a fishing rod once in my life, but as a kid, we went fishing all the time…sort of.
My grandpa loved to fish and my grandma loved to have us kids around. So they would load up the RV, pile us inside and drive to a favorite lake several times a year. Once we got there, grandma set up camp, grandpa headed to the dock and us kids roamed the woods for hours. I especially liked the campfire that burned from morning until night so we always knew how to get back home.
This Father's Day, I have three easy gift ideas that guys who like fish and game will appreciate. There's one for the hunters, one for the fishermen and a third one for the campers in your life. Each features a gift card from Cabela's–a store I'm finding knows gift cards as well as they know the gear you can buy with them.

Why Cabela's Makes a Great Father's Day Gift
While many merchants stick a few gift card designs on their website and hope the one-size-fits-all selection satisfies, Cabela's does the exact opposite. They've got 45 plastic gift card designs to choose from and even more digital gift cards available. They've got gift card designs for hunting, fishing, camping, hiking and more. They even sell gift cards for women who like the outdoors and they've got a "scratch 'n sniff" gift card that smells like s'mores too. In addition to a selection of cards, this store is also one of the few merchants that offers gift card packaging. For a few extra dollars, you can buy a Cabela's gift card tin for your gift card delivery. I love this.
At Giftcards.com, we sell the standard Cabela's gift card design in both plastic and digital. Though we only sell one design, I've got a couple of free gift card holders that you can download, print at home and use to make your Cabela's gift card delivery more personal. Below you'll find three free printable gift card holders with a few crafting suggestions for each.

Father's Day Gift for Hunters
This Father's Day gift card printable is perfect for the guy who gets up earlier than the crack of dawn, heads out to a hunting blind and sits quietly and patiently for hours on end. If your dad is a hunter, then he might as well hunt for his own Father's Day gift.
Order Cabela's Gift Card from Giftcards.com
Other ways to Buy Cabela's Gift Cards here.
Download Free "For the Hunt" Gift Card Holder
After downloading this gift card holder, attach your favorite gift card and deliver it with a little extra swatch of camo. For example, you might wrap it up in a camouflage bandana, attach it to a quiet snack that can be eaten without alerting possible prey or tuck it inside a new insulated beverage container. This gives dad something to enjoy immediately plus a gift card he can use later.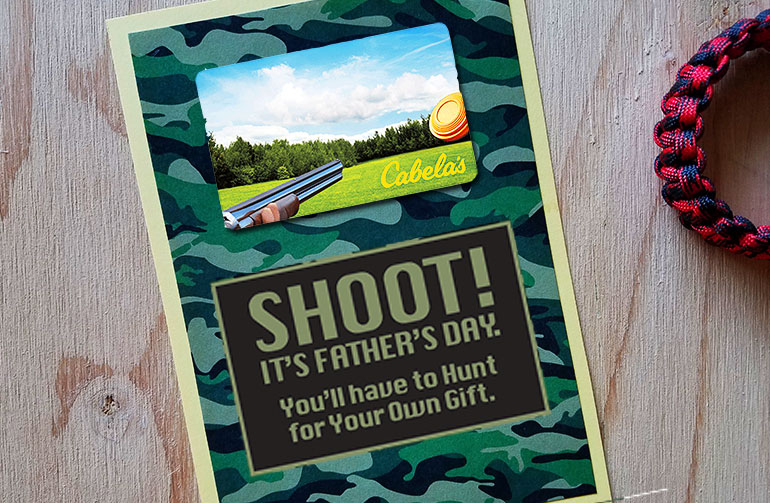 Oh, and don't forget. Cabela's has several gift card designs featuring "shooting" images such as this turkey call in the top image and the exploding clay target gift card in the second picture. (If you go to the Cabela's website and select "gift cards," you'll see that the clay target gift card design is lenticular, meaning the image changes as you rotate the card. Move the card around and it's like saying, "pull." In just a couple of moves, you'll hit the target every time.)

Father's Day Gift for Fishermen
This sweet gift card holder is for the guy who likes to fish. The nostalgic look makes it perfect for a variety of fishing-themed gift cards at Cabela's. It looks great with the old-time image of the kids playing on the water's edge and it looks equally good with the gift card featuring a fishing lure. Of course, you can also throw the standard Cabela's branded gift card design on it as well. Whichever one you choose, dad will fall for it hook, line and sinker.
Download Free "Hugs and Fishes" Gift Card Holder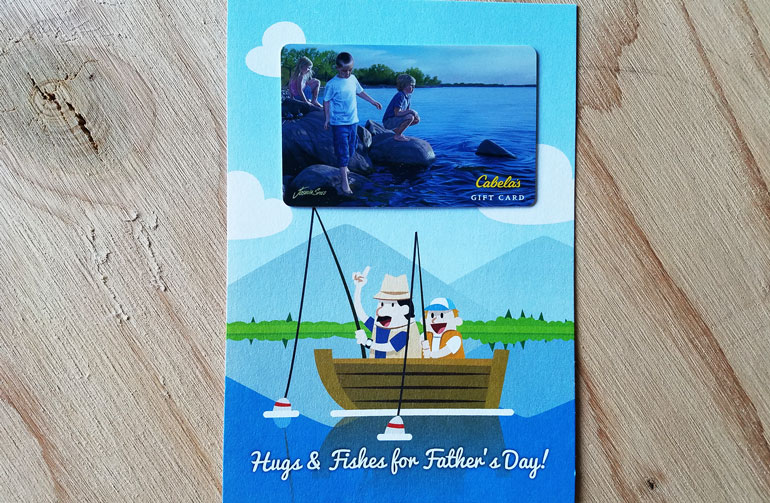 If you want to add a little pizazz to this gift card holder, an easy way to do that is to wrap it in baker's twine and tie a bow on top. I'd also love to see it with a bow made of fishing line topped with a new fly or fishing lure. Just make sure the hook won't accidentally catch dad's finger when he opens the card.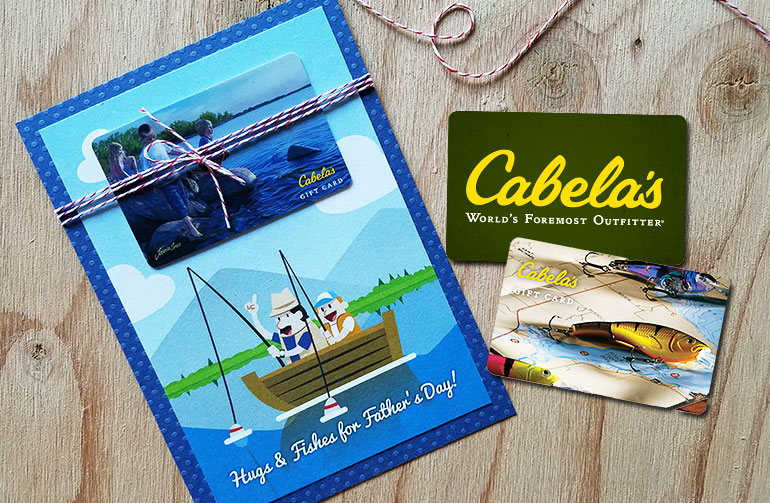 Father's Day Gift for Campers
Sometimes the only thing you need to do to make a gift card feel more personal is write a personal note. I'm particularly fond of puns when it comes to gift card gifting because it makes the gift card purchase feel purposeful. It ties the gift card into a complete thought rather than appear as though you picked a gift card, picked a greeting card and stuck the two together. (Here's another post to help you know what to write on a gift card.)
This last Father's Day gift idea is super simple. Buy all the makings for s'mores, add a Cabela's gift card and write the words, "we could not ask for s'more" on a handmade greeting card. Dad can enjoy the s'mores now or save them for his next camping trip.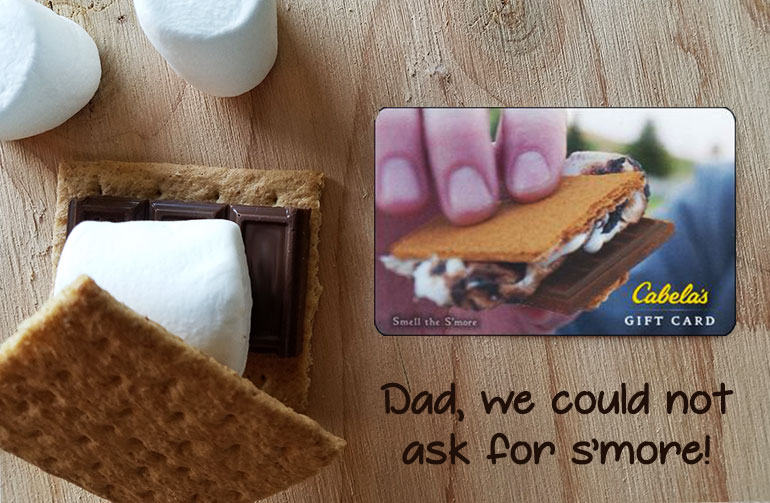 Send an eGift Card
If you don't have time to buy a specialized gift card design or dad doesn't live nearby and you missed the chance to mail something early, then you can always send him an egift card instead. Though the card may come electronically, you can still put some personality and sentiment into the gift. For example, you can add a photo or choose a video greeting. If you're not sure what to write on the egift card, then the words above might come in handy. Choose the Cabela's egift card and tell dad to hunt for his own gift, give him some virtual hugs and fishes or say your dad is s'more better than any other dad. In just a few clicks and with just a few words, your Father's Day gift will be on its way.
Order Cabela's eGift Card from Giftcards.com

If you've never sent an egift card, then let me give you a couple of tips. The first is that you can buy a gift card now but schedule delivery for a later date. This is a great way to check gifting off your list while still making sure the egift card gets delivered at an appropriate time. Secondly, if this is your first order, allow a little extra time for processing. All customers have to pass through our screening process, but new customers are checked a little more closely. Once you've sent one gift card, future orders will go through quicker.
More on Pinterest
For more, free printable gift card holders, check out the free prints page or follow Gift Card Girlfriend on Pinterest.If you use this printable, send me a link to your page in the comments below or contact me on Twitter (@GCGirlfriend). I want to see what inspires you.
Happy Gift Carding!
~Shelley Hunter, Gift Card Girlfriend