Clever ways to give Father's Day gift cards to dad, grandpa and the other men in your life.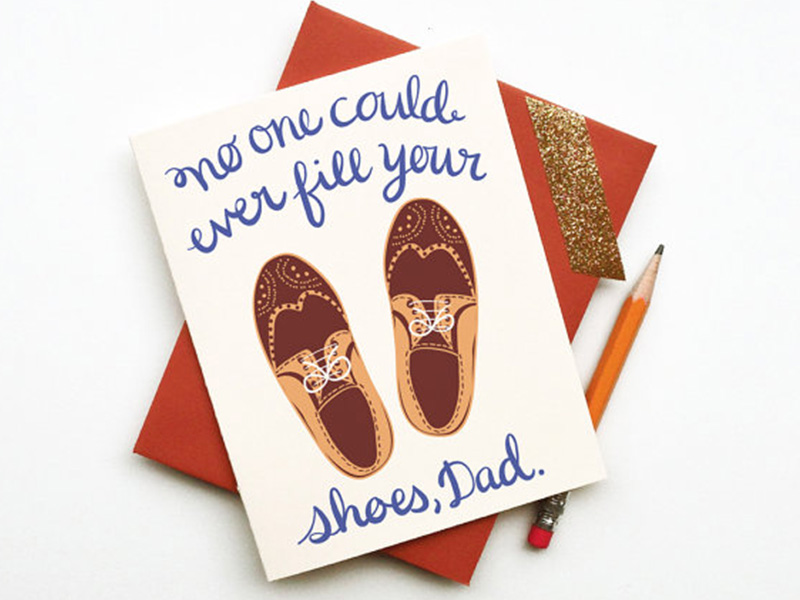 Image Credit: Little Low Studio via Etsy

For years, I bought my dad the same style shirt for every birthday and Father's Day. Knit fabric, collar with a couple of buttons (maybe a zipper), about a 2-inch waistband and a single chest pocket to hold his pens. The colors and stripes on the shirt varied season after season, but the style never did. Other family members bought dad shirts they wanted him to wear–mostly sans the waistband. Like it or not, I always bought him the type of shirts I knew he liked to wear.
On Father's Day, it may be tempting to get dear old dad something you think he should have, but I suggest getting him something he will enjoy (regardless of your opinion on the item). The former is a "present" as in, "I present this to you". The latter is a "gift." Gift cards, of course, should be similarly selfless. Below are several thoughtful Father's Day gift card ideas inspired by the things dad loves:

Gift Cards Dad will Love
1. Take Me Out to the Ballgame
Does dad love sports? Get him a gift card to an upcoming baseball game, a box of Cracker Jacks and a bag of peanuts. (You know how the seventh-inning stretch song goes). Deliver it all with some game-day gear or even just a copy of the team's upcoming schedule. Add a note that reads, "Have a ball on Father's Day."
2. Camping Trip
If dad is an outdoorsman, then he will enjoy a gift card that allows him to spend more time in nature. Get him a gift card to a nearby national park, your state park or a camping gear store such as Bass Pro Shops or REI. Deliver the camping gift card with all the fixings for s'mores or attach it to a bag of premium beef jerky that he can take on the trip.
3. Duct Tape Tie
Nothing says Father's Day like a new tie, but with businesses increasingly moving towards casual dress codes, that gift may be outdated. If your dad still wears a tie, get him a gift card to pick one out for himself. Tuck the gift card into a tie box with one of his old ties or make him a duct tape tie as a gift card holder. Not into ties? Tuck any gift card into a DIY duct tape wallet.
4. King of the Grill
If firing up the grill is one of dad's favorite pastimes, then hook him up with a Father's Day gift card that is really hot. Get him a gift card for the local butcher, a barbeque supply store or his favorite grocery store with the best meat counter. Tie the gift card to a new rub, barbecue sauce or cooking gadget that he's wanted to try. Add a note that says, "You get hotter every year, dad."
5. My Pop Rocks
For the music-loving father, get a gift card to the music store (think vinyl), concert hall (maybe Ticketmaster) or downloadable music website (iTunes or Amazon). Attach the music-themed gift card to a pack of Pop Rocks candies and add a note that reads, "10 Reasons Why My Pop Rocks!" (Then fill the list, of course, with reasons why your dad is so awesome.) He'll enjoy the music, but the custom list is what will make his Father's Day really rock.
6. DIY Dad
If Dad is a do-it-yourselfer, then get him a gift card for his next project. A gift card to the home improvement store may be your first thought, but try thinking outside of the toolbox as well. For example, he might like a gift card for his favorite lumber supplier or online hardware store. Maybe he'd rather have one less project to do. In that case, go with a gift card (or certificate) for a local handyman. Deliver this gift card with a project essential item such as electrical tape, safety goggles or a can of WD-40. (My grandpa used WD-40 like nobody's business.)
7. In His Shoes
Have little ones at home? Take a picture of your son trying to walk in Daddy's big shoes. Frame the photo and deliver it with a gift card to the shoe store. Try to match the shoes in the picture with the gift card you select. For example, snap a photo of Junior wearing business shoes for a Nordstrom gift card or athletic shoes for a Foot Locker gift card. Then, add a note that reads, "He's following in your footsteps" or "He'll have a hard time filling your shoes one day."
8. O-FISH-ally the Best Dad
Deliver a Father's Day gift card inside of a bag or mason jar filled with gummy fish or fishy crackers. Attach a note that reads, "You are o-fish-ally the best dad ever" or download this free Father's Day printable that says the same thing. While any gift card will work (e.g. movies, bookstore, clothing store), dad might enjoy a gift card that is a little fishy too. Think Bass Pro Shops, Bonefish Grill, or your local sushi restaurant.
9. Rich Man
Sometimes a celebration like Father's Day can give you a moment of perspective. Sure, there may be a crack in the ceiling or a car in the driveway that won't start, but the father who is surrounded by loving family members is a rich man. Get dad a personalized gift card with a photo of the entire family on it. Deliver this gift card with a handwritten note from each child telling Dad at least one thing they admire about him.
10. Dinner on Dad
Get dad a gift card to his favorite restaurant and deliver it with a homemade dish that complements the gift card. Make a homemade apple pie to go with an Applebee's gift card. Make a jar of homemade salsa to go with a gift card to his favorite Mexican restaurant. Bring over a pot of chili to go with a gift card to Chili's. Dad can eat one meal now and enjoy the gift card later.
It's Not About You
My dad eventually outgrew his signature style shirt, but it didn't take long for him to settle into another fashion choice that I could easily predict. Knit fabric, collar with a couple of buttons (never a zipper), no waistband and a single chest pocket to hold his phone. I bought him that shirt for a few more occasions until switching over to buying gift cards, but my philosophy never changed. I always buy him gift cards that I know he will enjoy using (Hello buffet-style restaurants), because whether you're buying someone a shirt, a pair of pants or a gift card, the motive should always be the same. Cater to the recipient.
Need More Ideas?
If you still need a few more ideas for dad, check out our Father's Day gift ideas page where you'll find several personalized gift cards made especially for dad, or Gift Card Girlfriend on Pinterest.
Happy Gift Carding!
~Shelley Hunter, Gift Card Girlfriend