Five easy, last-minute gift card wrapping ideas that can be done in seconds.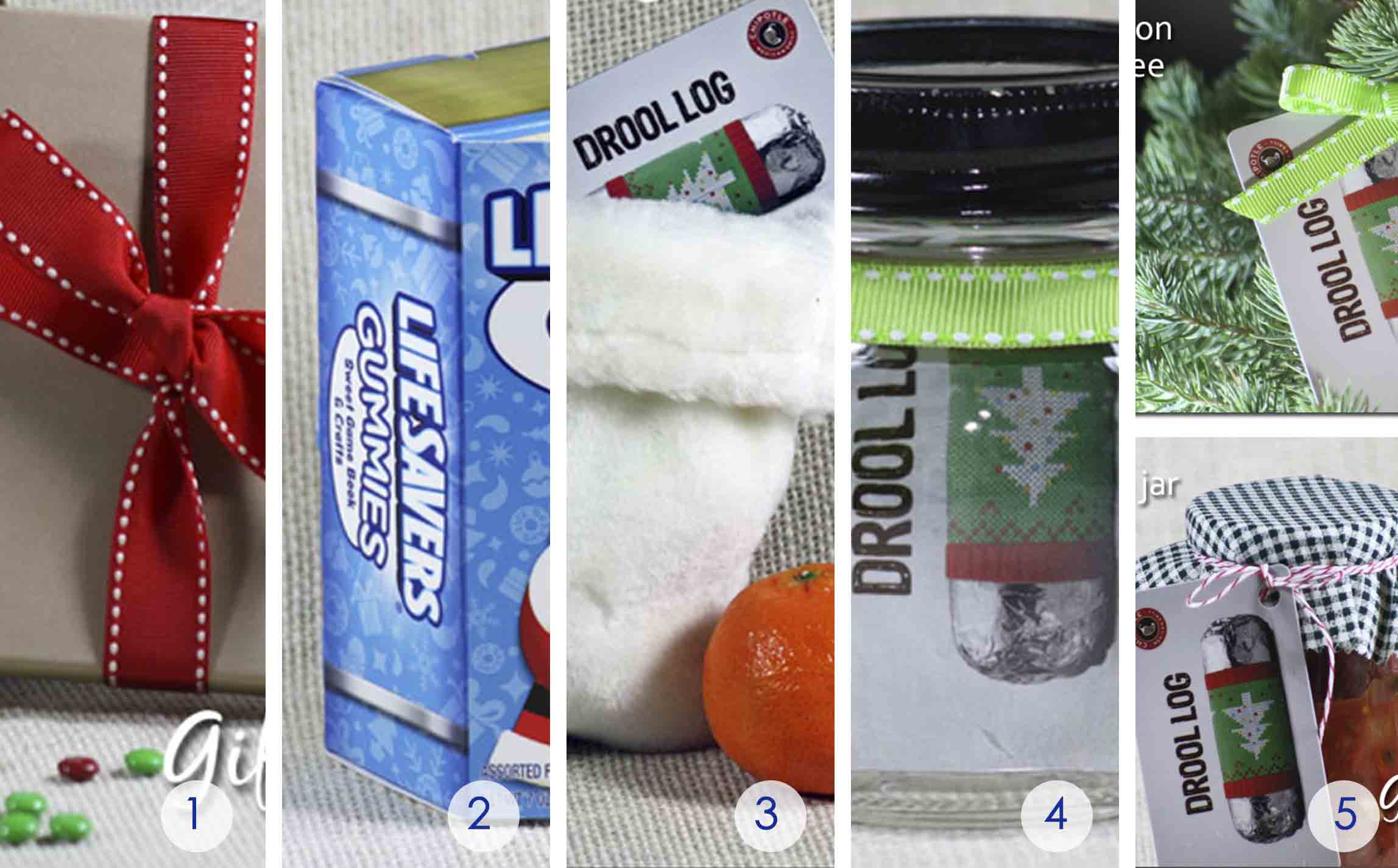 Got a stack of gift cards to give out this holiday season? Me too. I ordered the gift cards weeks ago, but I am just now getting around to adding a personal touch to each one. I'm not an overly fancy person, but I think gift cards need to be dressed up a little before you hand them out. Below are five super easy, last-minute gift card wrapping ideas that can be done in seconds. Each presentation is simple, but the added touch, as demonstrated with the "Chipotle Drool Log" gift card, turns the gift card into a gift.

Shaker's Delight
For people who can't resist shaking presents, this gift card wrapping idea is perfect. Put a gift card and some loose, hard-shelled candies inside a box. Then add a fabric ribbon. The box is simple, the presentation is easy, and the candy decoy works brilliantly–you'd never guess there is a gift card inside. When opened, the recipient will have a small treat to enjoy while waiting for an opportunity to redeem the gift card.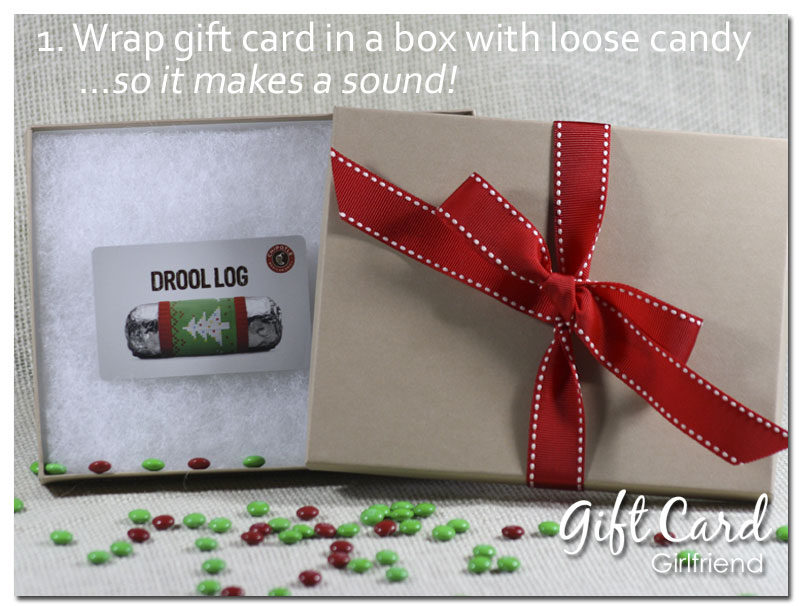 Finders Keepers
An easy gift card wrapping idea is to tuck a gift card into a small gift—one that seems like it IS the present until the recipient investigates further. I share this gift card wrapping idea, however, with a bit of trepidation. The idea is NOT to trick the recipient into feeling cheated. We're just trying to disguise the gift card momentarily so the recipient doesn't see it coming. Ideally, the small gift would also match the gift card. For example, tuck a shoe store gift card inside a pair of fluffy socks, stuff a manicure or salon gift card inside a pair of mittens, and put a movie gift card between two boxes of theater candy.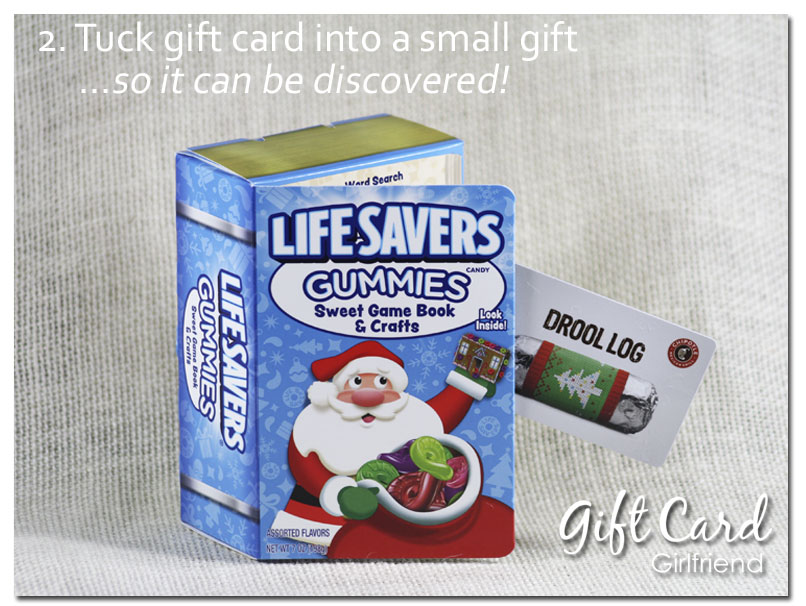 Stocking Stuffer
Put a gift card into a Christmas stocking and fill it with other inexpensive stocking stuffers such as candy, pencils, and toiletries. The bigger the stocking the more gifts you'll have to add, so choose wisely. And don't forget to put an orange in the toe of the stocking.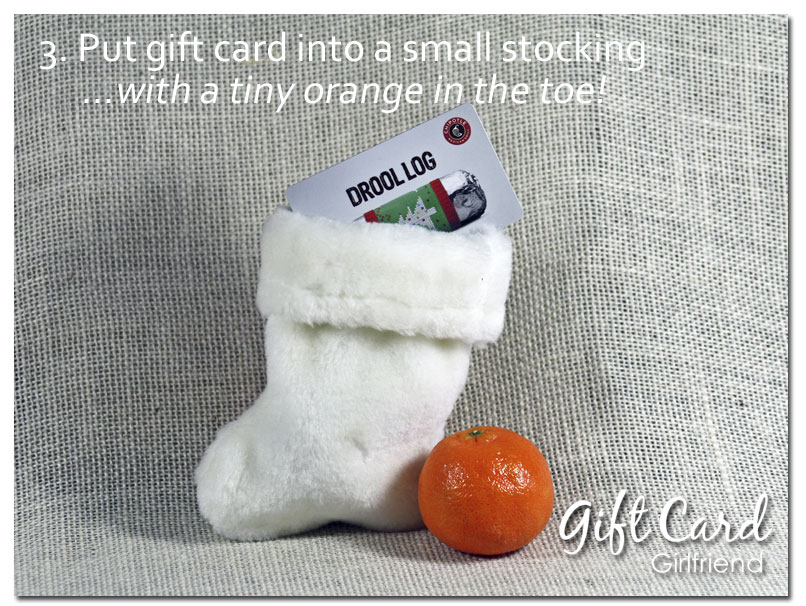 Mason Jar Mania
Before Pinterest (also known as the Dark Ages of crafting), Mason jars were primarily used for canning. Now, thanks to an overwhelming number of ideas involving Mason jars, nearly every lidded jar has the potential to become a decoration. If you follow Gift Card Girlfriend on Pinterest, you can find many more gift card wrapping ideas. Though many are elaborate, my last-minute suggestion is to keep it simple. Get a cute jar, spray paint the lid, add a bow, throw the gift card inside, and (optionally) fill the rest of the jar with something extra. You can add tiny candies, nail polish to go with a pedicure gift card, ball tees to go with a golf store gift card, or batteries to go with an electronics store gift card.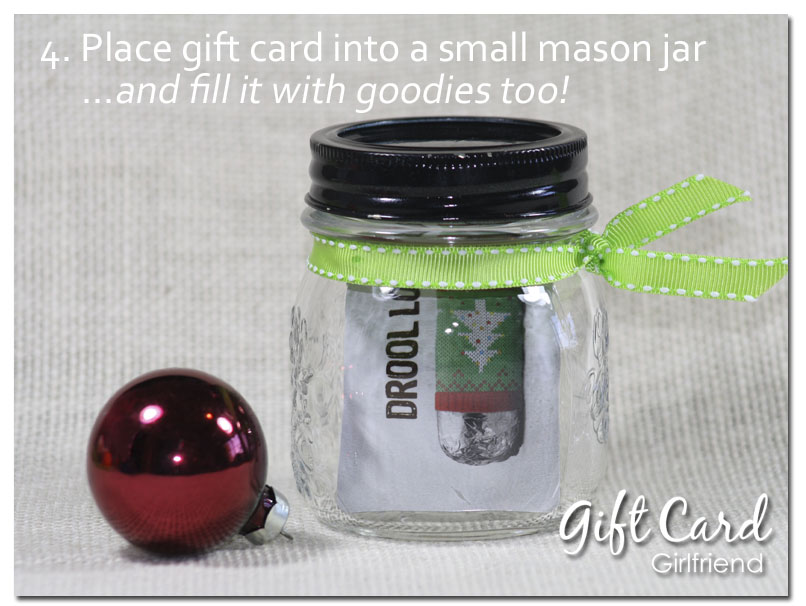 The Knockout Punch
Cue the jazz hands. This is my favorite gift card wrapping idea. Punch a hole into the gift card (without nicking the magnetic stripe on back), and you can tie the gift card onto just about anything. All you need is a little ribbon to tie a hot wings gift card to a six-pack of soda, an ice cream store gift card to a jar of fudge topping, or a tennis store gift card to a can of tennis balls. The options are endless and seriously easy.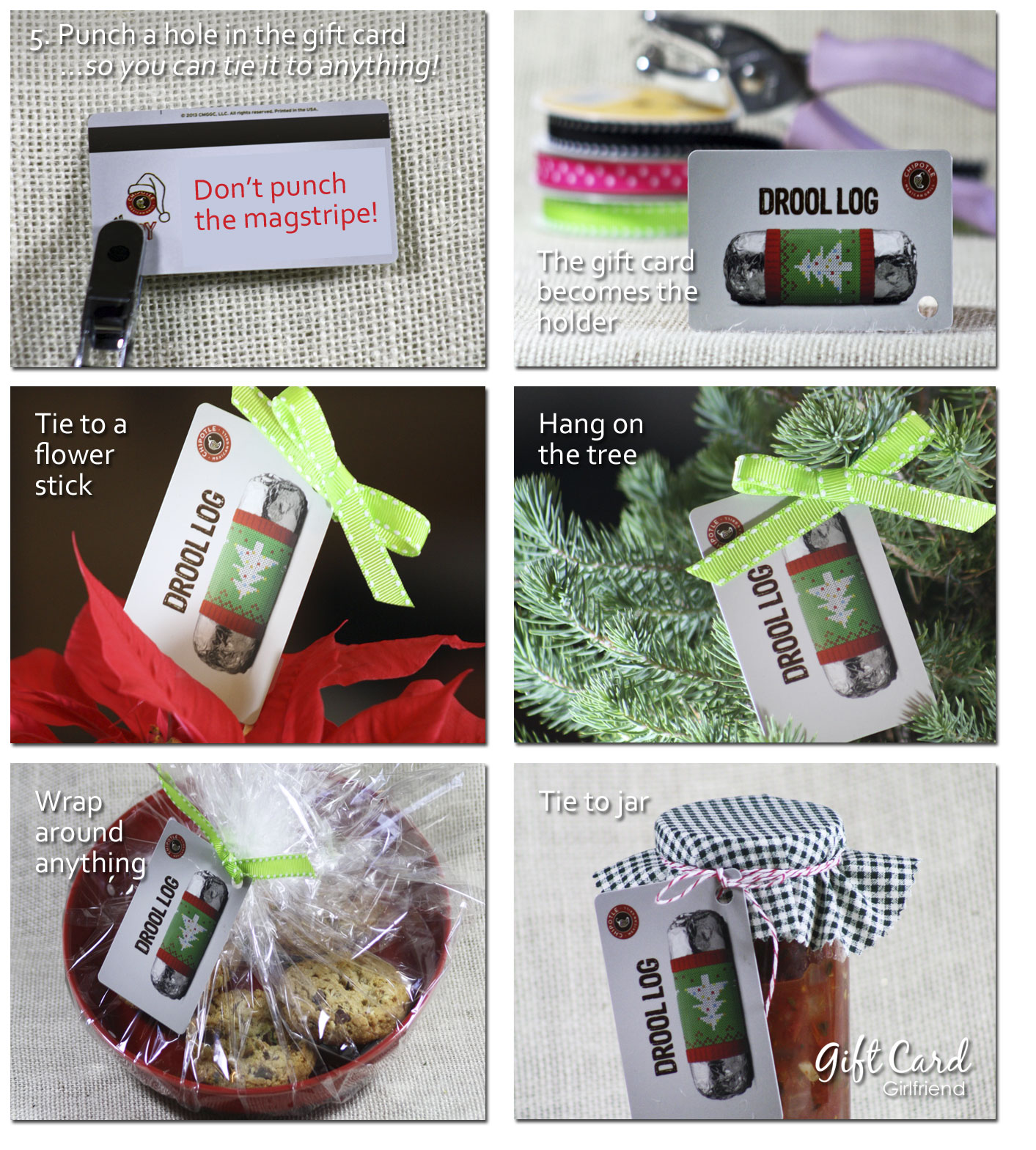 Of course, you can always deliver gift cards inside of greeting cards. But the reason I prefer dressing gift cards up a little is because we've lost the element of surprise that used to accompany traditional presents. If you deliver a gift card in a greeting card, there's no tissue paper to pull back and no breath-catching reveal for the recipient. The joy will come later when the gift card is redeemed, but the gift exchange moment can feel lackluster. Use the gift card wrapping ideas above to recapture some of those lost feelings. With a few minutes, a Mason jar, or a hole punch, you can put the "ooh and ahh" back into gift card giving.
Happy Gift Carding!
~Shelley Hunter, Gift Card Girlfriend