Turning 30, 40, 50 or more? Here's a super easy gift idea for significant birthday milestones. Free printable too!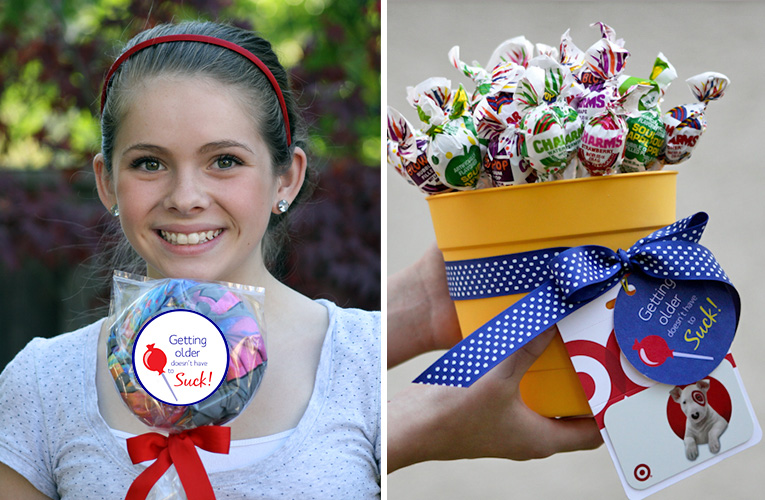 "Gifting Made Easy" by Gift Card Girlfriend
I'm in love with this Getting Older Sucks Birthday Milestone Gift Card Idea. When I saw the Baby Blanket on a Stick or "Baby Blanket Pop," as it's called on Pinterest, I knew immediately that I would turn this baby gift idea into a birthday milestone gift idea. The lollipop shape reminded me of the "Getting Older Doesn't Have to Suck" free printable I'd already made. I've seen several Pinterest ideas that say "Getting Older Sucks," but I really don't feel that way. There are some physical disadvantages of aging that I don't appreciate, but mentally and emotionally, I think I'm better with age.
Getting Older Doesn't Have to Suck
I originally made the "Getting Older Doesn't Have to Suck" free printable tag to go on a raffle prize for my friend's trade show booth. Since she was selling anti-aging skin care products, this birthday milestone gift message worked perfectly. To make the prize, I picked up a cute yellow planter, used a hot glue gun to glue a Styrofoam ball into the planter, and filled the planter with suckers. We added a Target gift card as the real incentive and we tied the gift together with a bow and the tag I'd made. This cute pot was both eye-catching and humorous to all who came by her display table.
How to Make a T-Shirt on a Stick!
In the "blanket on a stick" gift, a baby blanket is twisted up to make a lollipop. For my girlfriend's 40th birthday, I chose a vintage Coca Cola t-shirt instead. To make the lollipop, I twisted the t-shirt, pinned it into a pinwheel with a couple of straight pins, and taped the circle to a dowel using clear packing tape. Then I put a cellophane bag over the t-shirt on a stick and tied the bag with a grosgrain ribbon. With the "Getting Older Doesn't Have to Suck" free printable taped to the middle of the packaging, this is one of the easiest gift presentations I've ever made. It is also one of the splashiest. I couldn't wait to share it at the party.
Here's what you need to make this gift idea happen:
One of the Getting Older Free Printables:

"Getting Older Doesn't Have to Suck" Printable in blue: Download Birthday Printable

"Getting Older Doesn't Have to Suck" Printable in white: Download Birthday Printable

A t-shirt, baby blanket, or other fabric gift that you can twist without ruining.
Straight pins to hold the twisted t-shirt in place.
A dowel or stick. (If this is a teacher gift or graduation gift, a ruler might be a fun substitute.)
Tape to hold the twisted t-shirt to the dowel.
Cellophane bag to put over the t-shirt on a stick.
Ribbon to tie the gift up nicely.
Add a Gift Card
In this case, I didn't add a gift card because it was a simple celebration, but it would have been easy to do. With retro brand t-shirts quite popular, the gift card ideas are easy to coordinate such as the following::
A beverage store gift card with the Coca-Cola t-shirt.
A grocery store gift card with a Kellogg's Corn Flakes or Fruity Pebbles t-shirt.
A candy store gift card with a Hershey chocolate t-shirt.
A hardware store gift card with a "Tough as Nails" t-shirt.
A sporting goods gift card with a "Play to Win" t-shirt.
For every t-shirt available, there is a corresponding gift card that comes to my mind. Combos are super creative. But you will still get "oohs" and "ahhs" at the party if you deliver a simple t-shirt on a stick the way I did. I promise.
More on Pinterest
I like this little saying so much, I created a Birthday Milestones Gift Ideas board on Pinterest. Follow Gift Card Girlfriend on Pinterest to check it out and find more ways to celebrate those birthdays.
If you have a fun play on words that I haven't blogged about yet, let me know in the comments below or reach out to me on Twitter (@GCGirlfriend).
Happy Gift Carding!
~Shelley Hunter, Gift Card Girlfriend