How to pick (and Deliver!) a gift card that can be redeemed for a memorable experience. The recipient will thank you now and remember it always.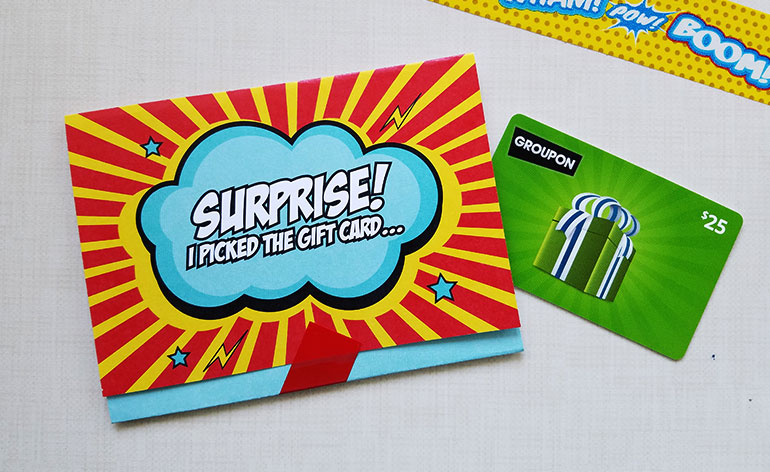 Gift Cards Can Make Memories
Though I believe that every gift card is experiential, some are more geared for making memories than others. It used to be that if you wanted to treat someone to an outing beyond going to a restaurant or shopping at a local department store, you would get that person a gift card to the movies. While still a great choice, we now have a wider selection of experience-based gift cards to consider as well. For example, a Groupon gift card can be used to purchase anything from a murder mystery dinner party to a zip-lining trip in the mountains. An Airbnb gift card makes it possible to stay at a local's house on your next vacation. Stockpile gift cards give everybody the opportunity to try their hand at day trading. Do you see what I mean? I'm all for the experience of getting to pick out my own blouse with a clothing store gift card, but if you're looking to send friends and family members on experiences they will never forget, then consider some of our top experience-based gift cards. Below are a few of my favorites: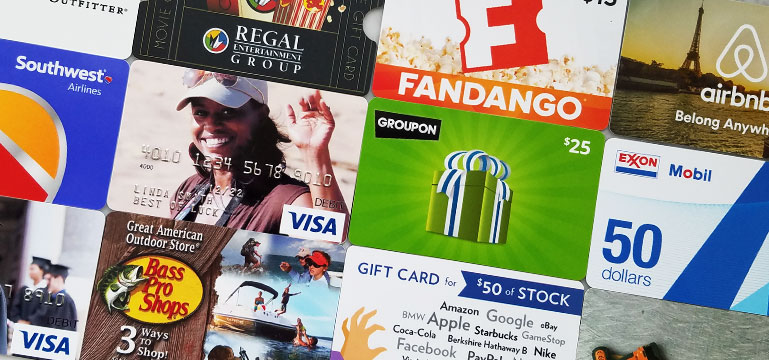 Groupon Gift Cards
Redeemable for great deals on restaurants, concerts, ball games, spas, outdoor adventures, unique indoor experiences, travel and more.
Spa Gift Cards
Help somebody take time to breathe in, breathe out and feel pampered for an hour or two.
Travel Gift Cards
Pack your bags! Whether you're helping someone get away or bringing a friend out for a visit, airline, hotel and other travel gift cards can definitely be used to create a memorable experience.
Airbnb Gift Cards
Speaking of travel, have you tried Airbnb yet? Rather than stay at a hotel, the recipient can choose from thousands of local places to stay on his or her dream vacation.
Stockpile Gift Cards
Turn a few dollars into a few fractional shares of stock and see what happens! Give someone the experience of test driving the stock market!
Visa Gift Cards
Of course, the ultimate open-ended gift card is the Visa gift card. The recipient can use it to toward a trip to the Bahamas or for a trip to the local bowling alley. Either way, you picked the gift card. It's up to the recipient to pick what happens next.
Print a Memory-Making Gift Card Holder
After picking out the perfect memory-making gift card, you'll want to deliver it in a memorable way as well. Below you'll find two free printable gift card holders that are perfect for giving gift card experiences to remember. There are two gift card holders to choose from so pick the one that matches your gift card best.
Download the Red Surprise Inside Gift Card Holder
Download the Blue Surprise Inside Gift Card Holder
Print the downloaded .pdf file on a color printer using "best quality" and "actual size" settings. (Do not select "shrink to fit" or any other setting that will change the size of the printed .pdf image.) White, card stock paper measuring 8-1/2″ x 11″ works best. Cut the gift card holder at the trim marks indicated.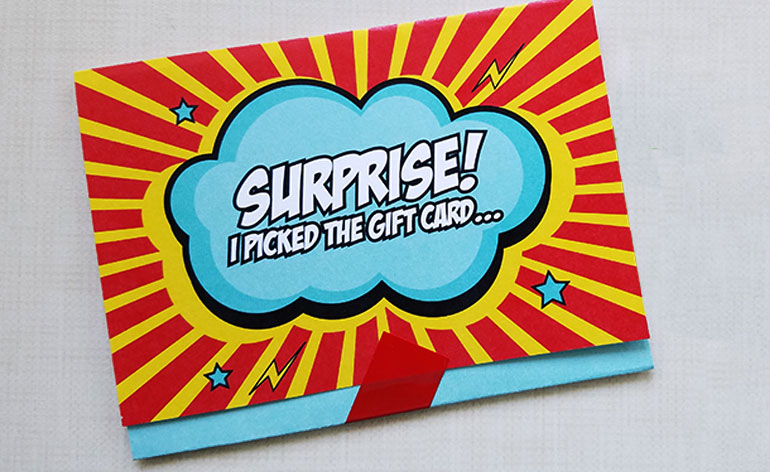 After cutting the holder, fold it where the design changes to create a pocket for your gift card. Using a glue stick, seal the sides of the pocket so the gift card stays in place.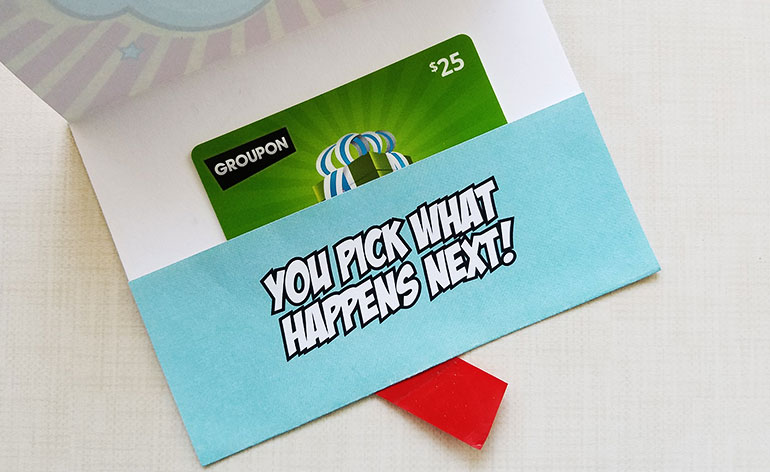 The blue gift card holder has a mysterious look to it. Upon further inspection, the recipient will find a gift card inside. Seal the gift card holder with a small piece of tape or tie it with a matching ribbon.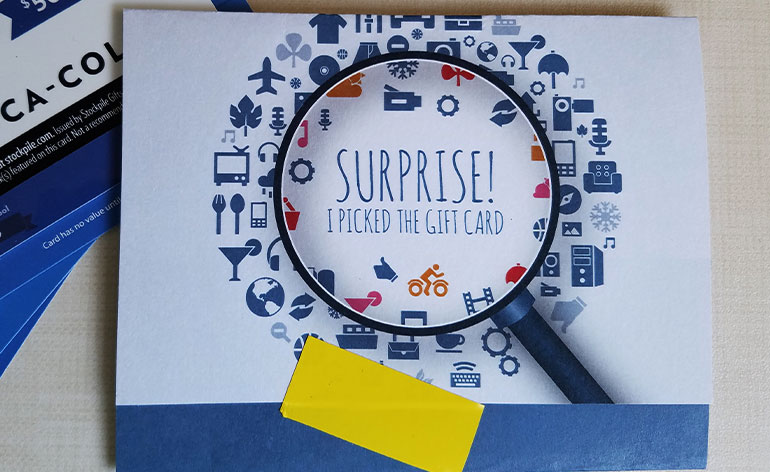 Add a ribbon, stickers or any other embellishments you want. Write a note inside too. When the recipient opens the holder, the gift card is revealed, but the memories are still to be made.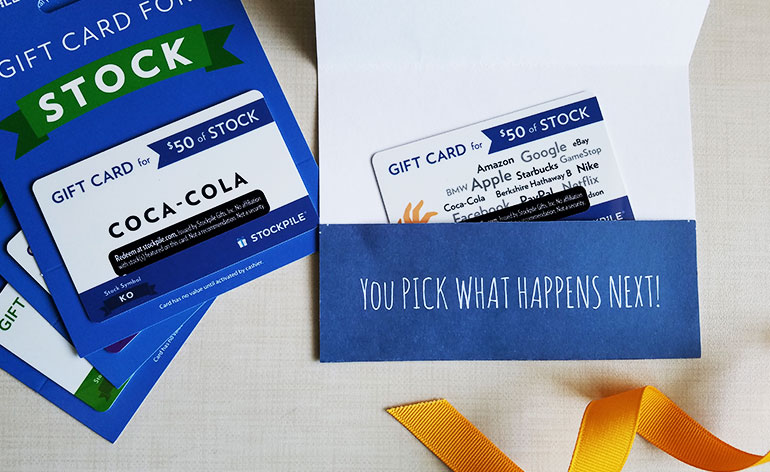 More on Pinterest
There are many ways to deliver a gift card. You can buy a greeting card, put the card into a gift bag or tie it onto another small gift. I just happen to like making free gift card holders to make the job of gifting easier than ever. You'll find other gift card holders on the free printable gift card holders page or follow Gift Card Girlfriend on Pinterest. If you use this printable, send me a link to your page in the comments below or contact me on Twitter (@GCGirlfriend). I want to see what you can come up with.
Happy Gift Carding!
~Shelley Hunter, Gift Card Girlfriend