When new baby arrives, get matching gift cards for big brother and big sister. Family fun for everyone!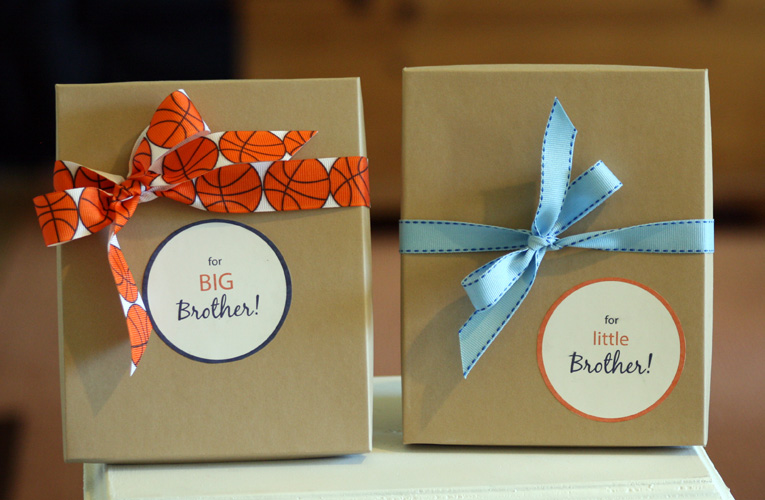 "Gifting Made Easy" by Gift Card Girlfriend
My sister just had her second baby so I wanted to send her a congratulatory gift. It's hard to resist picking out cute clothes and handy gadgets when a new baby is born, but it's even harder to know what new mom needs second time around. She already has hand-me-down clothes and standard baby gear from her firstborn. Diapers are a good choice, but I'm not shipping those to Idaho where she now lives. So a gift card for new baby it is! Easy to ship, convenient for her to use, and she can be the one who decides between purchasing fun or functional items for the new baby.
Perfect Gift Card for New Baby
When kids get older, they get to open their presents and decide how to spend gift cards. Newborns don't have much say in the matter. So I bought Brooke a gift card to Target so she could pick out anything she wanted–layette, toys, gear, diapers, or something for herself. It doesn't matter to me what she buys. She could even use the Target gift card to buy dinner, for all I care. I just want her to know I'm thrilled for her and happy to have a new nephew. A flexible gift card will give this new mom several choices.
Matching Gift Cards for Older Siblings
If you have more than one child, you know how often the fairness scale tips one direction or the other. Life is unfair. But I am not about to throw that in big brother's face while he's already adjusting to sharing mom's lap. So I got Brooke's older son a gift as well. Now, to be clear, Owen is two. He doesn't need much. All he needs is to be acknowledged. Brooke can take the matching gift card and buy him a candy bar or a pack of gum if she wants, using the remaining value to buy something else she needs. The point of the big brother or big sister gift is to ensure siblings don't feel slighted.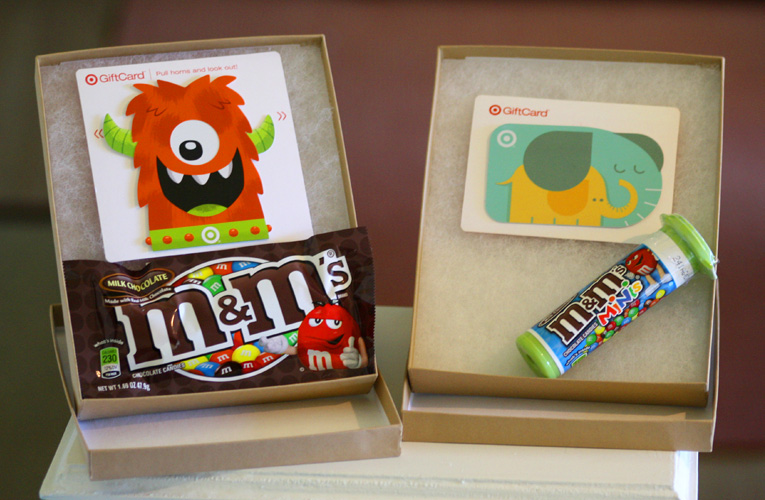 Add a Little Something and a Tag
Wanting to keep things entirely even, I bought both boys a pack of M&M's to go with their matching gift cards. Owen got the big kid size. Parker got the mini's. (We both know whose going to eat them.) I also picked out age-appropriate gift card designs for each boy. Target has such a fantastic variety of gift cards, it didn't take long to find just the right ones. Then all I had to do was plop the gift cards in matching boxes, add the candy, add these downloadable gift tags and tie a bow on top. All done.
Here's what you need to make this idea happen:
More New Baby Gift Ideas
You can take this simple "M&M's in a Box" idea and apply it to any situation. It's always nice to give a little something extra when giving a gift card so the recipient has something to open and enjoy in the gifting moment. The gift card will bring oodles of joy later. But the extra gift gives the recipient instant gratification–something gift cards don't always provide. For more gift cards for new baby ideas, follow Gift Card Girlfriend on Pinterest.
Lastly, don't worry about sending gift cards for new baby in a rush. Babies change and grow so rapidly that what new mom needs today will be different tomorrow. Your gift will be appreciated whenever it arrives.
Happy Gift Carding!
~Shelley Hunter, Gift Card Girlfriend