Is it a good idea to buy gift cards to support small businesses during COVID-19 quarantine? Or will gift cards help businesses now, but hurt later?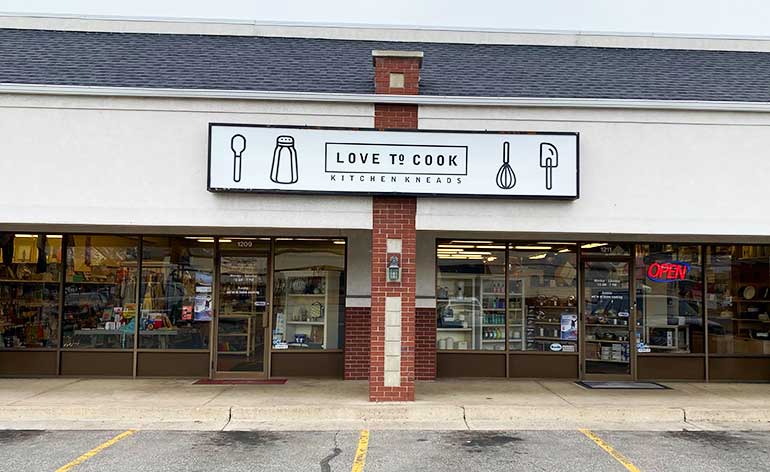 Love to Cook is offering local delivery and curbside pickup while shoppers are sheltering in place.
Do Gift Cards Purchased NOW Help Small Businesses?
As Americans begin to feel the financial ripple effects of the coronavirus quarantine, I've had several people ask if we can (and should) buy gift cards to support small businesses that are currently suffering from the lack of foot traffic. Many well-intentioned "shop local" proponents of the idea are encouraging people to buy gift cards now as a stop-gap micro-loan to the businesses they love with the idea that purchasers can use the gift cards in stores once the quarantine is lifted.
Below are my thoughts on this topic as well as input from other industry experts.
There Are Some Benefits to Buying Gift Cards Now
For my part, I'll share two benefits of buying gift cards to support small businesses plus one caution.
First the benefits.
When you buy a gift card from a small business, the money paid is considered "deferred revenue," which means it is a liability until the gift card is redeemed. So, while the value paid may be positive cash flow for the business (a short-term benefit), the money truly becomes an asset to the business when the gift card is redeemed. For this reason, I prefer to see people buy small business gift cards to GIVE to friends and family who will shop now versus hold onto the gift cards for later personal use.
Here are some reasons why you might send a gift card during quarantine:
True Teacher Appreciation. With kids at home, the best memes on social media show an increased amount of gratitude for our teachers. Don't wait for teacher appreciation week (May 4-8) or "end of the year" celebrations that might not come, send a Thank You now.
Remote Birthday. In just a week of quarantine, five of my friends had birthdays. Send restaurant egift cards to friends you would normally treat to lunch or dinner.
Just Because. It's easy to get the blues being trapped inside all day. Send struggling friends and family members "just because" gift cards to inspire activity. Many local shops who didn't otherwise deliver are now out making the rounds and offering curbside pickup.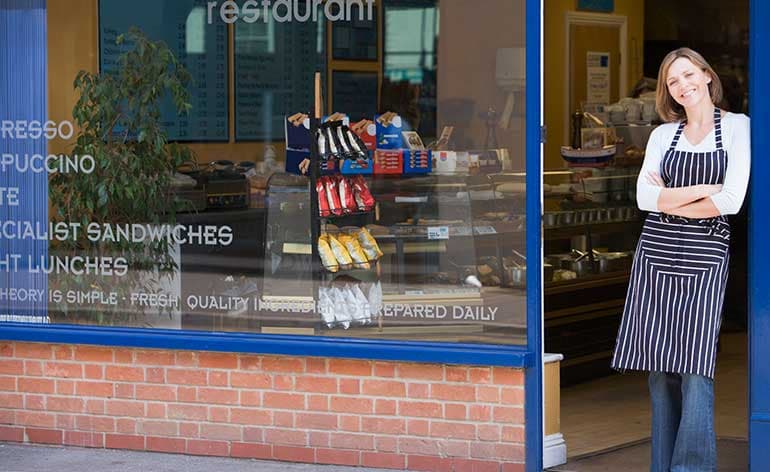 The second benefit to sending gift cards now is that people often overspend the value of their gift cards.
In a 2018 survey, Blackhawk Network reported that "59% of consumers surveyed usually spend more than the card's value." A 2014 study by CEB Tower Group (now Gartner) said, "Retailers can count on consumers to spend more money on their gift cards than face value. 65% of gift card users spend 38% over face value of their cards."
So, while some people have expressed concerns that shoppers won't spend as much once they return to shop with those gift cards (hurting the business further), my experience lines up with those gift card statistics.
I often hear people say things like, "I paid full-price, but I had a gift card, so it felt like a sale" or "I had a gift card, so it was free to me." And if they don't overspend the gift card in one visit, they go back for a second round—giving consumers more chances to re-engage.
Plus, when people do head back to the restaurants, our social media feeds will switch from COVID-19 reports to post-quarantine celebrations. All of those gathering selfies prompted by gift card redemption may promote businesses as well, letting everyone know their favorite restaurants are back open.
Now the caution.
It is possible that some small businesses will not recover from the lack of customers. If that happens, unredeemed gift cards will be rendered useless.
For this reason, I think it's even more important to support businesses in a way that helps them stay up and running now. You can do that by placing online orders, calling ahead for curbside pickup and sending egift cards to people who will use the gift cards to do the same.
If you're concerned about giving a gift card that might not be usable after the crisis, get a food delivery gift card instead. Recipients can use the gift cards to order from local restaurants, but they won't be stuck with a gift card that can't be used if one dining establishment closes.
That's my take.
Below you'll find expert opinions from others in the gift card industry as well as some small business owners who have a vested interest in helping us all know how best to help.
Advice from Other Experts: Can Buying Gift Cards Help Small Businesses During Quarantine?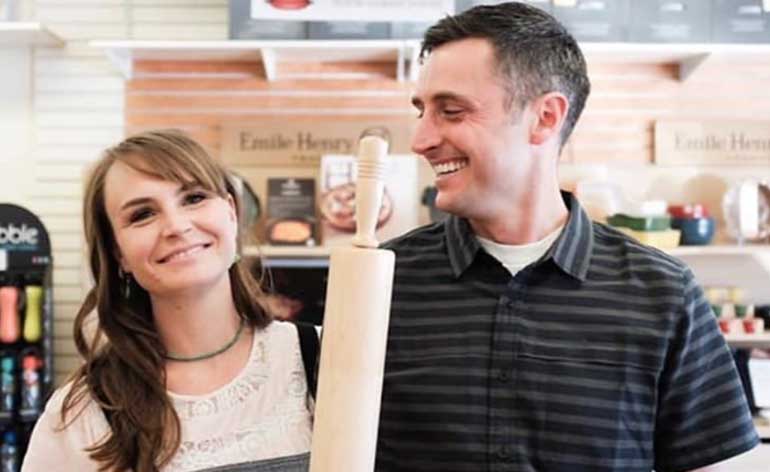 Wil and Lauren Wood, Owners of Love to Cook, a locally-owned kitchen store in Logan, Utah
"Bottom line: yes, buying gift cards helps small businesses because it puts money in the bank now, but is paid back (in products or services) slowly when customers come in to redeem their cards.
Though some people think small businesses like it when gift cards go unused, to me, that feels like bad business. I'd much rather you give a gift card to someone who then comes into the store to redeem the gift card because it's free marketing for our store and gives us a new customer to prove ourselves to.
Beyond gift cards, right now you can help small businesses by continuing to use the services that are available. Shop local. Buy local. Place an order with us. We're making deliveries and offering curbside pick-up for local customers."
~~ Wil Wood, Owner of Love to Cook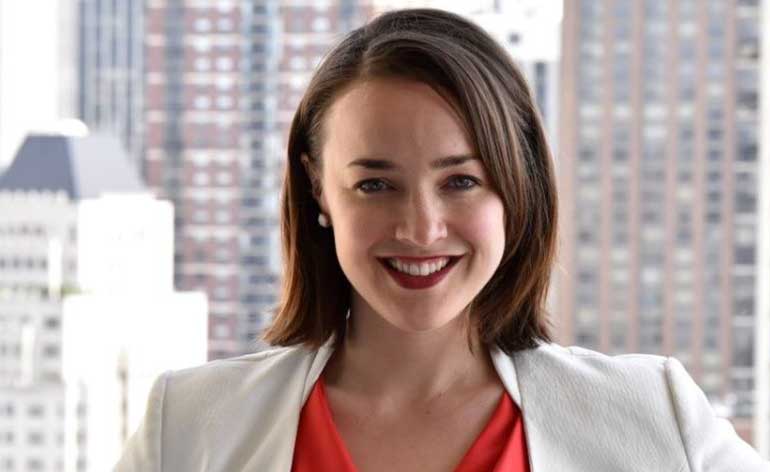 Holly Glowaty, FinTech Expert
"While buying a gift card to help out a small business is a great idea, you have to remember to go back and spend the gift card. Gift cards are not realized as revenue for a merchant until they are redeemed. I know that seems counter-intuitive, but gift cards are essentially a promise of goods or services. Until you come back and call in that promise, the balance of the gift card has to sit as a liability on their books. It may offer some short-term cash flow, but you don't want to create a problem for them further downstream."
~~ Holly Glowaty, Co-Founder at K+H Connection/Flourish Conference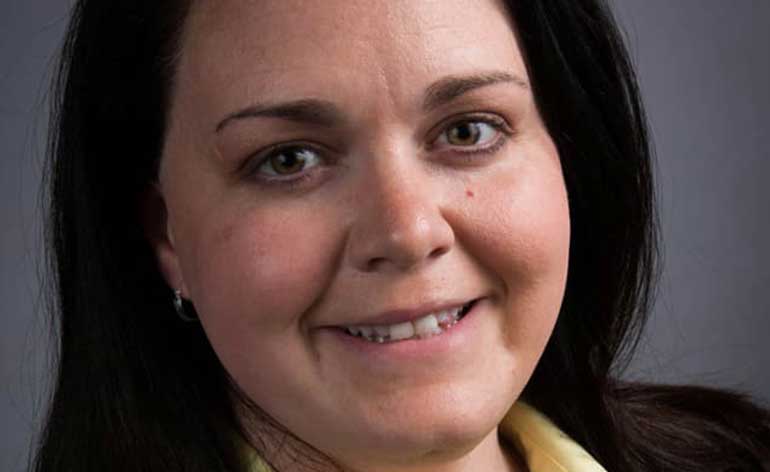 Kimberly DeCarrera, Unclaimed Property Advocate
"Right now, we are in a time of great uncertainty. We don't know what will happen today, tomorrow, or months from now, especially as business owners. Gift cards can be a away to encourage micro-loans to companies from their costumers. But it does come at a cost. There are setup and ongoing compliance burdens that companies need to be aware of, especially if they are just now considering beginning a gift card program.
There's also a risk to companies that use the cash now. When you sell a gift card, you increase cash, but you also increase your liabilities. If you use the cash now to pay employees or vendors or your landlord, then you may not have the cash to provide the product or service when the customer redeems the gift card later.
I am also seeing a lot of companies running promotions to further encourage people to buy gift cards. Similar to what you see around the holidays, companies are offering a 10-20% bonus (pay $100 and get $120 value on your gift card). This is a great way to drive purchases but do remember that the company will have to deliver on that value later. So depending on your profit margin, adding a "free" $20 value to the purchase of a gift card may end up with you losing money in the long run. It may also end up quite profitable, as most consumers will purchase more than the face value of their gift cards. There is also an unclaimed property compliance issue – the additional, promotional amount may not be unclaimed property if it is never used. But companies must track those amounts.
Companies should also be aware of certain cash back requirements with gift cards. For example, in California and several other states, companies are required to give cash back on small unused balances on gift cards. In these states, consumers may be less likely to spend more than the face value of the card to eat up those small balances since they can get the cash back. In addition, if the company does not comply with the cash back laws, they are at a high risk of lawsuits, including class action lawsuits. There are several law firms that constantly look for these opportunities.
For consumers, the risk is that the company will go out of business. When that happens, especially when a small business goes out of business, there is usually very little notice and you may not be able to use your gift cards at all. I recommend that consumers only purchase gift cards in amounts that they are willing to lose forever; consumers need to be financially responsible when they are buying the gift cards (right now and always) even if it is for a good cause (paying the salaries of the employees). Consumers should look for companies that they believe can withstand the crisis and deliver on the gift card in the future."
~~ Kimberly DeCarrera, Attorney, DeCarrera Law, LLC
Reasons to Send eGift Cards During Quarantine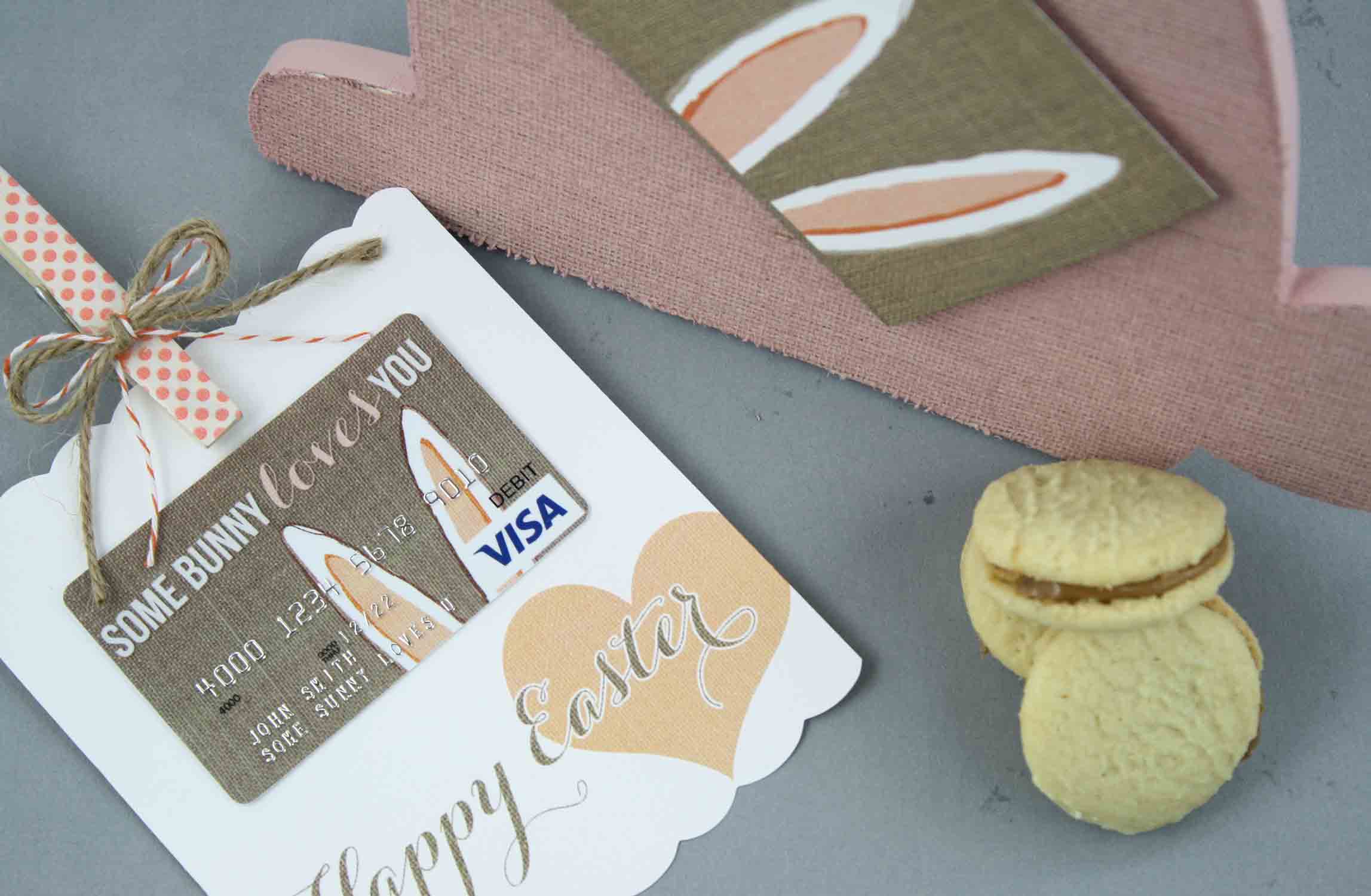 In addition to birthdays, below are some special events that may come and go while we are all being quarantined or at least avoiding large gatherings.
National Doctors' Day is Monday, March 30, 2020
Easter is Sunday, April 12, 2020
Teacher Appreciation is the week of May 4-8, 2020
Nurses Week is Wednesday, May 6 to Tuesday, May 12, 2020
Mother's Day is Sunday, May 10, 2020
Father's Day is June 21, 2020
And please don't forget to honor graduates who might not get to attend commencement ceremonies, seniors who are missing prom, and couples who had to cancel festive wedding celebrations.
In my opinion, there won't be a wrong time to send a gift to someone in the days ahead.
Here are some posts about ways to celebrate remotely.
What to Write on an eGift Card Sent During Quarantine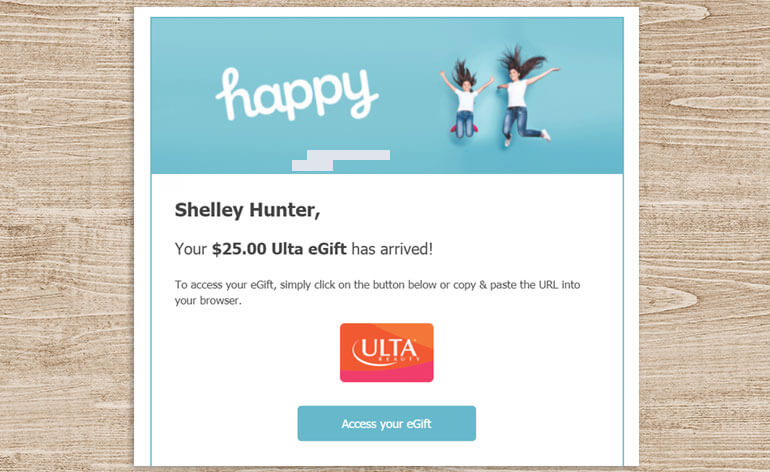 I've always said that even the most practical gift card can be turned into a thoughtful gift with the right words. Here are some things you might write on an egift card:
Home Improvement Store: "Guess you'll get to start working on that DIY project after all."
Streaming: "Your best chance of staying healthy."
Restaurant: "Wish I could take you out to celebrate in person, but still want to buy you dinner."
Restaurant: "I called ahead – they are still delivering and doing curbside pickup!"
Food Delivery: "Sending my love straight to your doorstep!"
Cooking Store: "Here's to more time in the kitchen!"
Cooking Store: "We're all about to be on the first at-home season of 'Chopped!'"
Gaming: "You can game after your homework is done. Oh wait…"
Here are some posts about other gift cards that can be used remotely.
And one last thought.
While people are obviously concerned about smaller businesses, it's important to remember that many national brands are franchised. While the brand may appear to be corporate, the person running the restaurant is every bit the small business owner as the mom and pop. And the employees who work there are also your neighbors who need their jobs. So, my advice is to simply support the businesses you care about—big and small—with the hopes that those emerge after the crisis.
If you have other questions about how gift cards can help small businesses during the coronavirus quarantine or have other suggestions on how to send egifts to people who can't get out, reach out to me in the comments below, on Twitter (@GCGirlfriend) or on Instagram (@Gift.Card.Girlfriend).
Until then, stay safe, stay home and happy gift carding!
~Shelley Hunter, Gift Card Girlfriend