Curious about physical gift cards that can be activated at home? Check out this list of at-home activation gift cards to see which ones you should have in your closet this holiday season.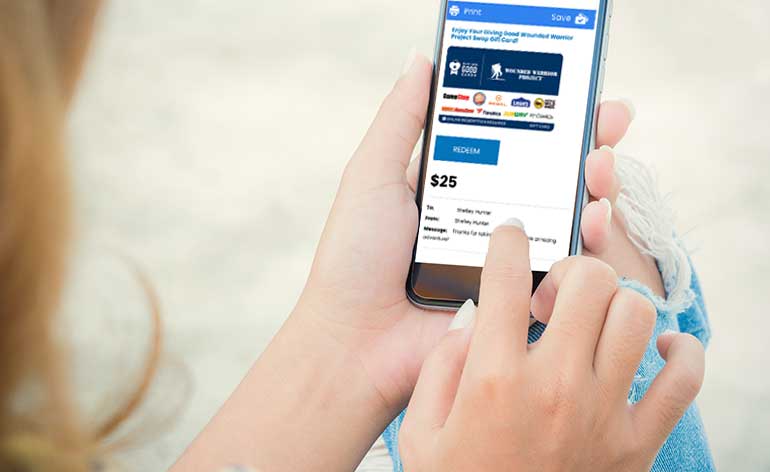 Last holiday season, I noticed an increase in gift cards that could be activated at home. For reference, I'm not talking about gift cards that have already been purchased (such as Visa gift cards) that just need to be activated before they can be used. I'm referring to unpaid-for gift cards that you can load money onto at your convenience. The idea is to have a stash of physical gift cards on hand that you can "buy" on-demand for last-minute gifts.
I have seen this type of product in action three times recently, so I wanted to look into the various ways in which consumers can enjoy the benefits of at-home activation. This is what I found so far.
(If you need to activate a gift card that has already been paid for or that you received as a gift, select "Activate" in the very top menu above.)
1. At-Home Activation Gift Cards from Walmart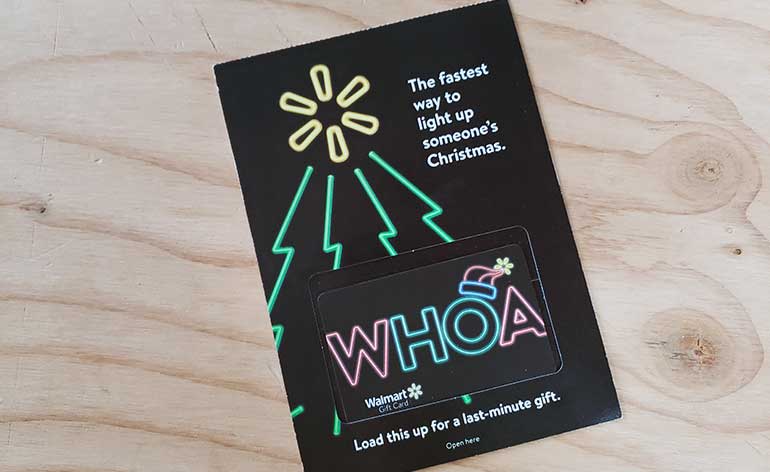 When I picked up my groceries one snowy day last December, I received a "surprise and delight" goody bag at Walmart. Inside the bag, I found a gift card that did not have any money on it but came with instructions on how to pay for and load the card from my phone or desktop.
I like that Walmart gave me the gift card so I could tuck it away and use as needed, but my sisters and I all joked that everybody in our area received the same unloaded gift card, with the same design. So, if one showed up under the Christmas tree that year, we would all know where it came from.
That said, I like the concept of at-home activation. I'm just not sure how to get more cards. At this writing, I do not see a way to ask for more at-home activation cards nor am I able to add them to my online grocery store order.
2. At-Home Activation Gift Cards from Giftcards.com
Last year, Giftcards.com sent inactive Happy Card gift cards to repeat customers. Unlike the Walmart At-Home Activation experience, these gift cards looked the same as those you could buy from the website or from the grocery store. And each arrived in a thick, gold paper gift card holder so you could easily activate the card at home and deliver it with confidence.
GiftCards.com mailed the gift cards for at-home activation for the season. To my knowledge, the service is not ongoing, and I'm not sure how to get more cards that work using this process.
Still, I like the idea of it and the presentation.
3. CardNow At-Home Activation Gift Cards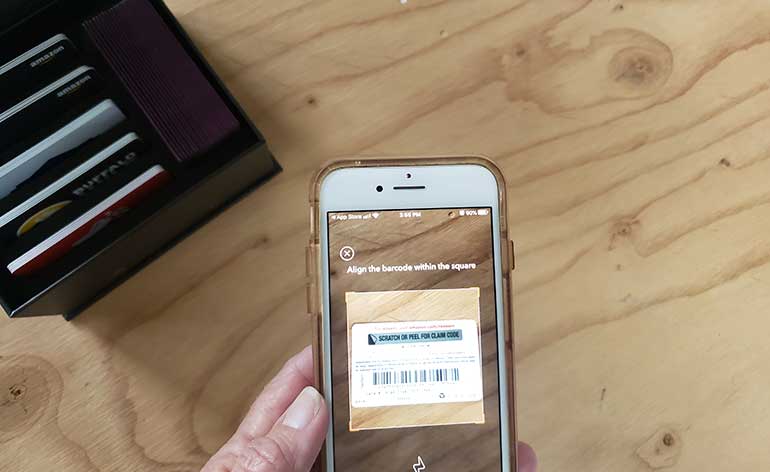 A couple of months ago, I reviewed CardNow, an everyday solution for at-home activation of gift cards. This is a service that works for the holidays, birthdays and any other day of the year. With a starter pack or starter box of cards and the CardNow app, you can activate any card in your stash at any time.
This is a great solution for consumers who like having gift cards on hand, but who don't want to buy gift cards in advance. CardNow is also a great solution for small business owners, company managers, and anybody who likes to give employees and customers impromptu rewards.
To order a starter pack with 10 gift cards, you just pay shipping and handling. To order a starter box of 25 gift cards, you pay $12.99 plus shipping and handling.
I like that CardNow gives you a choice of which cards to have in your stash and offers an easy process for replenishment. The app is simple and the business owners I've talked to are enjoying the convenience of being able to buy plastic gift cards without going to the store.
4. American Eagle and Other Stores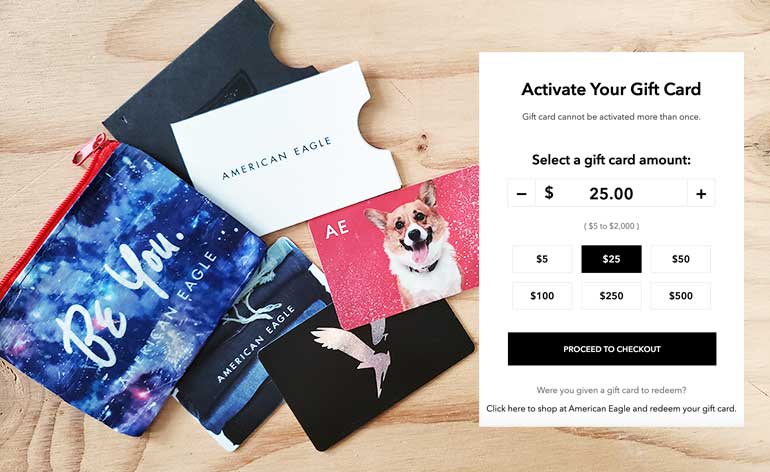 Similar to the Walmart solution above, I noticed that I could activate an American Eagle gift card at home as well. This is the type of at-home activation I expect to see more of this holiday season as stores and restaurants look for new ways to make it easier to gift their gift cards.
I have not used this at-home activation solution myself, but it looks pretty straight forward. Enter the card number found on the card, load a dollar value onto it, pay for the card and then give it to a friend. From what I can see, any American Eagle gift card can be activated at home, but I couldn't confirm that and cashiers at my local store weren't sure either.
Still, be on the lookout for this option this year.
5. eGift Cards You Can Print At Home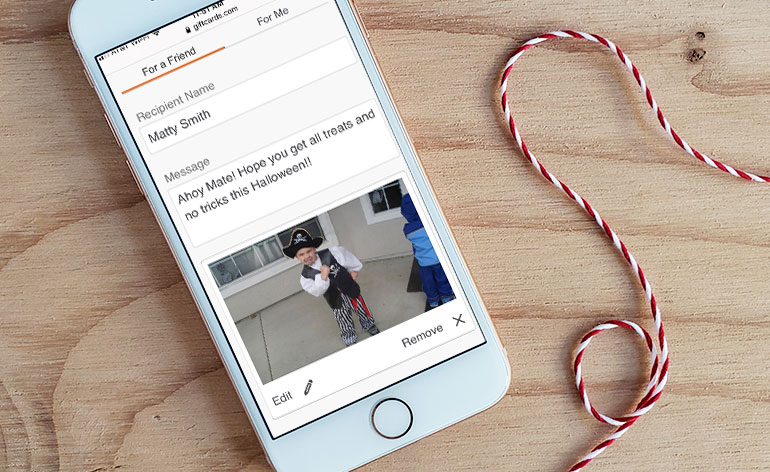 If the reason you're interested in at-home gift card activation is so you have a quick and easy way to send gift cards on-demand, remember that egift cards may do the job for you as well. Though you can't deliver an egift card in person, you can send it immediately or schedule delivery for a specified date and time. There are also some gift cards that allow buyers to print the gift card at home so you can at least deliver a paper version of the egift card.
The upside to gift cards you can print at home is that you can order them quickly and often customize the egift cards with photos and text messages. The downside is that you'll be gifting a piece of paper–which may look a little last-minute compared to a physical gift card. But still, I've done it myself and simply taken the time to add embellishments or put the paper on a colorful cardstock backing.
Here is a list of top gift cards you can print at home.
Final Thought
As the holidays roll out, I expect to see more gift cards with at-home activation. I'll update this list as I see more.
With the uncertainty of gifting in 2020, it's possible in-person delivery tails off a little this year, but I'm not sure. It seems that rather than replacing physical gifting with digital gifting, the landscape is simply morphing into two gifting styles. Some people prefer the impact of a physical gift with a handshake or hug, while others love the convenience of sending a gift straight to the recipient's email for a quick transfer to a mobile wallet. Either way, I think it's nice to have options.
If you see some at-home gift card activation options, please add a comment below or reach out to me on Twitter (@GCGirlfriend) or Instagram (@Gift.Card.Girlfriend) so I can check it out.
Happy Gift Carding!
~Shelley Hunter, Gift Card Girlfriend