Don't let friends leave without a farewell gift to show how much you care. These real-life going away presents made us laugh, cry and never forget the friends we hold so dear.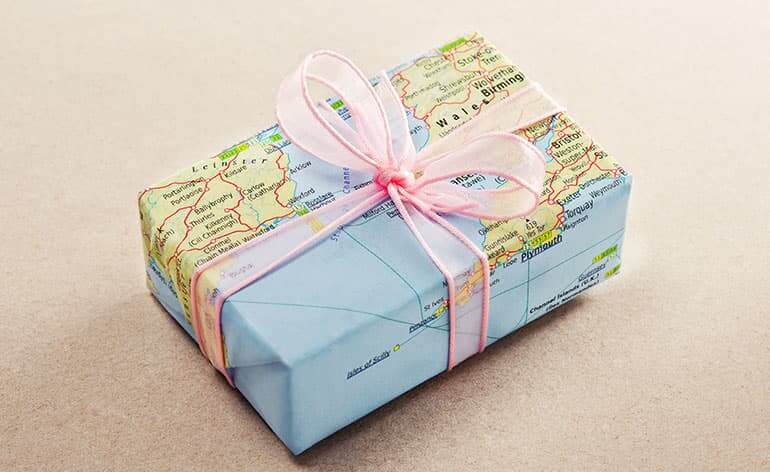 Writing this post is going to hurt a little, but it has to be done.
A few years ago, my kids and I moved twice in two years. First, we moved from a spacious family home to a tiny townhome a few miles down the road. Though we felt the sting of the move, our support system largely stayed intact. The kids kept going to their same schools, we attended the same church congregation, I worked out with the same women and we even moved a little closer to some of our friends.
About 18 months later, however, we loaded up the moving truck again and traded sunny California for a smaller community in Southwestern Idaho. This time, everything changed.
New town, new schools, new church community, new weather, new cable service, new friends, new everything.
As much as there is still a gaping hole in my heart for the people we left behind, the outpouring of love we felt as we made this journey has filled my soul in return. Though much of that love came in the form of hugs, prayers, kind words and service (things you can't buy), we also received many heartfelt going away gifts that I have wanted to publicly share ever since.
In the list below, you'll see the going away gifts we actually received plus a few that I have given to other people over the years. I hope seeing these gift ideas will inspire you to send others on their way with the same degree of kindness we received. Each gesture, big and small, lightened our burden and lifted our spirits.
1. Local T-Shirts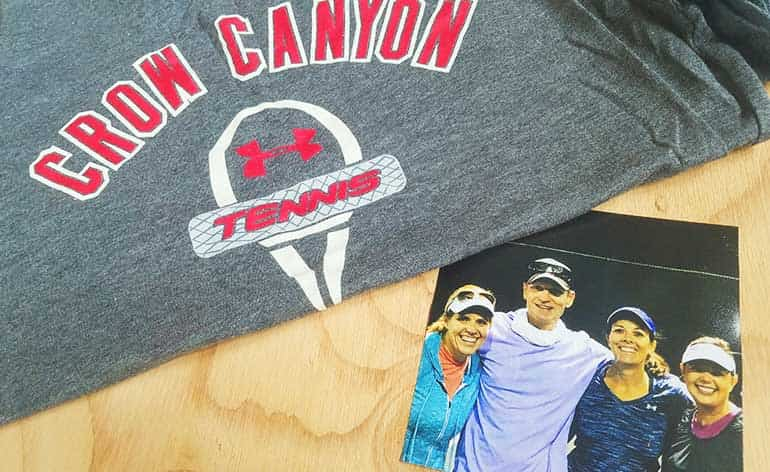 This isn't just a t-shirt. It's a t-shirt from the tennis club where I took lessons with my besties for 10 years. (I really should be a better player than I am after all this time.)
When I wear this shirt now, I am reminded of the ladies I love so much and the patient coach who became one of my most favorite people in this world. I will never forget his first words to me. "Why are you holding your racquet that way?" I had no idea.
2. Favorite Games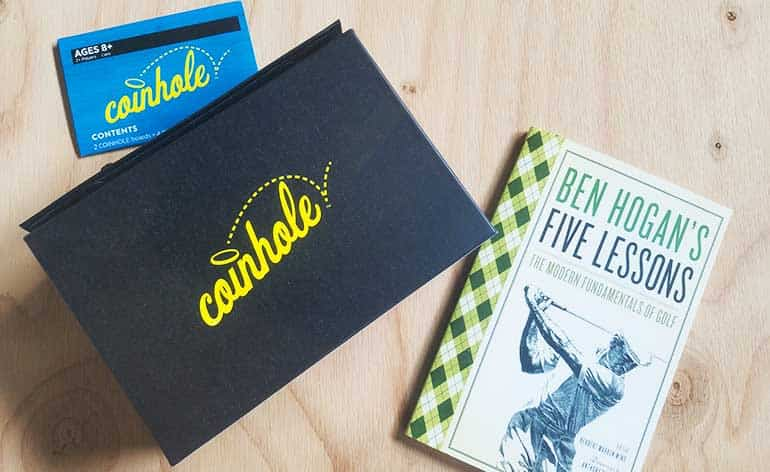 We didn't actually play Coinhole together. We played cornhole, but this mini tabletop edition of a favorite pastime made the perfect going away gift. This set came from a friend who is shockingly competitive and beat me at a number of activities I felt certain I would win.
The golf book came from a friend in whom I had confided that I would take up the sport when my youngest graduated from high school. He encouraged me to not let go of the dream, but cautioned that I would probably be incredibly frustrated at first. We laughed at how difficult that would be for my Type A personality.
These little mementos sit on my shelf now, reminding me of good times and many laughs shared.
3. A Twist on the Custom T-Shirt Quilt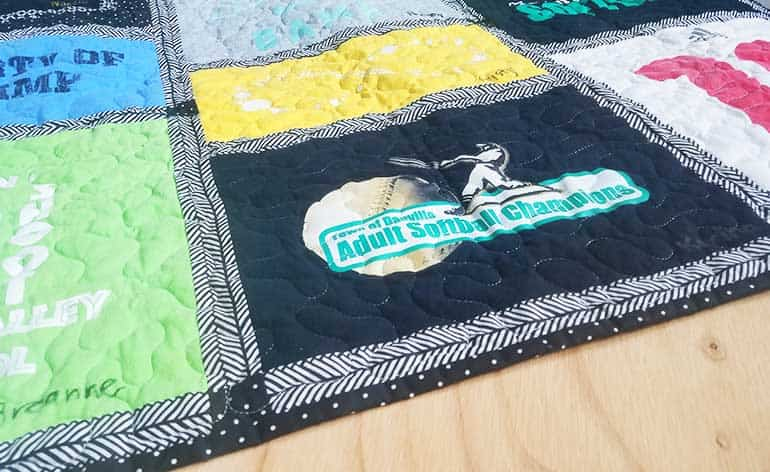 If you search for "t-shirt quilt" on Etsy, you'll find a plethora of talented seamstresses who will turn YOUR old t-shirts into a memory blanket. This is a great way to repurpose t-shirts collected from a favorite school, sport or activity and turn them into something you can use for years to come.
What's unique about the t-shirt quilt I received, is that each of my basketball buddies donated one of her shirts to make a blanket for me. I laughed and cried when I received this amazing gift from my teammates of over a decade. One friend donated a t-shirt from the basketball team we coached together. One friend added a shirt from the church youth camp we served at for years. One friend gave me the t-shirt she literally wore to play in every week. (She gave me her ONE shirt!) And there are many others equally sentimental to me.
I have run with, sweated with and fouled everyone one of the t-shirts in that quilt. And now, when I need a hug from an old friend, I can wrap myself up in them too.
4. Inspiring Quotes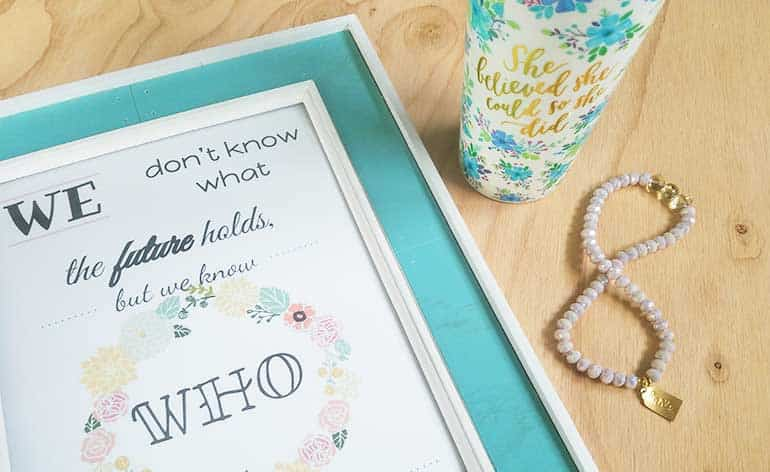 Packing your kids up and moving them to a new town in the middle of their high school years takes great faith and courage. Many people bolstered me up with encouraging words, texts, email messages and more. Some put those words into mementos I could take on the road with me and display in our new home. I love these messages of inspiration and the women who gave them to me.
5. Gift Cards for the Move or the New Home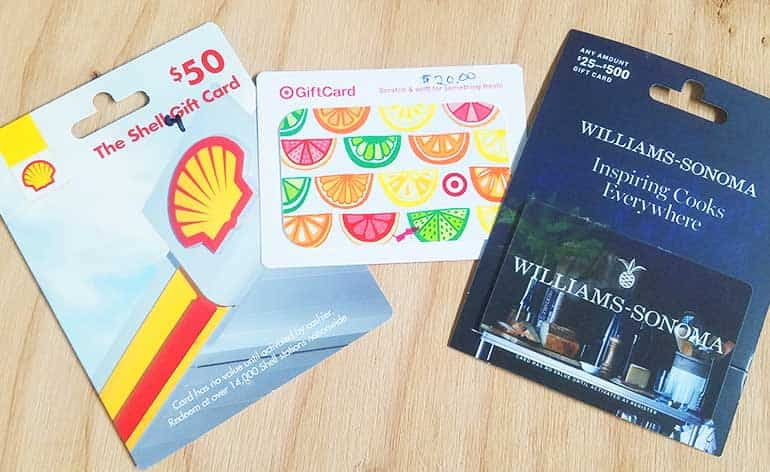 I received several bon voyage gift cards, and these are some of my favorites. A housewares gift card to buy something for our new kitchen. A Target gift card to stock up the new home. And a gas station gift card to cover some of my travel expenses. Moving is costly. These gift cards helped make it less so.
Did you notice how she changed that "Shell gift card" into a "Shelley gift card"? So cute.
6. Custom Photo Books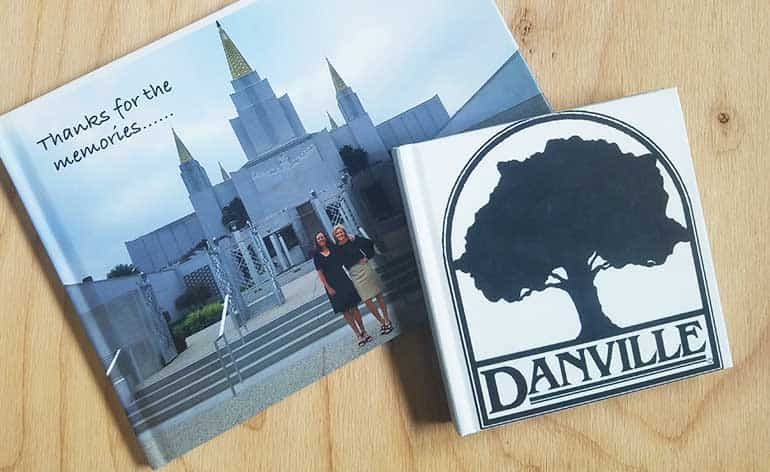 I received two photo books that melted my heart.
The first came from a friend who has been my partner on the tennis court, my teammate on the basketball court, my fellow archer on the range, instructor on the zip line and more. We have logged countless hours in many sporting activities, always pushing each other to try a little harder or, conversely, remain calm. With kids the same age, we also went to church together, watched our boys play basketball together, helped the scouts collect canned goods and so on. This dear lady gave me a photo book filled with images from years and years of activities our families did together.
The second book is amazing. One of my friends created a private Instagram account and shared the login with mutual friends. Each person logged in to the account, posted a picture, added a caption and then logged out–passing the info to the next person. They then turned this account into a Chatbook that is literally crammed with a montage of my favorite people and favorite memories. I love it.
7. Keepsake Jewelry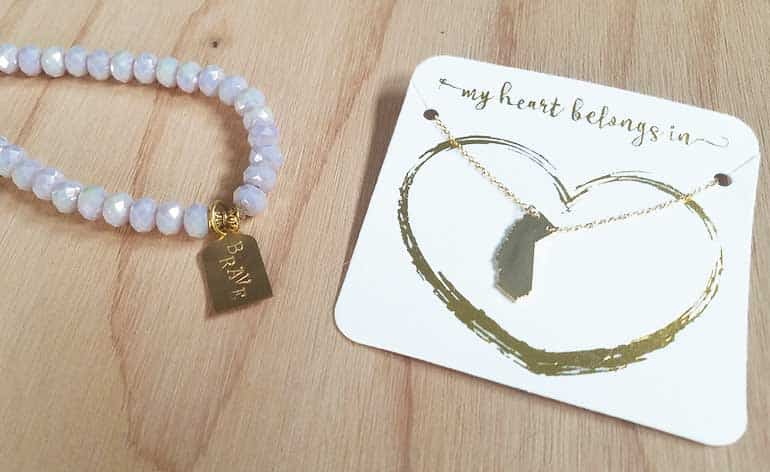 I received a bracelet with the word "BRAVE" etched on the tag and a necklace in the shape of the state of California. My daughter received a necklace with the GPS coordinates from our hometown stamped on a bar. We think of the friends who gave us these pieces every time we wear the jewelry.
8. "You Are Here" Starbucks Mugs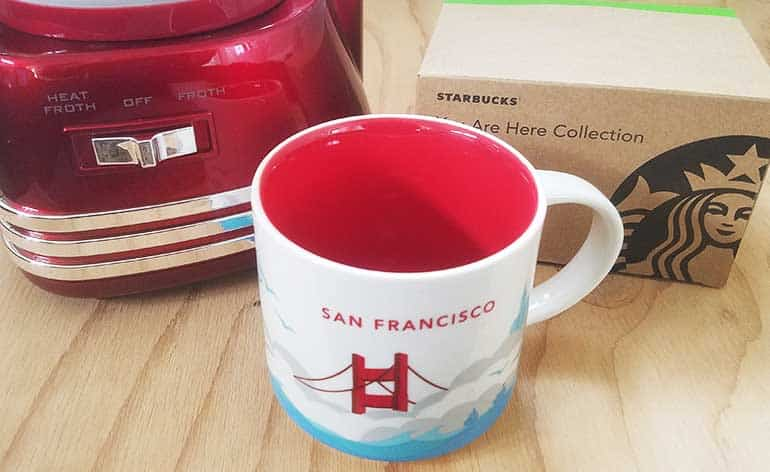 Trading beaches for mountains meant facing a new climate as well. One of my friends bought three "You Are Here" Starbucks collectible mugs (San Francisco, Tahoe and California) and gave them to us along with a retro hot chocolate maker. I love this gift so much that I have been adding to it, picking up the new "Been There" mugs on our travels. ("You Are Here" mugs have been discontinued.)
9. Heartfelt Notes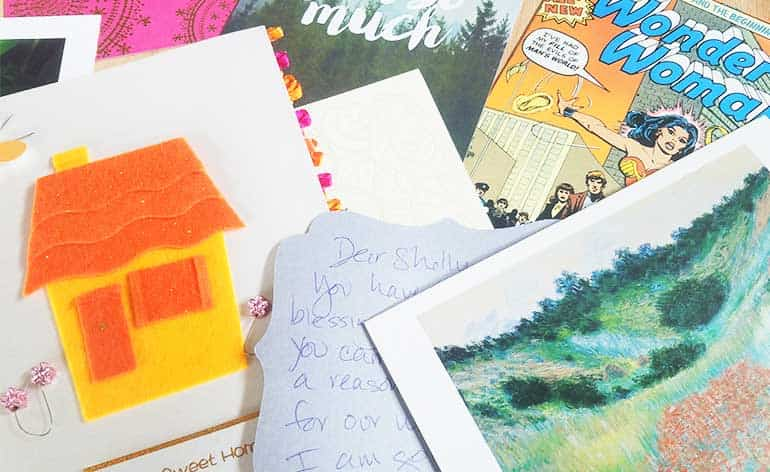 This gift is simple but effective–the handwritten note. Thanks to many well-wishers, I have a stack of sweet notes in my office that I can read whenever I'm missing home. Some notes were delivered in person before we left. Others were mailed to our new address in advance of our arrival. We felt the love going and coming.
10. Packing Supplies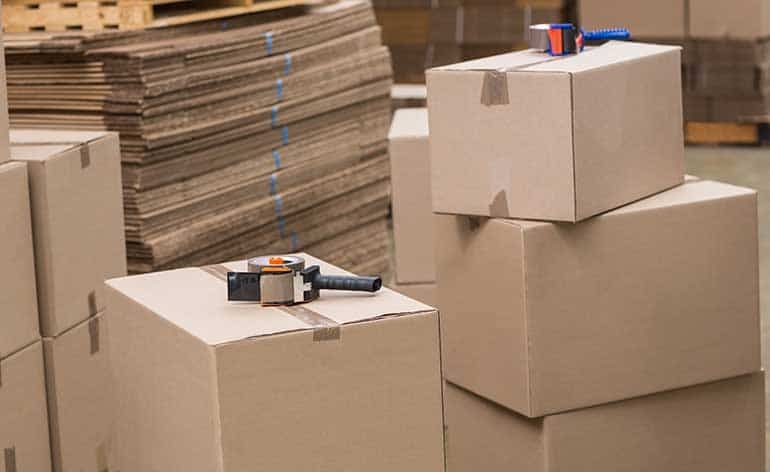 This gift should be listed first because it arrived first. Shortly after we announced our move, a sweet man from church came to the door and dropped off boxes, permanent markers, packing tape and his favorite stretch wrap. I have said it before, and I'll say it again here–moving is horrid. But having proper supplies on hand makes the process easier.
11. Packing Notes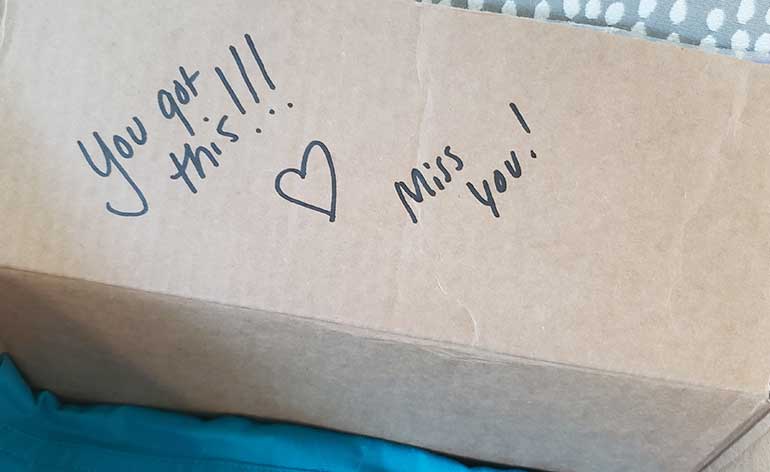 This gesture reminded me of something we did for a friend who had moved a few years prior. As an army of women, we worked our way through her home, packing everything in sight. While in the throes of boxing, marking and taping each box, I felt inspired to write notes of encouragement on the inside flap of each box we packed. I shared the idea with the other ladies and we all started leaving secret notes for our friend to find as she unpacked each box.
A week or so later, she called to thank us for the love notes she found in each box. Seeing those notes of encouragement helped her unpack the boxes, have a few laughs and feel comfort from her friends.
12. Road Trip Snacks and Activities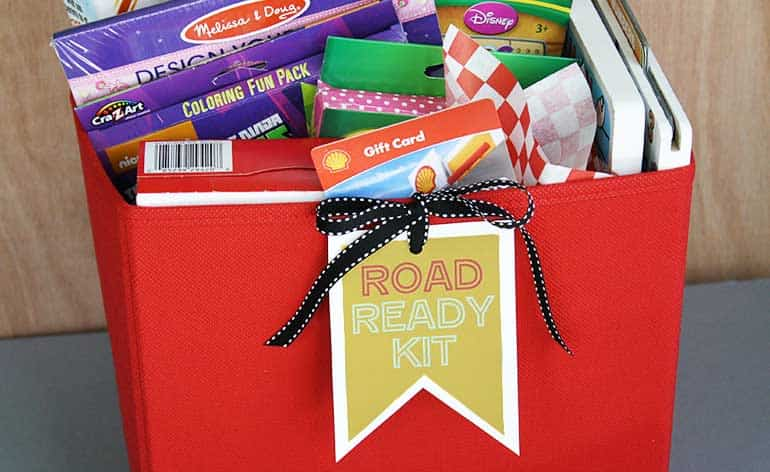 This is a gift that I made for a friend who moved from California to Utah. Knowing she had a long drive ahead of her with several small children in the car, I packed her a box full of snacks, coloring books and other car activities. I used this printable Road Trip tag I found online. I made a similar road trip kit for another friend, but packed the items into a small travel cooler instead. She loved that as well.
P.S. I tried to provide a link to this "Road Ready Kit" tag, but the website I found it on is no longer working.
13. Painting Kit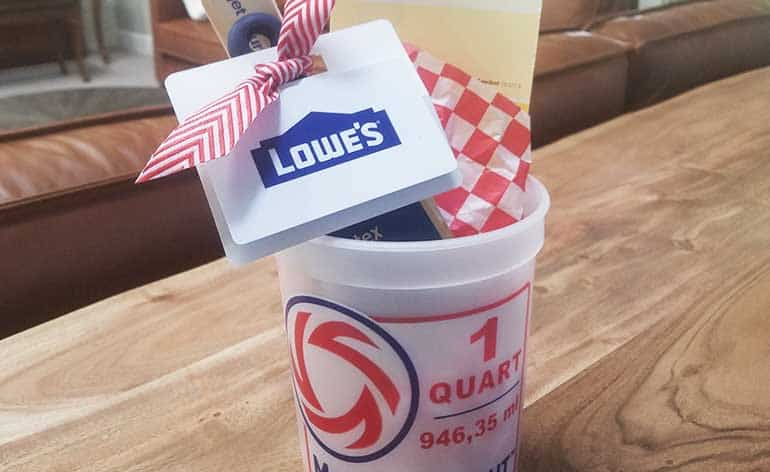 Moving often means painting projects await you on the other end. I made this going away gift with a Lowe's gift card, stir stick, quart paint bucket and a color chip to use as a note card. This makes a great housewarming gift as well.
14. Cleaning Kit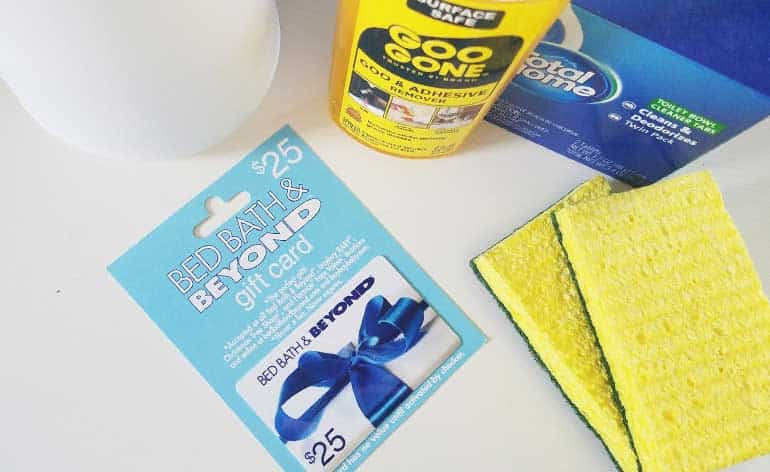 When we moved to Idaho, I paid to have our old home cleaned and the realtor in Idaho paid to have our new home cleaned. I just couldn't muster packing, moving, driving 12 hours and wiping tears along with cleaning toilets. I am so grateful for a realtor who took care of our basic needs in order to make the move as easy as possible.
Cleaning supplies plus a Bed Bath & Beyond gift card make the perfect going away gift or housewarming gift.
Other Going Away Gift Suggestions
Looking back through this list of gifts we received when we moved, I am once again reminded of how lucky we are to have had such wonderful people in our lives. From the smallest acts of kindness to the creative going away gifts that decorate our home today, we have been given much and for that, I am forever grateful.
Have you ever received or given a going away present? I want to hear about it. Tell me about your going away gift ideas in the comments below or reach out to me on Twitter (@GCGirlfriend) or Instagram (@Gift.Card.Girlfriend).
Happy Gift Carding!
~Shelley Hunter, Gift Card Girlfriend