Need a fast, fun and easy gift card for graduation? Use these free printable gift card holders to give GRADS what they DESERVE this year.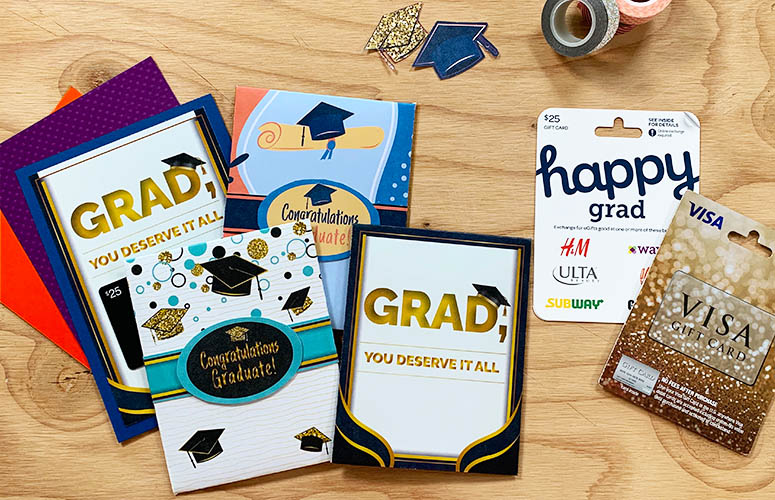 Graduation season is underway. My Instagram feed is filled with graduation celebrations–both in-person and virtual–for kids of all ages. I've seen youngsters "graduating" from elementary grades heading off to bigger schools plus college grads throwing their caps in the air to celebrate the end of even bigger accomplishments. Some of my peers, in fact, are graduating as well. (You're never too old to learn!)
If you are looking for a quick and easy graduation gift, then you came to the right place.
In the post below, I'll share some new printable gift card holders that you can use to give graduates the gift cards they deserve this year plus instructions for how to make them. You can also watch how I make it here on this YouTube video:
1. Get The Gift Card Grad Deserves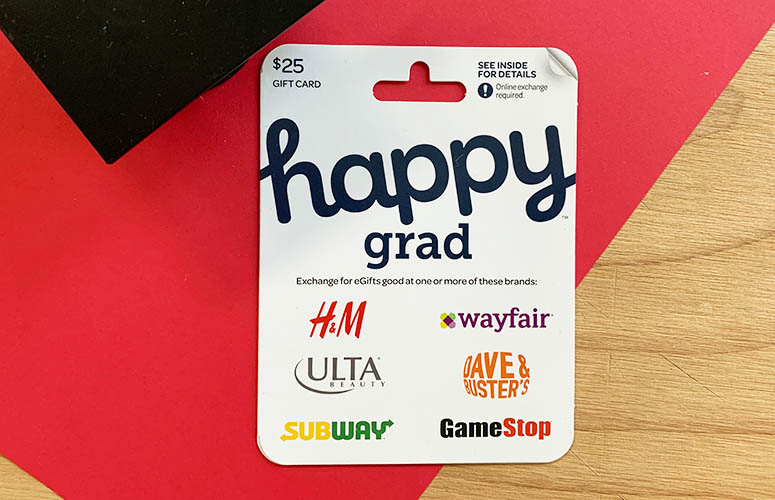 Before we get to the gift card holders, you'll need to pick out a gift card.
I curated a few lists of gift cards depending on the type of grad you'll be celebrating. Of course, no gift card is perfect for every occasion, but I tried to think through the various activities, interests and logistics graduates might have. Here is what I came up with:
If you need a quick and easy suggestion, then try one of the multi-store gift cards such as the Happy Grad gift card pictured above or the Happy Graduation gift card which looks similar but is usable at a slightly different selection of merchants.
2. Download the "Grad Deserves" Gift Card Holder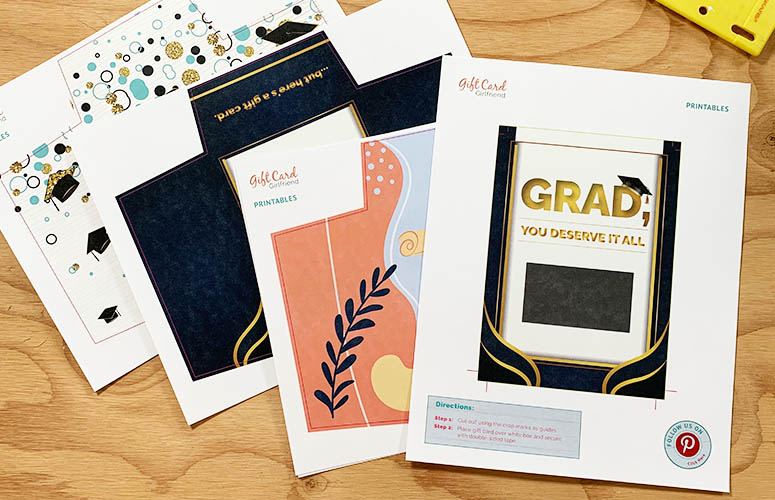 I have a few different versions of this gift card holder. The flat design is fast and easy and perfect for any plastic gift card you select for graduation. The folded designs work better if the gift card you buy should stay in the card packaging until it is redeemed–like a Visa gift card, a multi-store gift card that has to be swapped or a PlayStation gift card that is full size.
Here are some free printable gift card holders to help you give grad the gift cards they deserve. Each is a .pdf file that you can click and save to your computer.
DOWNLOAD
3. Print Gift Card Holders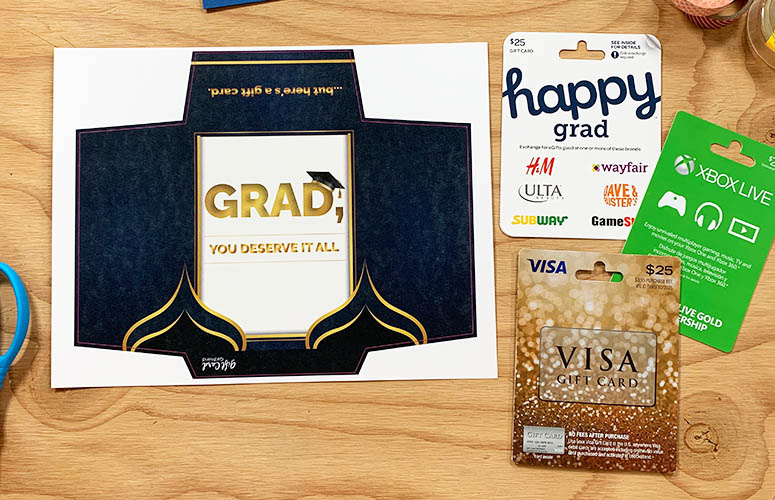 After you download the selected holder, print the .pdf file. Although you can easily print these at home, I often print gift card holders at Staples to save the ink in my personal printer. Printing on a commercial printer still costs less than a greeting card and I like that the colors are vibrant and I can select thicker card stock than my home printer will take. But you can print these gift card holders for free using your own printer and your own supplies.
TIP: Print these .pdf files "as is." Do not select "shrink to fit" or any other adjustment that will change the size of the gift card holder.
4. Cut the Gift Card Holders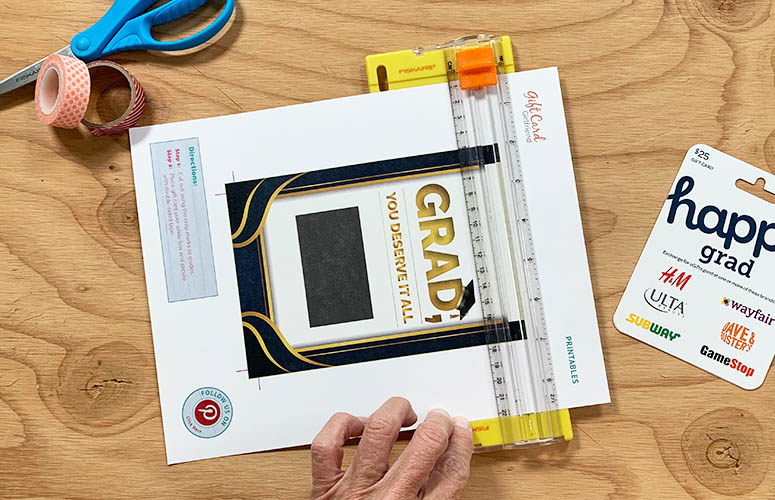 The next step is to simply cut the gift card holders out. I like to use a paper trimmer to ensure straight lines, but you can use scissors as well. The flat holder is simple with a paper trimmer. The folded holder is easier to cut if you just use scissors…and go slow. Cut along the guide lines.
5. FLAT Gift Card Holder Finish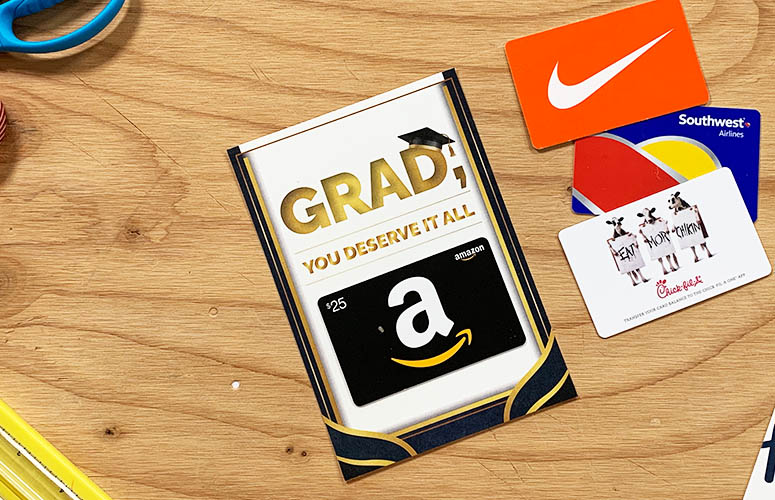 After you print and cut the flat gift card holder, you simply need to add the gift card. You can use double-side tape, decorative tape or another method that will secure the gift card to the holder without damaging the text or bar code on the back of the gift card.
I often add another layer of card stock and embellishments for fun. For graduation, I suggest adding graduate's school colors or picking a color that makes the gift card stand out.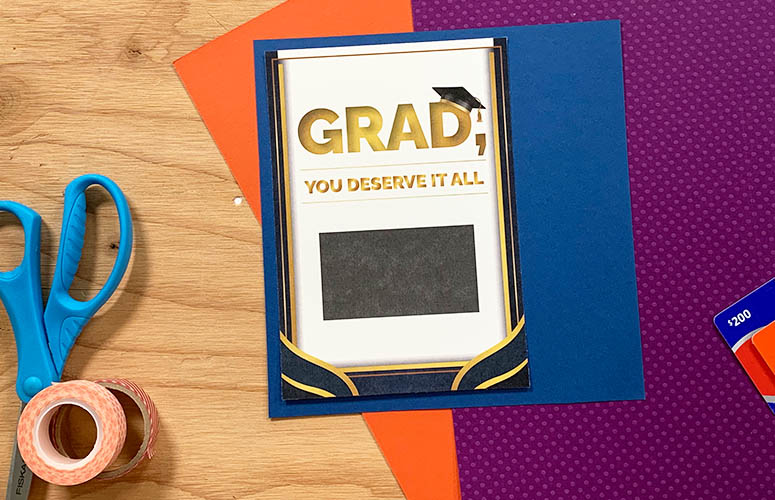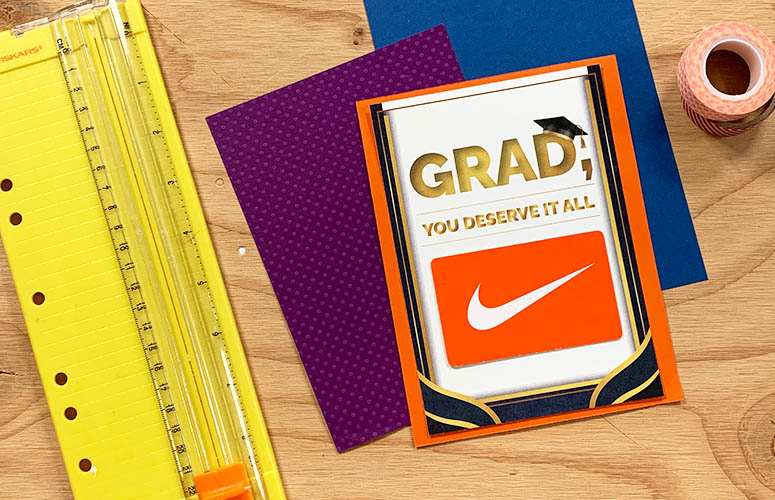 6. FOLDED Gift Card Holder Finish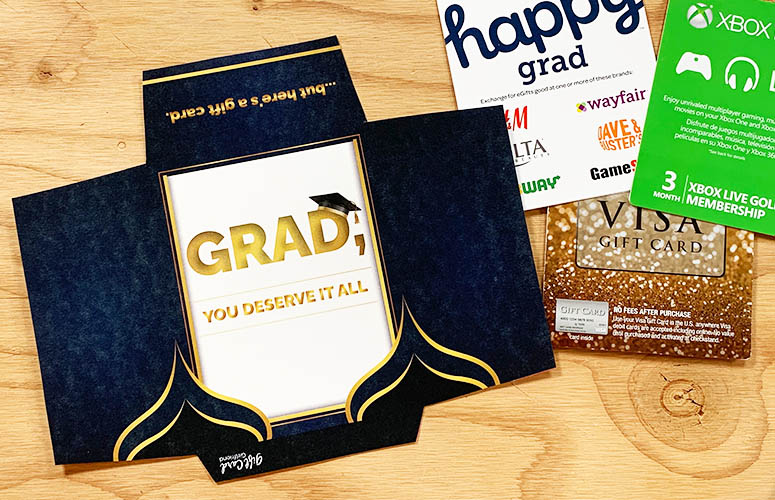 I created gift card envelopes so you can deliver gift cards with the entire backer card or other gift card packaging. With the Happy Cards, for example, there is no plastic gift card. The recipient receives the gift card packaging, then swaps the card for an egift card (or cards) of choice. Below is an example of what that looks like.
When you give a multi-store gift card, the recipient gets the card number information on the back of the packaging: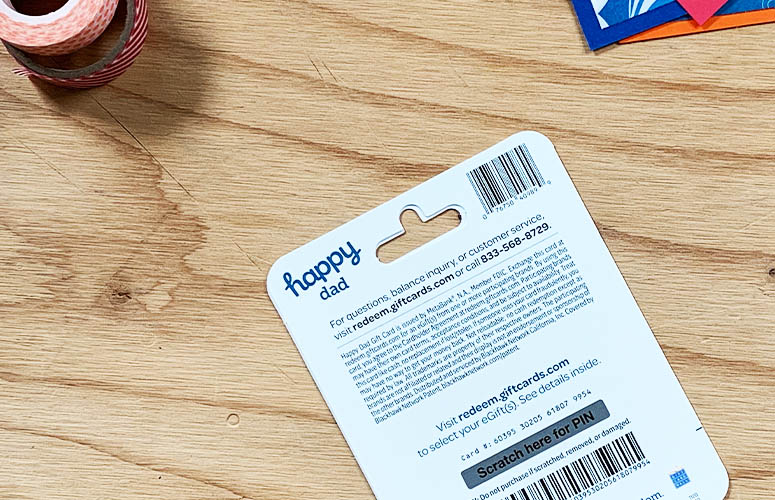 When the recipient opens the packaging, they'll find instructions on how to swap this card with an egift card to the store or restaurant they want. The recipient will receive that egift card via email.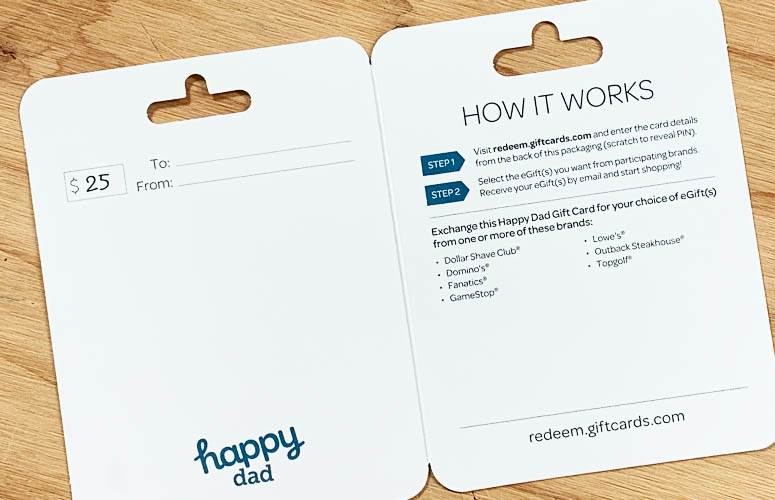 So to make this gift card holder, you will cut out the envelope shape following along the cut lines marked. Below are pictures of two of the graduation designs after they have been cut: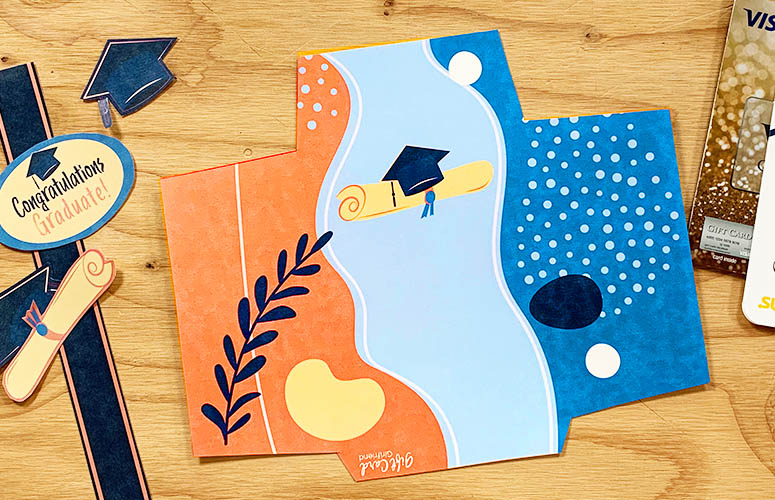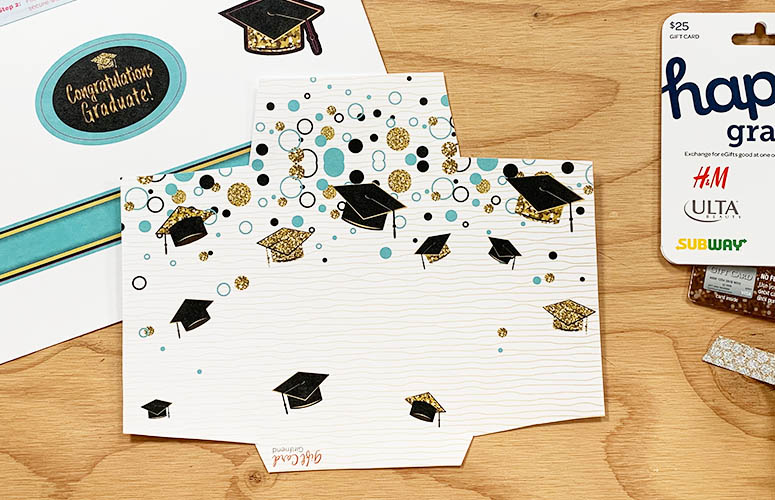 7. Fold Gift Card Envelope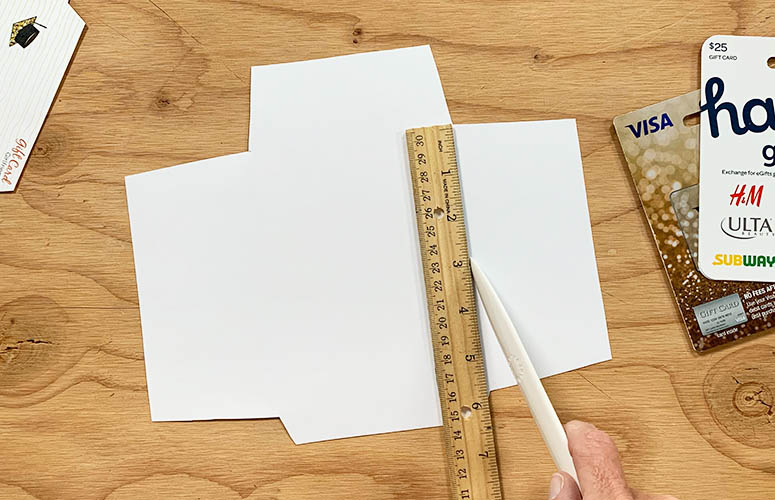 Whenever I fold card stock, I use a bone folder (or another sharp object) and a ruler to score the fold lines. This ensures I can fold the thick paper exactly where I want. If you want to see how I do this, check out the YouTube video of instructions: The Gift Card Grad Deserves for Graduation, but basically you will score the envelope from inside corner to inside corner–making a rectangle.
When you have scored the fold lines, fold the gift card holder and use a glue stick or tape to hold it together. Add ribbon, decorative tape or other embellishments if desired.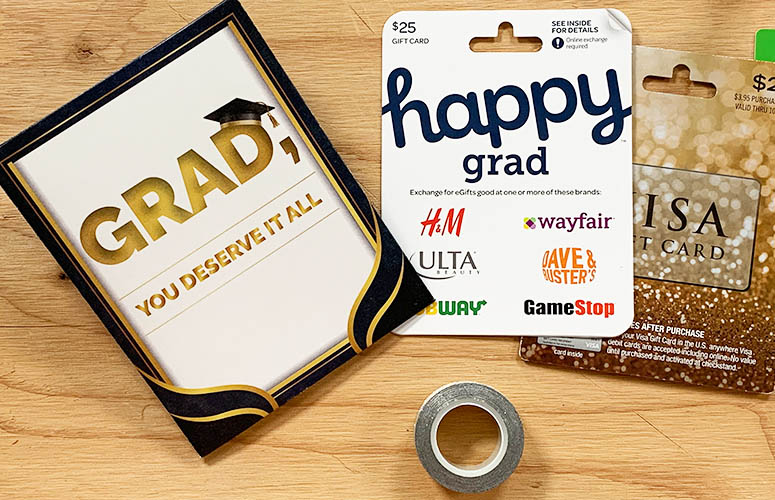 For the peach and white gift card holders, I thought it would be fun to provide additional elements to cut out and add to the holders for more layers. On the second sheet of each download, you'll find coordinating images that you can print, cut and glue to the holder.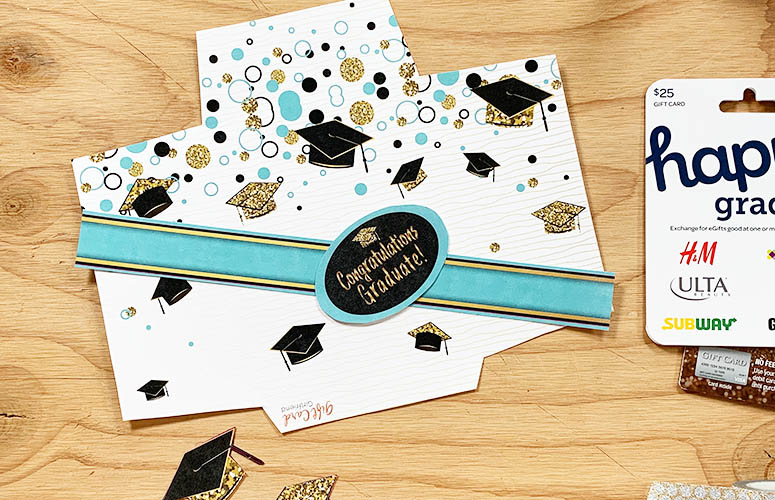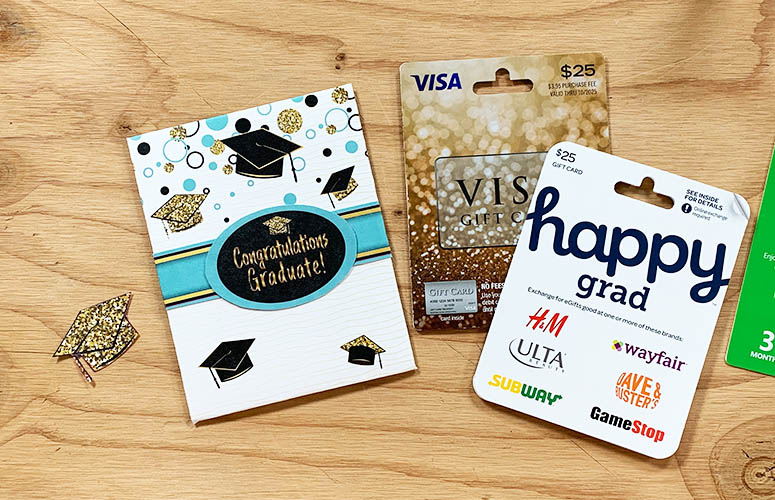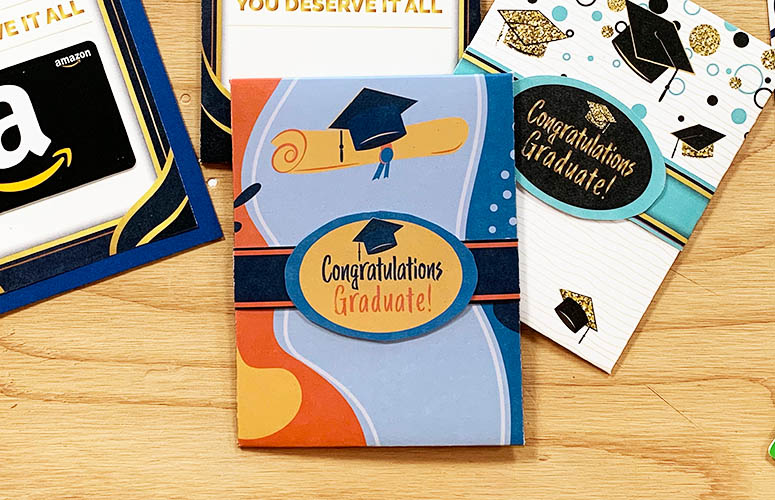 Super easy. With any of free printable gift card holders, you can turn some great gift cards into fun graduation gifts. Use the images I have for you or use the designs as templates for your own creations. Have fun with these!
If you have other questions about graduation gifting or have other gift card questions, let me know in the comments below or reach out to me on Twitter (@GCGirlfriend) or Instagram (@Gift.Card.Girlfriend) so I can help you out.
Happy Gift Carding!
~Shelley Hunter, Gift Card Girlfriend