Heading off to college, starting a new job or taking a graduation trip? The gift of travel is the perfect way to celebrate graduate's next move.
"Gifting Made Easy" by Gift Card Girlfriend
Whether you're graduating from kindergarten or getting your master's degree, the next step in life is a big one. When I think about graduation gifts, I like to use the opportunity to honor the transition and to help prepare the graduate for what is ahead. Gift cards, of course, make it easy to do that because my gift can be fun and creative while still allowing the recipient to pick out something he or she really needs.
For this graduation post, I'm focusing on travel gift cards such as airline gift cards and gas station gift cards plus Visa gift cards as well. While probably not appropriate for little kids going from preschool to elementary school, these are perfect for high school and college graduates.


Fly Around the World
Kids who graduate from high school and go off to college frequently return home (especially in that first year) for special events such as homecoming, Thanksgiving, winter break and family celebrations. Some even come home because they feel a little homesick. With colleges often being far away from home, an airfare gift card can be used in many ways. It can be used to help pay for the graduate's trip back to school in the fall, help pay for his return trip at the end of the year or make it possible for him to come home during the school year. Of course, an airline gift card can also be used to take a trip as soon as those mortarboards are tossed in the air!
How to Make It: Add an airline gift card to this "Around the World" Gift Card Holder.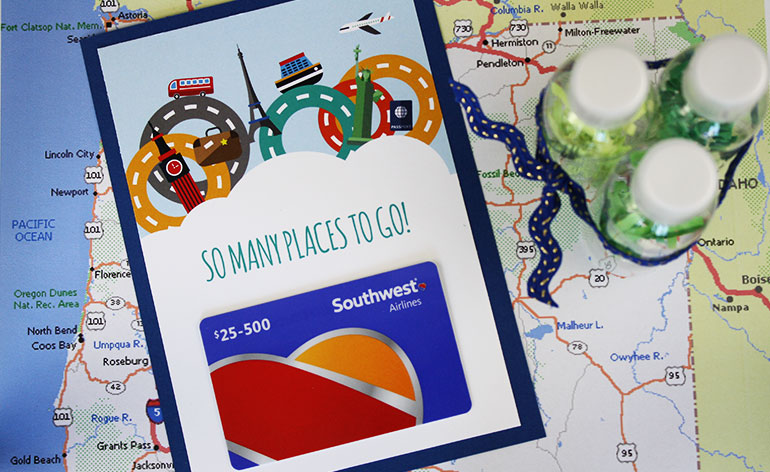 Trip to the City
Whether graduate is headed to the big city for a celebration dinner or will need transportation to classes once the new school year starts, a gas station gift card is the perfect choice. It can be used to fill up the tank or possibly fix the car up with new windshield wipers or an oil change. When money is tight, sometimes car maintenance can be low on the priority list. Keep graduates safe with gift cards that can keep a car in working order.
How to Make It: Add an Automotive gift card to this "CityScape" Gift Card Holder.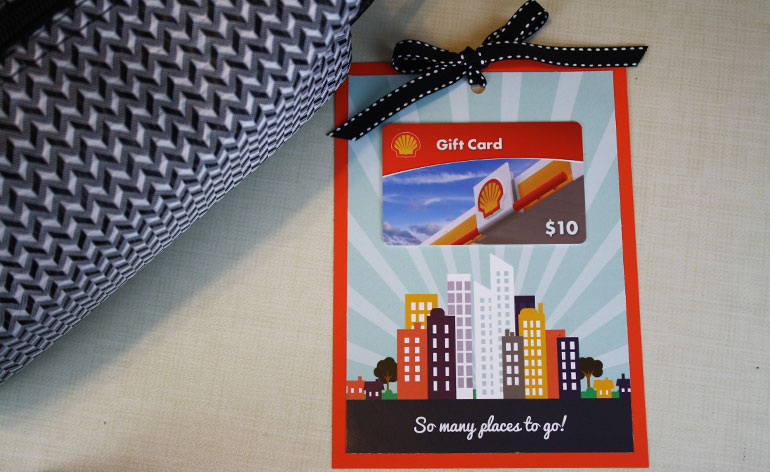 Your Adventure Awaits
After graduation, the real adventure begins. Where will graduate go? Will he move onto another level of education, head out on a backpacking trip across the country or start a new job in a new city? When life is less planned, sometimes the most wonderfully, unexpected things can happen. Help graduate enjoy that next adventure with a Visa® gift card that can be used almost anywhere.
How to Make It: Download free printables and order "Adventure Awaits" gift card here.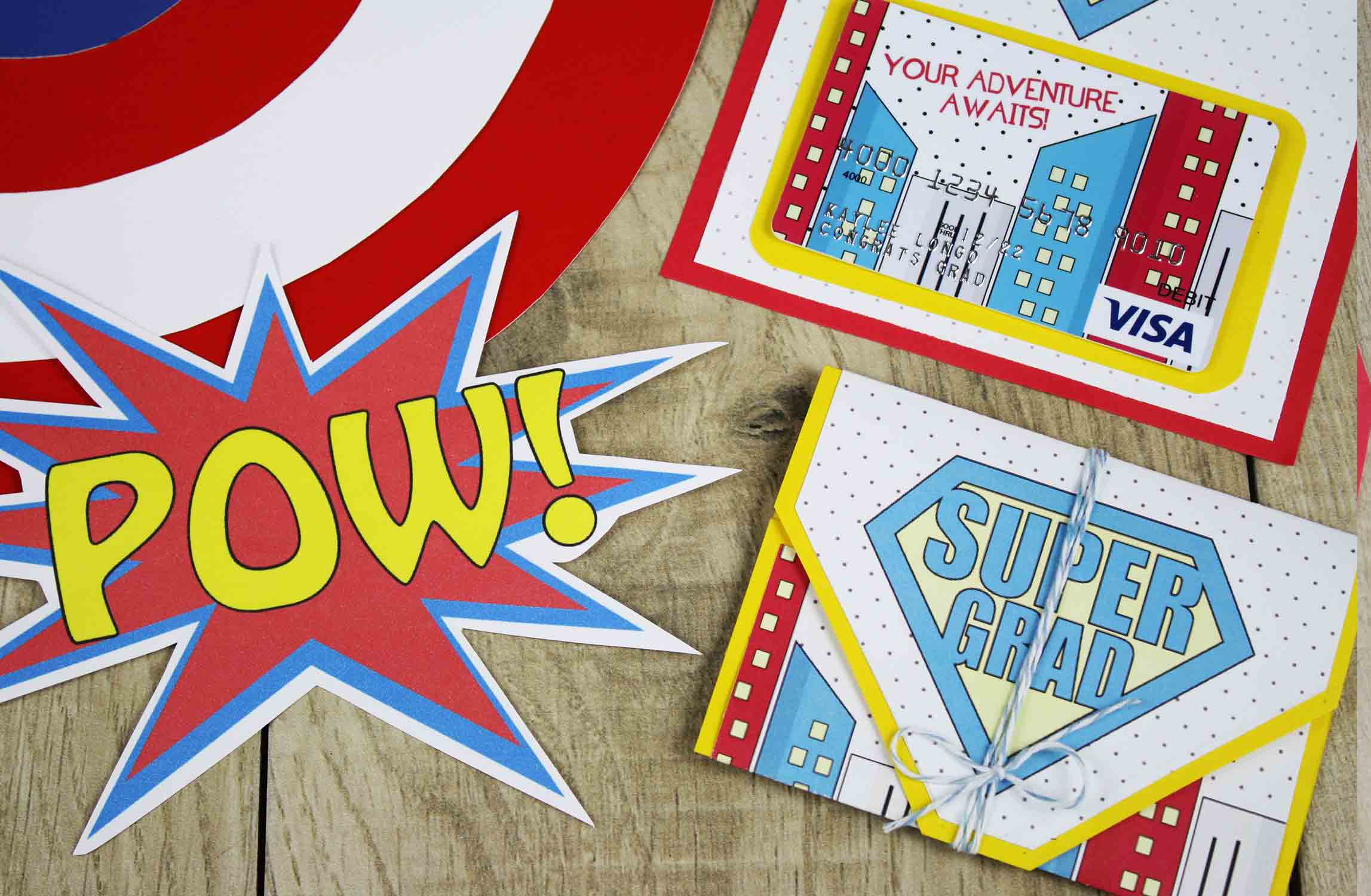 Enjoy the Journey
Every time I see this graduation gift card holder, I'm seriously smitten. I love the well-traveled look and the way it can be turned into so many different destination gifts.
For a super flexible option, order the matching Visa gift card because it can be used anywhere Visa debit cards are accepted. Deliver both the gift card and the holder with a travel journal, an actual paper map (I miss those!) or a new travel wallet. For local travel, use a gift card to graduate's favorite drive-thru restaurant or a nearby gas station. If graduate is heading to a new town for a new job or to start a new school, get a gift card to help set up his new room such as Staples, Target or Bed Bath & Beyond. No matter what life brings, this gift will remind graduate to enjoy the journey.
How to Make It: Download free printables and order "Enjoy the Journey" gift card here.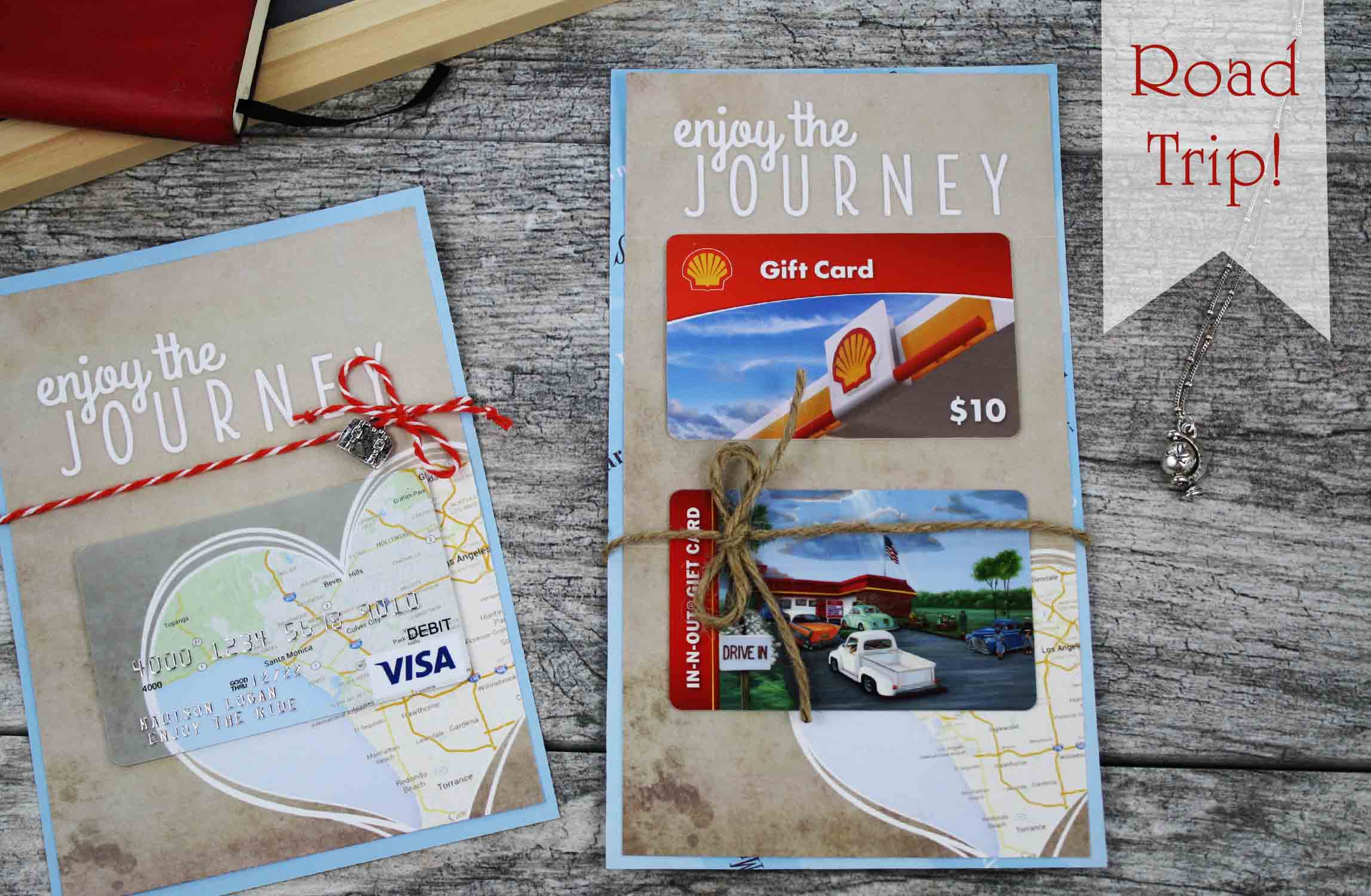 Head to the Great Outdoors!
After spending all that time in the classroom, graduate may be ready to head out to the woods to spend some time with nature–get back to basics, breathe in fresh air and read a book for fun rather than for a grade. With a gift card to an outdoor sporting goods store like Bass Pro Shops or REI, graduate can gear up and get out of town! Send her packing with this camping-themed gift card holder and several boxes of granola bars.
How to Make It: Add an Sports and Outdoors gift card to this "Camping" Gift Card Holder.

The Gift of Time and Travel
The Dating Divas created these five printable tickets to give family members the gift of time and travel for the holidays, but I think they can be used for graduation as well. You can easily add a gift card by tucking it into the envelope along with the printed ticket.
What I like most about these printables is that there is space to enter details of the trip. Sometimes I think we have to add that information verbally when giving someone a gift card. For example, you might give your daughter an airline gift card and say, "This is for you to visit Grandma and Grandpa in Texas." Or you might give your son a gas station gift card and say, "This is for you to fill up your tank when it's time to drive up to college." (Hint: don't spend it driving around town this summer.) Since details of the intended use for the gift are included in the printable, I think it would make opening the gift card much more fun.
How to Make It: Order a gift card, then download the "Gifts of Time and Travel" tickets from The Dating Diva's website.
Let Your Dreams Set Sail
I often see printables on Pinterest and Etsy that are designed for decoration, but can be used to deliver gift cards as well. For just a few dollars, this beautiful print that says "Let your dreams set sail," is a perfect graduation gift and gift card holder.
I would deliver this nautical print with a water-themed gift card such as a water park in your area, tickets to go sailing on the bay, a seafood restaurant or a clothing store that sells beach attire such as Lands' End. You could even upload a picture of the graduate from a recent beach trip or summer vacation and turn it into a personalized Visa gift card. Then print the artwork, put it in a frame and tuck the gift card into the corner. I love it.
How to Make It: Order a travel gift card, then download the "Nautical Art Print" from Stars & Peaches on Etsy.
Road Less Traveled
Remind graduate that it's okay to take some calculated risks with this printable quote from Passion Pioneer Design that says "I hope you take the road less traveled." So what goes with this gift card holder? Several of the gift cards we already talked about such as gas station gift cards and automotive service gift cards are the perfect choice. Since we've already covered those, I have a different idea.
Get graduate a shoe store gift card to buy a new pair of hiking boots, tennis shoes, flip flops or whatever it is she will need to start the next phase of her life. For a super cute delivery, pick up an empty shoe box (ask a neighbor for one if you don't have one) and fill it with the gift card, a new pair of socks and the "road less traveled" printable. Or you can print the "road less travel" art onto a bigger sheet of paper and use it for wrapping paper. Graduate can use the gift card to buy whatever shoes she wants, of course, because that's her choice to make and all part of learning how to do what's right for you versus what everyone else expects.
How to Make It: Order a DSW or Footlocker gift card, then download the "Road Less Traveled" print from Passion Pioneer Design.
Pack Your Bags
Help graduate pack his bags for a graduation trip, a move to a new town or a summer adventure before buckling down again in the fall with this adorable gift card suitcase and a gift card to his favorite clothing store. For even more fun, put different gift cards into multiple suitcases. For example, add a department store gift card to one bag, a clothing store gift card to another, and a favorite cosmetics store gift card to a third. How cute is that?
How to Make It: Order a Kohl's gift card, then follow this Craftster tutorial on how to make a Gift Card Suitcase.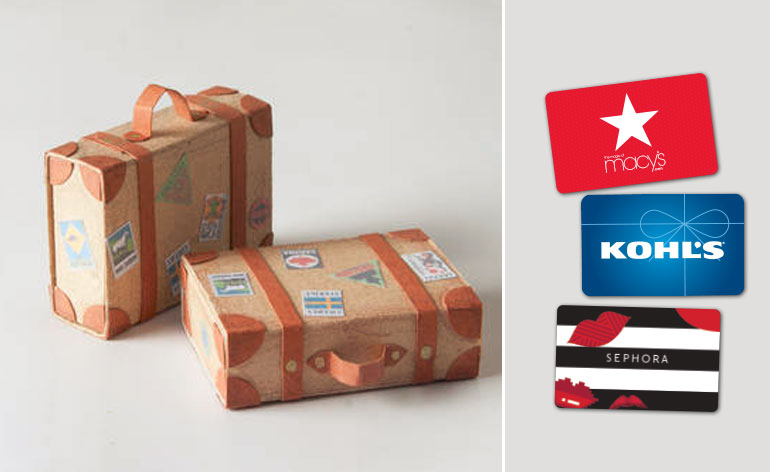 Mobile Gift Card
There's no more fitting way to send a travel gift card to a graduate than by using mobile technology. The egift card can be ordered in seconds and shipped electronically to the graduate wherever she is. She'll receive an email that has a picture of the gift card and the image you upload or video you select.
The great thing about egift cards is that you never have to worry that one will be lost or stolen. As long as you have your phone handy, the gift card can be used. And since the delivery is electronic, we can always help you out if you "lose" the virtual card as well. Kids these days are all about their phones so you might as well send a gift card straight to the place they spend the most time.
How to Make It: Order an eGift Card or get ideas on this post with 10 Last-Minute eGift Cards for Graduates.

More on Pinterest
If you didn't find a travel-themed graduation gift card that you want, comb through the hundreds of free prints on Pinterest or follow Gift Card Girlfriend on Pinterest. There are tons of great gift card holders to choose from. Let me know what you find or reach out to me at @GCGirlfriend on Twitter and I'll get back to you shortly.
Happy Gift Carding!
~Shelley Hunter, Gift Card Girlfriend