The perfect gift for graduation (or summer travel!) is a printable gift card holder that says "Enjoy the Journey!"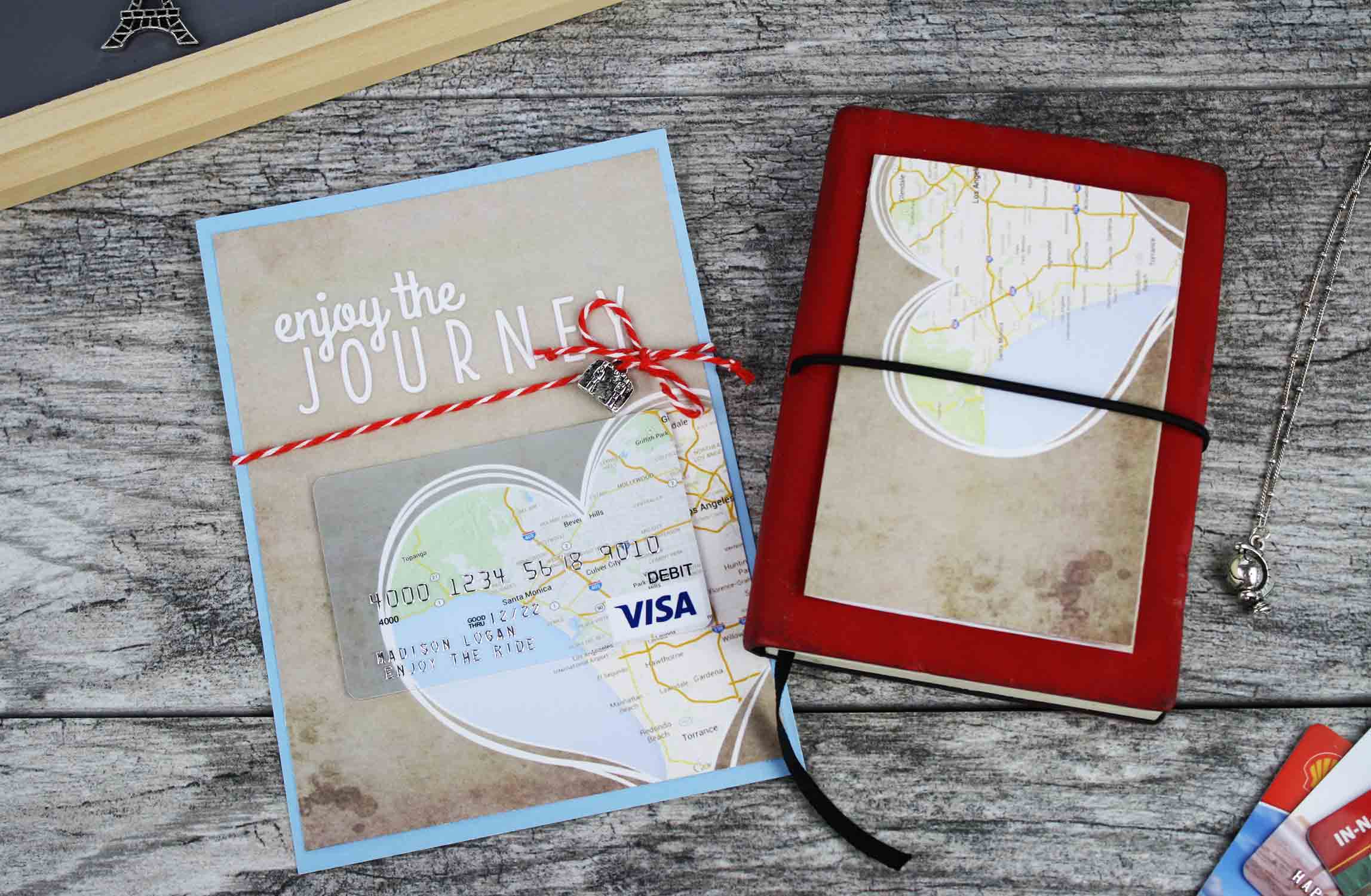 "Gifting Made Easy" by Gift Card Girlfriend
Whether Graduate is heading on to another degree or out into the workforce, send him or her off with this gift card that reads "Enjoy the Journey." For no matter where life leads, there are sure to be some highs and lows along the way. That's part of learning, that's part of life. Remind graduate to enjoy the experience with a gift card that can be used wherever Visa
®
gift cards are accepted. If you'd rather send graduate off with the perfect road trip gift card combo instead (also known as gas and food money), then check out the "unfolded" folded gift card below. Although this is the perfect graduation gift, it's also a fun summer travel gift, congratulations gift or bon voyage present! I hope you enjoy making it as much as I did.


Order Gift Card and Download Printable
I had so much fun making this printable gift card holder because, in the process of creating the typical, I came up with another way to use it. We always make a flat gift card holder that perfectly matches our gift card and a folded gift card holder that can be used to deliver that same gift card or store or restaurant gift card instead. Since gift cards are about giving the recipient choices, we want you to have choices in your gift card deliveries as well. But here's the thing, this time I noticed that I could leave the folded gift card…unfolded…and it could be used to deliver TWO gift cards. Of course, that got me thinking road trip. So check out the gift card holders below and the various ways you can use them.
Order Enjoy the Journey Visa Gift Card
Download Free Matching Enjoy the Journey Flat Gift Card Holder
Download Free Matching Enjoy the Journey Folded Gift Card Holder

Print and Cut
After downloading the "Enjoy the Journey" holder of your choice, print it on a color printer using "best quality" and "actual size" settings. (Do not select "shrink to fit" or any other setting that will change the size of the printed .pdf image.) White, card stock paper measuring 8-1/2″ x 11″ works best. Cut the holder with a paper cutter using the trim marks as a guide.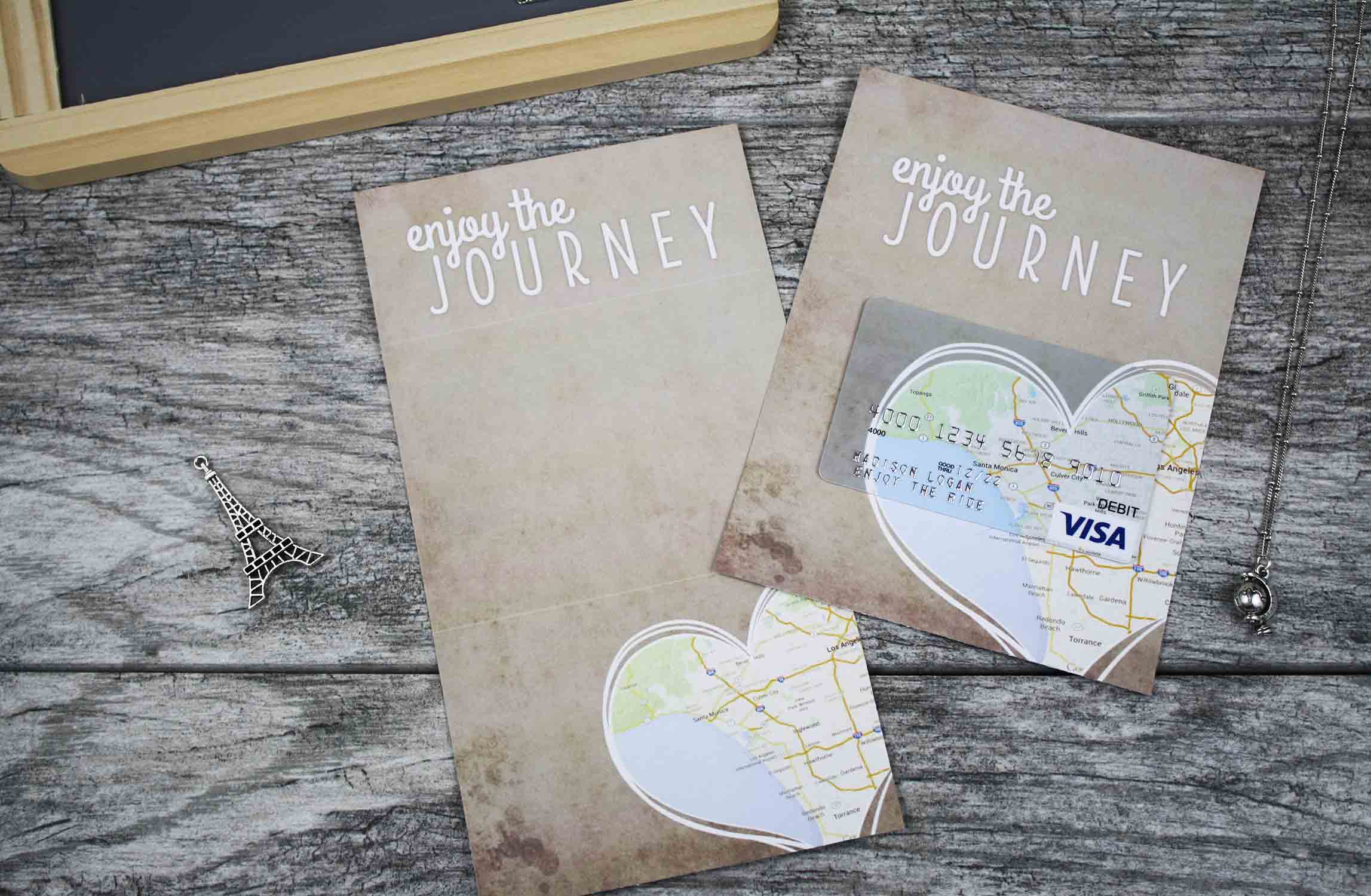 The travel theme on this gift card holder gave me wanderlust, I guess, because all I could think about while working with it is how much fun it would be to send somebody off on a journey with a little pocket money to spend. This printable gift card holder is the perfect companion to a gas station gift card, a personalized gift card with a travel theme, a drive-thru restaurant or any other gift card that either has a travel design or could be used for travel. While graduation is an obvious gifting occasion for this travel-themed gift card, please consider using it for a retirement gift, honeymoon gift, summer vacation and more.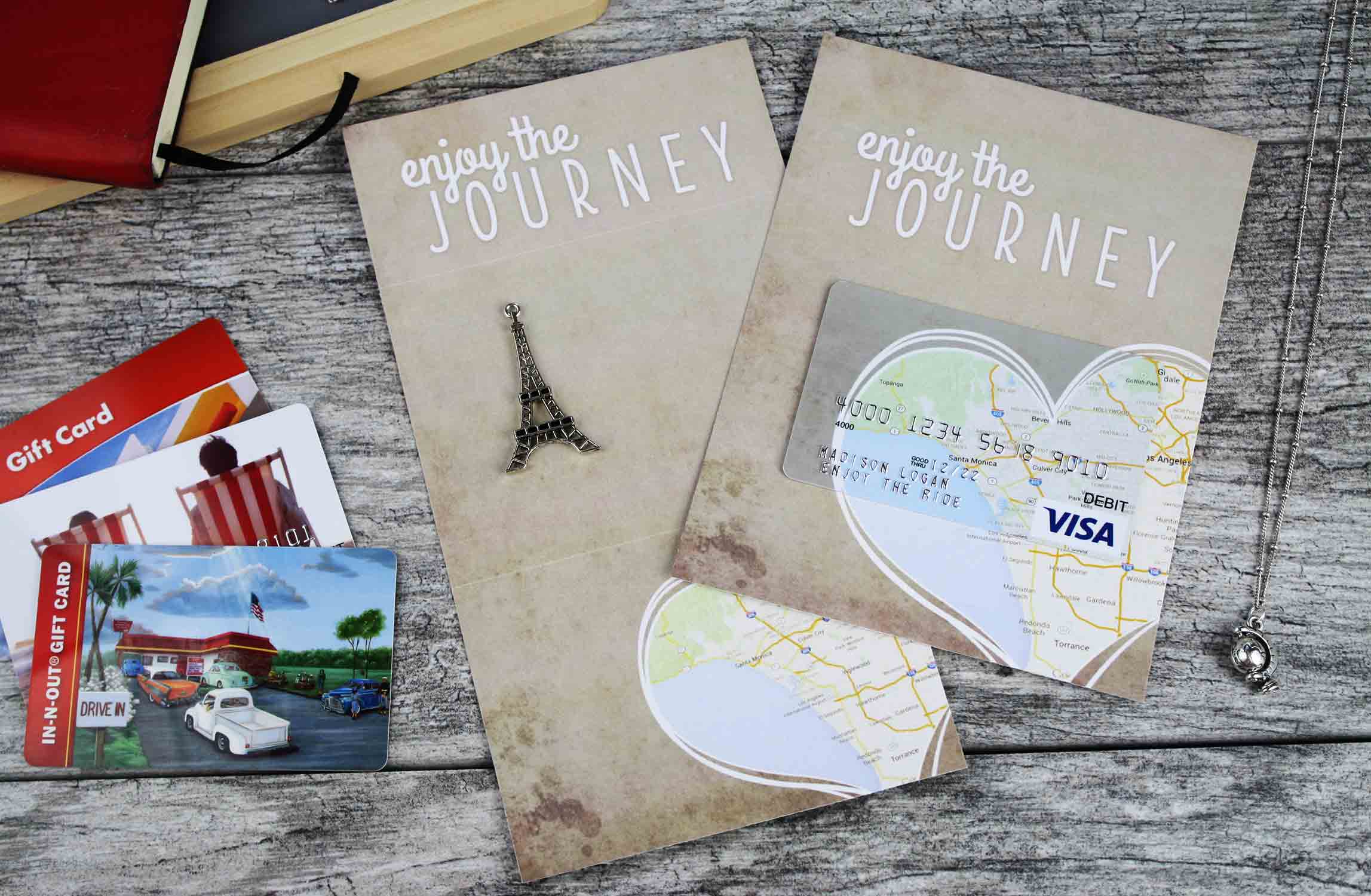 Craft the Flat Holder
The flat gift card holder can be presented as soon as the gift card is attached to it. This time, however, I wanted to accentuate the blue in the map so I mounted the flat holder onto a piece of blue card stock paper that I had in my craft closet. Then I tied red and white twine across both papers and finished the holder by adding a small suitcase charm. Super easy. Super cute. (Sometimes I simply add stickers to the gift card holder. Other times I get really daring and add embellishments to the gift card itself!)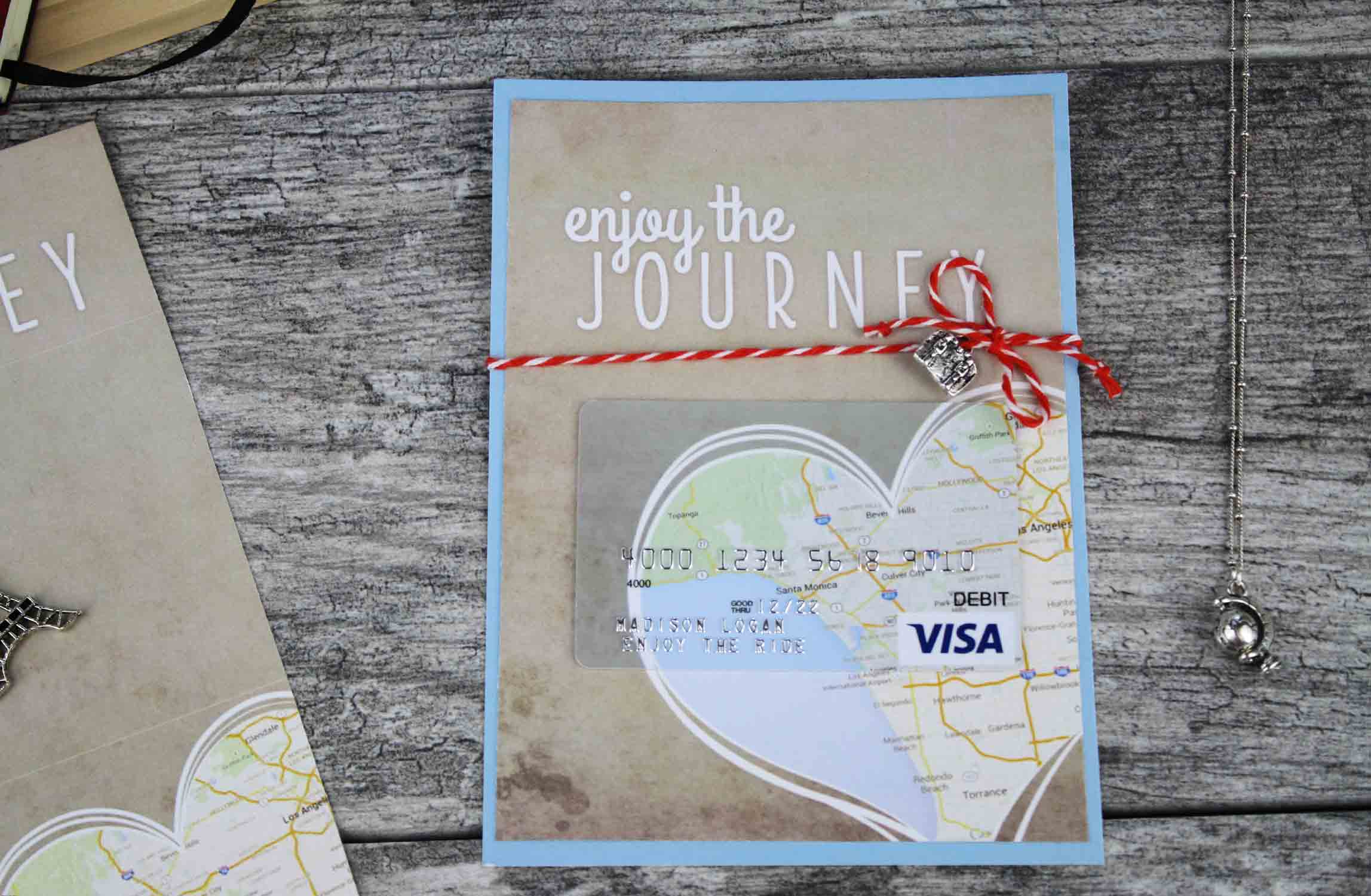 Here comes that wanderlust. See how cute this gift card holder is with a gas station gift card, a drive-thru restaurant gift card or a personalized Visa gift card with a vacation photo on it. I especially like gift cards that have some red in the design.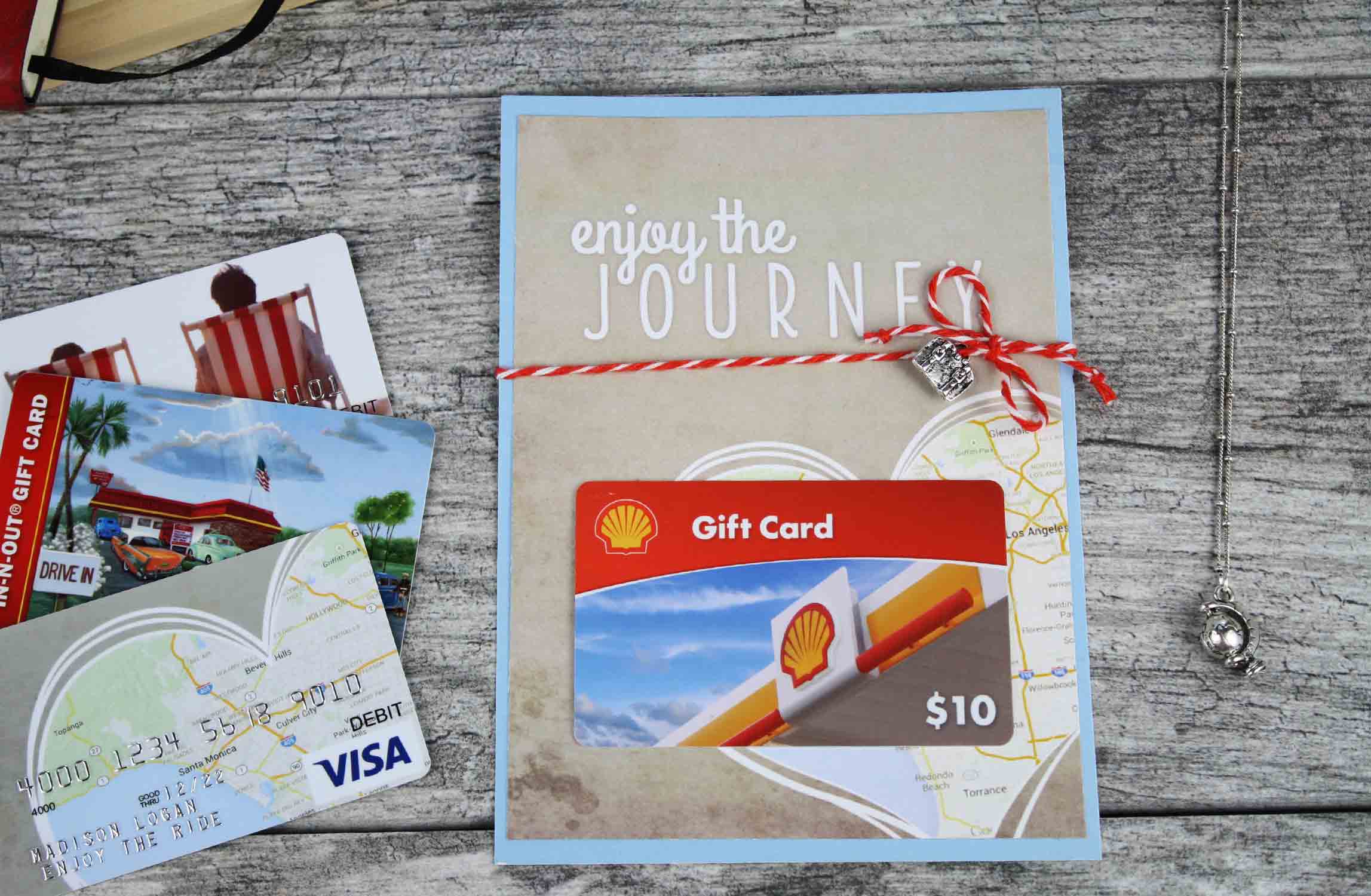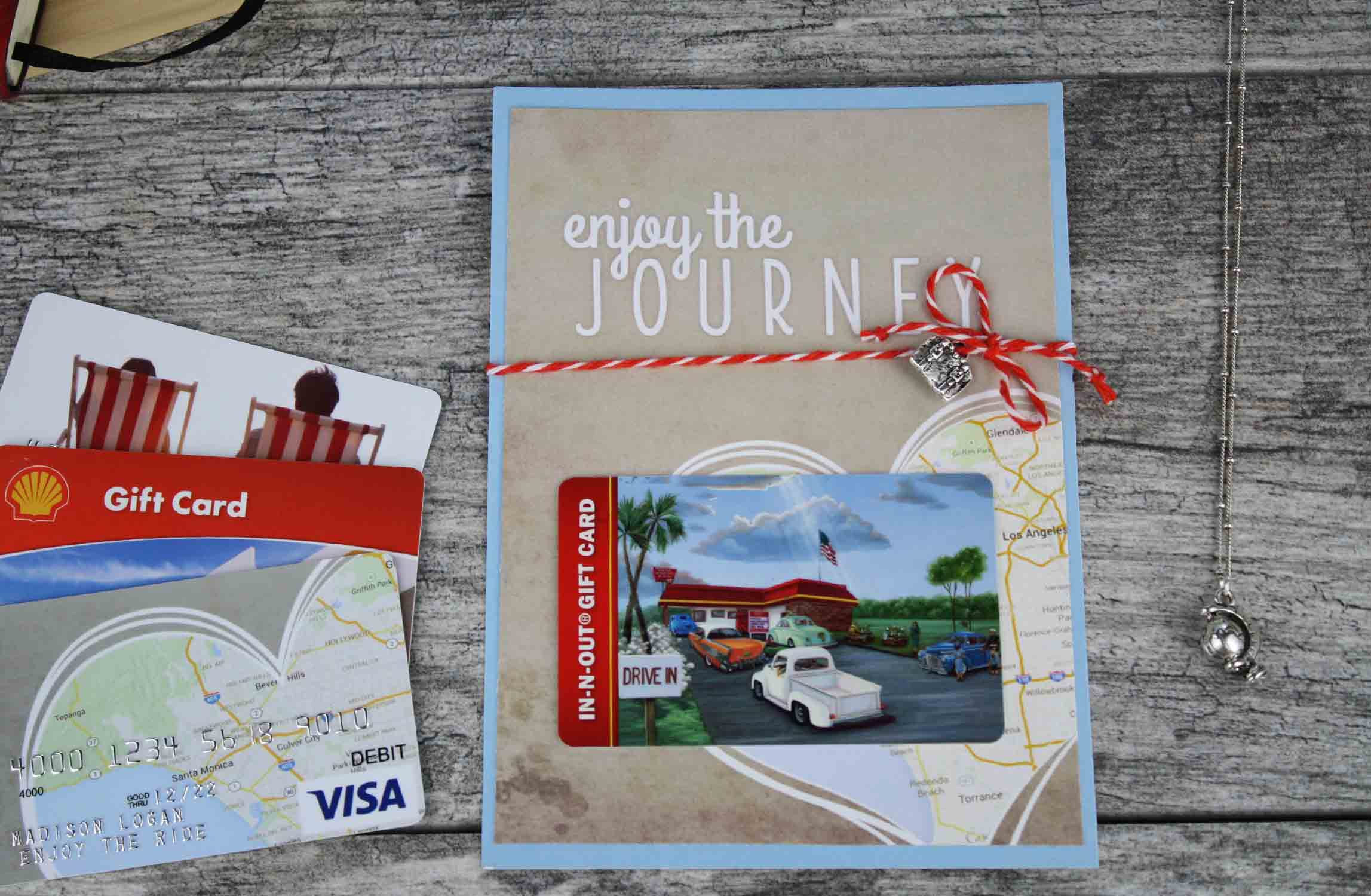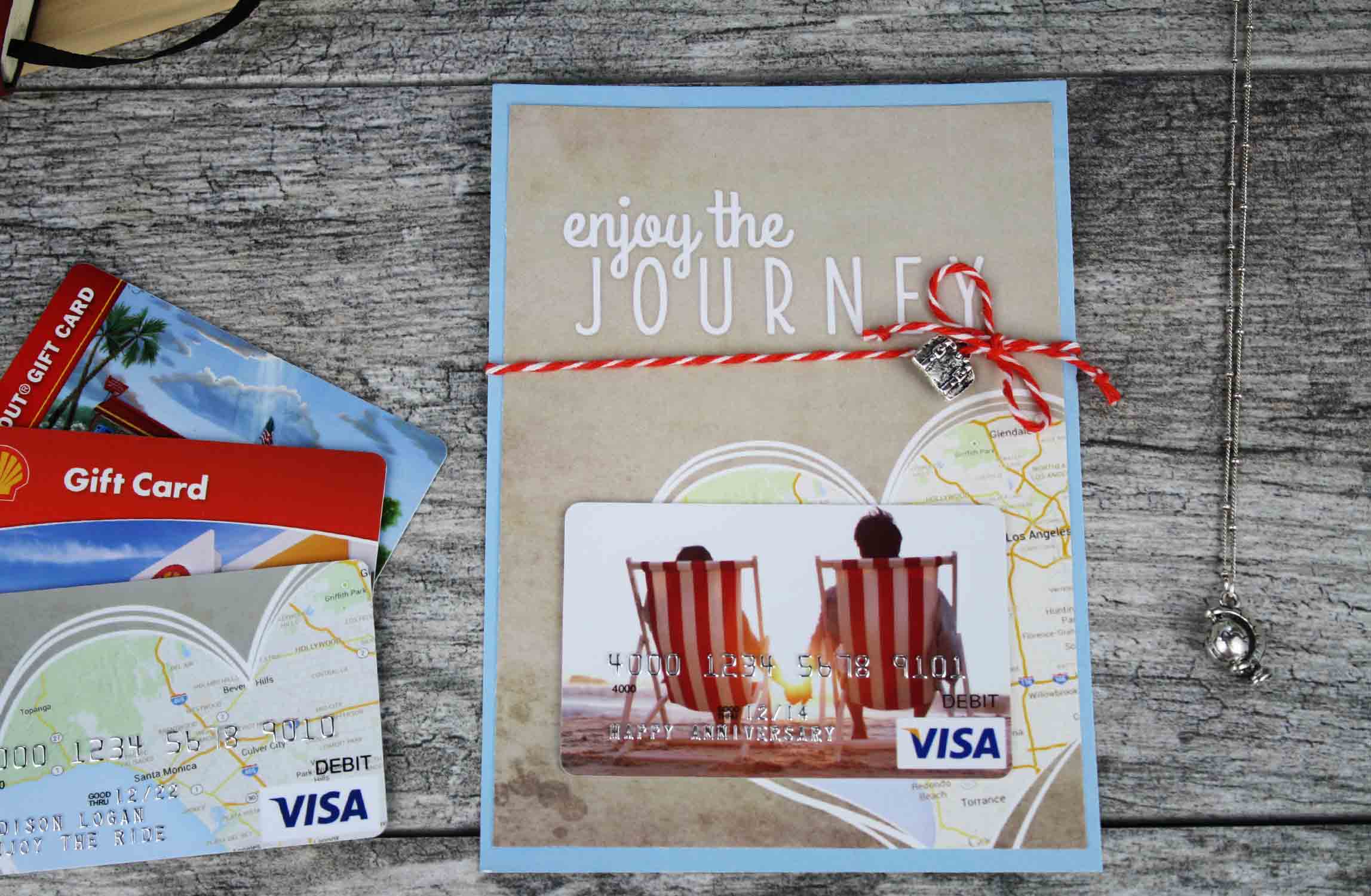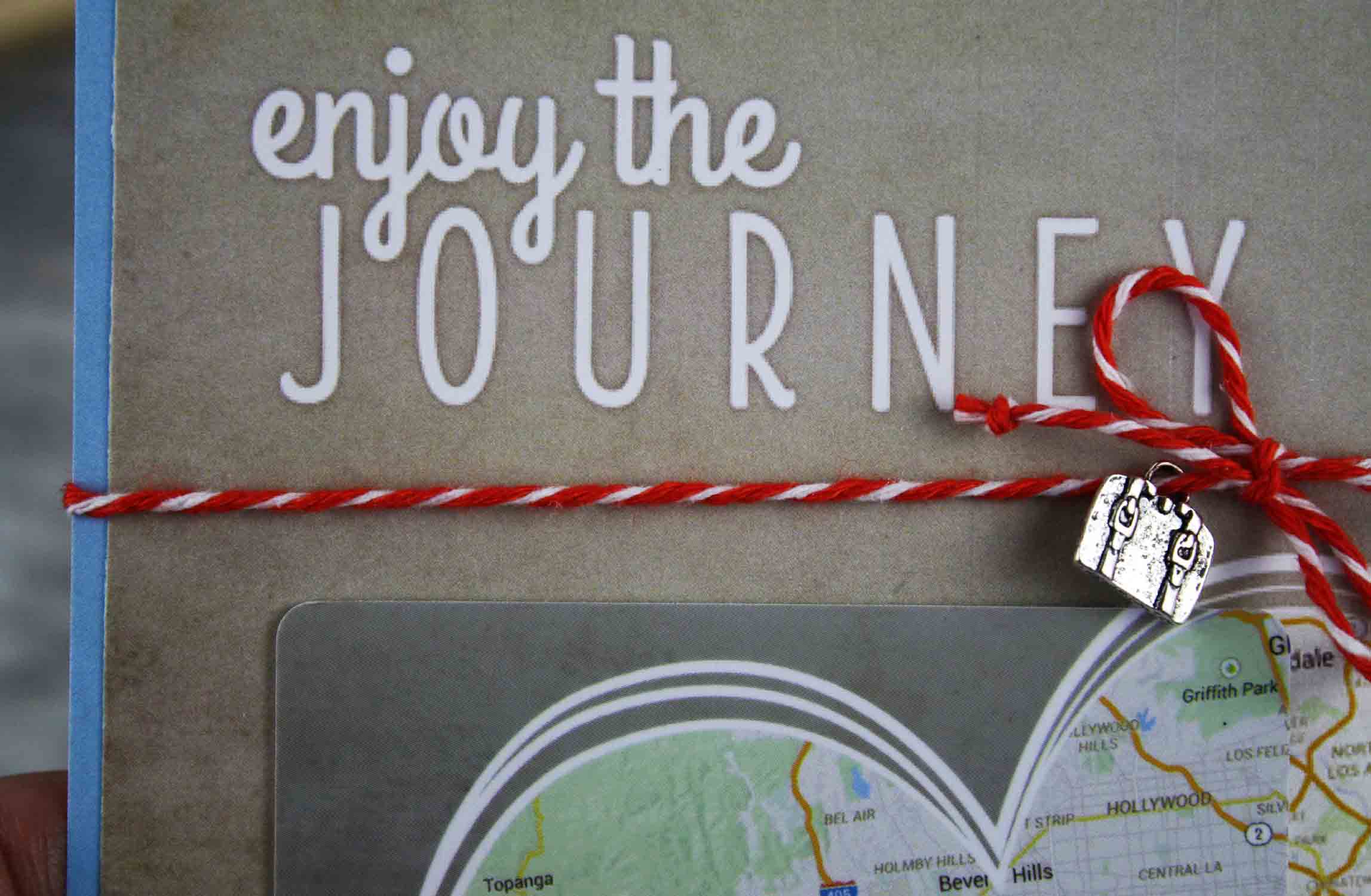 Make the Folded Holder
If you look at the printed side of the folded gift card holder, you'll see two faint lines indicating where the gift card holder is to be folded. Although the fold lines are visible on the printed side, I always score card stock before folding it so the folds look professional. To score the card on the opposite side, I measure the card first. For me, the fold lines are at the 3″ and 6-1/4″ marks. (Measure your card to be sure you have the same measurements.)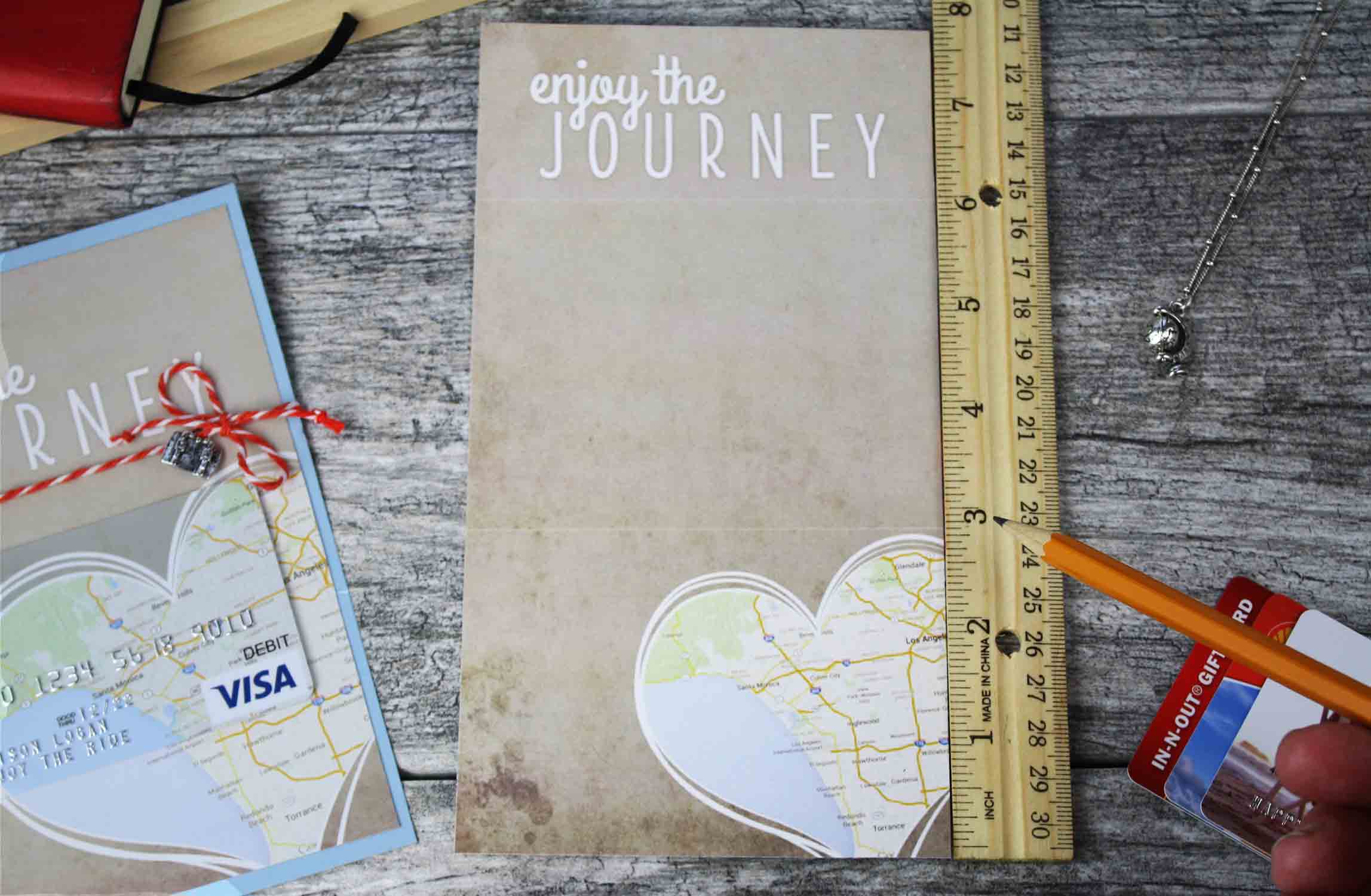 Using a bone folder (or another semi-sharp tool you have around the house like the back of a butter knife or the edge of the plastic gift card), score the paper on the fold lines using a ruler as your guide.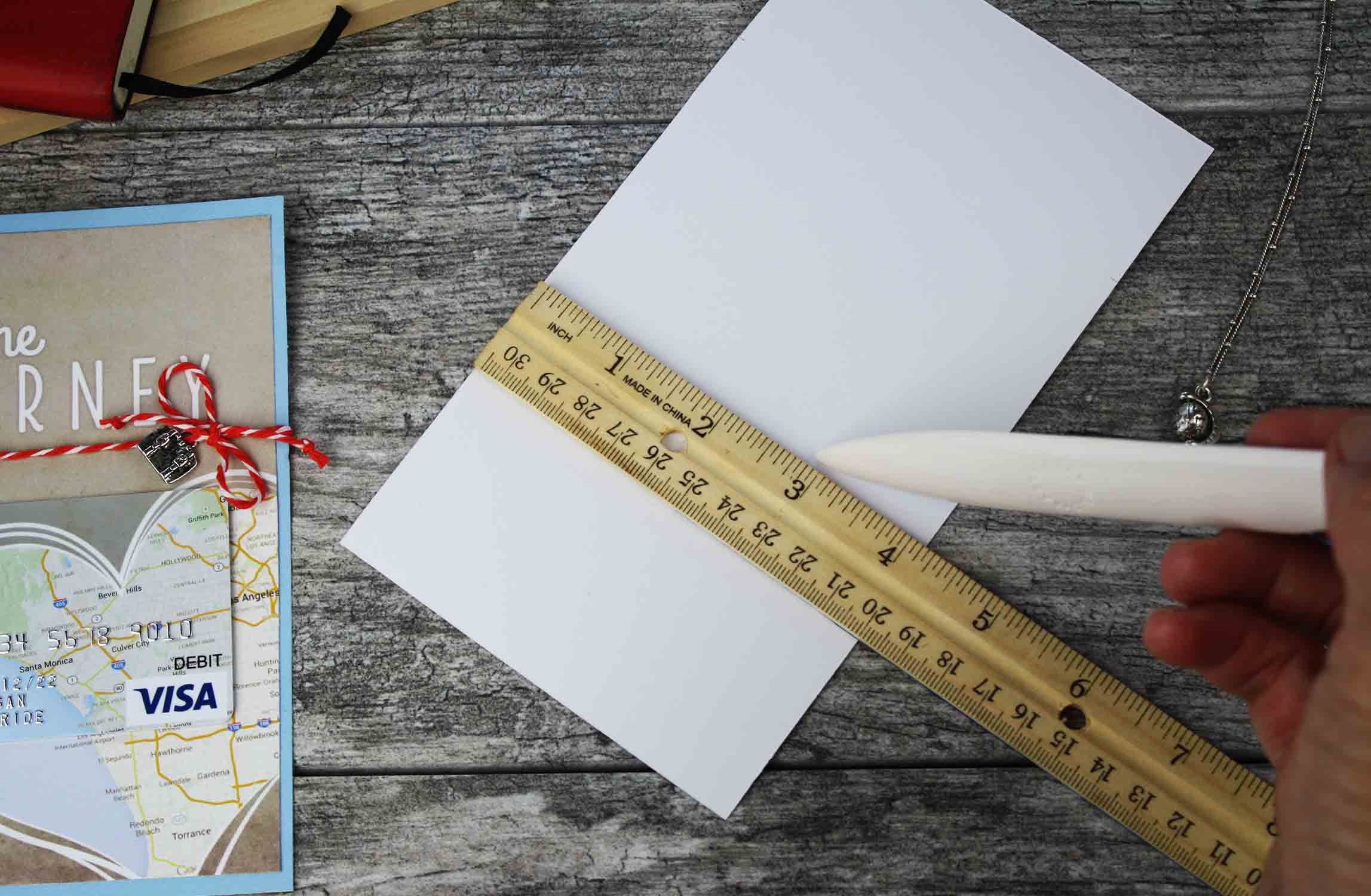 Fold the gift card holder as shown so it makes a little pocket, perfectly sized to hold the travel gift card of your choosing. Using double-sided tape or a glue stick, seal the edges of the gift card pocket, then put the gift card inside. Write a personal note in the white space above the card.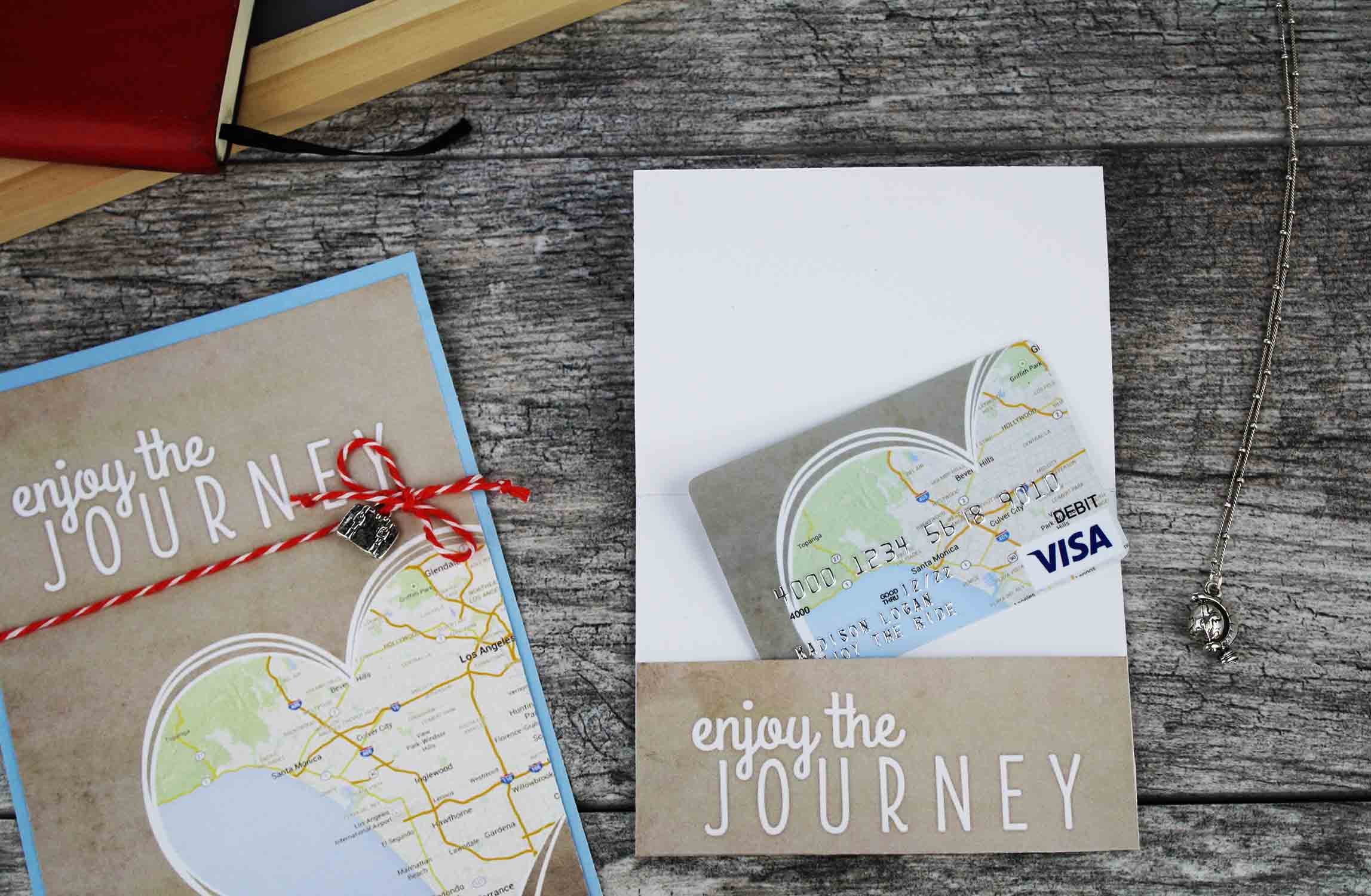 See how that gas station gift card fits nicely as well?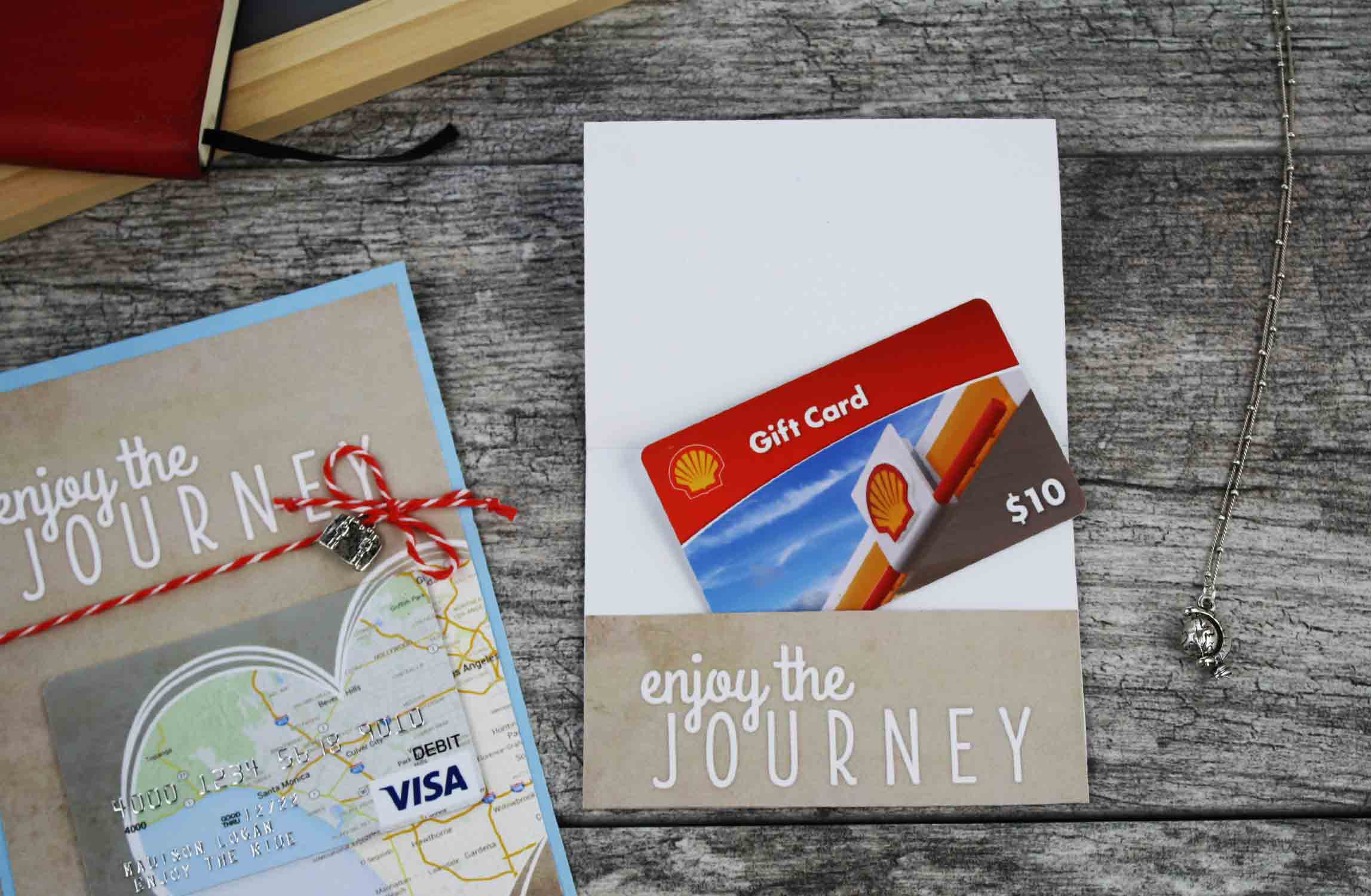 Fold the holder up and you're ready to present it.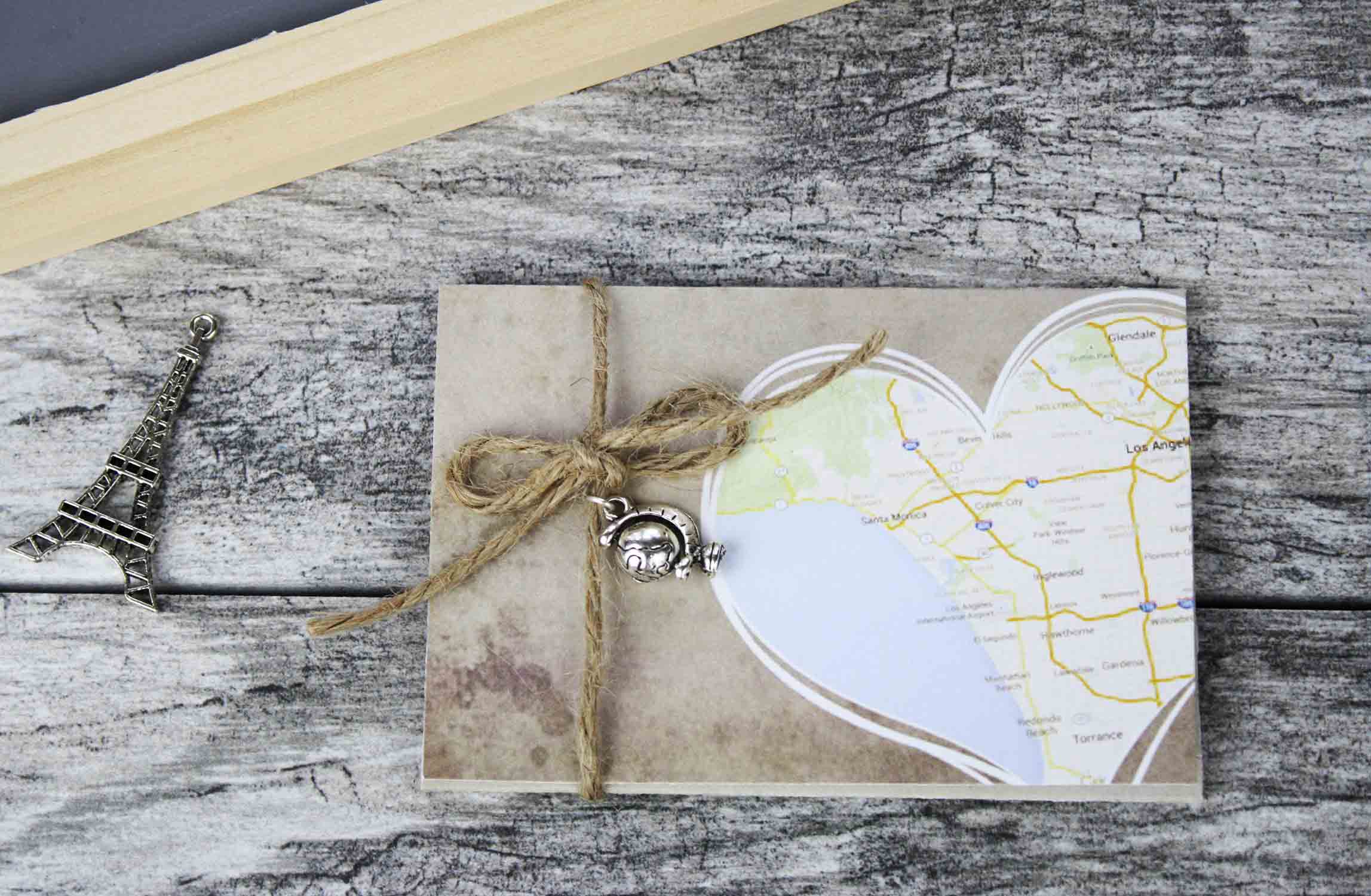 Keeping in that travel theme, I tucked the folded gift card into a small red journal the graduate can use to record events from the trip, take notes or keep track of mileage. It's a simple addition that makes the present a little more roadworthy.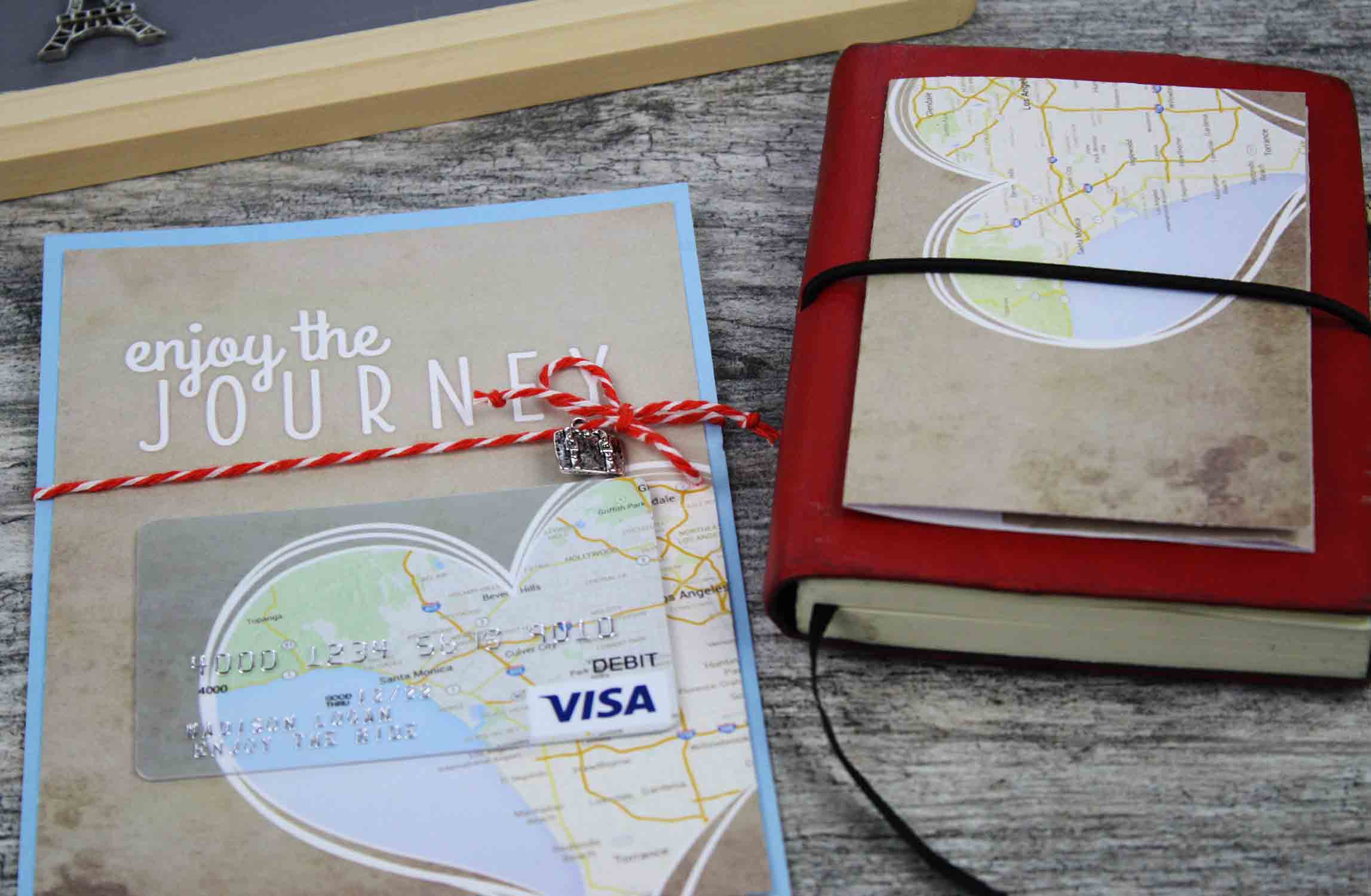 The Folded Holder Hack
Seconds before I started to mark, score, and fold the folded gift card holder, I noticed that I could re-purpose it to hold TWO gift cards instead. Well, it could also hold one gift card, but the smaller gift card holder already has that job. With road trip thoughts on my mind (summer is coming up, after all!), I couldn't help but think how cute this gift would be for somebody (or a family) about to hit the road. Like the flat card holder, I added a blue background before attaching a gas gift card and a restaurant gift card. Now who's ready to hit the road with me?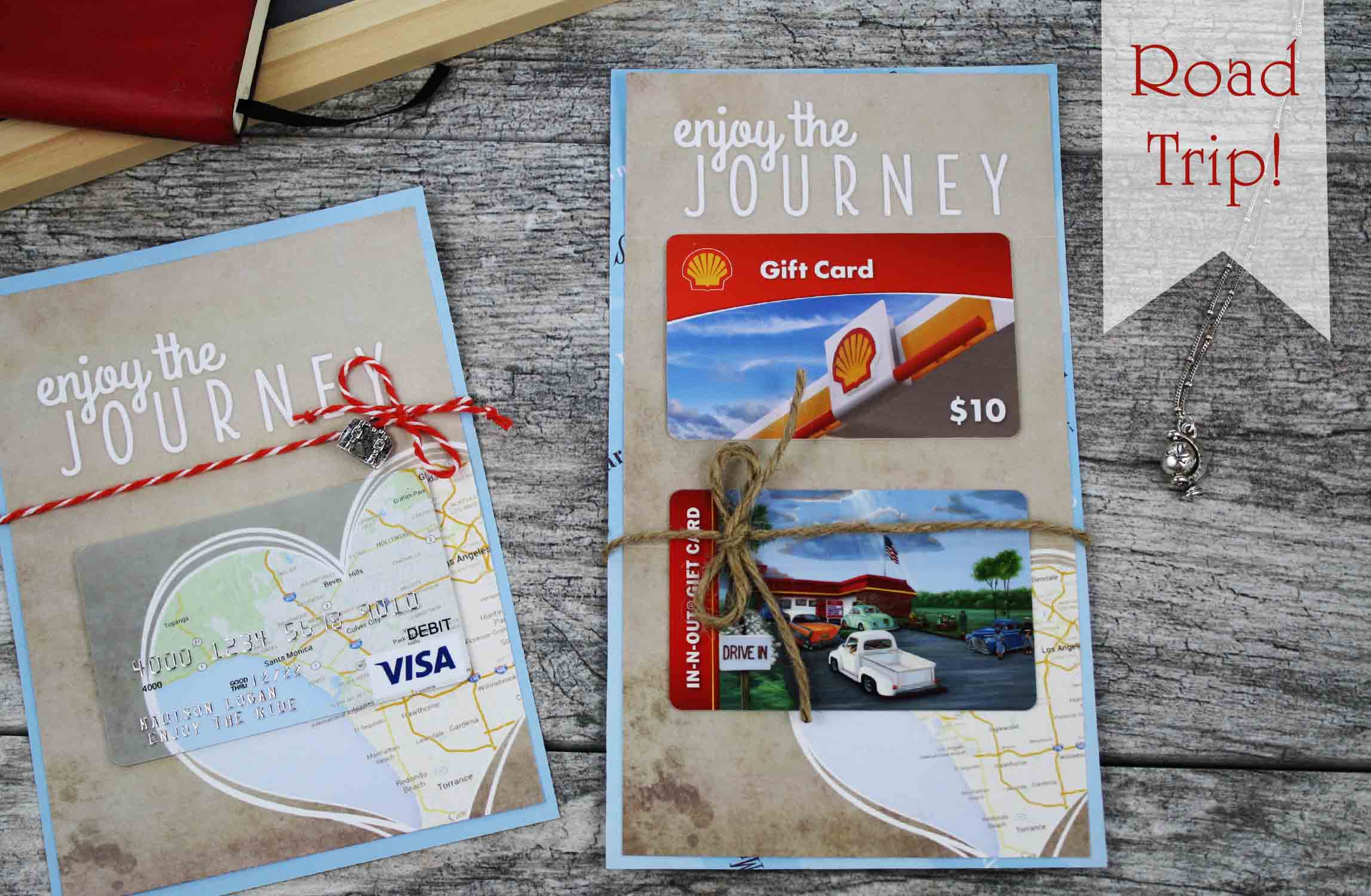 Actually, a single gift card looks pretty cute here too, especially if the gift card is from a store or restaurant so the design isn't a perfect match.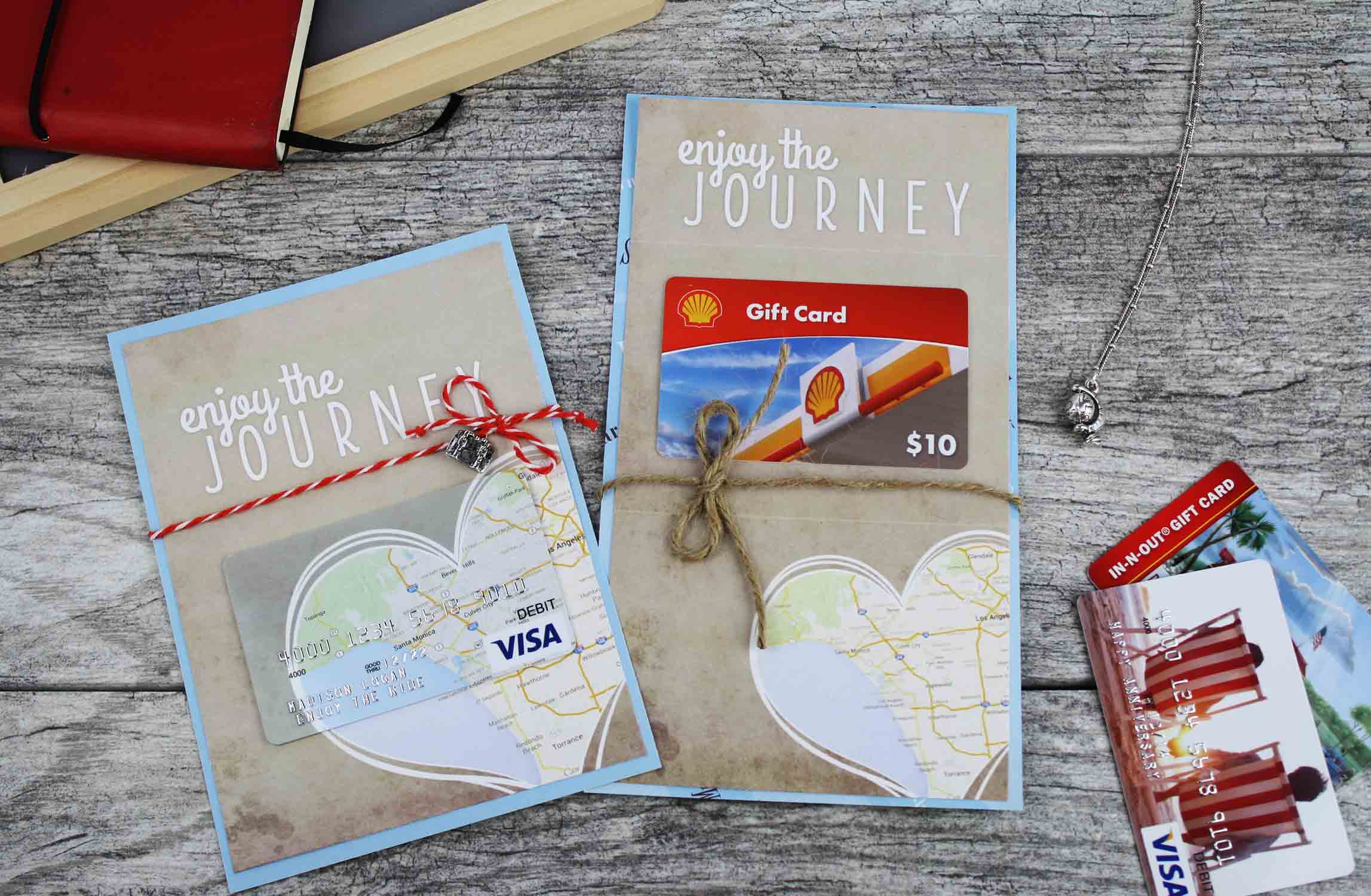 Who would have thought that two simple gift card holders could be used to present graduation gift cards in so many different ways? If you come up with something else, let me know. I'd love to see what you can do with this "Enjoy the Journey" gift card printable.
Send it in the Mail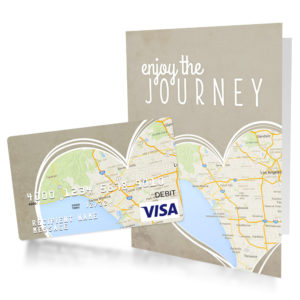 With all this talk about travel, I should mention that we can send the gift card on your behalf. Simply order the
Graduation Journey
Visa gift card and select the standard greeting card option. Take a moment to personalize each with graduate's name and a special message. Tell us where to send the card and we'll take care of the rest!
More on Pinterest
For more free printable gift card holders, check out the
free prints page
or follow
Gift Card Girlfriend on Pinterest
. If you use this printable, send me a link to your page in the comments below or contact me on Twitter
(@GCGirlfriend)
. I want to see what inspires you.
Happy Gift Carding!
~Shelley Hunter, Gift Card Girlfriend