Have a fall festival, school carnival, of Halloween costume contest coming up? Find 5 gift cards that make perfect Halloween prizes.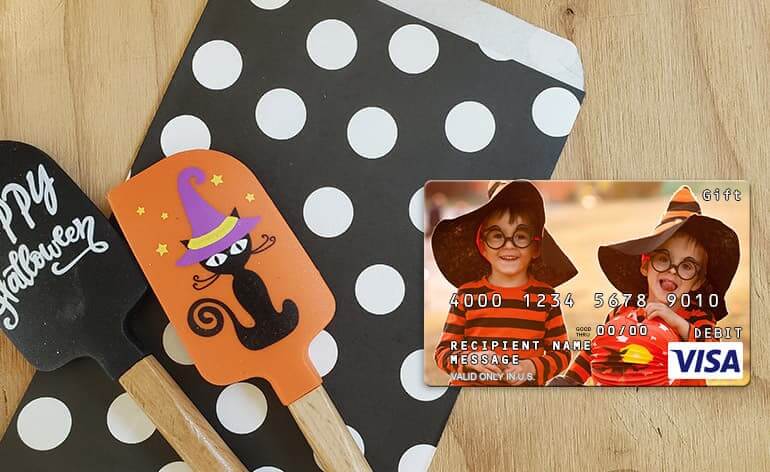 When the Halloween candy starts coming through the doors in late September, I'm fairly happy to see it. I love my little bite-sized crunch bars and malt balls. By mid-October, I'm feeling fat. By Halloween, I would rather not see another piece of candy until Christmas. My kids, on the other hand, do not seem to feel the candy corn overload like I do. So while more sugar certainly makes a nice Halloween prize for your fall festival or carnival, I think a gift card would be far less nauseating. Below are five gift cards that make good Halloween prizes.
1. Halloween Visa Gift Card
In addition to the cards shown on our Halloween Gift Ideas page, we have several designs you can select from in our predesign gallery. From jack-o-lanterns and pumpkins, to witches and haunted house images, there is certain to be a ghostly gift card kids will enjoy. Since the Visa gift card can be used wherever Visa is accepted (online, in stores, over the phone), the lucky prize winner will be able to use it to buy something fun, like the new LEGO, Skylanders or Frozen toys. That's a big win!
2. Make Your Own Halloween Gift Card
Predesign cards are easy to make, but personalized cards are hot right now. Select between Visa and Mastercard®, then start rummaging through your photo library to find a picture of your little ghost or goblin. If this Halloween prize is for a school-related activity, then get a picture of the teachers in their costumes instead. A gift card with a picture of the school principal dressed up like a witch could definitely be the top prize of the day.
3. Add a Picture to a Store Gift Card
In addition to our "use anywhere" gift cards, we also have the ability to put a Halloween image on an egift card for one of your favorite stores. For kids, I like the idea of adding a picture to a virtual Build-A-Bear Workshop gift card. There are others to choose from, of course, like restaurants and clothing stores. I just think a child would be pretty excited to go make a stuffed animal and mom will appreciate not having to pay for it.
One nice thing about using egift cards for carnival prizes is that you do not have to order the cards before the festivities which can sometimes create a security concern. Instead, hold the carnival and announce the names of the big prize winners. Then order the egift cards to be delivered to the recipients via email. Having the ability to order the exact number of Halloween prizes needed, means you can add a few more prizes if something happens (like a tie!) or you can trim the number of prizes as well.
4. Get a Target Gift Card
Target does a great job of creating seasonal gift card designs, and their Target Halloween gift cards are totally appropriate for kids. They've got a funny face card, candy corn design, goofy monster man and other cards online as well as in stores. Though not as flexible as Visa, they are pretty darn close. My kids find pretty much everything they "need" at Target and love having gift cards to spend when they get there.
5. Print an Amazon.com Gift Card
If the fall carnival is tomorrow and you're just now realizing you need a prize, then Amazon egift cards are the perfect solution. Amazon has several Halloween gift cards that you can order online or print at home. Plus many kids love to shop at Amazon. They can buy books, clothes, toys and more–maybe even next year's Halloween costume. Here's a list of other stores that sell print-at-home gift cards for a rush gift card delivery.
If you're worried that a gift card won't look prize-worthy–meaning it can be a rather small thing to hand to the big winner, then dress it up with other Halloween items. Tie a jack-o-lantern gift card onto a carved pumpkin, drop a candy corn gift card into a mason jar filled with the same candies or attach a ghostly gift card to a ghastly decoration. Of course, any gift card could be used in this way, but a Halloween gift card would make the perfect prize. You can find more ideas when you follow Gift Card Girlfriend on Pinterest and check out the Halloween Gift Ideas board.
If you have other gift card questions or need gift card help, add a note in the comments below or leave a message for @GCGirlfriend on Twitter.
Happy Gift Carding!
~Shelley Hunter, Gift Card Girlfriend