The perfect gift card for any birthday can be used at multiple stores and restaurants—giving recipients a choice of how they spend their time and money.
The New Happy Birthday Day Gift Card
If you've looked at gift cards available in most major grocery stores lately, you've probably seen a large display of gift cards call Happy Cards. Each Happy Card gift card features a curated list of stores and restaurants. The card is usable at any of the merchants listed on the card.
I like the colorful branding on the cards, but even more than that, I like that Happy Cards offer recipients a few choices without requiring the giver to pay extra. Let me explain by comparing three types of gift cards.
First, we have closed-loop gift cards that can only be used at the store or restaurant shown on the card. Sephora gift cards, Red Robin gift cards and Target gift cards are all examples of closed-loop gift cards. The recipient of a closed-loop gift card can only use it in one place, but the giver does not have to pay extra for the card and there are no non-use fees.
Second, we have open-loop gift cards. Visa gift cards and Mastercard gift cards are both examples of open-loop gift cards. Recipients can use these cards anywhere Visa and Mastercard gift cards are accepted, but givers pay extra to buy these gift cards and there are non-use fees as well.
Finally, Happy Card gift cards offer the best of each option. Happy Cards can be redeemed at a handful of stores and restaurants listed on each card, offering the recipient some flexibility. But there are no non-use fees and givers do not pay activation charges eithers.
Happy Cards are a great choice when you aren't sure exactly which gift card the recipient will want but you don't want to pay the additional costs associated with full flexibility.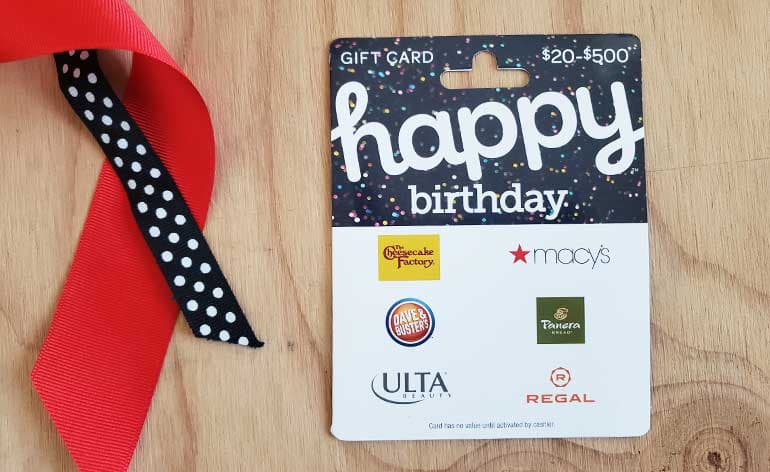 Recently, the Happy Card team launched a new gift card called, "Happy Birthday." This gift card is usable at a bunch of stores and restaurants that should appeal to a wide audience.
The initial launch of the Happy Birthday card includes the following stores and restaurants:
The Cheesecake Factory
Macy's
Dave & Busters
Panera
Ulta Beauty
Regal Cinemas
Where to Buy Happy Birthday Gift Cards
Happy Birthday gift cards are sold online and in most major grocery stores. Look for them in the gift card display, usually found at the end of the aisle. You soon can also buy Happy Birthday gift cards here at GiftCards.com.
Benefits of the Happy Father's Day Gift Card
As mentioned previously, the primary benefit of the Happy Birthday gift card is that the recipient has a choice of how to spend the funds on the card and the giver doesn't have to pay extra to provide that freedom. Also, the gift card can be spent at more than one merchant if the gift card balance allows.
So, for example, the recipient could use the Happy Birthday gift card to celebrate with a birthday brunch at Panera, a matinee at Regal Cinema and a quick shopping trip to Macy's. Or the recipient can spend it all on an evening of entertainment at Dave & Busters. You really don't get that type of flexibility with any other type of gift card (without paying extra) and I dig that.
Make it a Happy Birthday Gift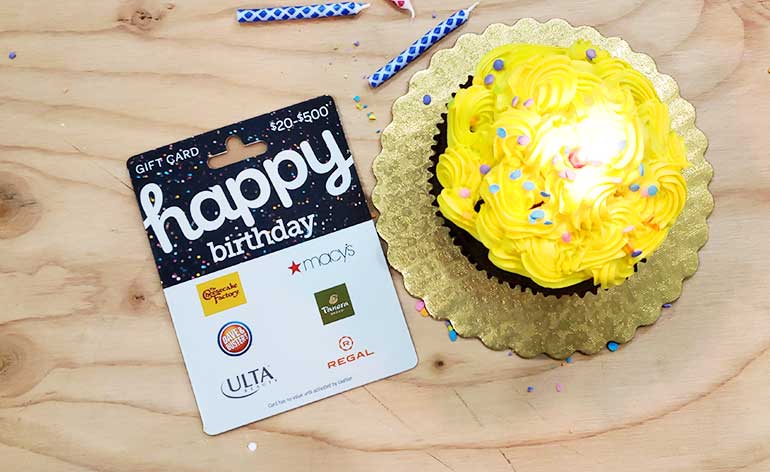 Although you can put a Happy Birthday gift card in a greeting card, I often like to pair my gift cards with a little something extra for a personal touch. Here are just a few suggestions:
Happy Toes – Pair a Happy Birthday gift card with a DIY pedicure set that includes a nail polish, buffer and a foot scrub. The birthday recipient can do a little at-home pampering before going out to celebrate with the gift card.
Happy Sweet Tooth – When you're at the grocery store buying the Happy Birthday gift card, pick up a birthday cake and some candles as well. Or pick up a favorite treat. I said "sweet," but you could grab chips and salsa instead. The point is, you're at the grocery store getting the card, so you might as well turn it into a complete gift and pick up the party refreshments too.
Happy Memories – Tuck the Happy Birthday gift card into a photo frame or album. When you all go out to celebrate, snap a few pictures that can be printed and put into the frame afterwards. Or find a picture on social media that you can print and frame before you arrive.
If Your Happy Birthday Gift Card Isn't Working
Here are a few things to know about Happy Card gift cards.
In general, Happy Cards must be used in stores—not online or by phone. When you get to the cash register, make sure to run the gift card as a "credit" transaction. And remember, the gift card can be used at more than one store on the card if the balance has enough money to cover the purchases. Finally, remember that sometimes the brands on Happy Card gift cards change. So, whatever brands are shown on the Happy Birthday gift card you have, is where the gift card can be used.
Read this post for more details on what to do when a Happy Card doesn't work.
Need more help?
Check the balance of your Happy Card
Contact Happy Cards customer service
Another Happy Birthday Gift Card

For the ultimate gift card of choice plus personality, make a custom Visa gift card that can be used anywhere Visa debit cards are accepted. You will pay a purchase fee for that flexibility, however. And this card must be ordered in advance unless you want to pay more for expedited shipping.
See more custom birthday gift cards here.
More Gift Card Questions
If you have other questions about Happy Card gift cards, the new Happy Birthday gift card or gift cards in general, reach out to me in the comments below, on Twitter (@GCGirlfriend) or on Instagram (@Gift.Card.Girlfriend).
Happy Gift Carding!
~Shelley Hunter, Gift Card Girlfriend