Put Happy Card Gift Cards in your next gift card basket for an easy way to make your fundraiser donations more fun!
Fundraiser Gift Baskets
My son's football team is holding its annual fundraiser so naturally parents are expected to donate items that can be raffled off for prizes or auctioned off at a silent auction. With the launch of our Happy Card Gift Cards, I thought it would be fun to create a bunch of baskets for this event. With Happy Card Gift Cards, picking a theme for each basket is a cinch. Since this is a family fundraiser, I made four gift card baskets: Happy Guy, Happy Lady, Happy Teen and Happy Kid. Keep reading to see what I put in each one.
If you're looking for more gift card baskets, gift card trees, gift card wreaths and other fun ways to put gift cards together for a fundraiser, you can also follow Gift Card Girlfriend on Pinterest and look for the Gift Card Trees and Gift Card Wreaths board. I have many fun ideas there as well.
Tips on Donating Gift Cards for Fundraisers
Before we get started on the Happy Card Gift Card baskets, I want to give you a few tips on donating gift cards for fundraisers and other charitable events. First I will talk about why gift cards are great items to donate and then I will give you some suggestions on ways to make sure your gift card donation is a popular item at the auction.
Why Gift Cards Make Great Donations
I used to help small businesses start gift card programs. One of my clients said that he wanted to have a gift card available so he could donate something other than products to local schools, sports programs and charities when they solicited his help. Up to that point, he donated products–sometimes he put products in a gift baskets that he created, other times he threw goodies in a bag for the fundraising committee to distribute as they liked. In either case, he donated the items and never knew what happened after that. When he started to donate gift cards, however, he could see that doing so increased his brand visibility in the community and brought new customers through his doors because the person who bought or won the gift card had to come into his shop to redeem it.
Unlike products and services that might not sell for what they are worth, I find that gift cards generally get auctioned off for face value or more. Early bidders often look to buy gift cards for less than face value, but the winning bidders often pay exactly what the gift card is worth or a little more. So buying a gift card at face value (or a little more) at an auction is a nice way to donate to a cause without having to dig too deep in your own pockets.
To be clear, donating is donating. People buy items at fundraisers to support the cause or group that is putting on the event and companies donate similarly. The items you give to a fundraiser do not have to provide any additional benefit, but I think it's nice when they do.
How to Make Your Gift Card Donation Stand Out
As you might guess, when asked to make a donation to a fundraiser or other charitable cause, gift cards are my go-to contribution. I do this both because I love gift cards and frequently have them available, of course, but I also donate gift cards because it gives the organization some flexibility in how they use the item given. Many fundraising committees take the gift cards I donate and put them into themed gift baskets. Others turn the gift cards into raffle prizes. And still sometimes the gift cards are used to purchase other items needed to put on the event–such as decorations, food or other supplies. The person who buys or wins the gift card also gets to choose how he or she spends the gift. I love this flexibility!
With gift cards being an increasingly popular item to donate to a fundraiser, you might be wondering how to make your gift card stand out from the others and possibly bring in more money than the face value of the card. Here are some fun ways to donate a gift card to increase those bids!
1. Put a Gift Card into a Themed Basket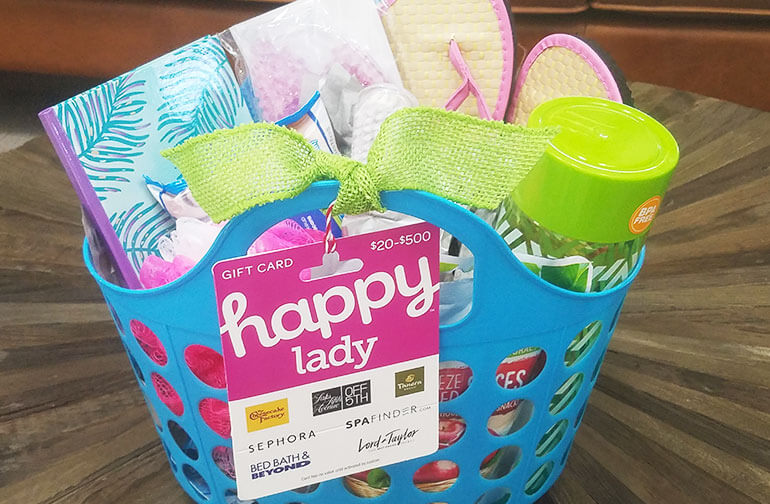 Gift card baskets help gift cards sell for more than face value. But buying a basket and other accessories to go into the total donation can be costly so either raise the starting bid of the basket, list out all of the items included in the basket (so recipients know how much they are getting) or use inexpensive items to fill the basket instead. That's what I did with these Happy Card Gift Card baskets. I went to a local dollar store to put these baskets together. The total cost of each Happy Card Gift Card basket was about $10 each plus a $50 Happy Card Gift Card, which is what people will really be bidding on.
2. Donate a Collection of Gift Cards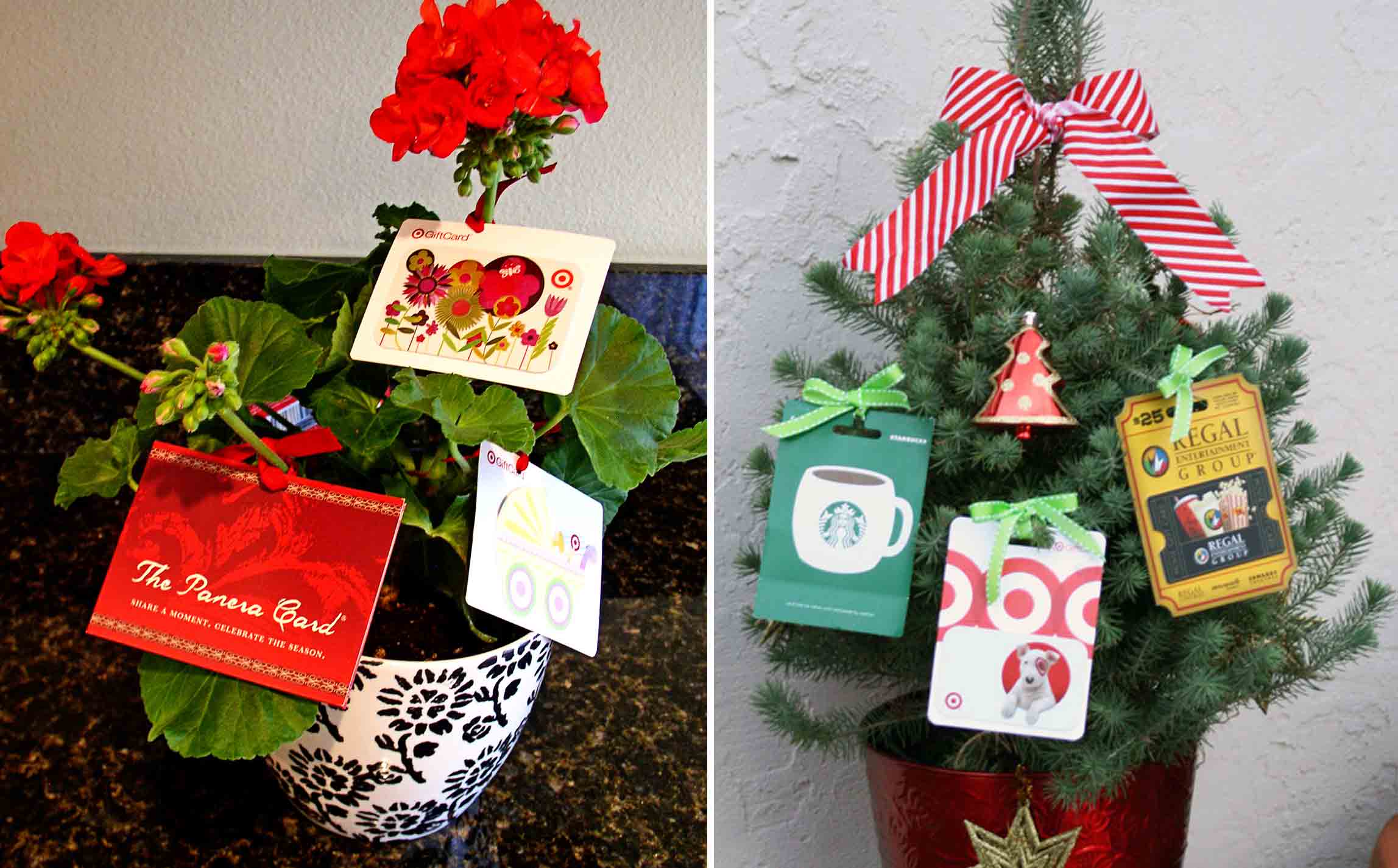 Another way to up the presentation value of your gift card donation is to give the collection committee a bunch of gift cards that can be auctioned off together like those pictured above. Here's another idea. Take a look at this gift I gave to my daughter on her 17th birthday. It's a collection of gift cards on a jewelry stand. You can also check out this collection of gift card trees and wreaths for more creative ways to group gift cards together into a single donation. Donation a collection of gift cards makes a fun display, will increase bids as people realize they are getting several gift cards to spend and you can group less popular gift cards with the ones everybody wants to increase the overall amount the donation can raise.
3. Donate a Personalized Gift Card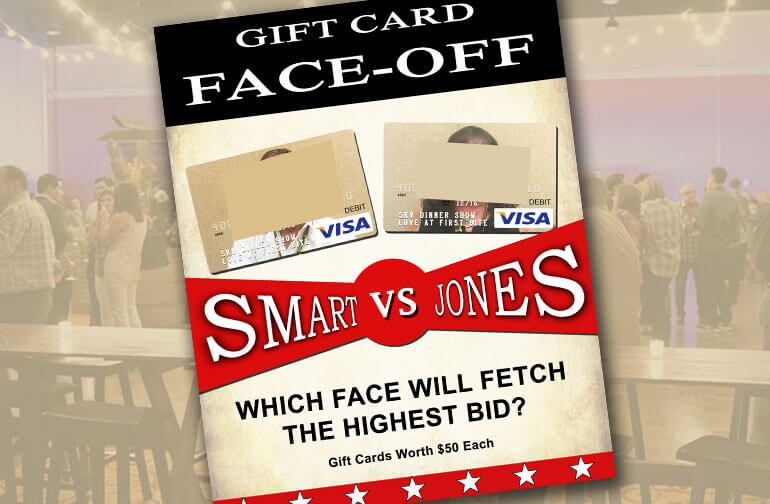 Personalized gift cards are my absolute favorite gift cards to give. With the flexibility that only Visa gift cards, Mastercard gift cards and other bank-issued gift cards can provide, the recipient gets the freedom to shop nearly anywhere he or she wants. With a custom photo on the card, the experience is even better!
I have donated personalized gift cards in three ways. The first is that I have selected a picture of the kids who will benefit from the fundraiser and used that image to create a custom Visa gift card for the auction. The second is that I showed an example of a personalized Visa gift card but did not order the actual card until the auction winner sent me the picture she wanted on the card. And finally, I once created a competition to see which personalized gift card would fetch the highest value!
Shown above, I made a Visa gift card with a picture of the choir director on one card and a Visa gift card with a picture of the beloved choir pianist on the other (with their permission). Then I made a "boxing match" style poster with the words "Face Off!" on it and a description of the two cards. The donation drew a great deal of attention. The choir director and the pianist are very good friends so they enjoyed the competition throughout the event and it was fun to watch the kids run to the table to see who was winning as the night progressed.
You could make a similar competition with a gift card for the Varsity team and one for the Junior Varsity team. Or make a gift card for each class at the school and see which class raises the most money!
Happy Card Gift Card Baskets
Ok, let's get back to the Happy Card Gift Card baskets I created for my son's football team fundraiser. In the steps below, I'll show you what I put into each gift basket and how it matches up with the crown jewel of each basket–the Happy Card.
Happy Lady Gift Card Basket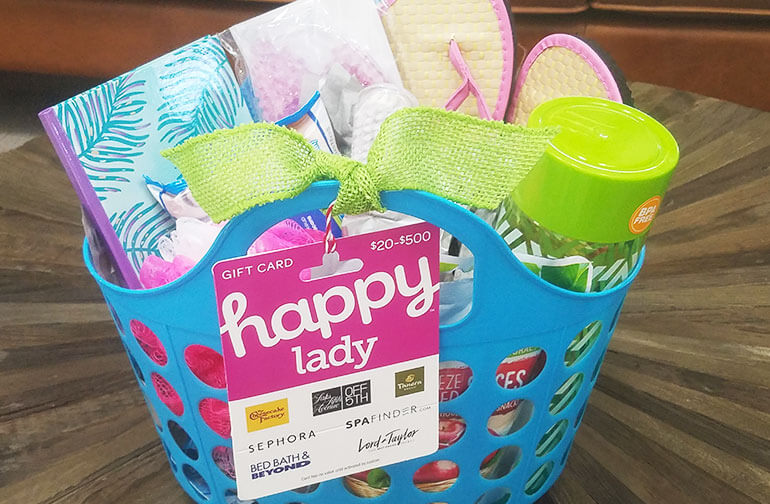 The Happy Lady Gift Card is redeemable at The Cheesecake Factory, Saks Fifth Avenue Off 5th, Panera Bread, Sephora, Spafinder.com, Bed Bath & Beyond and Lord & Taylor. To this fun selection of gift cards, I added spa and pampering supplies like flip-flops, bath salts, a cooling mask and other relaxing essentials. I also added a few healthy snacks.
The Happy Lady gift card is no longer available. But you can look for other multi-store gift cards.
Happy Guy Gift Card Basket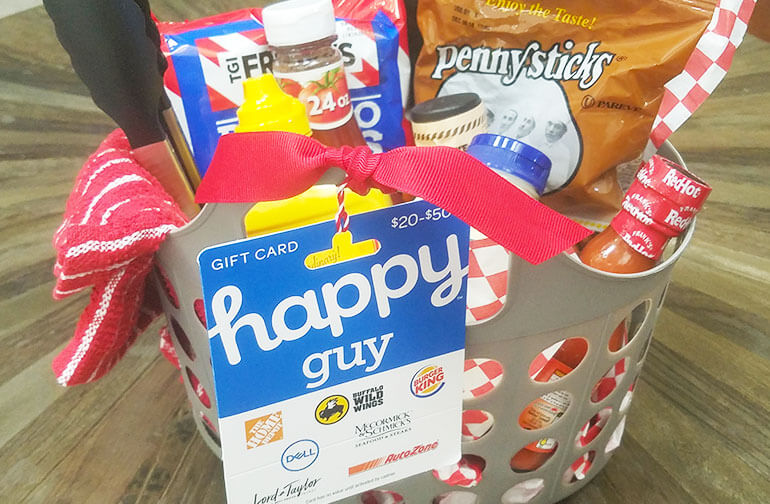 The Happy Guy Gift Card is redeemable at The Home Depot, Buffalo Wild Wings, Burger King, Dell, McCormick & Schmick's, Lord & Taylor and Autozone. Though there are many ways I could go with this "guy theme," I went with the stereotypical barbecue theme because I wanted someone to walk up to this basket and immediately know it would be geared towards men.
I chose a variety of barbecue essentials such as a pair of tongs, a variety of condiments, barbecue sauce and so forth. You could alternatively focus on some other guy-like essentials such as home improvement items or car items. I just thought those would be more expensive and I did not want to spend a great deal more than the value of the Happy Guy Gift Card.
Buy a Happy Gift Cards.
Happy Teen Gift Card Basket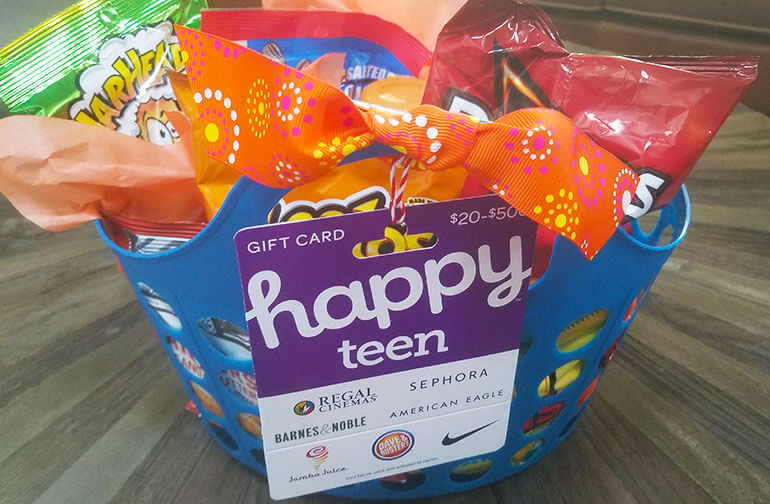 This Happy Card Gift Card is one of my favorites. It's called the Happy Teen Gift Card and so far it is hitting a homerun with each of the teenagers I've talked to. Because it is redeemable at Regal Cinemas, Sephora, Dave & Buster's, Nike, Barnes & Noble, Jamba Juice and American Eagle, the variety seems to have a little something for everyone. From movie tickets to cosmetics and workout gear to smoothies, I think this gift card will be very popular for older kids and young adults as well.
To make this Happy Teen Gift Card basket, I just loaded the basket up with junk food that I know kids this age enjoy. I added chips, gum, candy and cookies. I know it isn't a healthy basket, but it's full of all the popular sour, sweet and flaming hot flavors that teens enjoy.
Buy a Happy Teen Gift Card.
Happy Kid Gift Card Basket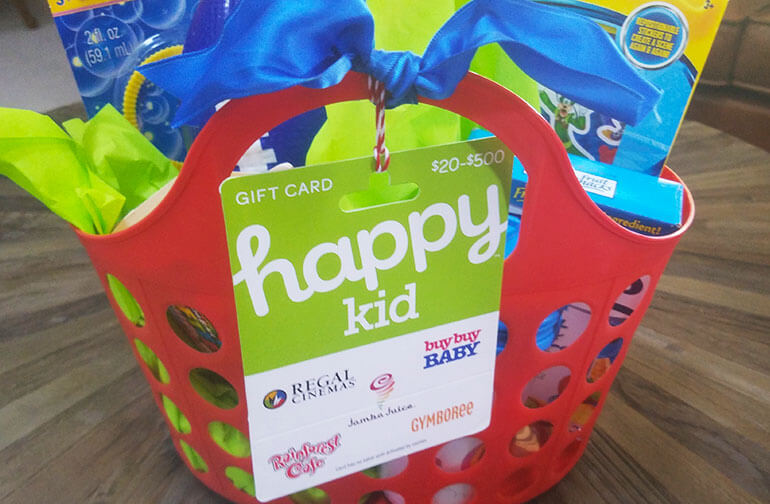 Lastly, I put together a Happy Kid Gift Card basket for the fundraiser that I am hoping families will want to take home. This basket is filled with toys and games for younger kids such as a foam football, bubbles, stickers and a few other activities. The Happy Kid Gift Card is redeemable at Gymboree, Jamba Juice, Rainforest Cafe, Regal Cinemas and Buy Buy Baby. That takes care of dinner, a movie and some baby gear essentials all in one gift card. If you know someone who is about to have a baby or who already has a toddler or two, this gift card is a fun gift.
More Happy Card Gift Cards Available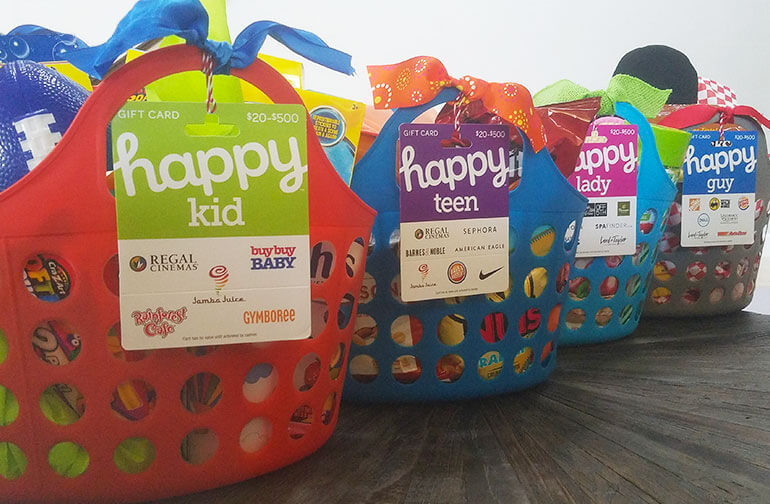 I picked the Happy Card Gift Cards above because I was thinking the auction committee could auction the baskets separately or group them into a family and make this one larger item. But we have several other Happy Card themes available. Check out the Happy Card Gift Cards we are selling here on this site. I am sure you can find one that inspires to you create other fun fundraiser baskets.
If you have other suggestions for auction-style gift card baskets or you have ever donated gift cards in a fun, unique way that others should know about, please share in the comments below or contact me on Twitter (@GCGirlfriend). I would love to be inspired by your creativity.
Happy Gift Carding!
~Shelley Hunter, Gift Card Girlfriend