Happy Card gift card balances can be split across brands and you can use a small balance left on a Happy Card if it's less than the total amount due.
Watch this video to see which Happy Cards these teens think are the best.
Happy Cards Give Choices
Before I explain how Happy Cards can be split across the stores and restaurants listed on the cards, I want to remind you that the reason I love Happy Cards so much is that these cards give consumers more choices without fees.
Prior to the launch of Happy Cards, introduced by Blackhawk Network (parent company of Giftcards.com), consumers generally purchased either closed loop gift cards (gift cards only good at a single store or restaurant) or they gave bank-issued, open-loop gift cards such as Visa gift cards, Mastercard gift cards and so forth.
A store gift card is economical because you only pay the dollar amount that you choose to load onto the card, but the card is limiting in that it can only be redeemed at the store or restaurant that issued the card. Visa gift cards, on the other hand, can be used wherever Visa debit cards are accepted, but you pay more than the value of the card in order to have this flexibility.
To be fair, there are some other cards that give choices such as brand family gift cards. These are gift cards that can be used at any of the stores under a parent company (e.g. Old Navy gift cards are redeemable at Gap, Banana Republic, Athleta, etc.) Brand family cards offer a slightly wider selection of stores without any additional cost. Shopping mall gift cards such as the Simon Mall Visa can be used at any of the stores in the Simon Malls (and actually beyond that), so the card is versatile, but it does cost extra. As much as I scour available gift cards, I can assure you that Happy Cards are truly the first of their kind.
Where Can Happy Cards Be Redeemed?
Happy Cards are redeemable at stores and restaurants that are not connected in any other way. The companies listed on the cards are partners of Blackhawk Network that signed up to be part of the Happy Card program…which makes me happy! I love that we can give recipients a wider selection of ways to use the gift cards they receive.
The initial set of Happy Cards includes the following:
Happy Lady: The Cheesecake Factory, World Market, Chili's, Sephora, Spafinder.com, Bed Bath & Beyond and Macy's
Happy Teen: Regal Cinemas, Sephora, Dave & Buster's, Under Armour, Barnes & Noble, Jamba and American Eagle
Happy Student: World Market, Bed Bath & Beyond, Buffalo Wild Wings, Ulta Beauty, American Eagle, Express and Aerie
Happy Bride: Bed Bath & Beyond, David's Bridal, Ulta Beauty, JCPenney and SpaFinder
Happy Dining: The Cheesecake Factory, McCormick & Schmick's, Red Lobster, Buffalo Wild Wings, Cracker Barrel and P.F. Chang's
Happy Eats: Jamba, Panera Bread, Dave & Buster's, Cold Stone Creamery and Burger King
Can You Split the Balance of Happy Card Gift Cards?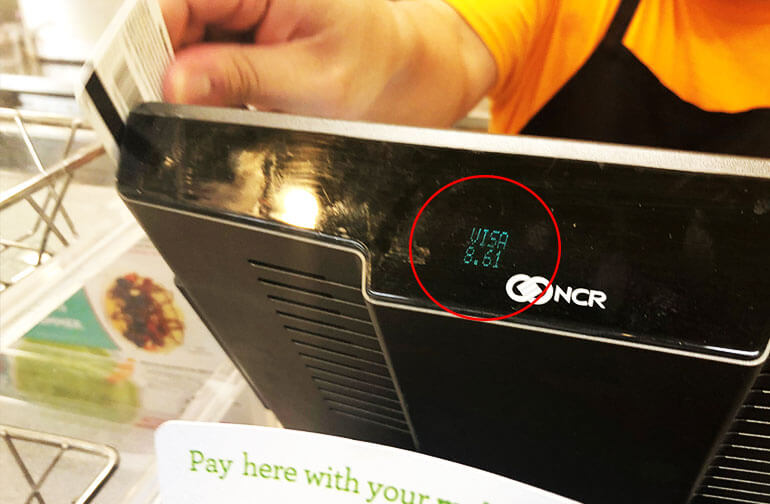 Yes! Another great thing about Happy Card Gift Cards is the recipient can split the balance of the card across any of the merchants listed on the card.
With the Happy Eats Gift Card, for example, you could use the card to buy breakfast at Panera, a smoothie at Jamba Juice and a milkshake at Burger King. As long as you have enough money on the card to make each purchase, you can split the balance of the card any way that you want.
In this blog post, I show you how I used a Happy Kid Gift Card online at Regal Cinemas. Then I used the remaining balance of the Happy Kid Gift Card in a Jamba Juice store. That's one card used at two completely different merchants. That's why I love Happy Cards so much!
What if the Happy Card Balance is Less than the Purchase?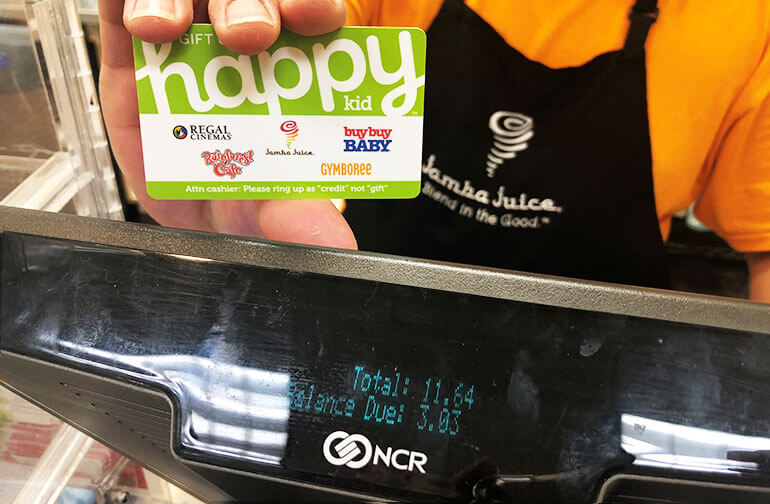 To make a purchase when the Happy Card Gift Card balance is less than the total transaction, you need to tell the cashier that you would first like to pay with your Happy Card. Tell the cashier exactly how much money is on the card and that it needs to be run as a "CREDIT" transaction. Once that card clears, you can pay the rest of the amount due with another form of payment.
Here's an example of how I used the remaining balance of my Happy Card – it's called a "Split Tender" transaction.
Here's how to check the balance of your Happy Cards: Call 1-855-606-3494 or visit HappyCards.com.
What is a Real Life Experience with Happy Cards?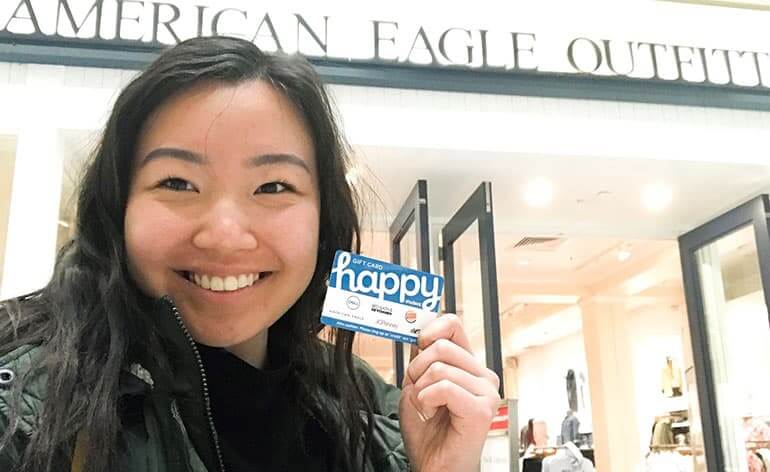 Don't take my word for it. Check out this college student's review of the Happy Student Gift Card. She had a mostly positive experience but shares frustration at not being able to use the card online and needing to walk the cashier through the first-time experience.
More Questions about Happy Cards
If you have more questions about Happy Cards Gift Cards, read this blog post on what to try if your Happy Card Gift Card doesn't work or just add a question to the comments below. I would love to help you out.
Happy Gift Carding!
~Shelley Hunter, Gift Card Girlfriend