The perfect gift card for graduation can be used at multiple stores and restaurants—giving graduates a choice of how to spend their time and money.
The New Happy Graduation Gift Card
For the past year, I've been sharing news about a new collection of gift cards called Happy Cards.
Happy Card gift cards are unique in that each style of Happy Card is usable at a curated list of stores and restaurants, but the mix of brands on each style differs. For example, the Happy Teen gift card is currently usable at Sephora, Under Armour, Jamba and other stores and restaurants teens might enjoy. The Happy You eGift card is currently usable at The Cheesecake Factory, GameStop, P.F. Chang's and other places that people on the go might like.
The primary benefit offered by Happy Cards is that recipients can choose where to use their gift cards from a handful of places, but givers don't pay extra to deliver that freedom. If you spend $50 on a Happy Card, for example, the entire amount gets loaded onto the card.
By comparison, if you load $50 onto a Visa gift card that can be used almost anywhere, you'll spend a few more dollars to pay for purchase activation. I think the Happy Card is a nice option when you want the recipient to have some choices, but you don't want to pay any additional fee for true flexibility.
For Graduation, the Happy Card team launched a new digital gift card called, "Happy Graduation."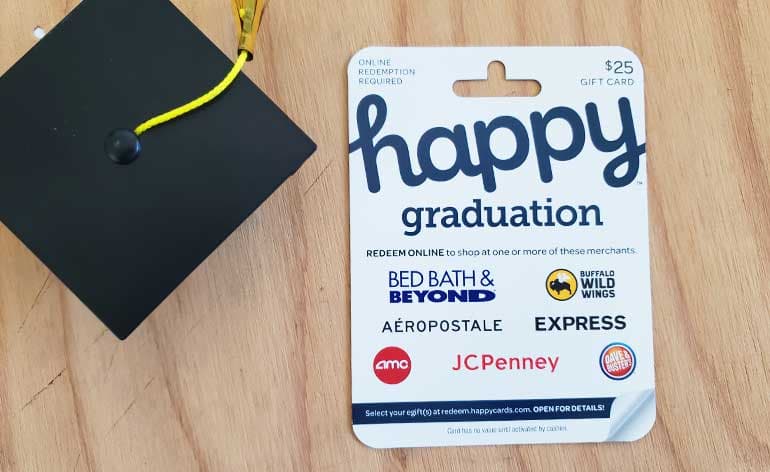 This egift card is usable at a nice selection of stores and restaurants that graduates are likely to shop at in the days or weeks following this big life-event.
The initial launch of the Happy Graduation card includes the following stores and restaurants:
Bed Bath & Beyond
Buffalo Wild Wings
Aeropostale
Express
AMC
JCPenney
Dave & Buster's
Where to Buy Happy Graduation Gift Cards
Happy Graduation gift cards will be sold online and in most major grocery stores from the end of April through the end of June. Look for these seasonal gift cards on a specially marked display in your local grocery store.
You can soon buy Happy Graduation gift cards here at GiftCards.com as well.
Benefits of the Happy Graduation eGift Card
While every grad is different, the Happy Graduation eGift card is designed with the hope that there will be at least a few brands on each card that appeal to every recipient. In this case, high school graduates heading off to college, for example, might want dorm accessories from Bed Bath & Beyond and clothes for their freshman year from JCPenney, Aeropostale or Express. College graduates might need similar items from those same stores to leave student life behind and head out into the workforce. And, of course, almost any graduate can use a Happy Graduation eGift card to celebrate at one of the restaurants listed on the card.
So, if you aren't sure what gift card to get for a graduate, this egift is a great solution.
And, keep in mind, the Happy Graduation eGift card can be used at more than one business, if the dollar loaded onto the card allows. For instance, grads can use the Happy Graduation eGift card to pick up dinner at Buffalo Wild Wings and still pay for a movie at AMC.
How to Redeem a Happy Graduation eGift Card
Unlike the plastic Happy Cards, the Happy Graduation eGift card is a digital experience that requires the recipient to swap the graduation eGift card for one or more of the merchant eGift(s) listed on the card. Here's how it works:
Buy the Happy Graduation eGift card online or in your local grocery store.
Go to redeem.HappyCards.com to select where you want to use the eGift card.
You can divide the card value however you want—swapping it all for a single merchant or selecting a mix of merchants. (The minimum load value for each swapped card varies by brand.)
For each merchant eGift card selected, you'll receive an eGift card via email. That eGift card be used online or in merchant stores.
If you want to see a video of how this works, check out my post on the Happy You eGift card. The process is the same, though the title of the egift card and the mix of brands are different.
Make it a Happy Graduation Gift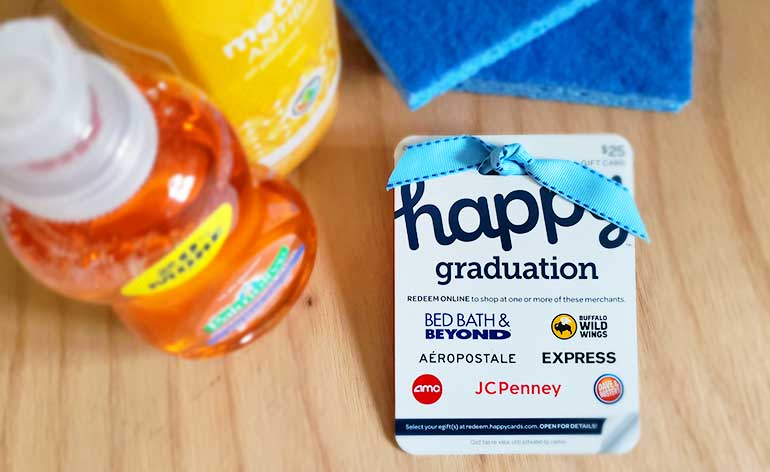 I generally like to deliver my gift cards with a little something extra for the recipient to enjoy in the moment. With graduates, this probably isn't necessary because students are often cash-strapped and grateful for any money or gift card received. But if you're inclined to make your graduation gift a little more personal, try adding a Happy Graduation eGift card to something graduates need going into the next phase of life.
Here are some suggestions:
Happy Trails – Tie a Happy Graduation gift card to a jar of trail mix and other study snacks and write, "Happy Trails" on a gift tag.
Happy Adulting – Tie a Happy Graduation gift card to a jug of laundry detergent, stain remover, a toilet brush or other cleaning supplies. Write, "Happy Adulting" on the gift tag.
Happy Break – Whether the graduate is heading out into the workforce, going off to college or backpacking across Europe for the next few months, a much-deserved break is in order. Deliver a Happy Graduation eGift card tucked into a travel journal or a sleeping mask.
If Your Happy Graduation eGift Card Isn't Working
The most important thing to remember about Happy Card eGift cards, is that you cannot take these cards directly to the stores or restaurants listed on the cards. You have to first swap the Happy Card egift card for the merchant egift card(s) you want.
Although this takes an extra step, I like that you receive merchant eGift cards in return because those can be used online and in stores. Physical Happy Cards mostly only work in physical locations, but the swapped eGift cards can be used anywhere that brand takes payment. For example, you can use the Bed Bath & Beyond gift card online or in their stores—and you can even stack your Bed Bath & Beyond coupons on top of the transaction to save a little money.
Read this post for more details on what to do when a Happy Card doesn't work.
Need more help?
Check the balance of your Happy Card
Contact Happy Cards customer service
Another Graduation Gift Card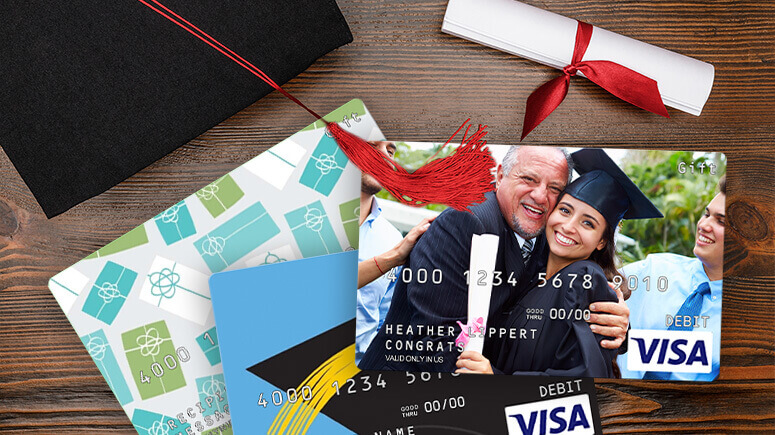 For the ultimate gift card of choice, make a custom Visa gift card using a picture of your new graduate. Both the Visa and Mastercard gift cards can be used anywhere those bank-issued brand debit cards are accepted. You will, however, pay a purchase fee for that flexibility.
Since Happy Cards have no purchase fee, you can give a grad a few choices of how to spend the gift card without the additional cost.
Here are some other custom graduation gift cards to consider.
More Gift Card Questions
If you have other questions about Happy Card gift cards, the new Happy Graduation gift card or gift cards in general, reach out to me in the comments below, on Twitter (
@GCGirlfriend
) or on Instagram (
@Gift.Card.Girlfriend
).
Happy Gift Carding!
~Shelley Hunter, Gift Card Girlfriend