Tips, freebies and insight on the hottest gift cards of the 2019 holiday season.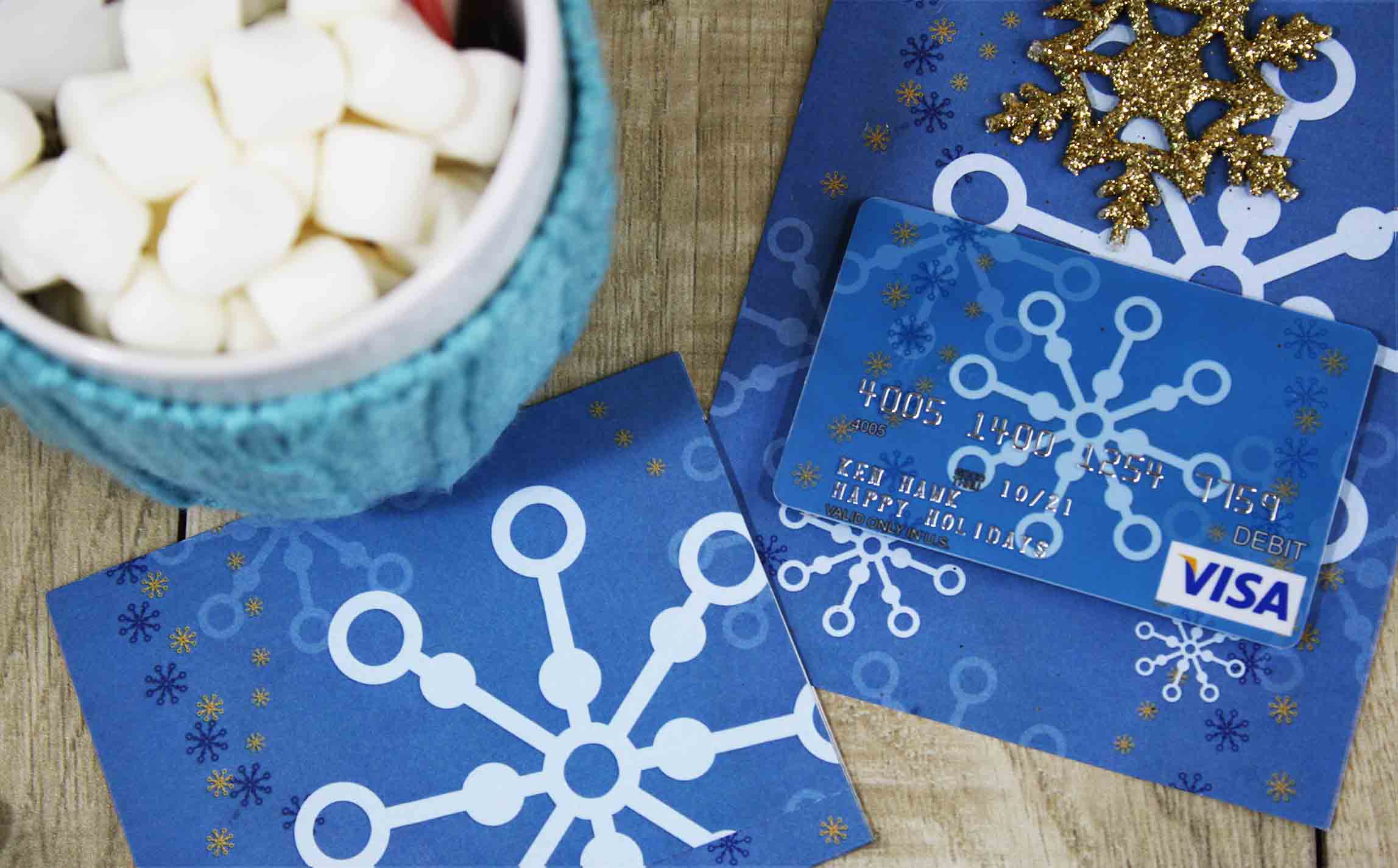 What's Inside
What's Hot in Gift Cards for 2019?
Free Holiday Gift Card Holders
---
What's Hot in Gift Cards for 2019?
Two types of gift cards will be popular this holiday season. The first is electronic gift cards, or egift cards, which are cards sent digitally, sans the plastic. With the number of egift cards available rising year after year, this category is reported to be the fastest-growing segment in the gift card industry. The second type of gift card you'll hear about this season is experiential gift cards. As social clout trumps "things" these days, giving someone an adventure or an outing (or even a meal) that is tweet-worthy will be trending.
eGift Cards

Electronic gift cards, also known as egift cards, digital gift cards, mobile gift cards and virtual gift cards, all refer to "cards" that are delivered using technology such as e-mail, social media and smartphones. eGift cards come in different forms but are similar in that there is no card to swipe at the register. So to redeem an egift card, the recipient must print the digital version to give to a cashier at the store, present it at the register on a smartphone or simply use the gift code online. The primary benefits of sending gift cards electronically are that the cards can be personalized, delivered free of charge and will arrive on time, even if sent the same day. Read Gift Card Girlfriend's Complete Guide to eGift Cards. See how Gift Card Girlfriend Ranks Top Store eGift Cards. Check out the Recap on What's New for eGift Cards in 2019.
---
Experience-Based Gift Cards

Experience-based (or "Experiential") gift cards can be as simple as gift cards to the movie theater or as extreme as gift cards for skydiving lessons. Some cards even let the recipient choose from a selection of experiences that range from thrill rides, to upscale restaurants, to exotic travel. If given in the right context, gift cards that can be used anywhere (e.g. Visa gift cards) can be experiential as well, because the card itself isn't the gift–it's the experience you'll have as a result of using it. Be prepared this holiday season to "hear" about the adventures people have from using their gift cards. There's no way grandpa is going bungee jumping without somebody in the family sharing it on Vine. Read Gift Card Girlfriend's Top Experiential Gift Cards for more ideas.
---
"Top 10" Holiday Gift Cards
Wondering what gift cards to buy for friends and family this holiday season? Check out the posts below. For each category, you'll find my picks for the ten best retailer gift cards as well as the types of gift cards that work best.
---
Free Holiday Gift Card Holders
Remember when buying a present also meant buying a box, gift wrap, ribbon and tissue? Gift cards changed that. We went from folding "clean seams" on wrapping paper and adding Tiffany-style bows to turn ordinary gifts into something special, to throwing plastic in a greeting card and calling it "done." The lackluster presentation, I believe, is the main reason people started to regard gift cards as impersonal. To change this, we should put the same amount of effort into presenting gift cards as we used to put into delivering traditional presents.
Using Gift Card Girlfriend's "Gifting Made Easy" 2019 holiday collection or free, downloadable gift card holders, you can turn any gift card into a thoughtful gift–in no time!
---
Gift Card Tips
With gift cards being the most-requested gift on holiday wish lists year after year, consumers need help picking out the best gift cards, knowing how much money to load onto a gift card and what to do with unwanted gift cards. I can help with all of that and more. Below are a few quick tips.
| | |
| --- | --- |
| BEFORE the Holidays | AFTER the Holidays |
| | |
---
About Gift Card Girlfriend
From gift card tips and practical advice, to inspiring ideas and insights into the gift card industry, Shelley Hunter, Gift Card Girlfriend and spokesperson for GiftCards.com, is your go-to guide. As a gift card expert, she can address any gift card question or concern you have, plus share her signature way of turning gift cards into thoughtful, personalized gifts.

Learn more about Gift Card Girlfriend.

Happy Gift Carding!

~Shelley Hunter, Gift Card Girlfriend