Results from a study of the egift card programs from over 134 top stores and restaurants.
Early this year, I published Gift Card Girlfriend's Complete Guide to eGift Cards and, as a part of that process, reviewed egift cards from top merchants across the country. In studying over 134 of the nation's most popular stores and restaurants (plus online merchants and gift card apps), I found that while a few merchants have egift card programs firmly in place for the 2014 holiday season, a great many more do not. Additionally, only a smaller subset of those retailers who have egift cards available offer customers the features needed to make digital gift cards feel personal.
In the Infographic below, you'll find a summary of the features reviewed, the top 20 stores with the best egift card features available, the best egift card programs by category and some overall findings derived from aggregating the research. (You may be surprised to find, for example, that only one merchant (Sports Authority) allows customers to Tweet a gift card from a mobile phone. Currently, the Starbucks "Tweet-a-coffee" only works from their website.)
To see how your favorite store stacks up, read the complete egift card ranking.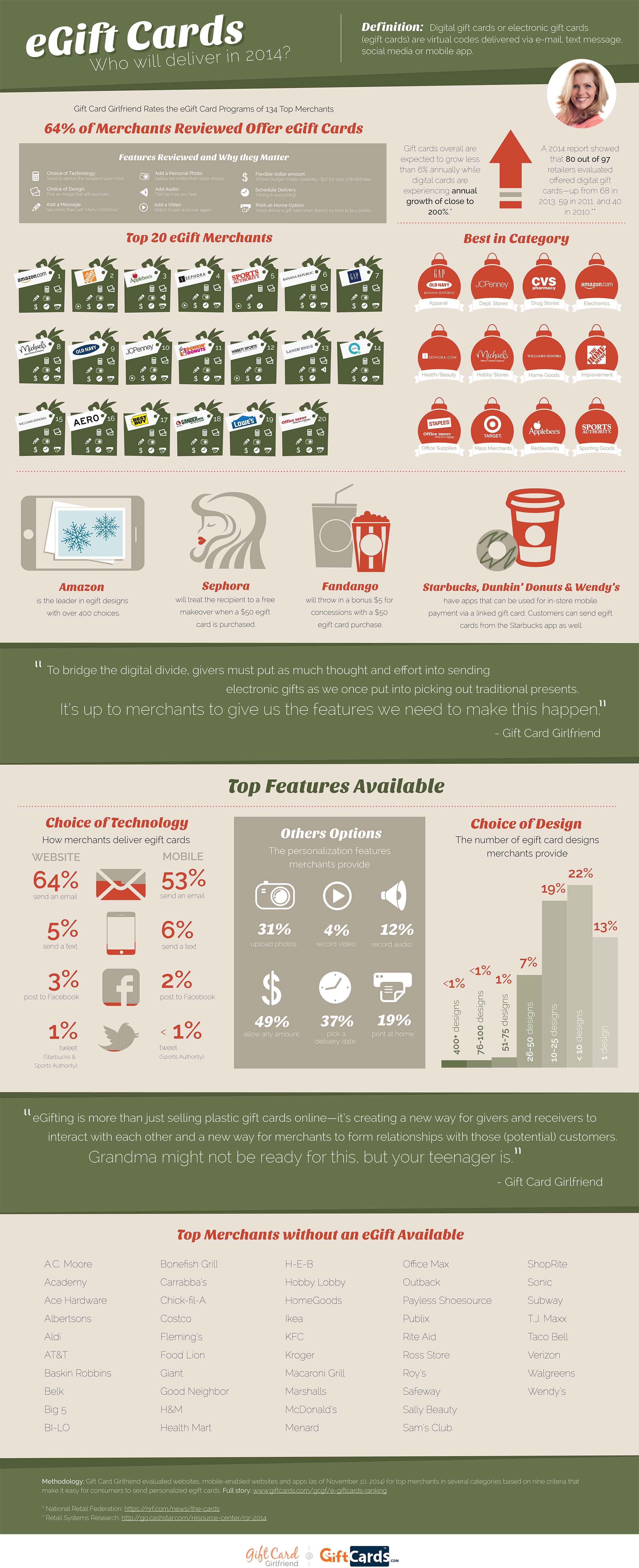 Share this Image On Your Site
Is it Too Late?
Unlike plastic gift cards that have to be printed, shipped, and displayed well before the holidays are underway, digital gift card programs are fluid so they can be altered electronically at the last-minute, just like egifts can be purchased and delivered in the nick of time.
As we dive deeper into the holiday season, retailers may still be scrambling to add improvements. JCPenney, for example, had a poor egift card program when I first reviewed their website. mobile site and mobile app in October. (I mean, their program was the worst of the worst–the customer had the choice of one logo design on a virtual card that had to be sent to the giver's email address then forwarded on to the recipient.) Less than a month later, however, this merchant has moved to "Best in Category" for Department Stores by outsourcing their gift card program to a company I believe is doing right by digital. Now JCP customers can add photos and videos to their egift cards, email the virtual cards directly to recipients, schedule delivery or print the gift cards at home for personal delivery. Compare their new solution to the forwarded email option previously provided, and you'll understand why I think the above features play a big role in making electronic gift cards more personal.
A Growing Opportunity
Like JCP of old, other merchants are also guilty of simply placing an image of a gift card on their website and calling it digital. That's not enough. eGifting is more than just selling plastic gift cards online, it's creating a new way for givers and receivers to interact with each other and a new way for merchants to form relationships with those (potential) customers. Older generations might not be ready for this new model, but younger generations who have their electronic devices with them at all times prefer mobile gift cards to the physical ones.
So while the move to cyber-gifting may take merchants through some growing pains, they might as well mature their programs right alongside the young shoppers who are most likely going to be using the technology. That means not only giving these customers a positive technical experience (easy to send, easy to retrieve, easy to redeem), but giving them a personal one as well. Do you have a merchant you want me to review or a feature you think I've missed? Add a note to the comments below or send me a message on Twitter (@GCGirlfriend) so I can check it out. Happy Gift Carding!
~Gift Card Girlfriend