Turn a jewelry stand into the most fun gift card tree you will ever give to a teenager. With monogrammed gift card tags, it can say anything you want.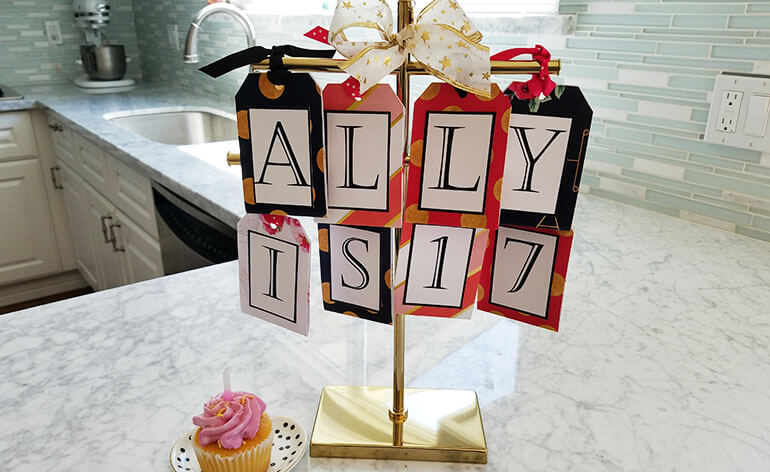 The Perfect Gift for a Teenager
My daughter recently turned 17 years old. In trying to figure out what to get her for her birthday, I had to go back and read through some of my own advice.
I debated giving her cash, but she has a job so she generally buys whatever it is she wants with the money she earns. Any cash I gave her would have simply been deposited into her bank account. Though it is fun to see your bank balance grow, it is not THAT fun to open a check on the morning of your birthday…unless it is a really BIG check, which this would not have been.
So then I thought about clothes and makeup. My daughter dresses better than me and knows far more about makeup than I do so picking out the right items in the right sizes, styles and colors would be about as easy as getting through dinner without one of my teenagers rolling their eyes at me. You know where this is going, right?
I am passionate about gift cards, but like everybody else, I frequently consider other gifting alternatives before turning to my trusty pals. Gift cards are my gift of choice for ease and convenience, but I like to think I am a thoughtful gifter above all else. If something besides a gift card makes sense, then I will get that every time. I just rarely find that anything is better than giving someone the gift of getting to pick out something they really love or want.
Now back to the birthday girl.
How to Make a Gift Card Tree
Rather than just one gift card, I wanted to get my teenage daughter a collection of gift cards for a few reasons. First, I wanted her to have more than one gift to open on her birthday. Second, I thought it would be fun for her to have multiple fun shopping adventures. And finally, by choosing gift cards to the places she loves, I knew she would see this gift as very personal–or personalized just for her.
Once I decided to give her a collection of gift cards, I next needed to figure out which gift cards to get her and how to deliver them. Below are the steps I took to turn a jewelry stand into a gift card tree for a teenager.
1. Decide What to Put the Gift Cards On
Some of my favorite group gift card collections are presented on gift card trees or gift card wreaths. If I were going to a party or delivering a group gift card to a teacher, then I would definitely use a live tree, plant or flowers. For my teenager, though, I wanted to hang the gift cards on something a little more functional.
I found this necklace stand at Target. There are many designs in stores and online as well. I liked this particular jewelry stand because it had two bars and it stood high enough that I could hang several gift card holders from each bar.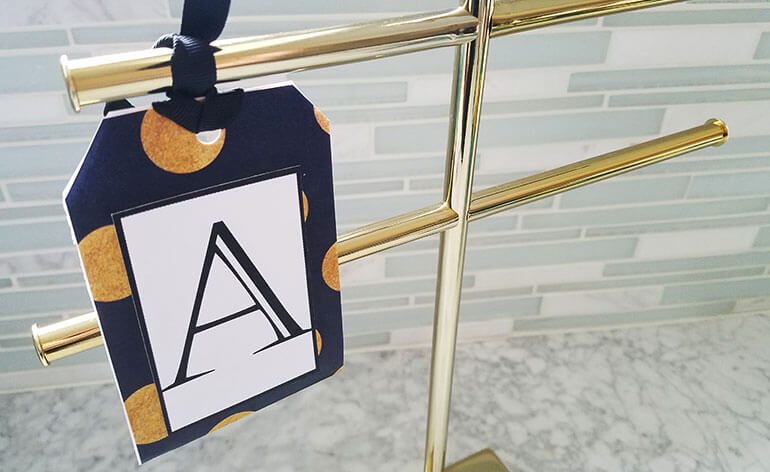 2. Make Monogrammed Gift Card Tags
The next thing to do is decide how to attach the gift cards. I think it is perfectly fine to clip the gift cards onto a tree without any special tags or holders, but in this case, I was also itching to make a printable gift card tag that would work for any occasion. Below you will find several printable downloads that you can print, cut and use to deliver as many gift cards as you want.
Also, I want to give a special thank you to Once Upon Her Dream for allowing me to use this fun paper on my gift card tags. I first made a basic gift card tag design, then downloaded "The Better Winter Blues" paper collection to make the tags simply adorable. I also created a monogram that you can optionally use to add another layer to each gift card tag.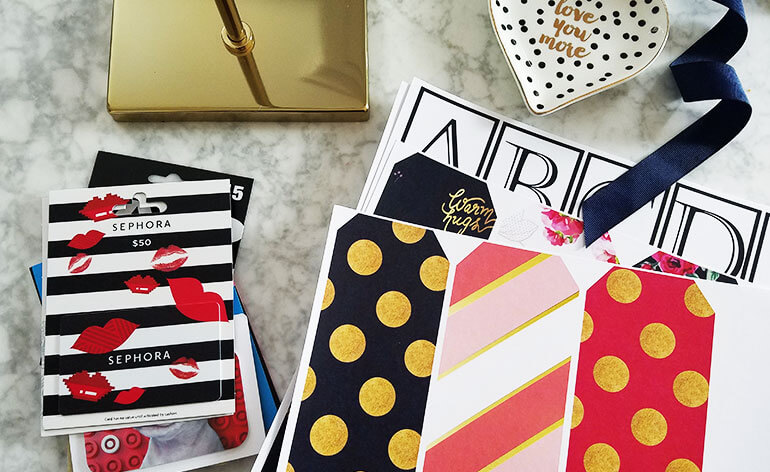 The fun thing about these tags is that they are coordinated and you can print as many as you want. I printed eight gift card tags, but you can print more or less depending on your needs. The monogram sheets are another touch. In addition to basic letters, I added a few symbols and sentiments to make this work for any occasion.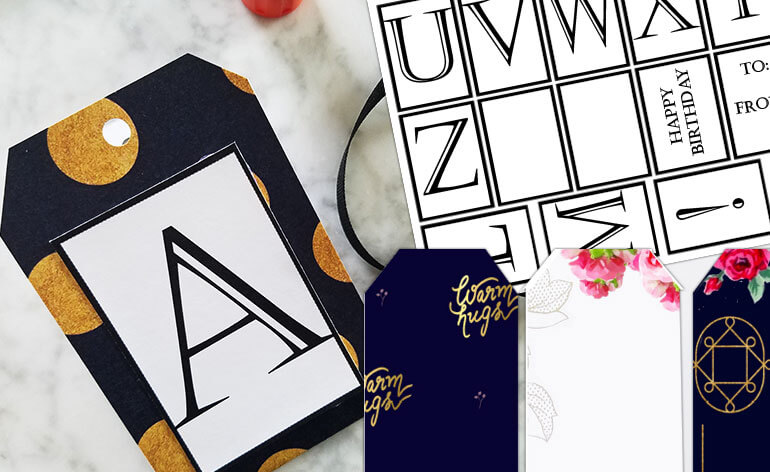 3. Download Printable Gift Tags
Below are the printables you need to make the monogrammed gift tags.
Letters for Gift Card Tags – A through J
Letters for Gift Card Tags – K through T
Letters for Gift Card Tags – U through Z
Letters for Gift Card Tags – Numbers
Gift Card Tags with blue, stripe and pink
Gift Card Tags with blue, white and flowers
After downloading the gift card holders and letters, print the .pdf files on a color printer using "best quality" and "actual size" settings. (Do not select "shrink to fit" or any other setting that will change the size of the printed .pdf image.) White, card stock paper measuring 8-1/2 x 11 inches works best. Once printed, use the guide marks and a straight-edge paper cutter to trim the gift card tags and letters out as desired.
4. Make the Printable Gift Card Tags
Making the printable gift card tags is easy. Cut out the tags you want and cut out the letters. I'll talk about picking your gift cards down below. But this is the basic process.
Cut the gift card tag out.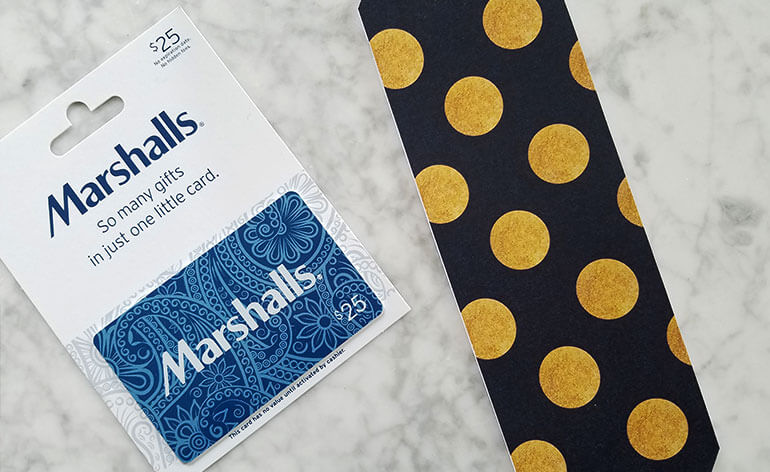 Fold the tag in half. I like using a bone folder to make a crisp edge, but it is not necessary. If the corners do not line up perfectly once you fold the tag, then you can always use scissors to trim them evenly once folded.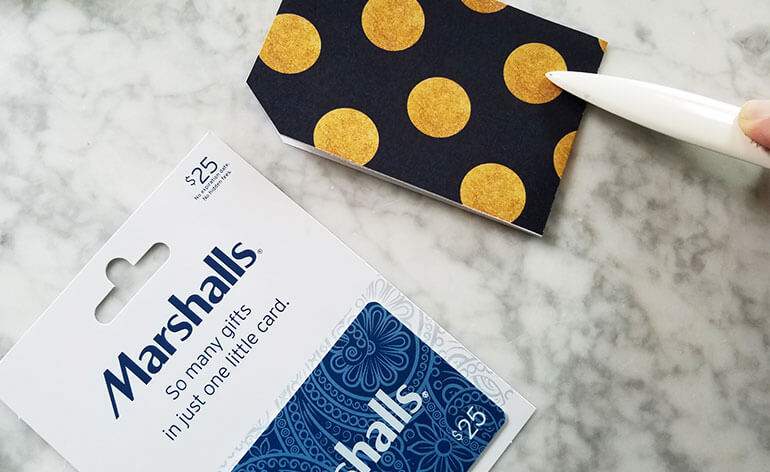 Glue the monogram letter to the top of the gift card tag.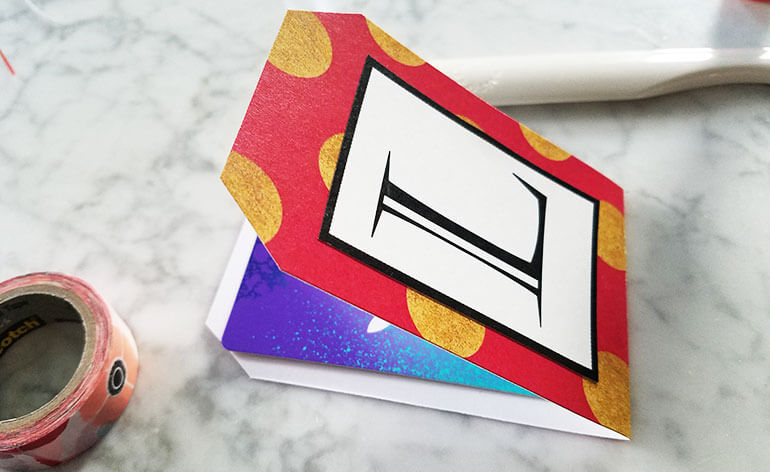 Now put the gift card inside. You can secure the gift card to the tag with a glue stick, sticky dots or tape. I used decorative washi tape for a fun accent to each gift card tag. Just use caution in attaching the gift card making sure not to tamper with the magnetic stripe on the back of the card.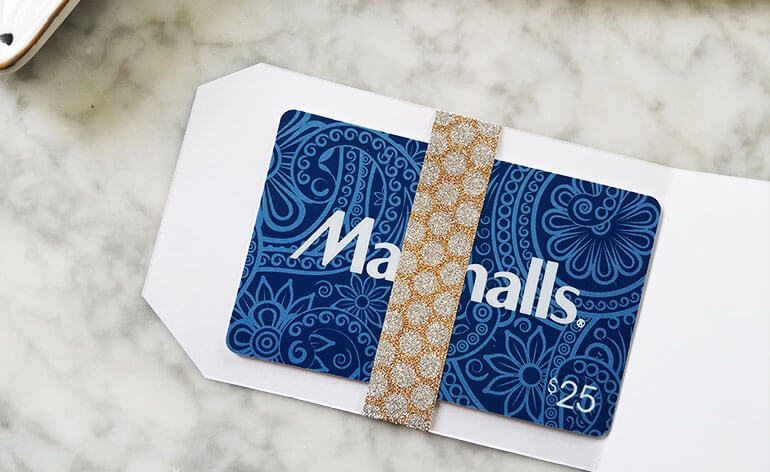 With the gift card inside, use a hole punch to cut a small hole in the top of the gift card holder.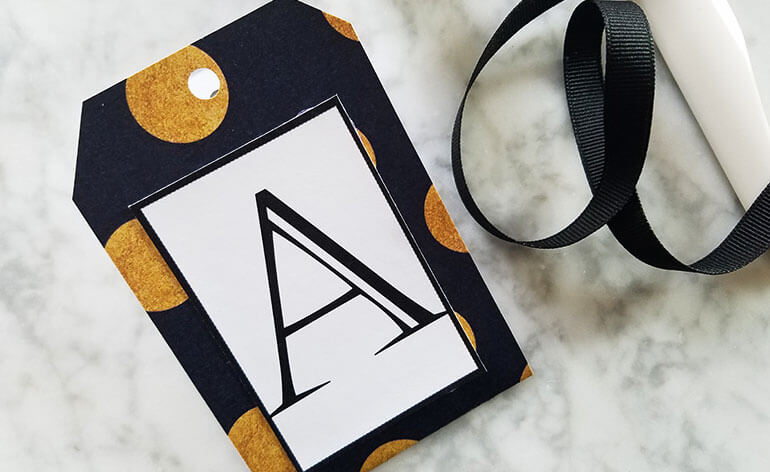 String a ribbon or twine through the hole and tie a bow or make a slip-knot. Now the gift card tag is ready to hang on the jewelry stand.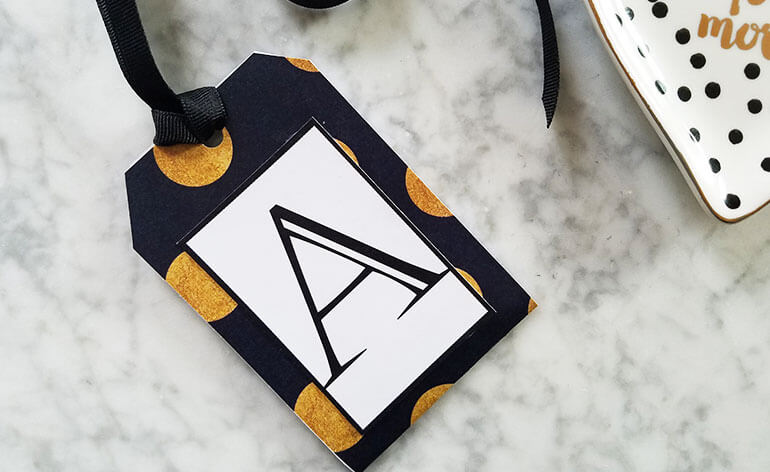 Repeat these steps for as many gift cards as you want to put on your gift card tree or wreath.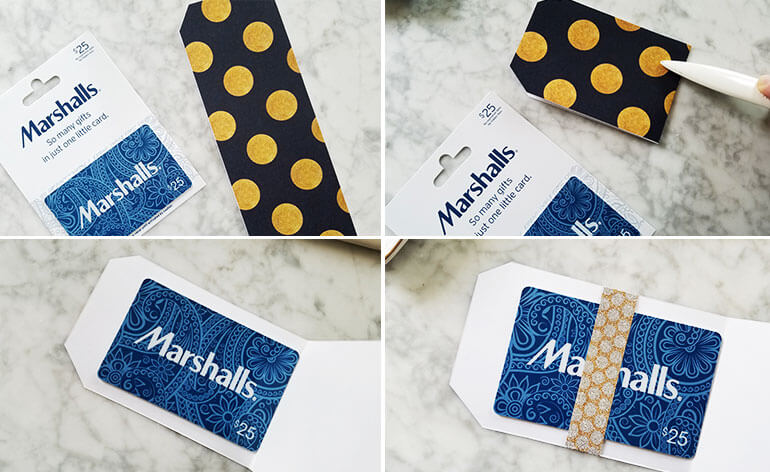 5. Hang the Printable Gift Card Tags on the Jewelry Stand
With the tags all ready, I started to hang the tags on the jewelry stand. Since my daughter is turning 17, I put her name on the top bar and "I S 1 7" on the bottom bar. There are no rules here. Have fun. And remember, I made the "Happy Birthday" tags in the download as well, so you can always use that tag for the top of the tree or wreath.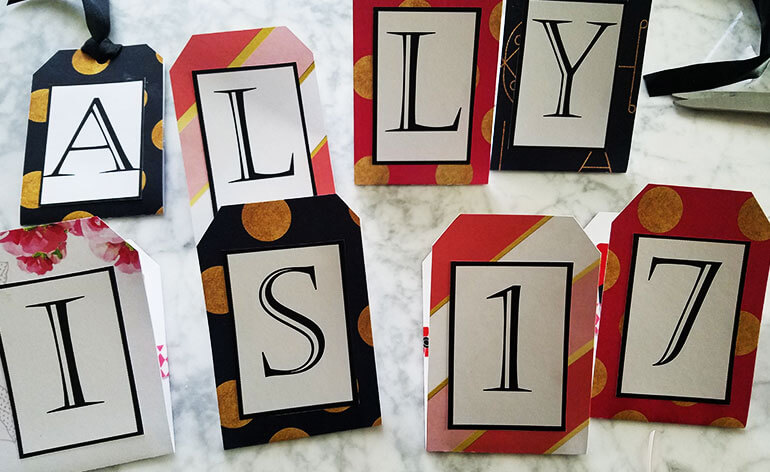 I laid out all of the tags before gluing the letters on top because I wanted to organize the tag colors as well. I used coordinating ribbon to tie the gift cards to the jewelry bar.
Here is the jewelry stand from the back.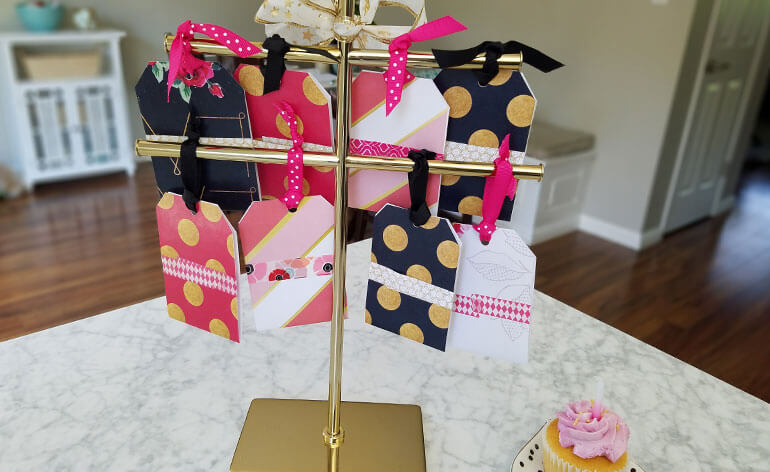 And here it is from the front again. How fun to get a bunch of different gift cards to open on your birthday!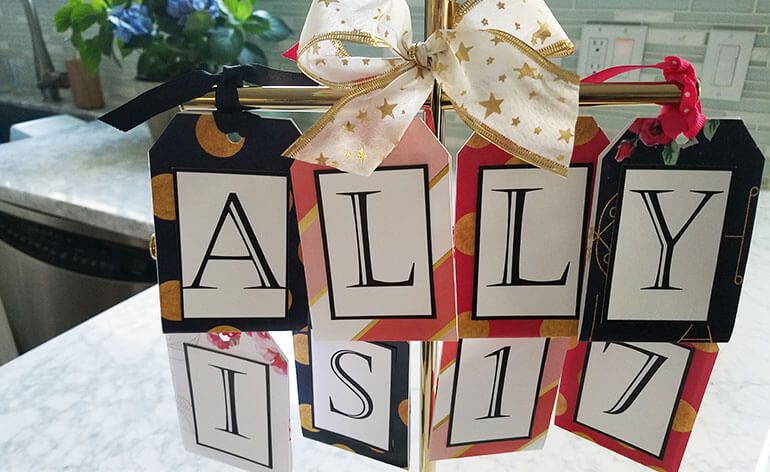 6. Pick the Right Gift Cards
If you are wondering what gift cards I got my daughter, I will show you. I picked a collection of smaller value cards (e.g. $10 at Taco Bell) and some higher value cards (e.g. $50 at Sephora) so she could definitely buy something at each stop without using her own money. That's one of my rules for how much money to put on a gift card–give an amount the recipient can use without having to pay extra.
I bought her a Taco Bell gift card, iTunes gift card, Target gift card and Forever 21 gift card.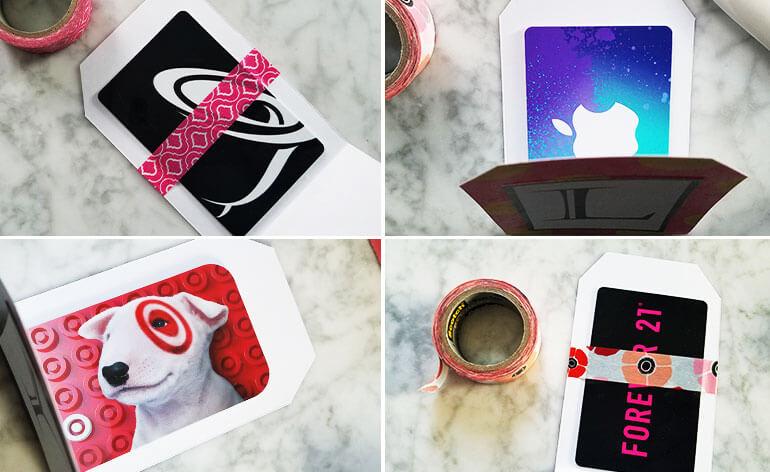 She also scored a Bath & Body Works gift card, Sephora gift card, Chick-fil-A gift card and Marshalls gift card.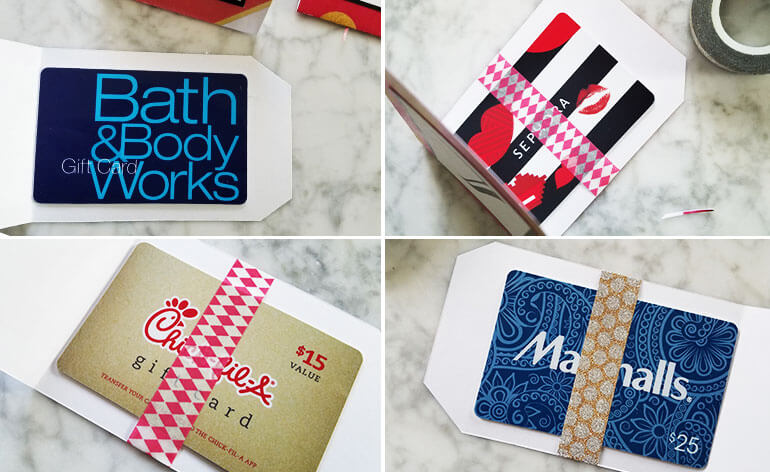 Here's that beautiful 17th birthday gift card display again. I had it sitting on the counter when my daughter came down for breakfast. She loved the gift so much that she took a picture of it and posted it on her Snapchat story. (Success!) She also loved opening each tag to reveal the gift card inside. Some of the gift cards got redeemed that day and others went straight to her wallet. The necklace stand is now in her room as well.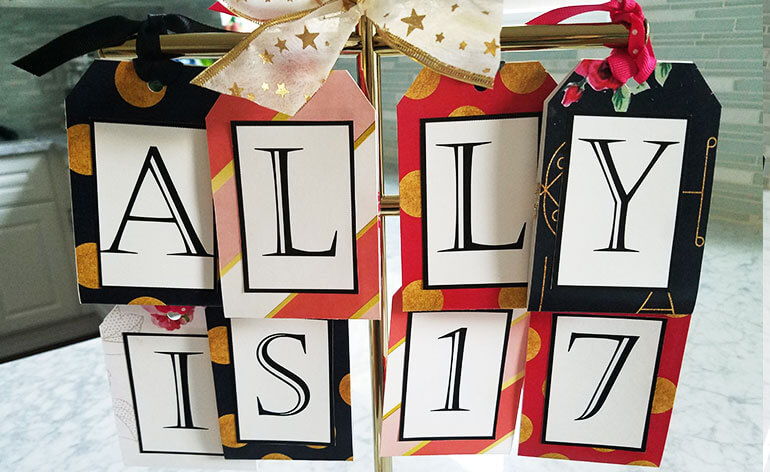 This turned out to be the perfect gift for my teenage daughter. She had fun opening multiple gifts, got to shop for and buy her own presents and she got a little something to use right away (the jewelry stand). Making gift cards more personal does take a little effort, but you do not have to spend a ton of money or be all that creative. Just a few tags, some scissors, glue and ribbon do the trick every time.
More on Pinterest
If you want to see some other ways to deliver multiple gift cards, follow Gift Card Girlfriend on Pinterest and check out the Gift Card Wreaths and Trees board. These are super popular gifts for teachers and giving multiple gift cards is a great way to deliver a group gift. Instead of collecting money for one big gift card, you can either buy multiple gift cards or ask people to donate a purchased gift card that simply has to be added to the presentation.
I also have loads of other gift card printables on this free prints page.
If you use this printable, send me a link to your page in the comments below or contact me on Twitter (@GCGirlfriend). I want to see what inspires you and I am hopeful you have as much fun giving this gift as I did.
Happy Gift Carding!
~Shelley Hunter, Gift Card Girlfriend