When it comes to teaching your kids about money management, some of life's most important lessons will take place outside of the classroom.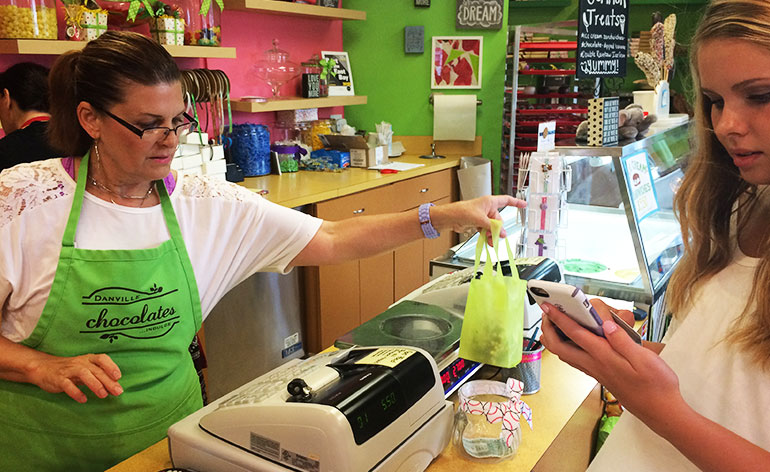 Kids Need More Than Cash
I've got three kids, two of whom are teenagers, so money is a constant struggle. I'm not talking about having enough money to make ends meet each month (though that is sometimes a challenge as well), I'm talking about the kids' needing money in a form they can use to buy the things they want or need.
Until recently, we swapped greenbacks at my house like kids used to trade baseball cards and marbles. My kids would ask for cash to go out with friends, then later give me cash and ask to use my debit card to download apps or video games. One time, they 'd get a check for babysitting and need me to cash it out at my bank, and then, another time, get cash for babysitting and ask me to deposit it into my bank so they could use my debit card for an online purchase. Back and forth, constantly moving money, swapping cards for cash and vice versa.
This money mambo started (and was mostly manageable) with my oldest child. But as her younger brother matured, he too needed an account at the "Bank of Mom." When grandma gave both kids checks for their birthdays this year (one week apart), the system finally broke down.
Checks Make Work for Parents
Historically, Grandma would shop the same department store for every birthday and holiday, buying stuff for my kids that didn't fit their bodies or their style. After thanking her graciously, we would take the stuff back to the store (without a receipt) and hope to get enough money in return to buy something more appropriate. We've done this for years. I guess grandma got tired of shopping or she figured out that the kids never wore the items she'd purchased. Either way, as much as the kids were thrilled to have money instead of merchandise, I saw their gifts as more trips to the bank.
Kids in a Cashless Society
As we live in an increasingly cashless society, I don't need dollar bills pay for gas, groceries, clothing or much of anything else I want. Though I rarely have more than a $20 bill in my possession at any time (unless one of the kids just borrowed my debit card to buy something online and paid me back in a stack of 37 one-dollar bills plus 4 dollars' worth of quarters.), between my traditional payment methods and a mobile wallet, I typically have a way to pay for anything I need whenever I need it.
My kids, on the other hand, did not have the same flexibility. From babysitting and house sitting, to taking out trash for the neighbors, whenever they receive payment for an odd job, they come home with dollars. The problem with having cash and coins is that they often want to spend that money electronically. That's why I finally decided to get each of them an account with a card that could be used online, in stores, or by mobile phone.
Though I was wary about opening accounts for them initially, I've found that doing so made our lives easier and created a huge opportunity to help the kids learn how to manage their money.
Reloadable Prepaid Cards and Student Checking Accounts
My kids needed a place to deposit their cash and a card that would give them access to that cash. Because I maintain a checking account at a local bank, I was able to get student checking accounts for free. However, I have to be a co-owner on the account and a monthly fee will be assessed when the kids turn 17 or opt out of college once they graduate from high school. For this particular type of account, each child received a debit card and access to online banking, bill pay features and mobile banking. ATM access is free within the network, but costs anywhere from $2.50 to $5.00 per transaction if they use their debit card at a non-network ATM. Most importantly, they can deposit checks, get cash when they need it and buy stuff online without mom being present. (They still have to ask for permission, though.)
If your bank doesn't provide student accounts or you don't want to link your money to the kids, then get a reloadable prepaid card instead. For just a few dollars each month, you can get the same features that provide all of the same freedoms. For example, reloadable prepaid cards often come with free ATM access within network as well, the ability to make online purchases, transfer money between accounts with the same issuer and more. Some even have apps for mobile tracking and transfers as well. Though you will pay a monthly fee to keep this type of account, there are no hidden bank fees to contend with and the accounts are easier to qualify for than traditional bank.
If you are interested in the reloadable prepaid card option, but aren't sure which one to pick, then consider one of these cards available Meijer, Albertsons, Safeway, Food Lion and Hy-Vee as well as many other grocery stores:
American Express Serve Cash Back
Univision Mastercard Prepaid Card
Need help picking a reloadable prepaid card? Read this post on how to pick the right Reloadable Prepaid Card for you.
PLEASE NOTE: Reloadable prepaid cards (also referred to as "General Purpose Reloadable" (GPR) cards) are NOT gift cards. Though they look similar to network-branded gift cards that carry logos such as Visa®, Mastercard®, Discover® or American Express®, reloadable prepaid cards are designed for personal use whereas the open loop gift cards are made for gifting. The rules and regulations that govern each type of card are different. Read more about open loop gift cards here.
What Kids Can Learn from Having their Own Accounts
Though we opened these accounts to get rid of the middle man (me) when the kids needed cash or wanted to make a purchase, I've discovered that giving kids a debit or reloadable prepaid card has increased their responsibility with money considerably and has provided other convenient benefits as follows:
Tracking Expenses. Kids are no different from adults when it comes to mindlessly spending cash. Because there is no tracking of the dollars going in or out of your wallet, it's hard to remember where the dollar bills went as soon as they're gone. With online banking, however, my kids are very aware of how much money is in their accounts; they check the balance often and monitor where they've used their cards to be sure the balance is accurate.
Easy Transfers and Exact Change. When my daughter uses her own cash to buy something for the family (e.g. pick up milk on the way home from school), she returns home and asks for reimbursement. Since I seldom have the cash needed, I make a note on my phone and try to remember to get money the next time I go to the store. As the notes pile up in my phone, however, I forget whether or not I've paid her back and always overpay if I didn't have exact change. Since she now has an account, she pays for the family purchases on her debit card and I transfer the exact amount to her account when she gets home. Even if she pays for something with cash, I reimburse her electronically.
Manage Allowance. I don't really pay my kids an allowance, but when my oldest started high school, the amount of money she asked for to hang out with friends tripled. From money to get into the football games to cash to go to the movies with friends and a couple of dollars to get a frozen yogurt after school, I felt like she was asking for cash every time we talked. I finally got wise and gave her a budget, but you can't give a teenager $50 and expect her to make it last for an entire month. With the debit card, however, I load a preset dollar amount onto her card every month and she decides what activities are worth spending that money on. When the cash came out of my wallet without tracking it, she wanted to attend every social event. Now that she has to decide how to spend her allowance, she is much more discerning.
Online Payment. A couple of years ago, my son sat with me to order a couple of items online. As we added school supplies he needed to the shopping cart and entered my debit card online, he said, "You're SO LUCKY that you get to hit BUY NOW whenever you want." He didn't realize that I had to cover the cost of the transaction with money on the debit or credit card used. Because he didn't understand the connection between entering a card number and getting money transferred out of your account behind the scenes, he just thought I got to press "buy now," and the products would arrive in the mail. Now that he has a debit card and enters his own card number into the online shopping cart, he full understands how online transactions work. He has both the power to spend and the responsibility to use his powers wisely.
Parental Oversight. One of the most wonderful things about giving your kids a debit or a prepaid card is that you can track their activities via their spending. Since transactions are date and time-stamped, you can get a little insight into where they are and what they're doing. I'm not talking about being a stalker or resolving deep trust issues, I just like knowing what my kids are doing when they are away from the mothership. Even if the reporting isn't real-time, I can still see when and where money is spent. This information gives me an opportunity to provide counsel if needed.
Emergency Money. Another great thing about giving your son or daughter a debit or reloadable prepaid card is that you can transfer money to the card in an emergency. For example, I sometimes worry that my daughter's car will break down or that she will run out of gas when I'm not with her. Knowing that I can transfer money to her card in a pinch, however, gives me comfort in knowing she won't be stranded without a way to either take care of the car or pay for transportation home.
Limited Risk. In the old days, parents would give kids credit cards for emergencies. I remember being jealous of college roommates who had a looser interpretation of the word "emergency" than I did. For me, it meant I couldn't use the card unless my safety was in question or I needed to buy books. For some roommates, not having the right pair of shoes qualified as a crisis.
Giving kids credit cards without the responsibility of managing the balance on the cards can lead to serious debt issues that may ultimately burden the parents as well. Debit cards and reloadable prepaid cards that you can transfer money to as needed are a much safer solution because children can only spend the dollar amounts available. There is no risk that unwise spending will lead to a balance that can't be paid off or a debt that turns into a long-term financial problem. If anything, using prepaid tools can teach kids that plastic is for the convenience of accessing money you have versus borrowing money not yet earned.
While I can't say that we have this all figured out yet, I have definitely noticed my kids taking much more interest in their own finances and understanding mine a little better as well since they got their own accounts. They used to think that my debit card had an unlimited spending capacity because all they ever saw me do was swipe the plastic. I could, in their eyes, buy whatever I wanted because I had a card. Now the kids understand that the card I carry is connected to an account with money that I've earned. When I get paid, the money goes into my account. When I buy something or pay a bill, the money goes out. If I say that I can't afford something, it doesn't necessarily mean that my account is empty, it just means I need the money to pay for other things.
Though I could have gathered the children around the kitchen table to explain these things, having their own, real-life experiences has had a bigger impact than anything I could have said. I'm confident that as the kids continue to grow and we take baby steps together financially, they will learn how to manage their money better by using real accounts with cards than sticking with the old, cash-only system.
What do you think? How do you teach your kids how to manage their money? Leave a comment below or talk to me about gift cards on Twitter (@GCGirlfriend). I love hearing how other families make their finances work.
Happy Gift Reloadable Prepaid Carding!
~Shelley Hunter, Gift Card Girlfriend