Friday 5.30.2014
How to Launch Your Company's Social Media Profile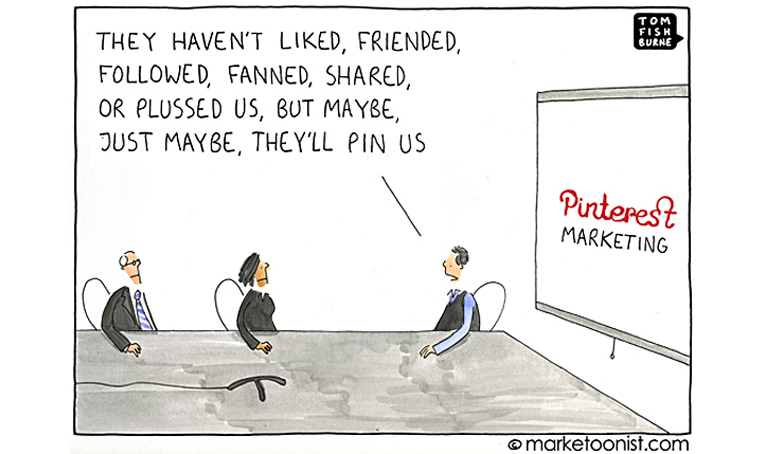 Image courtesy of marketoonist.com.
When I joined GiftCards.com as the Social Media Manager, we had about 5,000 Facebook fans, 3 Twitter profiles with only a handful of followers, 2 Pinterest accounts that had recently been merged, a LinkedIn account that hadn't been updated in months and a Google+ profile that we couldn't find the password for. No Instagram and no Vine. To be clear, the social chaos I inherited isn't a reflection on the people involved. This is simply what happens when a company creates social accounts without a strategy. In order to make forward progress, however, we needed to take a step back and re-launch in a more organized fashion.
Below are my suggestions for successfully launching your company's social media profile.
Define Your Goals Before Launching Your Social Media Profiles
A social media launch plan is becoming more and more important for businesses of all shapes and sizes, but before you make the leap, define your goals. Are you looking to drive sales, gain customer insights, assist with customer service, aide marketing efforts or simply build brand awareness? Having a clear goal will help you decide what platforms you should focus on and identify what content or conversations you should be engaging in.
Select the Right Platforms
It is easy for businesses, or even individuals, to feel compelled to be on EVERY social network out there. While there are benefits to being on multiple social networks, the reality is that only a handful will deliver actual value for your business or brand. For example, Facebook is great for sharing entertaining content and relevant industry or company updates. Instagram is a perfect fit for companies that have a compelling visual story to tell. Have a blog with great content? Pinterest is an excellent companion platform tool for driving traffic to your posts by pinning images. Remember, when selecting what social networks you want to develop, match the tools with the goals of your company's social media profile.
Know Your Audience
You may have an idea of who your target audience is, but it's always best to paint a clear picture of who you are looking to engage with via social media. Different groups use different platforms and may engage with your content in very different ways. You'll want to do your homework and know everything about that group (what content they like, how they prefer to interact, etc.) For example, at GiftCards.com, our Facebook audience is comprised of people who enjoy feel-good #SmileAGram stories and don't want to be sold a product 24/7, but our Twitter audience is more apt to engage with updates on discount gift cards and daily deals.
Speak to a Larger Topic, but Own Your Niche
Every business knows its product or service like the back of its hand. It can become very easy and much more comfortable to speak to that narrow topic or niche. It's important to remember that there is a larger conversation going on in social. The more you can speak to the larger conversation and strategically inject that niche knowledge, the better chance your profile has to grow and build an audience. Although we are focused as a business on providing the best gift card experience possible, we speak to gifting in general through our company's social media profile. When searching for the perfect gift idea we want to be included in that conversation. You never know, a personalized gift card or gift card craft may end up being just what they are looking for.
Build Slowly
Rather than create all the profiles at once, take them one at a time. Find your audience, find your voice and find what works for your brand. When you start to gain traction and can consistently predict (as much as possible) how your audience will react to your posts, take what you've learned and tackle the next social frontier. Last year, we made small changes to our Twitter and Pinterest accounts, but focused heavily on figuring out Facebook. This year, we are expanding our focus to include building out our Twitter audience and experimenting with Instagram and Pinterest.
Continue to Test
What are other brands doing? How about your competitors? There is a lot you can learn by simply looking around. While you'll want to do that (and often), you also want to take advantage of the analytic tools provided to most business accounts. Reading the output will allow you to further refine what's working for your brand and continually test new ways of engaging and growing your audience. For example, we use Google Analytics to determine what content is driving traffic to our site and we also identify what type of content and interactions lead to gift card purchases.
Although it is preferable to start building your company's social media profile from ground zero, many companies have entered the fray without a clear vision of what they're trying to achieve. This is natural given that social media didn't even exist a few years ago and that new platforms emerge frequently, but rather than continue to fire in all directions, step back and start fresh.
With so many accounts already established when I came on board, my manager and I decided to focus initially on Facebook, where we now have a consistent posting schedule, an editorial calendar and a fan base of half a million to leverage. We've taken the lessons learned and are now applying them to our other profiles. If your company is similarly scattered on the social front, moving forward may require you to take a step backward first. Evaluate your platforms, create a social media launch strategy, and learn as you go.
If you have other tips you want to share, post them in the comments below. We can all learn something as we brave the social media frontier together.
~~ Andrew McNelis, Social Media Manager