This FREE printable gift card holder is ALL YOU NEED to turn any gift card into the perfect Valentine's Day gift. Just fill in the blank!
"Gifting Made Easy" by Gift Card Girlfriend
Valentine's Day is coming up. If you're looking for something fun and creative to get your loved one, look no further than this free printable gift card holder that reads, "All You Need is Love." Although love may be all you need (according to The Beatles, I think we can do a little more.
When you open the gift card holder, you'll find the rest of the sentence. Together, the front and inside of the card read, "All you need is love and [fill in the blank]." The "fill in the blank" line is for you to write something about the gift card. Here are some examples:
"All you need is love and new shoes!" with a DSW gift card.
"All you need is love and a burrito!" with a Chipotle gift card.
"All you need is love and a massage!" with a Spafinder gift card.
Any gift card will do, but adding a little note to tie the two together makes it especially fun.
Below are all the steps needed to make this easy Valentine's Day gift.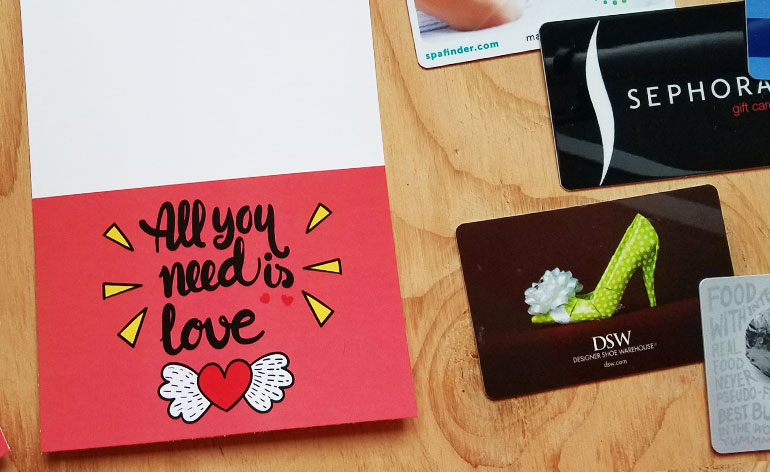 Download Printable
With these printable gift card holders, you can download the file once and print it as many times as you need, tucking a different gift card into each one. You can even (don't tell anyone I said this) tuck a few dollars into the gift card holder to make it a Valentine's Day money holder instead. I'm sure kids, in particular, would appreciate that!
If you need some gift card ideas, here is my list of Top Valentine's Day Gift Cards for Men and Top Valentine's Day Gift Cards for Women.
Download Free "All You Need is Love" Valentine's Day gift card holder.
Make the Gift Card Holder
After downloading the Valentine's Day gift card holder, print it on a color printer using "best quality" and "actual size" settings. (Do not select "shrink to fit" or any other setting that will change the size of the printed .pdf image.) White, card stock paper measuring 8-1/2″ x 11″ works best. Cut the holder with a paper cutter using the trim marks as a guide.
If you look at the printed side of the folded gift card holder, you'll see the card is supposed to be folded where the pink print meets the white space. Although those lines are typically at the 3″ and 6-1/4″ marks, it's a good idea get a ruler to figure out where the gift card holder should be folded before scoring the card stock.
Once you know where the fold lines should be, flip the printable over and mark the fold lines on the other side of the card.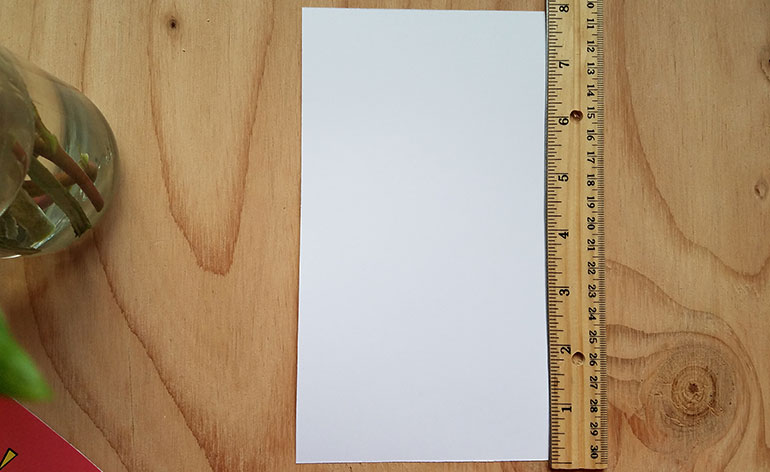 Using a bone folder (or another semi-sharp tool you have around the house like the back of a butter knife or the edge of the plastic gift card), score the paper on the fold lines using a ruler as your guide.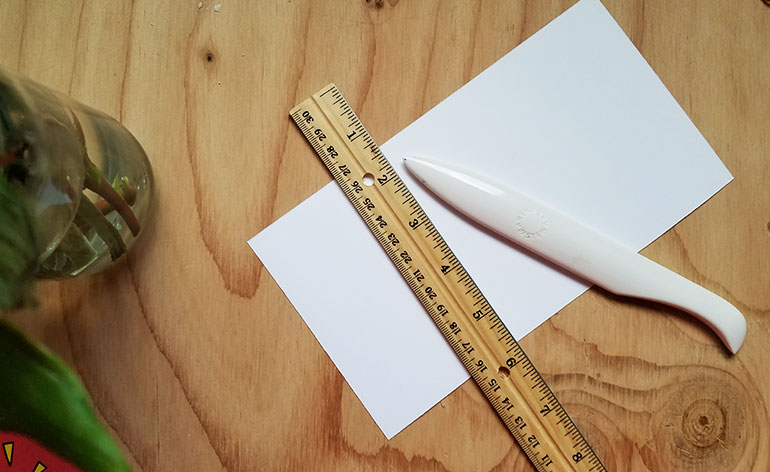 Fold the gift card holder as shown so it makes a little pocket, perfectly sized to hold a gift card. Using double-sided tape or a glue stick, seal the edges of the gift card pocket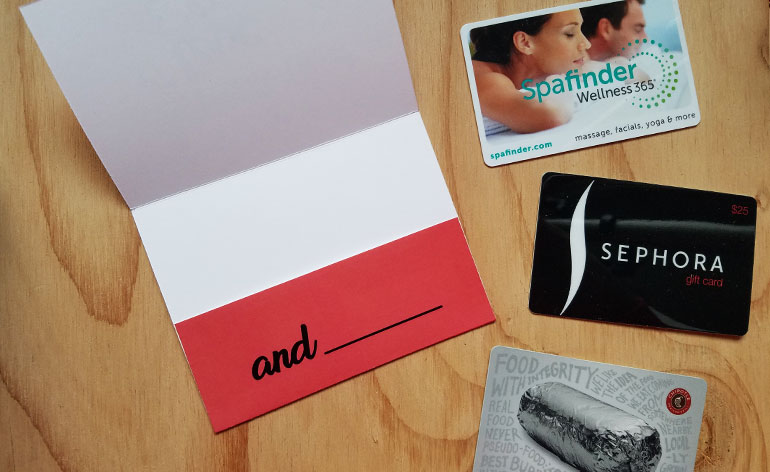 Now for the fun part! Using a black marking pen, fill in the blank with something fun to match your gift card. Here are my examples:
All you need is love and lipstick!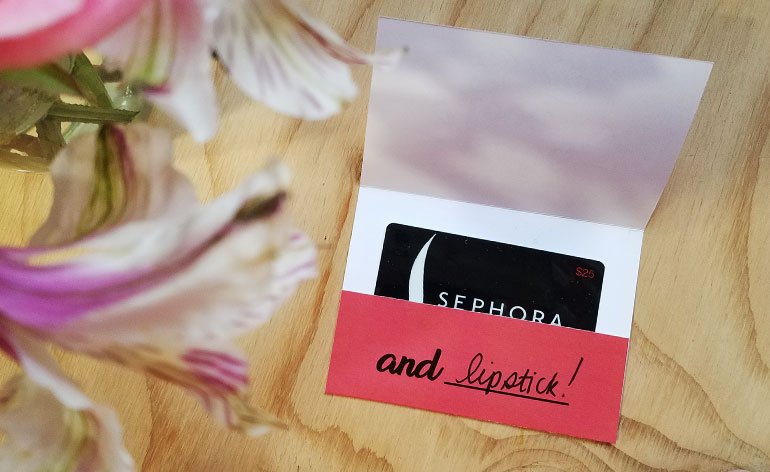 All you need is love and burritos!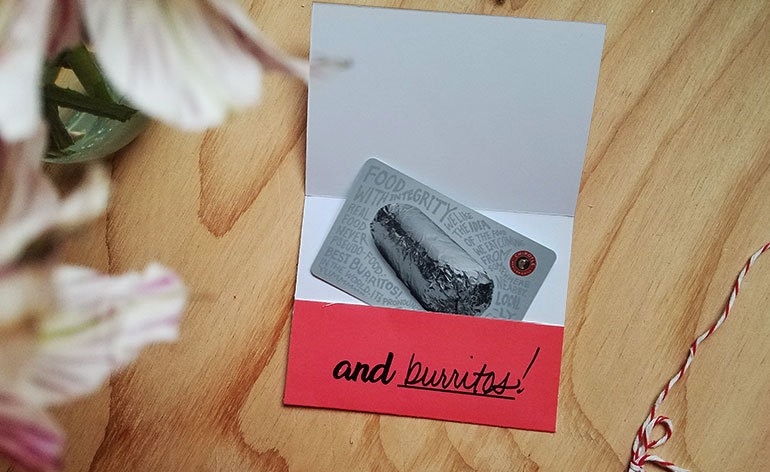 All you need is love and a massage!
After you fill in the blank, fold the top of the holder over and seal the edges. I've used a glue stick, double-sided tape, stickers, ribbons and other embellishments to seal my gift card holders shut. Adding small touches like this is a simple way to make the delivery of a gift card feel more personal.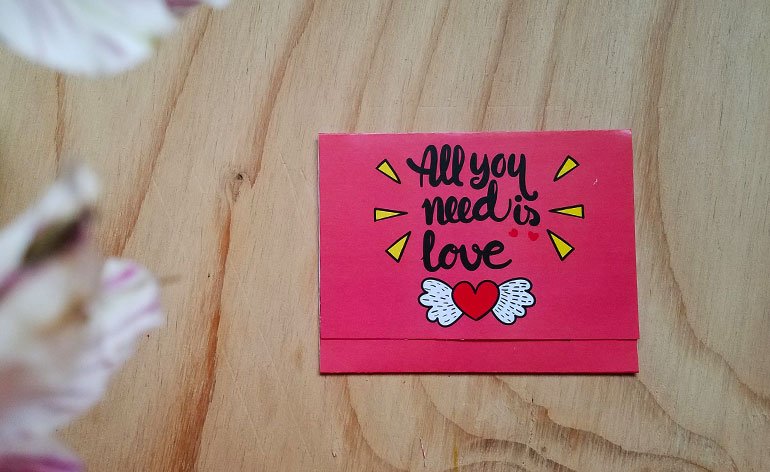 What other gift cards would you put in this holder? Pizza? Makeup? Electronics? This truly is a holder that fits any gift card. It can also be used for other celebrations like Anniversaries, Birthdays and more. We made it for Valentine's Day, but it can definitely be used all year round. Enjoy!
More on Pinterest
Whether you're looking for a Valentine gift, an anniversary gift, or a gift for your sweetheart, we've got plenty of ideas to help you find the perfect gift card and turn it into a thoughtful gift. Check out our personalized Valentine's Day gift card ideas or follow Gift Card Girlfriend on Pinterest. Just don't get lost while you're there. With so many gift ideas, you're sure to fall in love with all of them.
If you use this printable, send me a link to your page in the comments below or contact me on Twitter (@GCGirlfriend). I want to see what inspires you.
Happy Gift Carding!
~Shelley Hunter, Gift Card Girlfriend