Photography tips and helpful hints to make custom gift cards even better.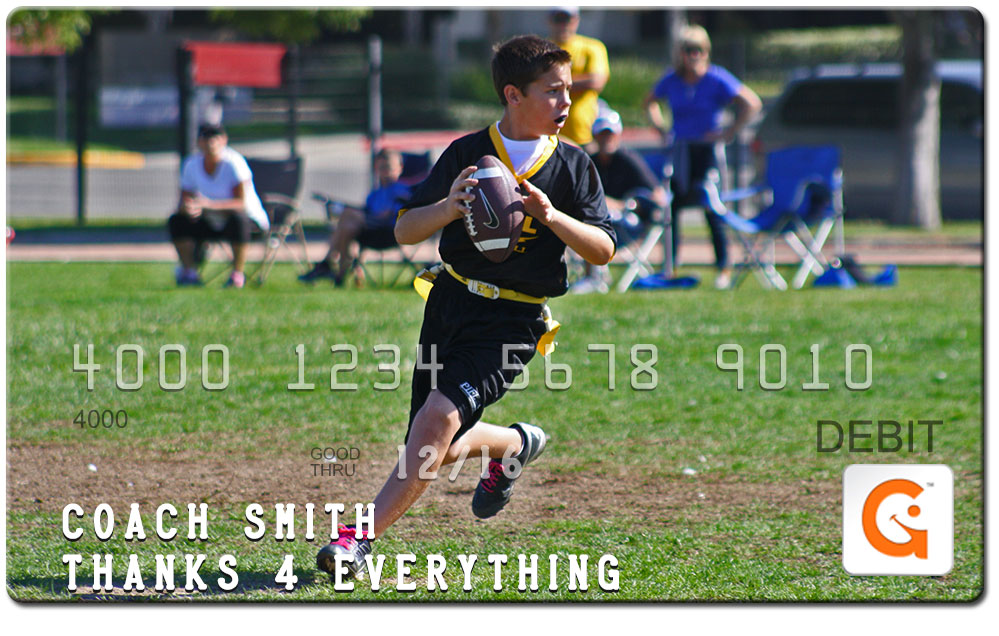 Last weekend, my son's football team gathered for their end-of-season team party.  After the head coach presented each boy with a trophy, I rose to give the coach a thank you gift on behalf of all the parents. I typically enjoy this moment, but found myself nervous for the first time. If your child has ever played on a team or been part of a group with a volunteer leader (e.g. school play, Brownie troop, dance recital, etc.), you know it is impossible to give a gift equivalent to the amount of service provided. So rather than try, team moms turn to tokens of appreciation that will hopefully be both meaningful and useful. My go-to gift for coaches is personalized gift cards.
The First Gift Card
I didn't work for Giftcards.com the first time I ordered a personalized gift card. In fact, I shopped online to find the gift card provider I thought would do the best job for the lowest price and ended up at Giftcards.com. Then I scoured my photo library to find a picture I thought the coach would enjoy. I toyed with a team photo but ultimately decided on an action shot of the coach's son. Having never made my own gift card, I uploaded the image, added a custom message, placed the order, and crossed my fingers that it would turn out well.
When the gift card arrived, I could not have been more pleased. Not only did the card look great, but I knew it would be meaningful and useful. I couldn't wait to present the gift at the team party.
Coach's Reaction
I've given personalized gift cards to several coaches now and the reaction is always the same. At first, the coach smiles and appreciates the gesture, but doesn't notice the photo on the card. Then he sees the embossing on the gift card (e.g. "Thanks Coach Smith") and thinks the message
is
the unique part of the gift. Only after more careful inspection (sometimes several minutes later), does recognition wash over his face as he exclaims, "How did you do that?!" I kid you not; this happens every time I give a personalized gift card to a coach.
Practice Makes Perfect
Though coach reactions have stayed the same, my approach to creating the team gift card has changed significantly over the years. I no longer shop around, of course, because I know I'm getting the best deal with reliable service at Giftcards.com. But from a technical perspective, I start prepping for the coach's gift at the beginning of the season to ensure the best gift card possible.
Below are my tips for making personalized gift cards even better:
1. Start early
Getting a good picture of kids on the move can be a challenge. So I take as many photos as possible. Starting early is especially important in areas where weather may be a factor. Waiting until the end of the season to take pictures could mean rained out ballgames, kids sidelined with injuries, or paying expedited shipping to get the gift card in time for the team party.
2. Go For the Action
Ideally, I want a photo of the coach's kid doing something amazing–swinging for the fences in baseball, making a diving catch in football, or kicking the winning goal in soccer. But in reality, sometimes I have a hard time capturing the coach's kid doing anything more than cartwheels in the outfield. If I can't get a decent action shot of the child, I'll go for a great team moment (e.g. cheering in the dug-out) or a feel-good photo (e.g. shot of the coach giving his son a high-five.) I honestly don't let up on the picture-taking until I know I have a gift card-worthy image.
3. Stay Landscaped
Although you can rotate, crop, and resize a portrait-style image to fit the gift card space, the plastic will be horizontally oriented. So I take pictures from the landscape view to increase my odds of filling the gift card frame with the shot I want.
4. Frame the Photo
Knowing that the image will be put on a gift card with an embossed message line in the bottom left corner, I try to take pictures with clear space in that area—green grass, infield dirt, hardwood court, etc. I find the embossed words are easier to read when not printed over a busy background.
The coach I presented the gift card to this past weekend has been a coach for many years. Though he's coaching my son in a 6th grade division, he has been a high school coach for over 20 years. Given the number of coach's gifts he's received in his career, I suddenly wondered if the one I presented would measure up. But I should have known better. This veteran coach's reaction was the same as every coach to date—after finally recognizing his own son on the card, he came over to me with the very same question, "How did you do that?!" When I explained how easy it is to make your own gift card he repeated (several times), "That is so cool."
With personalized gift cards, it's easy to make even the most seasoned coaches smile.
Happy Gift Carding!
~Shelley Hunter, Gift Card Girlfriend