Is someone reaching a milestone birthday? Is someone turning 30, 40, 50 or 60 years old? We've got the perfect gift card and a matching greeting card.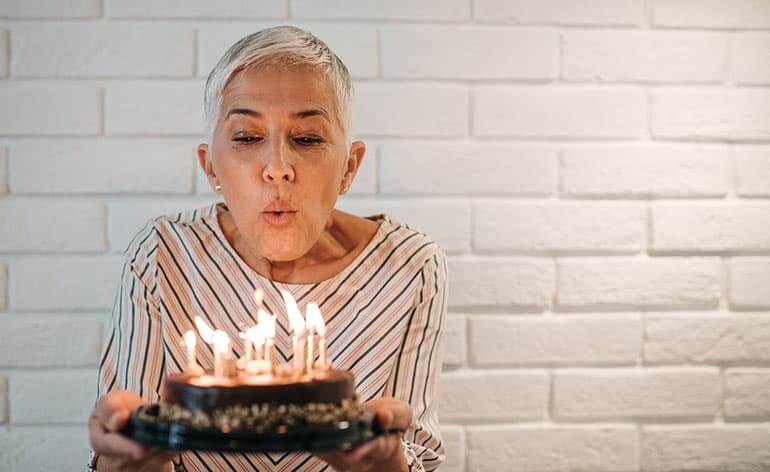 Do you know somebody who is about to have a milestone birthday? You know what a milestone birthday is, right? It's one of the big ones–one of the ages that people either try to hide from or proudly march to, depending on their outlook on life. You have hit a milestone when you turn 20, 30, 40, 50, 60 and so forth.
If you have a friend, family member or colleague who is about to hit one of those milestone ages, consider getting a milestone gift card. The one featured in this blog post comes with a matching greeting card that you can select at checkout (to have professionally printed) or download for free (to print at home) using the link below. I'll share the benefits of each option below.
Below are the links to order milestone gift cards:
Gift Card for Turning 30
Gift Card for Turning 40
Gift Card for Turning 50
Gift Card for Turning 60
Now all you have to do is decide how to present the gift card. Below are the two options I mentioned above.
Option 1: Order Matching Milestone Greeting Card
If you order the matching greeting card at Giftcards.com, the milestone gift card will be affixed to the inside of the card. Below is a picture of the milestone gift card for a 50-year-old, as it would be delivered to the recipient.
This is a great option if you want to send the gift card directly to the birthday recipient or you just don't have the time (or the inclination) to print the greeting card at home. The current cost of the greeting card is $1.50 added to your order.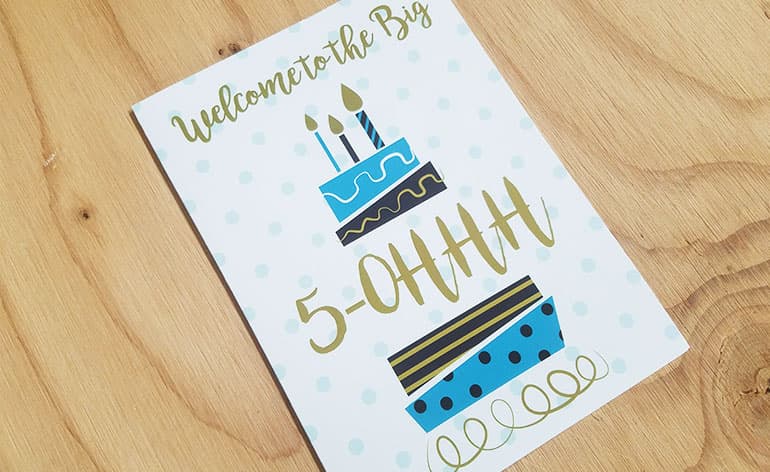 When you open the card, you'll find a birthday greeting on the right, the gift card on the left, your personal message on the left along with a note about how much money is on the card and instructions on how to activate it.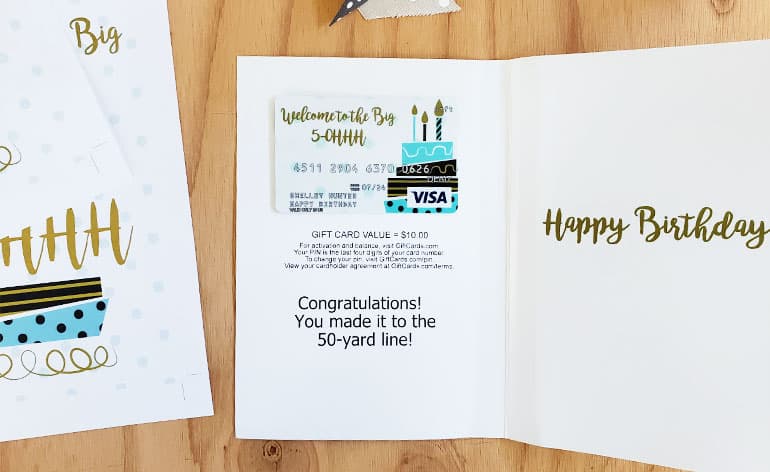 In just a couple of minutes, you can order a great milestone gift card and greeting card that makes the perfect gift. What I love about these gift cards is that you get to send a fun birthday greeting that will draw a smile, but the recipient gets to decide how to celebrate the big day. Since Visa gift cards can be used wherever Visa debit cards are accepted, the recipient can use the gift card to pay for dinner, buy a new outfit, order something for the home or pick up a few essentials at the grocery store. That gift of flexibility is something that I will gladly pay a little extra for every time.
If you want to add a personal touch to the gift card before it gets delivered, then check out this next option.
Option 2: Download FREE Printable Milestone Greeting Card
If you have access to a color printer, try downloading the free printable matching milestone greeting card. Here are the links to the matching milestone birthday gift cards:
Matching Greeting Card for 30th Birthday
Matching Greeting Card for 40th Birthday
Matching Greeting Card for 50th Birthday
Matching Greeting Card for 60th Birthday
This is what the matching milestone birthday greeting cards look like before they are cut and folded.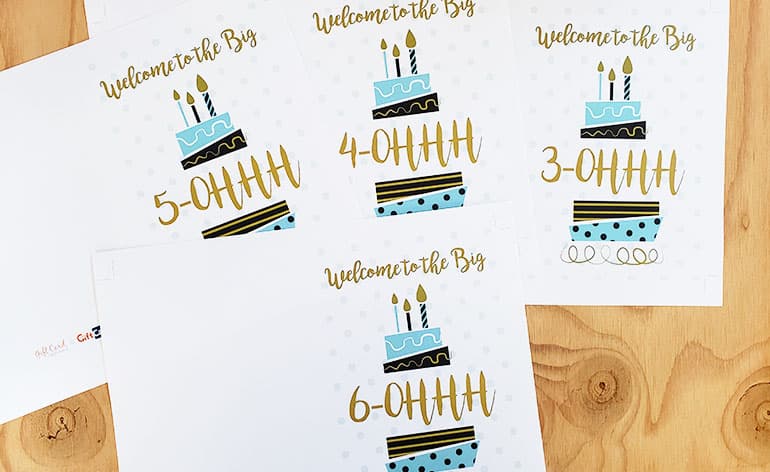 The benefit to downloading the matching milestone birthday greeting card is that you can save a couple of dollars and you get a chance to write a personal note inside of the greeting card.
When you print the card, use the best quality printing your printer allows and print "as is." Do not select "shrink to fit" or any other setting on your printer that might distort the image on the card.
When I compared the card I printed to the one that Giftcards.com delivered, I noticed that the D-I-Y version has a little less color intensity, but it still looks great and would make a nice holder for your gift card. In the picture below, the professionally-printed card is on the right.
After you download and print the card you want, crop it according to the crop marks shown.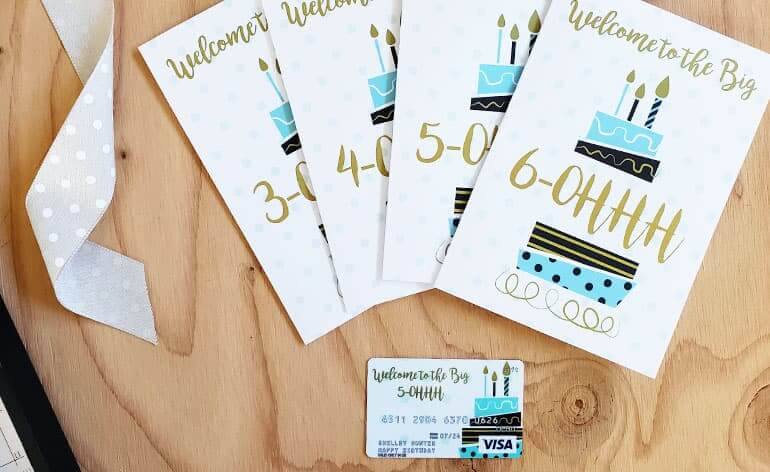 Fold the card in half.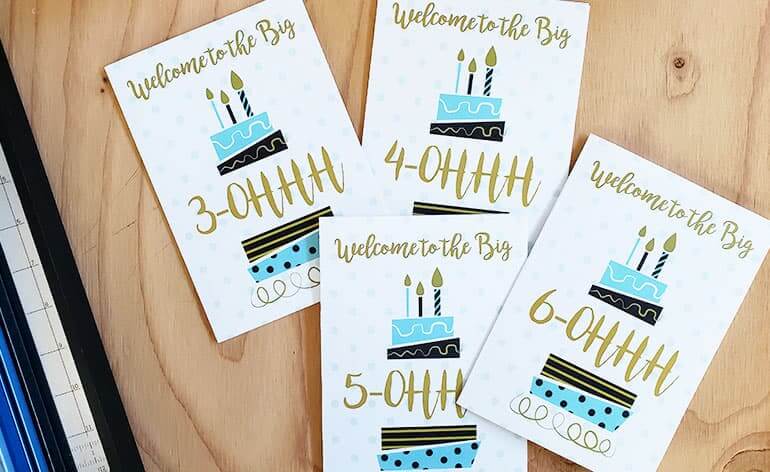 Tape the gift card inside and add a personal message.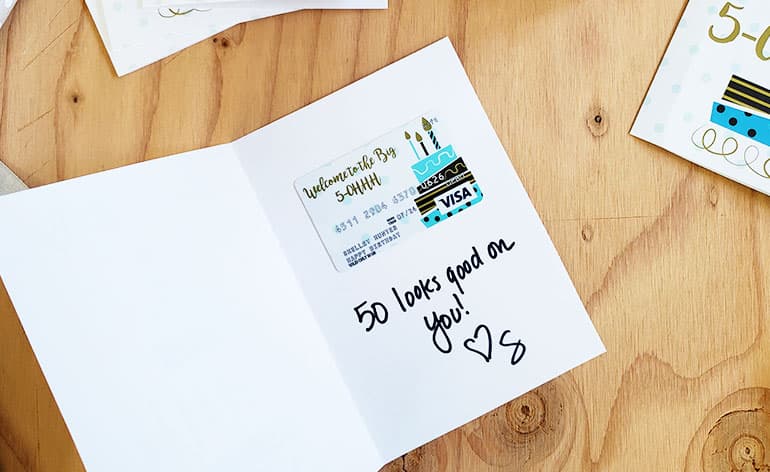 For Fun: Print a Bigger Version of the Greeting Card
One of the things I like to do with the free gift card printables is print the images on larger paper. For less than $2, you can upload the image to Staples or another copy center and have the pictures printed pretty quickly. Then decorate the printed card however you like.
Here's a picture of the larger version of the free matching milestone birthday greeting card. I printed the first one on 8-1/2 x 11-inch paper and the larger one on 11 x 17-inch paper.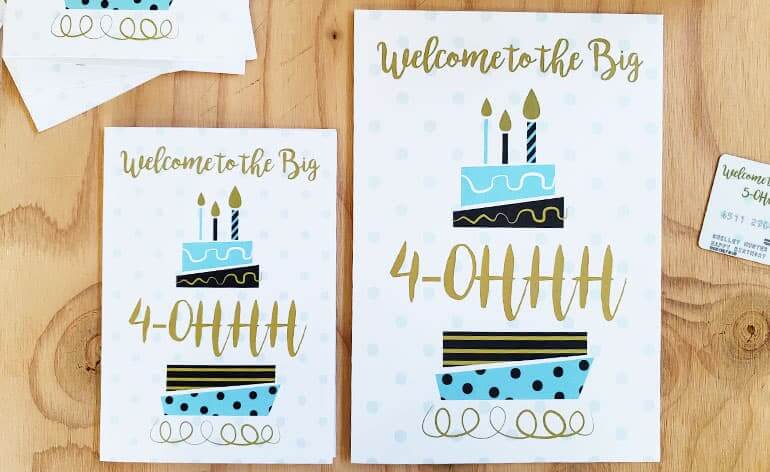 I thought a bigger version of the milestone birthday greeting card would be perfect for a group gift. There is plenty of room for multiple people to sign the card.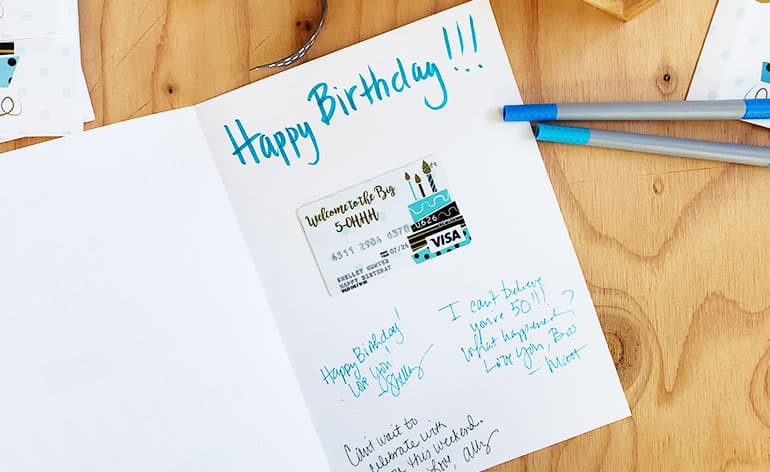 What do you think? As much as I love gift cards, I am aware that many people worry that gift cards may not be personal gifts. I think overcoming that concern is as simple as writing a heartfelt note or adding a personal touch. With each of these options, you can do both. Add a personal note to the delivered greeting card or take the time to print one and embellish it yourself.
Check out our other printable gift card holders for more ways to turn gift cards into thoughtful, creative gifts.
If you make this card, please send me a picture or tag me on Gift Card Girlfriend on Pinterest, @GCGirlfriend on Twitter or @Gift.Card.Girlfriend on Instagram. I want to see what you can come up with.
Happy Gift Carding!
~Shelley Hunter, Gift Card Girlfriend