Kids treating you like an ATM? Here's how using a digital wallet can save you money and save your relationship.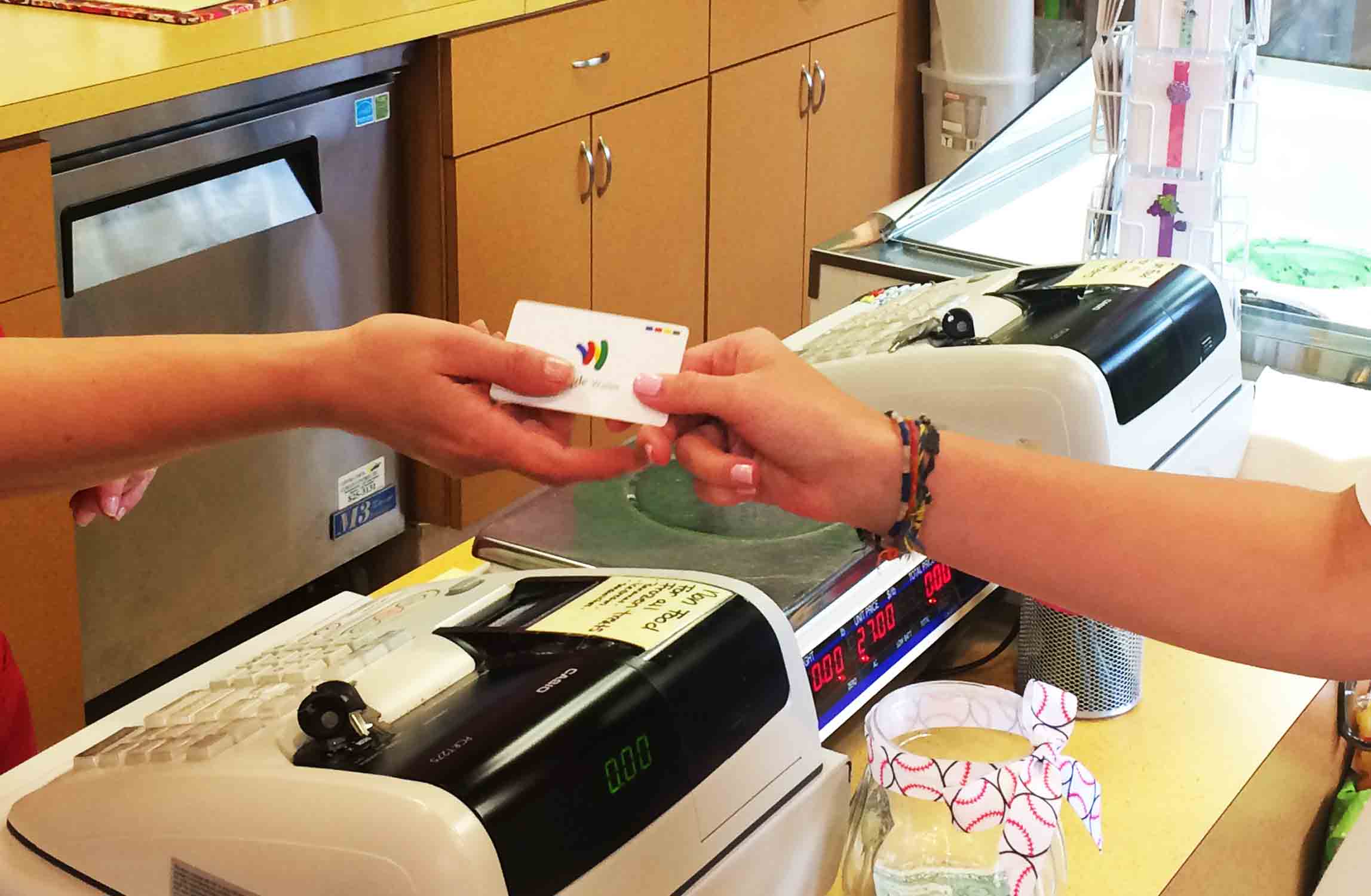 When my daughter entered high school, I somehow got a job change as well. Without notice, I went from being a carpool-driving mom who pretty much set the family schedule to a private Uber driver for half of the freshman class. The family budget started to skid sideways as well since my daughter's newfound independence came at a price. On an almost daily basis, she would ask for things like, "Can you pick me and my friends up from school and drop us off at Jamba Juice?" "Will you give me money to go to the movies?" "The freshman are all meeting at Starbucks before the game. Will you give me a ride and a couple of dollars?" (All requests came, of course, with a double-dimpled smile and a "you're the best mom ever" hug.)
But I wasn't being the best mom ever. While I didn't want to ruin what started out to be a fairly spectacular high school experience, I knew I couldn't afford to continue driving all over town or handing out twenty dollar bills like an automated teller machine. Sensing my increasing exasperation, Ally started to dip into her own savings to avoid the conflict but still keep pace with the others. As her funds dwindled, her anxiety level rose (just as mine had) until we both blew–in the checkout line at Marshalls, no less. It didn't matter that I understood her predicament or that she understood my limitations. We both felt trapped.
The Mother of Invention
Though I didn't know it at the time, I had already started to work on a solution to our problem, but the solution came as a result of discovering a different problem. Being a gift card expert, I am well-versed in how to use plastic gift cards, egift cards and gift card apps. From using discount digital codes to save money on back-to-school shopping to ordering personalized gift cards from my phone, I've tried just about every gift card-related product and service there is. But I didn't have a lot of experience with mobile payments not linked to gift cards. So I signed up for Google Wallet to check it out.
With $50 loaded into my virtual wallet, I tried to make a mobile payment at 3 different merchants. It didn't work. The cashiers couldn't help me either–most had little experience with mobile payments and the few who had seen the system in action said, "I don't know…people just put their phones up there and it works."
In frustration, I tweeted. Google responded. That's when I discovered that although Google Wallet can be downloaded to any device, it can only be used for mobile payments on an Android device. Since I've got an iPhone, I threw the plastic Google Wallet card that came with the service into a drawer and gave up on the app. A few days after the Marshalls meltdown, however, I got an idea.
The Mother-Daughter Mobile Wallet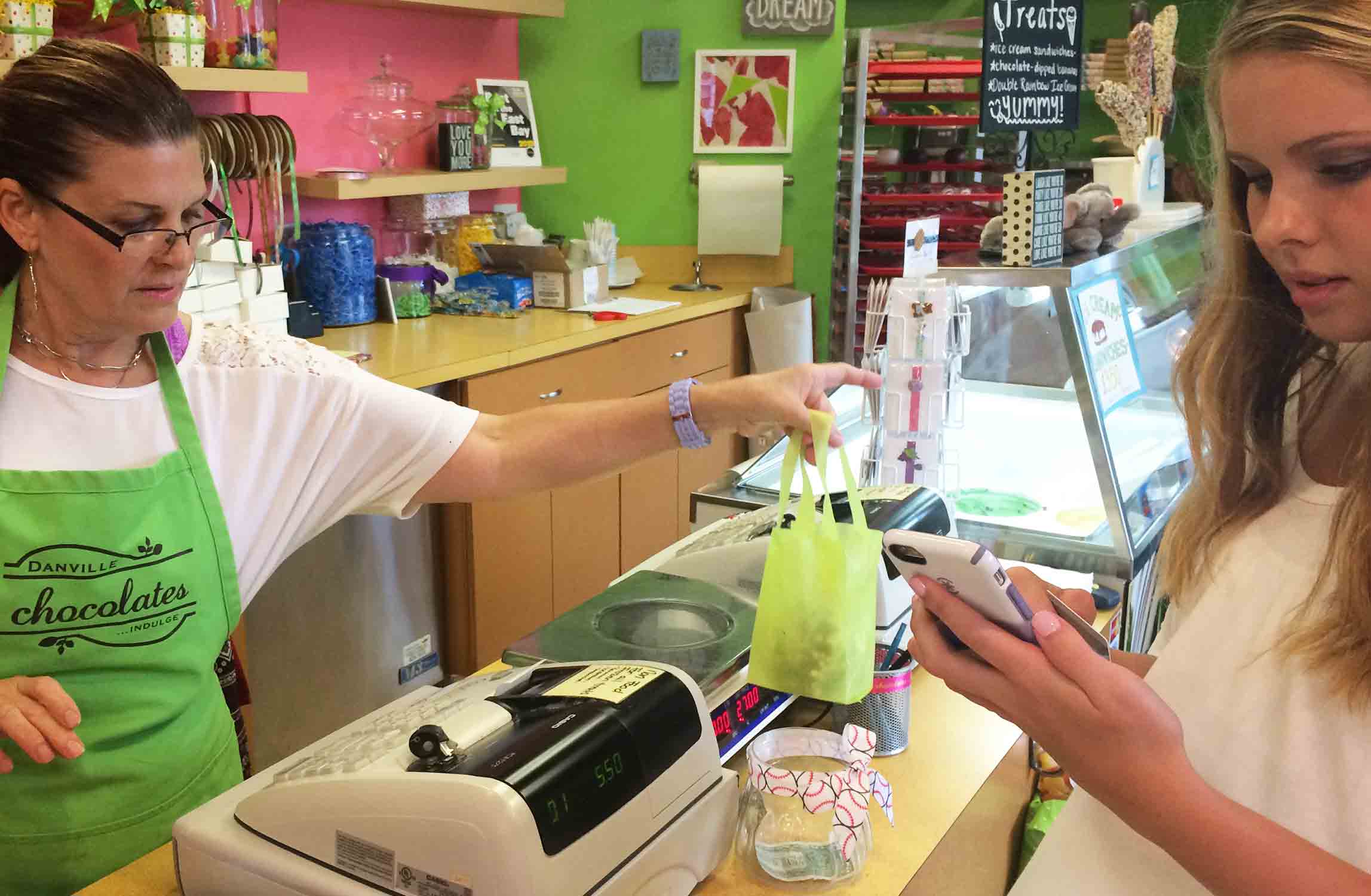 I handed the Google Wallet card to my daughter and told her that I would transfer $50 to the card each month for her to spend however she wanted. She could use the card to buy smoothies after school, pay for movies and drink in all the Starbucks ambiance she wanted until the money ran out. She could even choose to save the money and let the balance build over time. After a few questions on how to use the card and a few clarifications as to how our arrangement would work, Ally downloaded the Google Wallet app and took charge of her spending. Ironically, although I would be giving her less money each month than I'd been shelling out on a daily basis, having this new digital allowance gave her exactly the kind of independence she had been seeking all along. Additionally, we discovered multiple benefits to using Google Wallet together.
Before describing the benefits, however, let me first describe how we set up the technology.
One Sign-up. I signed up for Google Wallet using my email address and linked the card to my checking account.
Two Phones. We both downloaded the Google Wallet app, but we share login credentials so we're essentially sharing the mobile wallet as well. (Don't worry–we both have passcode protection on our phones and Google Wallet requires entering a 4-digit personal denitrification number to unlock the app.)
Ally Gets the Card. Since "Tap and Pay" doesn't work on her phone either, she uses the Google Wallet card to make purchases. We've discovered that the card would have been essential anyway because not all merchants are equipped to accept mobile payments. Since the Google Wallet card works wherever Mastercard® debit cards are accepted (including ATMs), this option works the best.
Remember, I set the mobile wallet up with the intent to use it myself, so that's why it's linked to my email and bank account. Although my daughter could set up her own account at this point, we've found too many benefits to sharing the wallet instead.
5 Benefits of Sharing a Mobile Wallet with Your Teen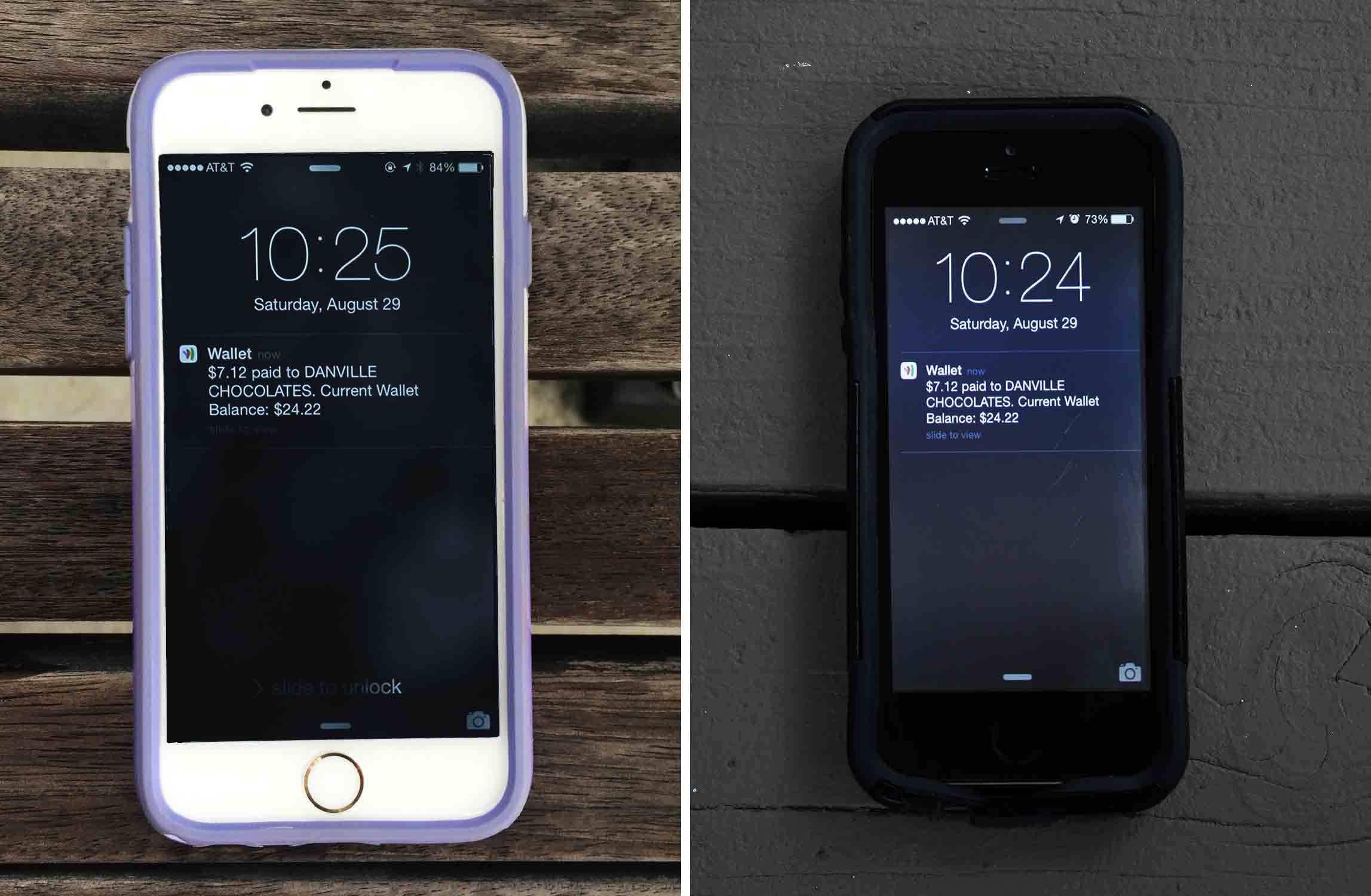 As soon as Ally had a budget, she became much more discerning about how to spend her digital allowance. For example, she often ordered water instead of soda to reduce the cost of a meal. She also didn't have to guess whether or not I'd approve of each expense which improved our relationship considerably. If she could afford the purchase, she could choose to make it. And lastly, we both had a new way to track the amount of money being spent on her social life each month. Below are several additional benefits I've found to sharing a mobile wallet with your teen.
1. Instant Notification (and Teen Tracking)
As soon as the Google Wallet card is swiped, a transaction alert pops up both on Ally's iPhone and on my iPhone, plus I receive an email when the pending transaction is complete. Although the purpose of the notification is to prevent fraud and to ensure transactions are authorized, I use the alerts to keep tabs on what my daughter is doing. When I get a transaction alert from Taco Bell at 10 o'clock at night, for example, I know exactly where my daughter is at the moment. (If we had separate wallets, she would get the notification, but I wouldn't.)
2. Limited Risk
Like a gift card, a Google Wallet transaction will decline if the purchase amount is greater than the balance on the card. So risks that are typically associated with giving teens plastic for the first time (e.g. draining a checking account with a debit card or running up a bill with a credit card) don't exist. Money must be transferred to the wallet in order to be spent. (Of course, since we share a wallet, Ally could transfer a large sum to the card on her own, but I trust her not to do that. Plus, I would get an alert if she did.)
3. Emergency Money
Transferring money from a checking account to the mobile wallet is nearly instantaneous. If Ally were to call or text me in an emergency, I could transfer more money to her card right away. In fact, she could also make the transfer herself. This feature has come in handy multiple times because "emergency" sometimes means just helping me out. For example, one day Ally found some jars at the mall that she knew I'd been looking for. After texting me a picture of what she found, I asked her to buy them for me. She purchased the jars with Google Wallet, then transferred the exact dollar amount from my checking account to the card.
(If we used separate wallets, I could "send money" to her or she could "request money" from me, but the transaction would stay in a "pending" status until the recipient approved it.)
4. Security and Peace of Mind
When Ally went to Las Vegas with a performance group, I transferred extra money to the mobile wallet so she could buy souvenirs and pay for meals not included in the trip. When I dropped her off at the Taylor Swift concert, I did the same thing. Since she tucks the card into her phone case, I feel comfortable that she's mindful of both items at all times. Plus, she doesn't have to worry about carrying cash or keeping track of change if she pays for something that isn't in whole dollars. If she misplaces the card, it can quickly be disabled via the app and re-activated when the card is found.
5. No Fees
I had considered giving Ally a re-loadable gift card to use each month, but didn't want to incur fees every time we added money to the card. With Google Wallet, there is no charge to transfer money from a checking account, make a purchase, get cash back at an ATM or check your balance. Essentially, everything we need with the card or mobile wallet is free.
When I asked my daughter what she likes best about our mobile wallet system, she said, "I like that I don't have to figure out what kind of a mood you're in before asking for money." Hmm. Well, I think what she's trying to say is the same thing I said earlier–there's less friction between us now that the finances are under control, I have a convenient way to give her an allowance and we both know what to expect.
Google Wallet's New Brand Ambassador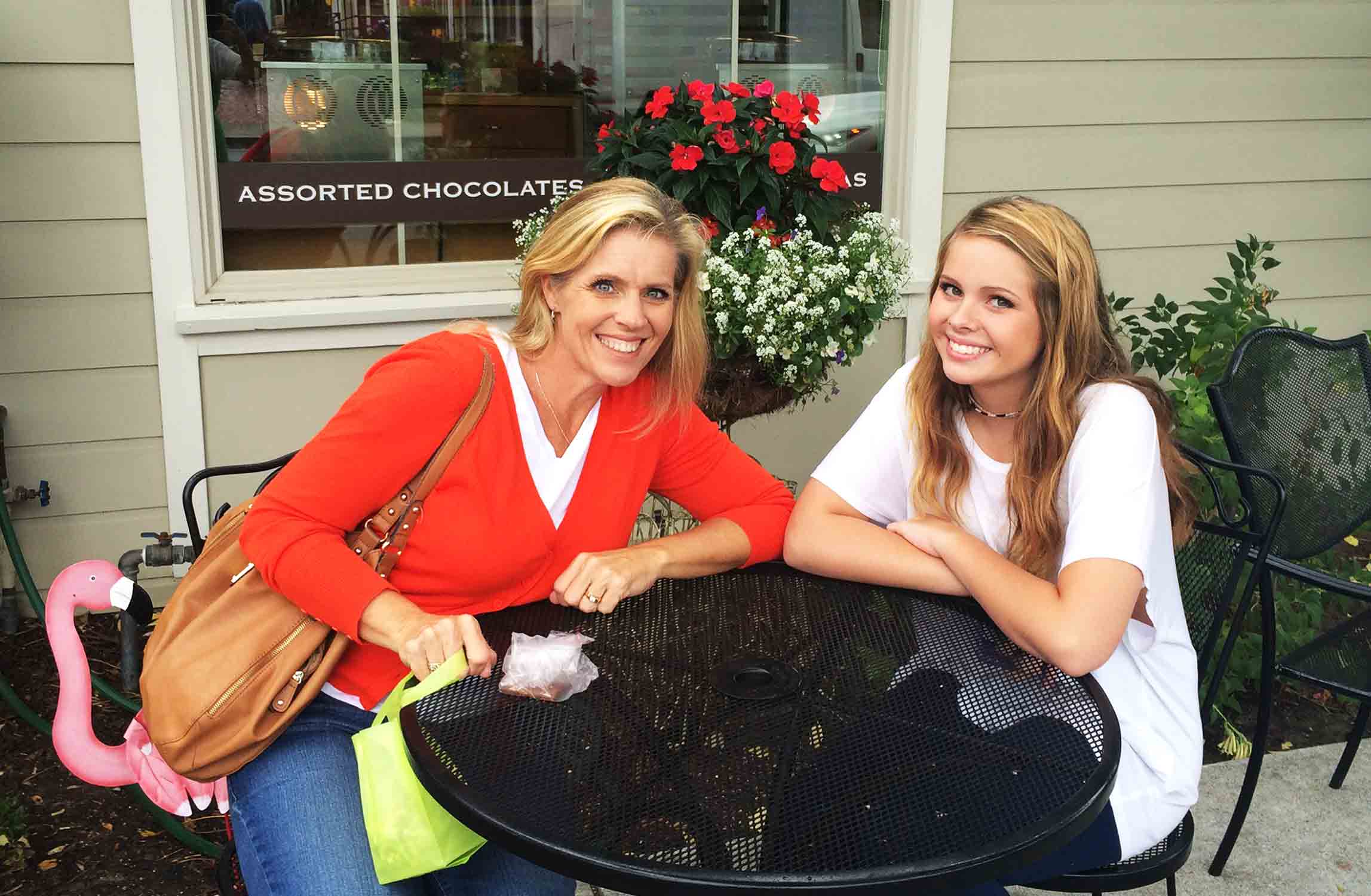 Having used this system for several months now, Ally has turned into the brand ambassador Google doesn't even know about. Since she always has the Google Wallet card with her, friends ask about it, their moms ask about it, other moms in the checkout line ask about it and, not surprisingly, cashiers even ask how Google Wallet works. She patiently explains the system, then often holds up her phone so everybody can see the alert pop up as soon as she swipes the card. While the audience at the store learns a little something, I too get an alert on my phone which gives me a sneak peak into her whereabouts as well.
Though I signed up for Google Wallet simply to experiment, tripping my way into giving my teenager a mobile wallet turned out to be a brilliant parenting move. I'm happier. She's happier. I'm saving money and she's spending less. She's also learning valuable lessons about how to manage her finances (and how much things cost!) under my watchful eye. Since we introduced her digital allowance, she's never run completely out of money or asked for additional funds. And though I assume she will eventually want her own account and probably even get a checking account and credit card one day too, I'll feel better knowing that we took this first financial baby step together. Who knows? Maybe by the time she goes off to college, she won't need any plastic cards at all.
Have you used a mobile wallet with your teen? Let me know how it works for you in the comments below or reach out to me on Twitter (@GCGirlfriend).
Happy Gift Carding!
~Shelley Hunter, Gift Card Girlfriend