If she's pregnant, then you should DEFINITELY get her a Mother's Day gift. Here's an easy gift suggestion for expectant moms.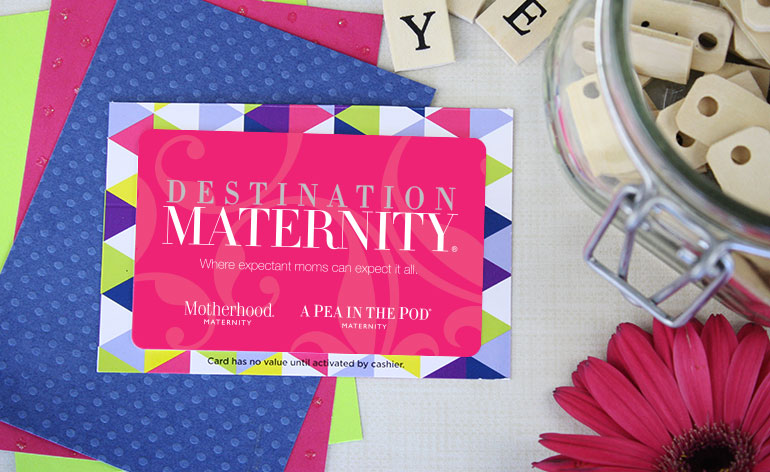 Should I Buy a Mother's Day Gift for an Expectant Mom?
By calling her an expectant MOM, you just answered your own question. It is both appropriate and sweet to give a pregnant woman a Mother's Day gift. The baby may not be born yet, but the woman gestating the little fellow (or princess) has already made the first of many sacrifices required to be a parent. It's been 16 years since I was pregnant with my oldest and I'll never forget a conversation I had with my then husband about a month before my due date. He said that he felt like he needed to hit the gym harder because his life would soon change and he might not be able to work out as much as he liked after the baby arrived. Oh really? Just now? That's weird because my life changed about 50 pounds ago when I discovered I couldn't get out of bed in the morning without eating a cracker first or I'd be nauseous for the rest of the day. My life changed when I started craving tuna fish sandwiches at work and had to figure out how to tell my manager that I wanted to work from home with a newborn. My life changed when strangers started touching my stomach and telling me their worst labor and delivery stories. (Why?)
What I'm saying is…buy a Mother's Day gift for your pregnant wife. Her sacrifice is significant. She deserves to be honored. She's already a mom.
Now that we have that issue settled, let's talk about the best Mother's Day gift to buy an expectant mom.
Why You Should Consider a Maternity Gift Card
If you look at my list of Top Mother's Day Gifts for New Moms, you'll see that many of the suggested gifts are designed to give mom a hand or give her a break. I included gift cards for places like the movies, the spa or a local juice bar plus a big hint to offer to babysit as well. All of those suggestions (sans the childcare if this is a first-time mom) would also make great gifts for moms-to-be. Today, however, I want to highlight one gift card that works particularly well for an expectant mom.
Though not everyone gains pregnancy weight like I did, even the slimmest body will morph in unexpected ways when another human being is growing inside of it. During my second and third trimesters, I remember being conflicted about whether or not to buy maternity clothes. We were trying to save money so buying clothes that I would only wear for a few months seemed frivolous. At the same time, I started to run out of clothes that fit. I bought larger-sized regular clothing in hopes I could wear it for a few months post-pregnancy as well, but I just looked dumpy. Looking dumpy made me feel dumpy. Feeling dumpy made me want to shoot anyone who said his life would change eight months after mine already had. In the end, I bought maternity clothes to be more comfortable and to feel better about myself.
That's why I think a gift card for maternity clothes is the perfect Mother's Day gift for a mom-to-be. You're not just giving her clothes. You're giving her the gift of comfort, the gift of worry-free shopping and the gift of feeling better in her pregnant body.
Where to Buy a Maternity Gift Card for Mother's Day
Many department stores and clothing stores carry maternity wear, but the only nationwide store I know of that exclusively sells maternity clothes is Destination Maternity and its sister stores Motherhood Maternity and Pea in a Pod.
The great thing about a gift card to one of these places is that it will work in all three locations. So if mom-to-be wants to spend her dollars on high-end maternity clothes, she can use the gift card at Pea in a Pod. If she'd rather the gift card go a little further, she can redeem it for basics at Motherhood Maternity. For trendy pregnancy wear, she can hit Destination Maternity. She can also shop the respective websites and redeem her Mother's Day gift card without ever having to drag her tired feet (and bloated ankles) to the mall.
How to Present a Maternity Gift Card for Mother's Day
When I give someone a gift card, I like to throw a little crafty touch into the card or deliver it alongside a small, complementary gift. The gift card I picked up at the grocery store had a colorful backer card that I decided to embellish. The first thing I did was cut the backer card to frame the maternity gift card. (If the card you buy don't doesn't have the same backer, that's okay. Get out the scrapbook paper and make one of your own.)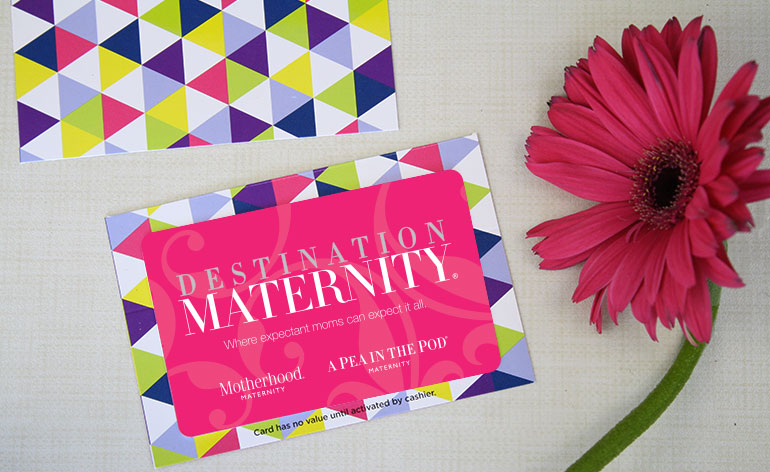 Then I thought it would be cute to layer the card with card stock to match traditional gender colors. This is the pink card for a girl.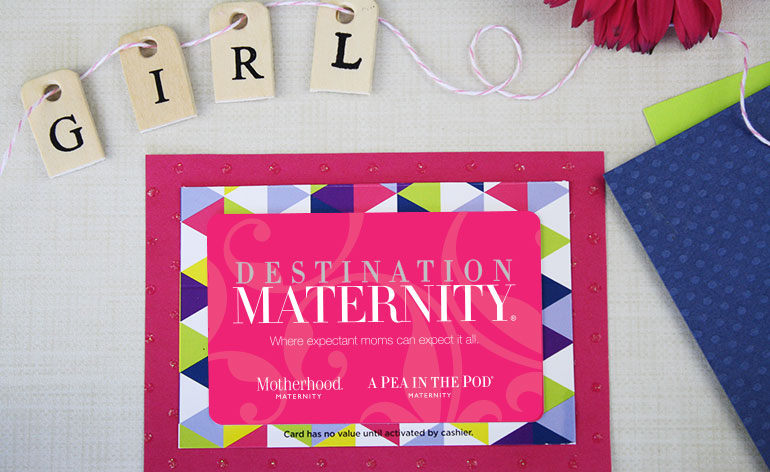 This is the blue card for a boy.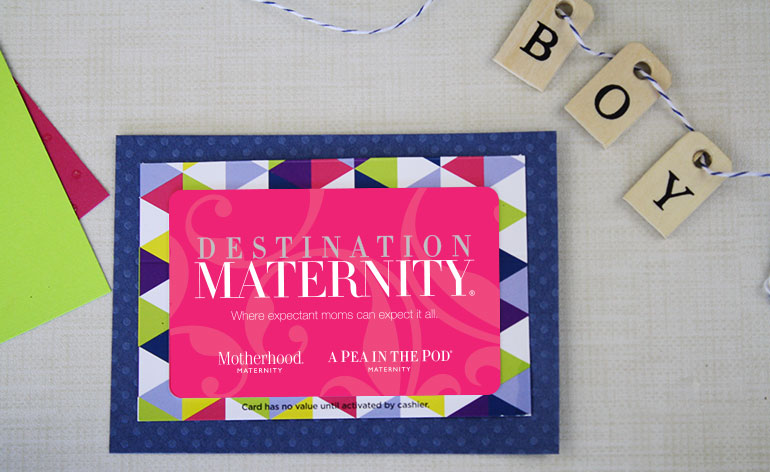 And this is the card you give when the parents don't know the gender or have opted not to find out.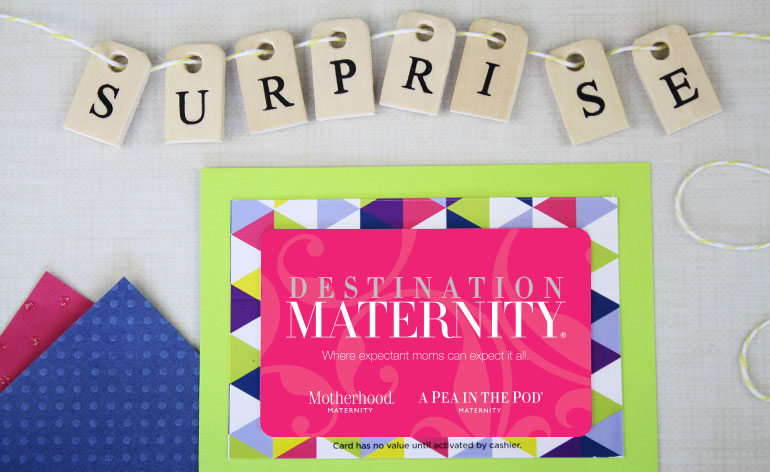 Deliver this cute maternity gift card with a small gift for mom-to-be such as belly lotion, a scented candle or some comfy socks. Please note that I am only suggesting items that you KNOW will fit and that won't be misconstrued as offensive. Pregnant moms can be sensitive, you know. (Refer back to above story about going to the gym.) The world's best stretch mark cream may be what she needs, but I wouldn't give it to her on her first Mother's Day.
So what do you think? Would you consider giving mom-to-be a maternity gift card for Mother's Day? What other things do you think a maternity gift card could be paired with? Let me know in the comments below or send me a message on Twitter (@GCGirlfriend). I'd love to hear from you.
Happy Gift Carding!
~Shelley Hunter, Gift Card Girlfriend