Faster than a teenager's outburst! More powerful than a toddler on a sugar high. Able to make three lunches in under a minute. It's Supermom! And this is the gift she needs.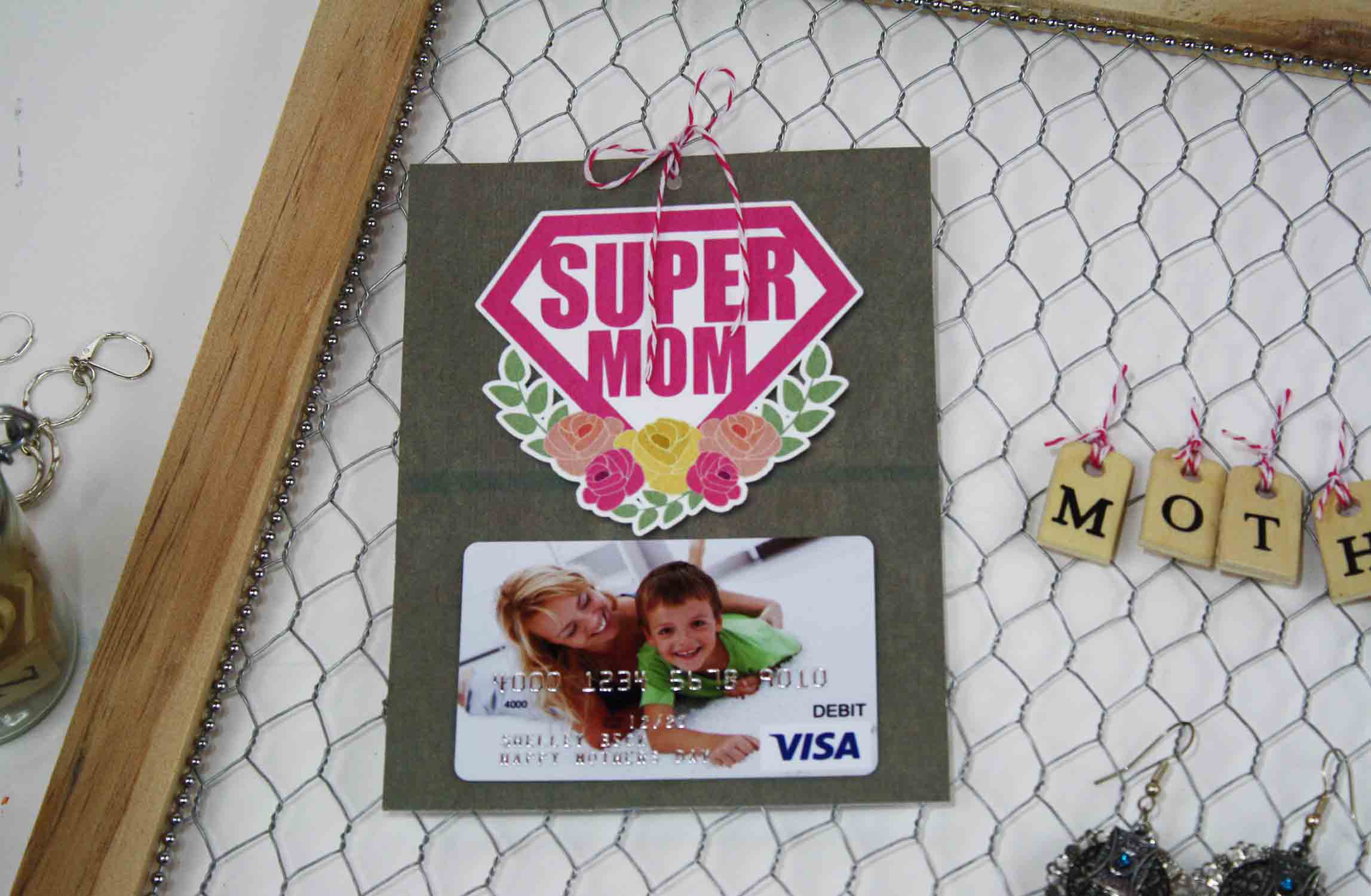 "Gifting Made Easy" by Gift Card Girlfriend
Alright, I'll be completely honest. I think I am a super mom. Not because I do everything right, but because I keep trying when it seems everything I do is wrong.
With three teenagers who rarely let a misstep go unnoticed, I've made my share of blunders. Yet day after day, I get up in the wee hours of the morning to make homemade lunches, tuck kids into bed at night and listen to every playground injustice that occurred throughout the day. Though well-behaved out in the world, they save their fits for me. Can't say I love it, but I know it means that they feel safe with me and know I will love them no matter what.
Having this perspective makes me somewhat heroic, if only in their eyes. If you have a super mom in your life (and I'm pretty sure you do), then get ready to make her this free printable Mother's Day gift card holder. It's a super easy gift to make for a super mom.


Order Gift Card and Download Printable
Now that I just got done telling you how great I am, I can tell you that I just totally failed as well. I thought we only had a flat Supermom gift card holder to share. Turns out we have a folded one too. Given that we typically make both styles, this is a pretty big oversight. All I can say is that I must have been too tired from making lunches, tucking kids into bed and listening to tales of the playground to notice. Please forgive me. But I also think you can figure it out. (See…a good mom pushes you to try things on your own!) Here's what you need:
Order a Personalized Visa® Gift Card
Download Free Supermom Flat Gift Card Holder
Download Free Supermom Folded Gift Card Holder

Print and Cut
After downloading the Supermom gift card holder, print it on a color printer using "best quality" and "actual size" settings. (Do not select "shrink to fit" or any other setting that will change the size of the printed .pdf image.) White, card stock paper measuring 8-1/2″ x 11″ works best. Cut the holder with a paper cutter using the trim marks as a guide.
Once you cut the holders out, the flat Mother's Day gift card holder is ready to go. You can punch a hole in the top, loop a ribbon through the hole, and attach another gift for mom. Adding embellishments is fun too. (Here's an example of a flat gift card holder that I added some bling to.)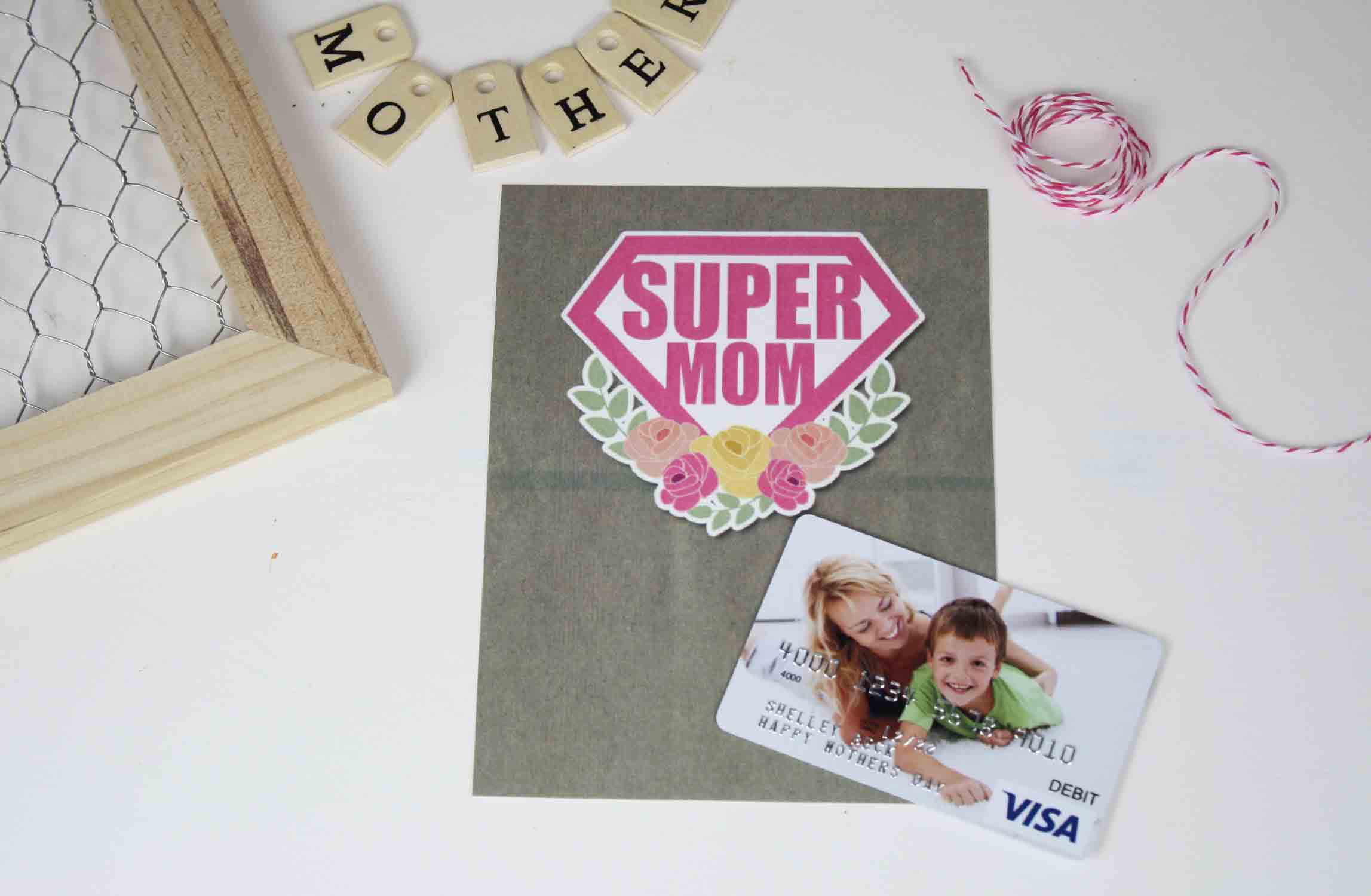 Make it a Gift
I always like to present gift cards with a little something extra so the recipient has something to open immediately. For this Supermom gift card holder, I liked the idea of hanging it on a wire frame along with a couple other items mom might enjoy. I put earrings on the frame, but you could clip a favorite candy bar, pictures of the kids or a pair of movie tickets. Have fun clipping little items for mom to enjoy now, a gift card to enjoy later and a wire frame to hang onto for a while.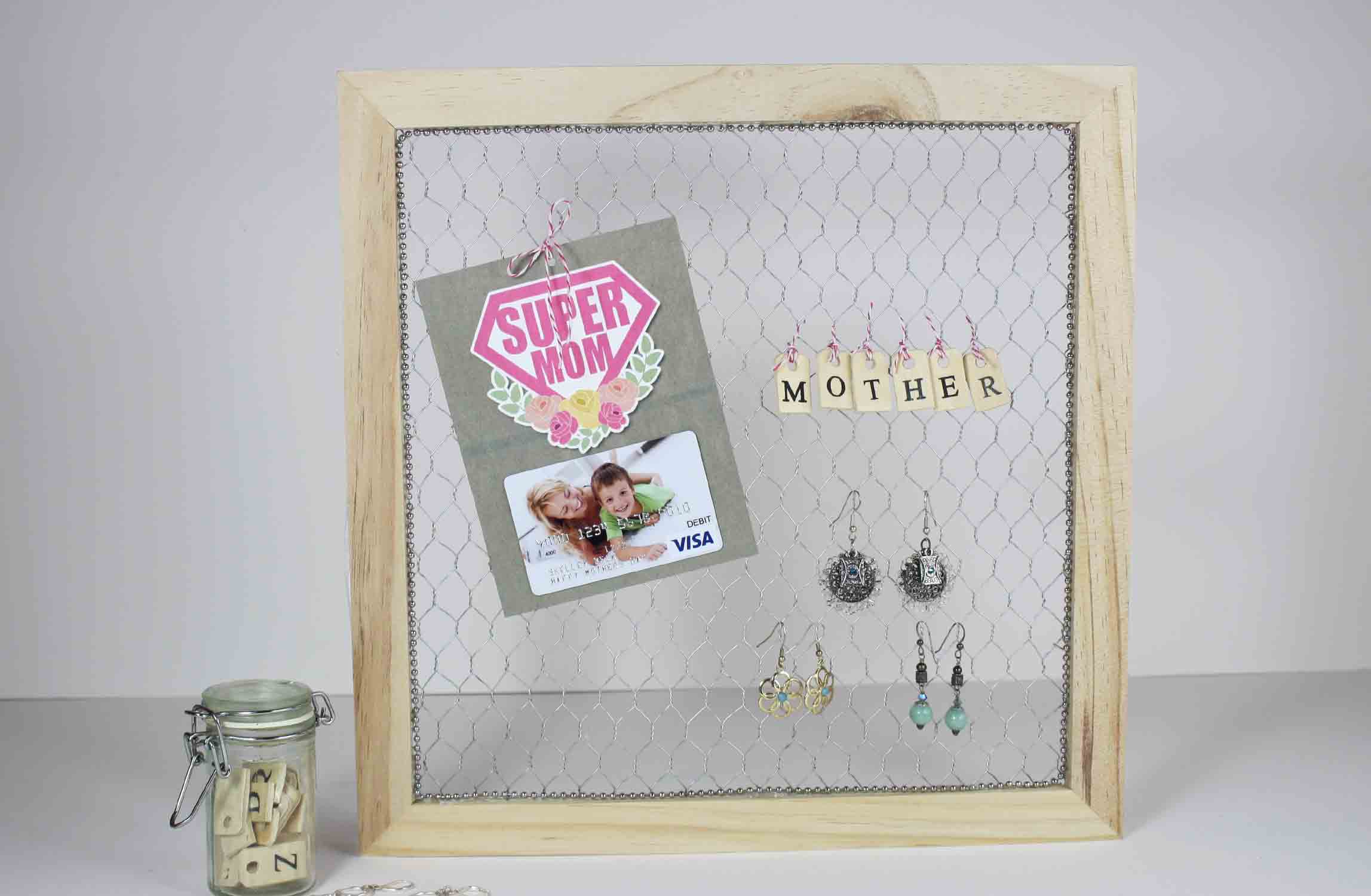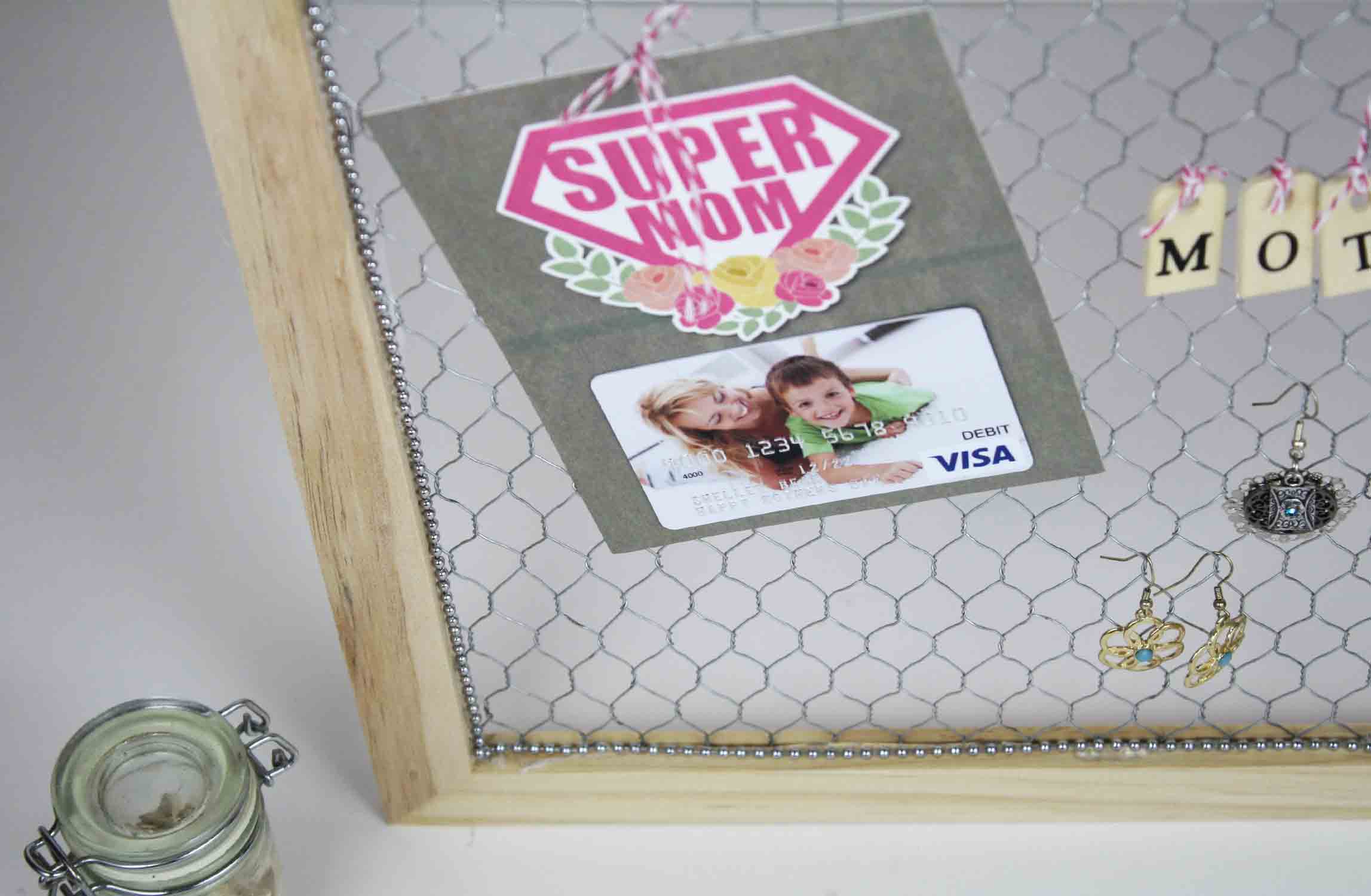 Make the Folded Holder
If you look at the printed side of the folded gift card holder, you'll see two faint lines indicating where the holder should be folded. Although the lines are clearly visible on the printed side, I always score card stock before folding it so the lines are crisp and clear. To score the card on the opposite side, I measure the card first. For me, the fold lines are at the 3″ and 6-1/4″ marks. (Measure your card to be sure you have the same measurements.)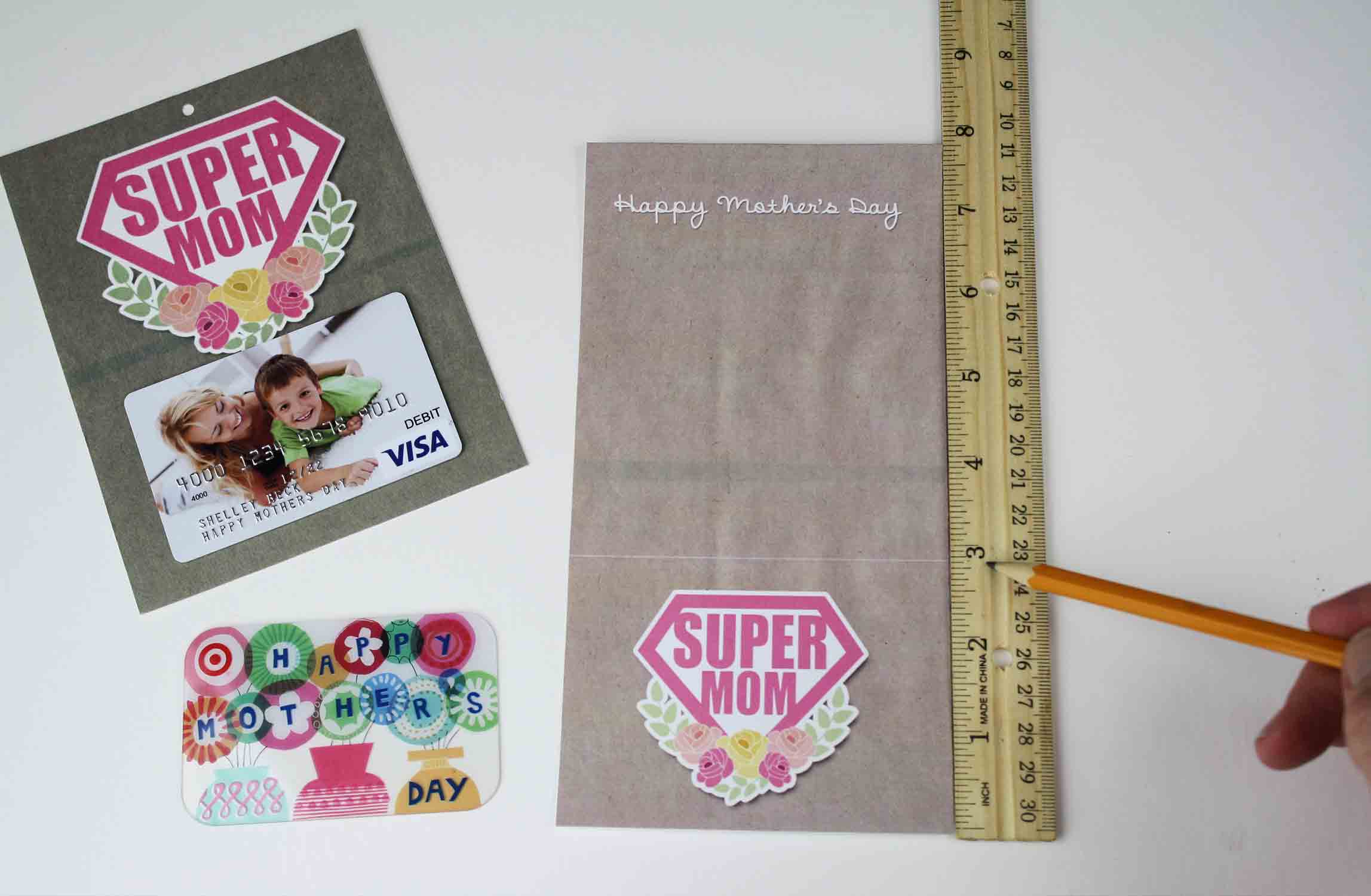 Using a bone folder (or another sorta-sharp instrument you have around the house like the back of a butter knife or the edge of the plastic gift card), use a ruler to score the paper on the fold lines.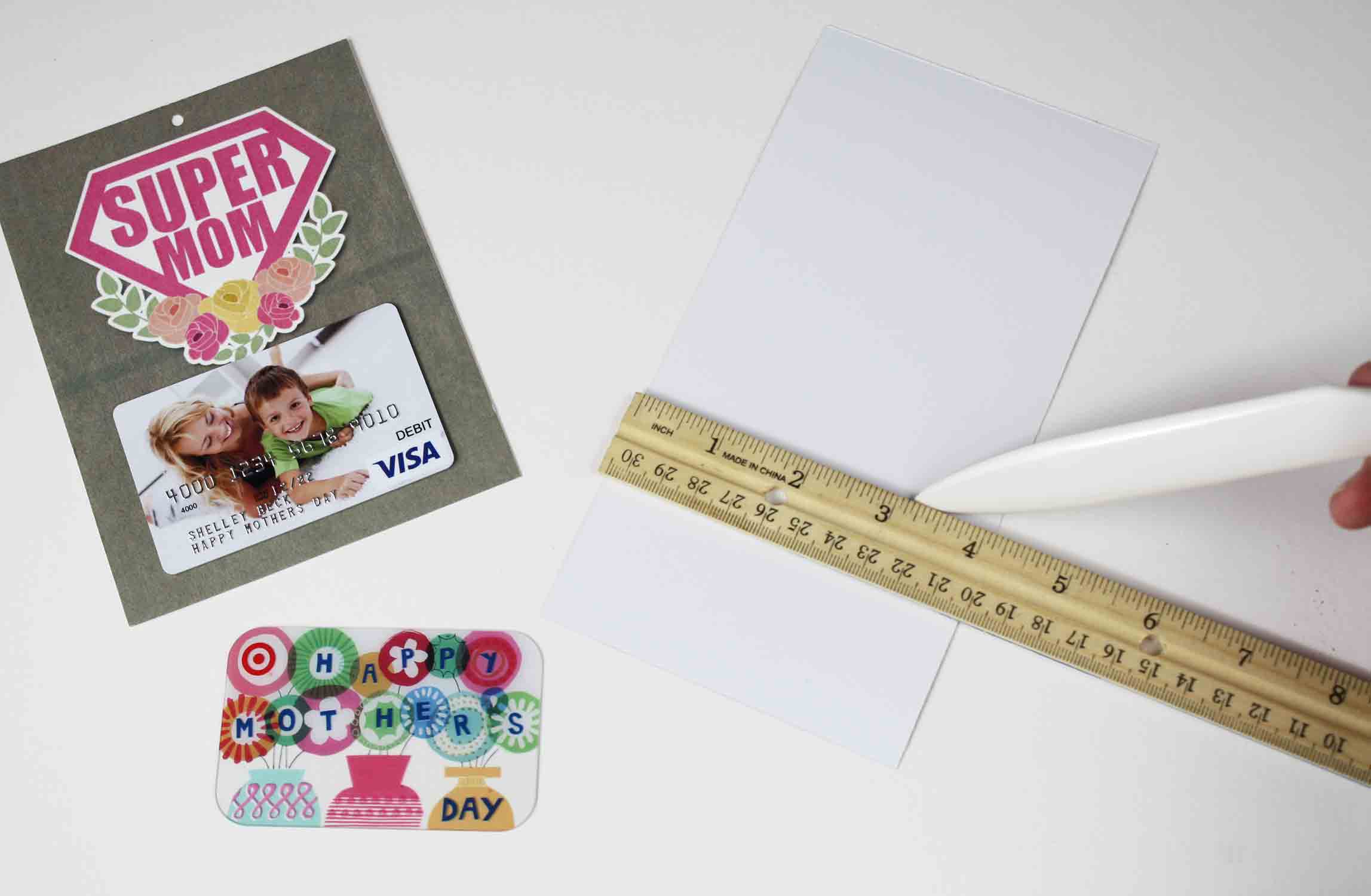 Fold the gift card holder as shown so it makes a little pocket, perfectly sized to hold the Mother's Day gift card of your choosing. In this example, I picked a gift card from Target, suitably covered in flowers. Using double-sided tape or a glue stick, seal the edges of the gift card pocket, then put the gift card inside. Write a personal note in the white space above the card.
Finally, you just have to give mom the gift card. I thought it might be interesting to put this gift card on a pink ribbon that can go around a favorite bottled water or another small gift that mom would enjoy. This doesn't have to be a Mother's Day gift, by the way. If your mom is a hero, in any way, then this gift says it all.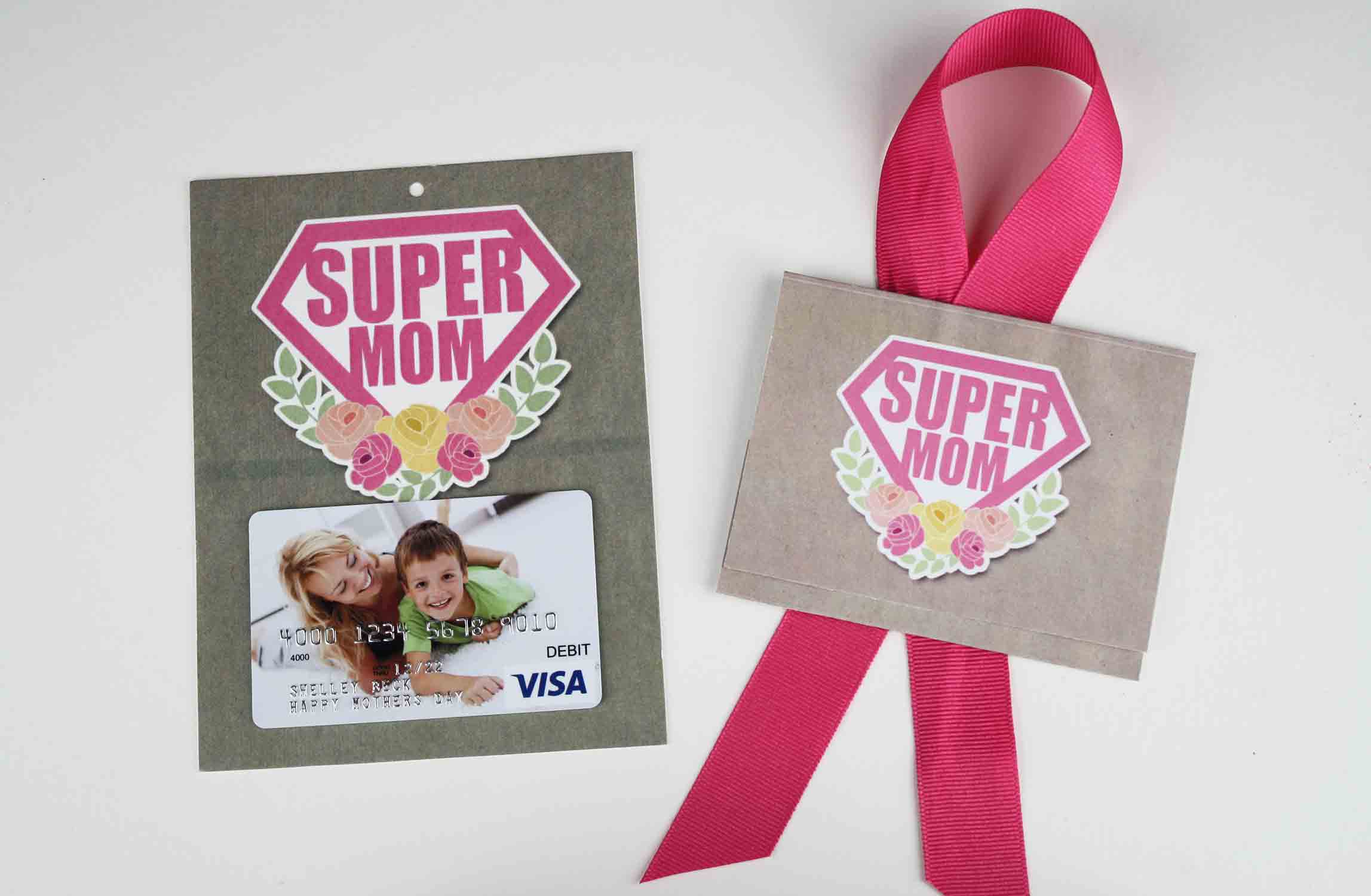 Let Us Mail It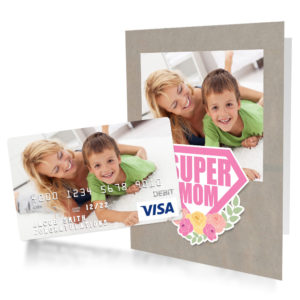 I think this Supermom gift card holder is one of the cutest Mother's Day gifts you can give. Unlike our other printables, however, this one is designed to go with a
personalized gift card
. Of course, you can put a store or restaurant gift card inside as well, but I think mom would love to see a picture of herself doing something special with the kids. If you don't have time to print the gift card holder yourself, let us do it for you. When designing your gift card, select the customized greeting card. Add a note inside, tell us where to mail it, and you're all done.
More on Pinterest
For more free printable gift card holders, check out the
free prints page
or follow
Gift Card Girlfriend on Pinterest
. If you use this printable, send me a link to your page in the comments below or contact me on Twitter
(@GCGirlfriend)
. I want to see what inspires you.
Happy Gift Carding!
~Gift Card Girlfriend