With a little glitter and glue, this gift card and free printable holder will give you peace at home, and on Earth.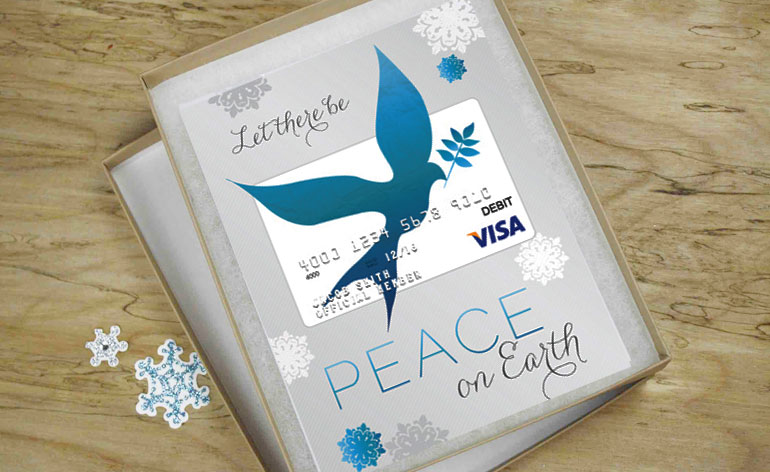 While thinking about ways to decorate this "Peace on Earth" holiday gift card holder, the colors and graceful lines reminded me of a certain animated movie that is rather popular these days. I think you'll know which one I mean. Needless to say, I couldn't "let it go," so I decided to let the blues, silvers and snowflakes take over. With a few simple sparkles, this fixer-upper turned into one of the prettiest designs we have. I especially love how our graphic artist fully integrated the gift card design into the printable so the two are a perfect match–you might say they finish each other's sandwiches–or not. In any case, see below for the simple steps needed to make this gift card come to life.
1. Order Gift Card and Download Printable
Although you can certainly use this beautifully-designed gift card holder to deliver any gift card (or cash or check, for that matter), I love the predesigned Visa® gift card so much that I couldn't wait to get my hands on it.
Order the Peace on Earth Gift Card
Download the matching Flat Peace on Earth Holder
Download the matching Folded Peace on Earth Holder
Check out my list of top gift cards for holidays for some other gift card suggestions as well. They won't match the holder as well as this Visa gift card does, but the recipient will enjoy them just the same.
2. Print the Gift Card Holders
After downloading the printable Christmas gift card holder you want, print it on a color printer using "best quality" and "actual size" settings. (Do not select "shrink to fit" or any other setting that will change the size of the printed .pdf image.) White, card stock paper measuring 8-1/2″ x 11″ works best. Cut the holder with a paper cutter using the trim marks as a guide.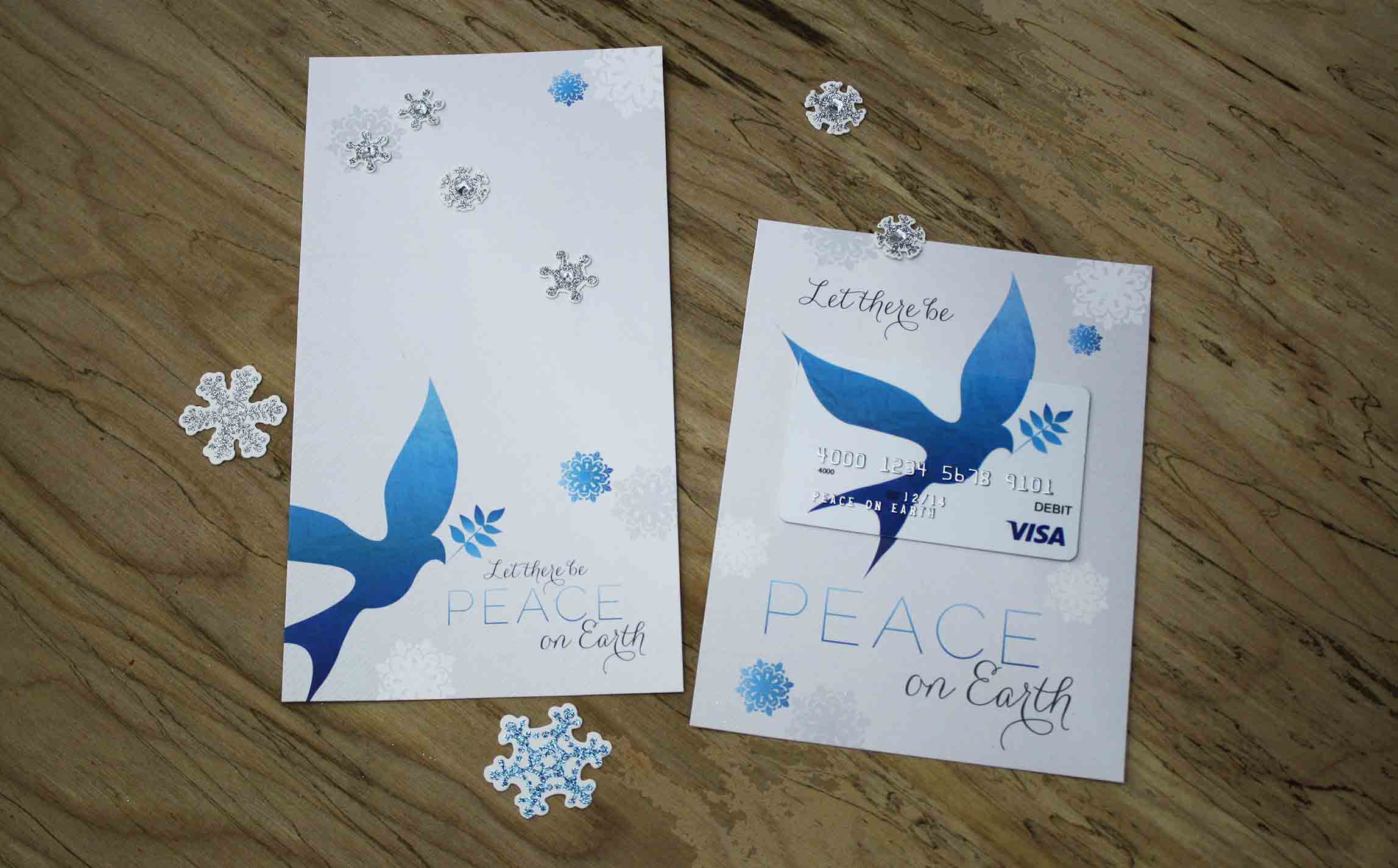 3. Make the Flat Card Holder
I really didn't have to do much to make this Christmas gift card ready to present. I found some sparkly snowflakes at the craft store and attached them to the printed snowflakes on the paper. Then, using double-sided tape, I carefully lined up the gift card and attached it where the card matches the printable backing perfectly. If you're planning to hang this holder onto another gift (e.g. beverage, flower vase, wreath), then you can loop a ribbon through the top. (Here's how I added a ribbon to the Season's Greetings gift card printable.)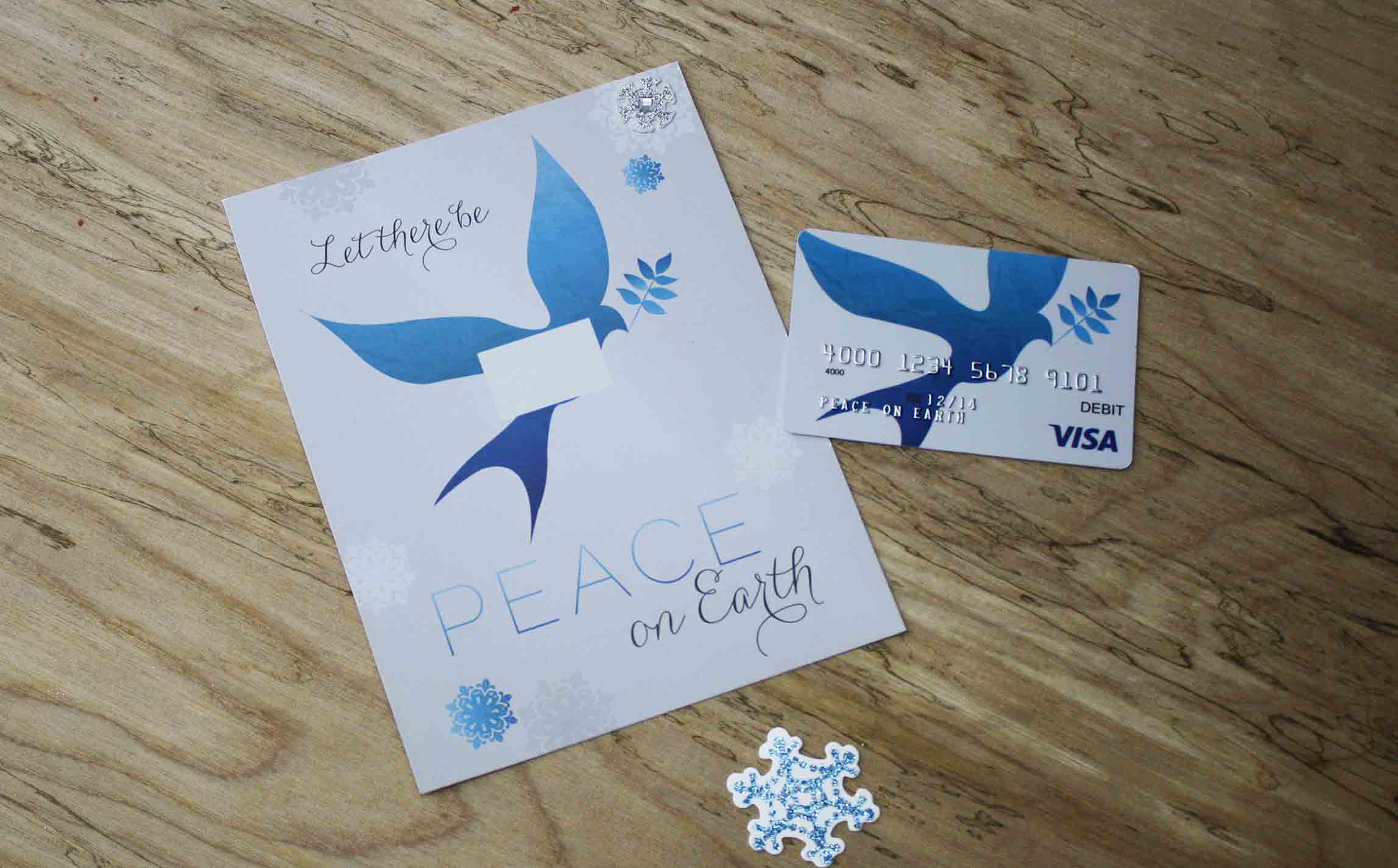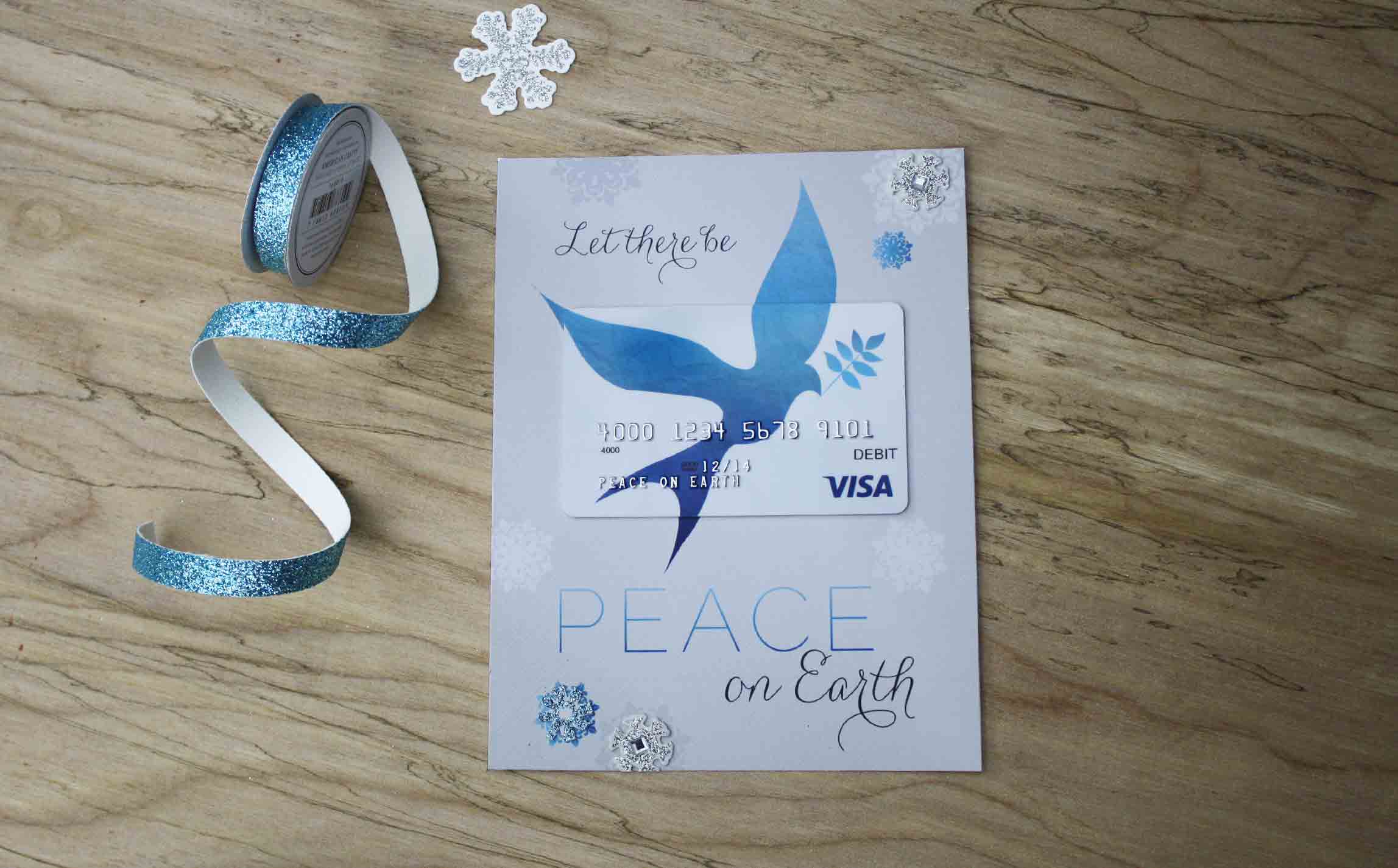 4. Present the Gift Card
To present this sparkly gift, I placed the carrier and card combo into a kraft paper box that measures 5″ x 7″. It fits perfectly. With a little glitter ribbon and another snowflake, this beautiful box is ready to present.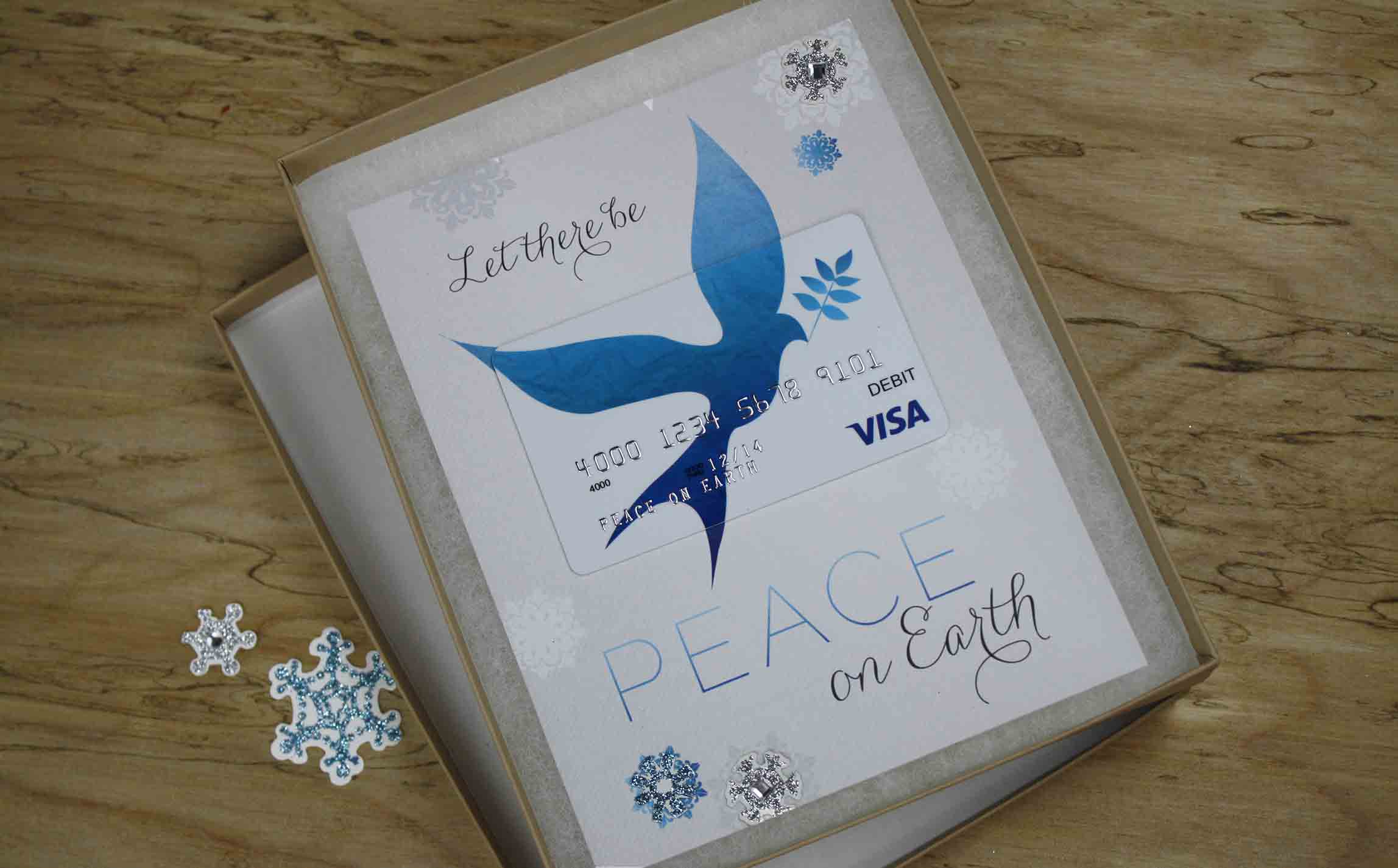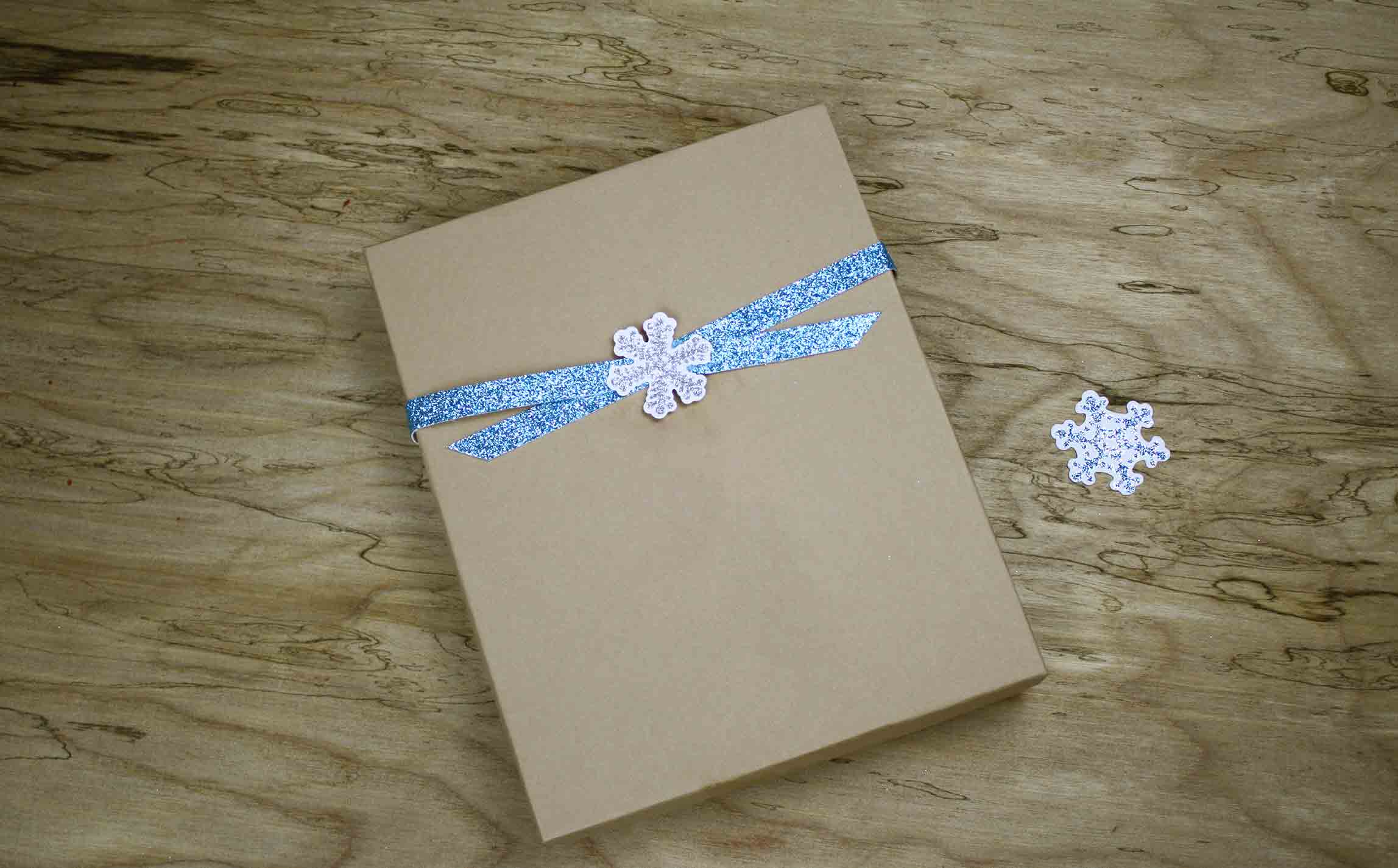 5. Make the Folded Holder
While looking at the printed side of the longer gift card holder, you'll see a very thin line that designates where the card is to be folded. Though the lines are visible on the printed side, you'll want to measure where they are so you can mark those same locations on the reverse side. If printed to size, the lines will be at the 3″ and 6-1/4″ marks. Using a pencil, mark the back side (white side) of the carrier at those measurements.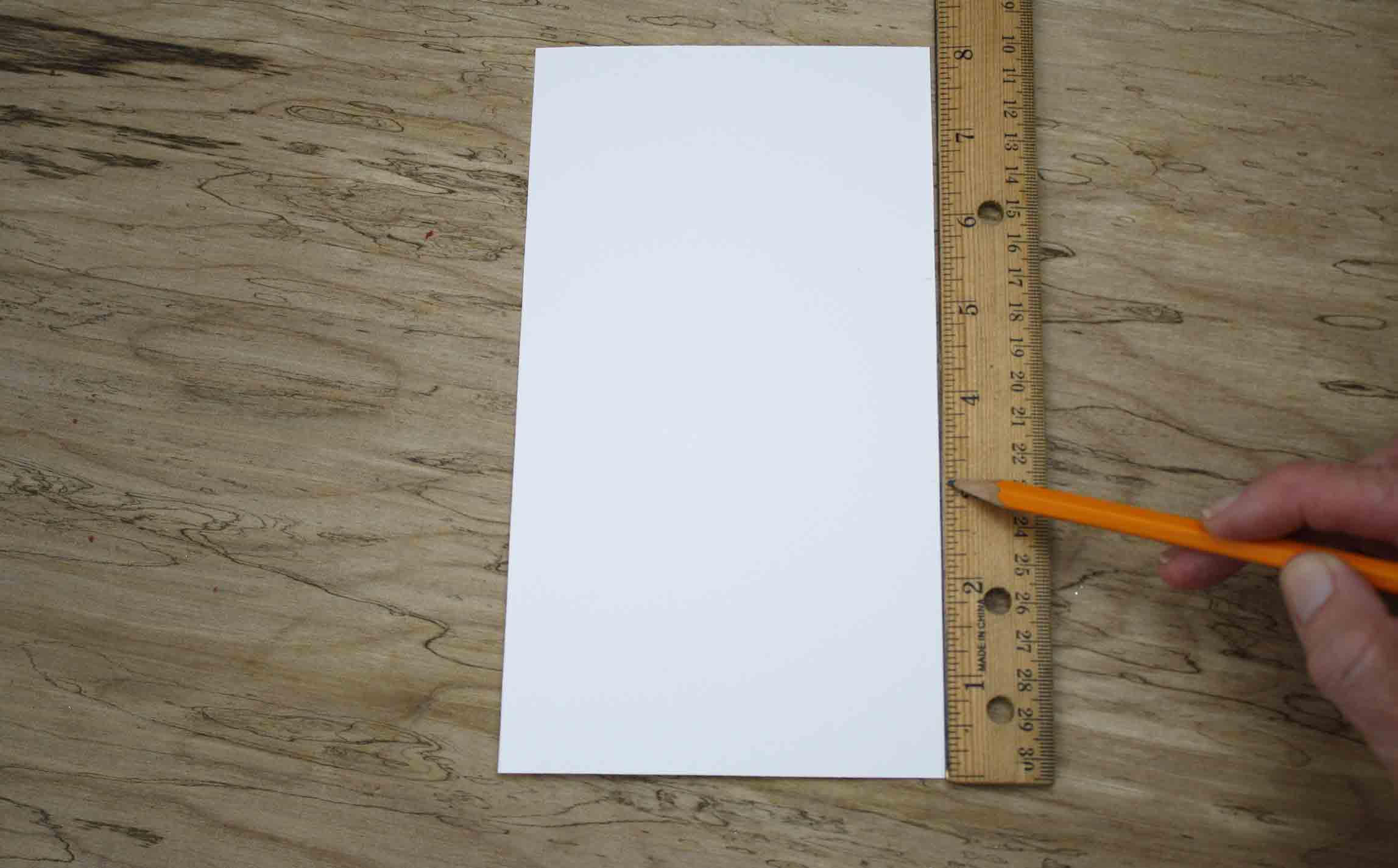 6. Score the Folded Holder
When I fold card stock paper, I always score the folding line first. Although it's an extra step, the few minutes it takes to get a clean fold is well worth the effort. Using a ruler and the measured marks, score the paper on the fold lines.
When the card is folded, use tape or glue to seal the sides of the bottom flap to create a pocket. This is a fun place to add more decoration to the holder as well. I added a tiny snowflake. You might try washi tape to seal the pocket, add sparkles to the design or create some fancy tying knot to hold the gift card in place. (Oh, and don't forget, you can tuck cash or another store-brand gift card into this pocket as well. Since the recipient won't be able to see the contents until opened, you don't have to worry about it being a perfect match.
Once folded completely, I added a final decoration to the card. I used glitter ribbon and another snowflake to seal the holder completely. With these simple steps, you have a gift card that is ready to go. Although embellishments are not required, adding a crafty touch is an easy way to make gift cards feel more personal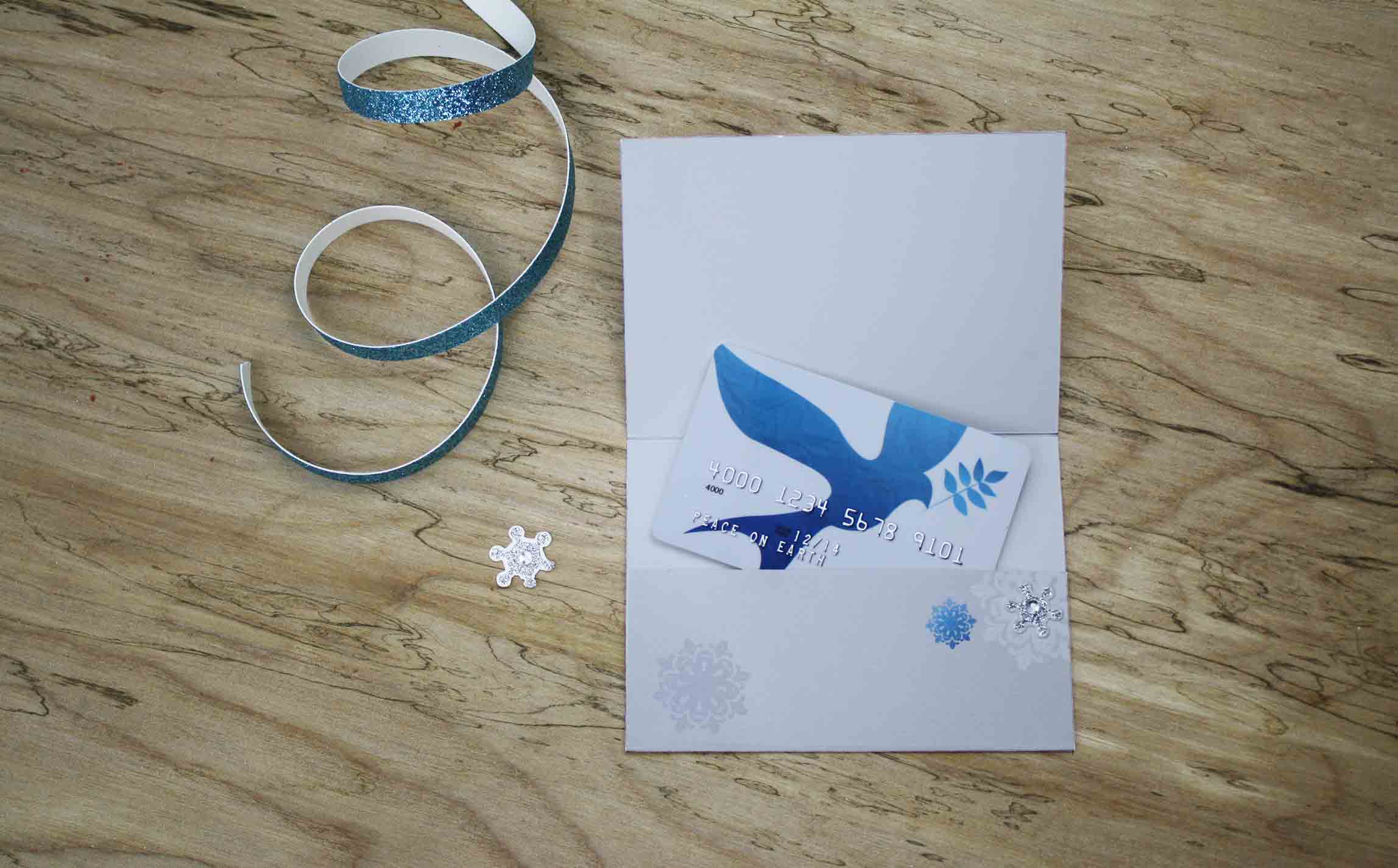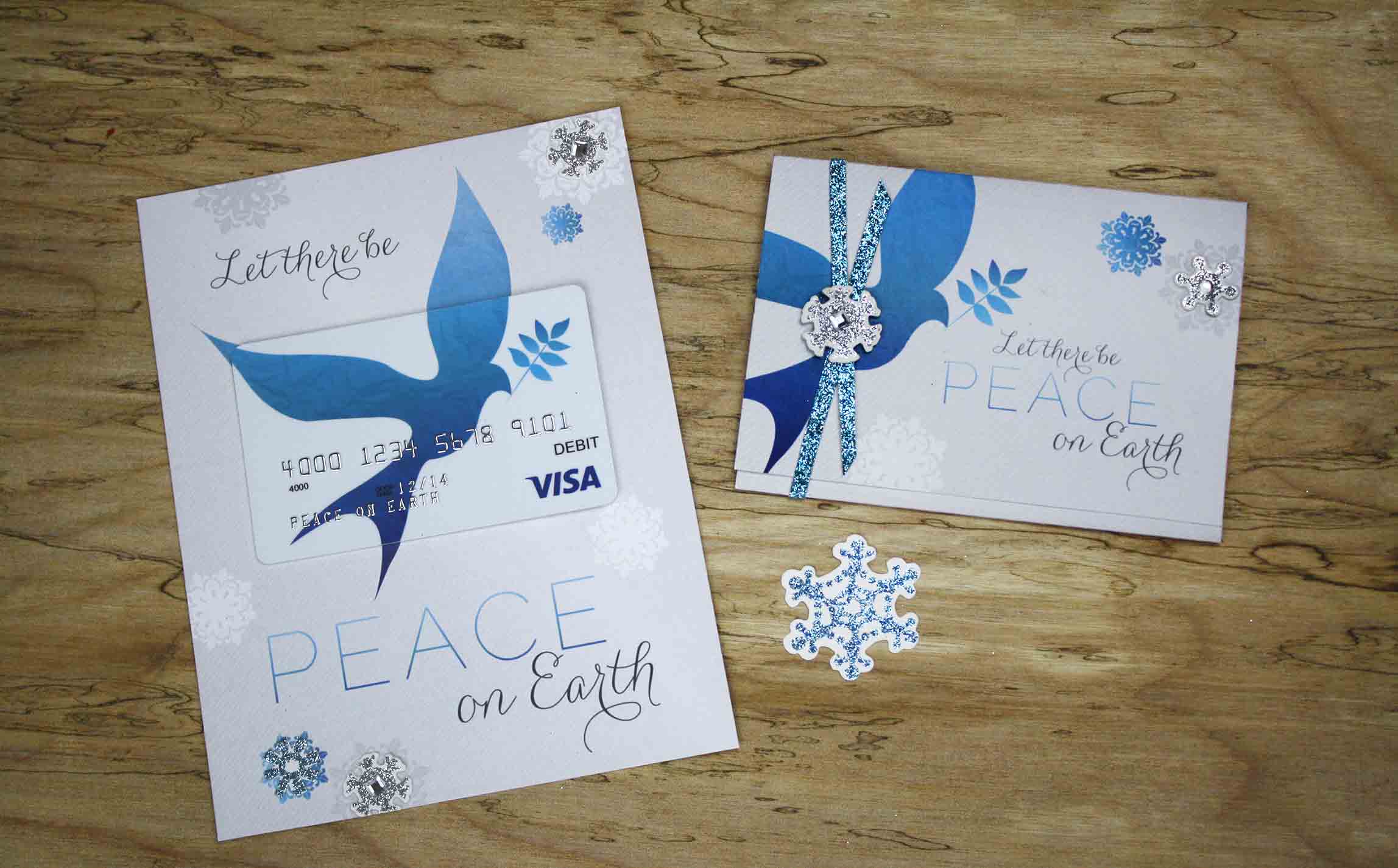 Bonus
Another alternative to making your own gift card holder is to buy the matching greeting card that is sold with the "Peace on Earth" gift card. When you order the
card with the dove on it
, select an upgraded greeting card instead of the standard carrier. For less than a couple of dollars, we will print both the card and greeting card (plus any personal message you write) and ship the present out in no time. Peace on Earth during the holidays could start with you skipping the malls and sending gifts from the comfort of your own home instead. Sounds pretty ideal to me.
Get More Ideas
For more free printable holders, check out the free prints page or follow Gift Card Girlfriend on Pinterest. If you use this idea, send me a link to your page in the comments below or send me a message on Twitter (@GCGirlfriend) so I can check it out! I love to see what inspires you.
Happy Gift Carding!
~Shelley Hunter, Gift Card Girlfriend